Number 50: Dane Watts
ED. NOTE: White and Blue Review's ongoing series "What's in a Number?" continues with a look at the best player to wear #50 for the Jays, Dane Watts. (Yes, we know this is out of order. Order will be temporarily restored tomorrow, and #43 will appear on Friday. We apologize to those of you itching to know who the greatest #43 is.) To read up on how we arrived at our choice, check out the introduction of the series. Or you can read about the players you might have missed by checking out the entire list.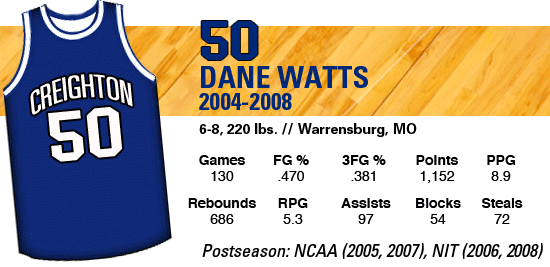 There are a few players who, despite putting up big numbers, still seemed to fly under the radar in their time at Creighton. Dane Watts is one of those players. Watts started 199 games and scored over 1,000 points. He began starting less than midway through his freshman year, a rarity under Dana Altman. Yet, Watts seemed almost perpetually underappreciated during his time on the Hilltop. Perhaps it's because he played most of his career with Nate Funk and Anthony Tolliver, two other Creighton greats. Let's take a look at Watts' contributions.
***
Dane Watts made his Creighton debut as a freshman on Nov. 15, 2004 at the Qwest Center against Alcorn State. He made one of his four shots – a three-pointer – and grabbed one rebound in 11 minutes. Certainly an average debut. He must have been saving his grand entrance for his home-state BCS team.
The Jays took on Missouri in the Guardians Classic semi-finals in Kansas City on Nov. 23. Watts scored 12 points and grabbed three rebounds in 19 minutes as Creighton throttled the Tigers 78-54 to advance to the championship game against Ohio State. Wrote Steve Pivovar in the Omaha World-Herald:
"Watts, a 6-foot-8 freshman from Warrensburg, Mo., gave Creighton the lead for good when he drilled a 3-point shot from the corner to put the Bluejays ahead 11-8. Watts added another 3-point basket later in the half as the Bluejays connected on 8 of 15 shots from beyond the arc in the first 20 minutes.

"'I was really excited to get the chance to play against the instate team where I'm from,'' Watts said. 'I got a couple of open shots and they fell early. It definitely helped my confidence to hit that first three, and I was more confident to take shots in the second half of the game.'"
The next night, Watts played 23 minutes and scored nine points, and head coach Dana Altman notched his 200th win at Creighton as the Jays took down Ohio State on Tyler McKinney's five-foot jumper with 4.2 seconds left in overtime. He was making a case for a starting role, a rare thing for a freshman under Altman. From the Nov. 27 Omaha World-Herald:
"Watts might have turned the two games in his home state into a coming-out party. He scored a career-high 12 points in the 74-58 victory over Missouri in the semifinals. He came back the next night to score nine points in igniting a comeback that saw the Bluejays erase a nine-point deficit in the final 7 1/2 minutes.

"He came up with one of the game's biggest plays after Creighton turned up the defensive pressure after Johnny Mathies had nailed a three-point shot to trim Ohio State's lead to 46-40. Watts stole the inbounds pass and fired a pass to Tyler McKinney, who converted a three-point play to trim the Buckeyes' lead to 46-43."
Watts would have his best performance yet only six days later. Creighton defeated Xavier 73-72 on another late basket by McKinney, but it was Watts whose 18 points on 7-of-10 shooting led the team. He would enter the starting lineup on Dec. 28 against Bradley, and he would start every game for the rest of his career. He started more games than even Nate Funk and Kyle Korver.
The Jays won their final eight games, including three in a row at the Missouri Valley Conference Tournament in St. Louis, and earned a 10 seed in the NCAA Tournament. Watts scored 14 points and grabbed four rebounds in the championship victory over Southwest Missouri State, another big performance against a team from his home state. Seventh-seeded West Virginia awaited them in the Big Dance's first round, but Tyrone Sally's breakaway dunk with 2.4 seconds left gave the Mountaineers a 63-61 victory.
Watts averaged almost seven points and three rebounds per game as a freshman, more than a solid rookie campaign. But he would turn out to be a much better rebounder than his freshman numbers indicated.
***
As a sophomore, Watts only slightly increased his scoring average to 7.3 points per game, but he grabbed more than two more rebounds per game, second on the team behind junior Anthony Tolliver.
He started the season with 15 points and seven rebounds against Arkansas-Pine Bluff. Against Nebraska On Dec. 11, a 70-44 thumping by the Jays, he just missed on a double-double, grabbing 12 boards and scoring nine points. Creighton played the game without Nate Funk, Jimmy Motz and Pierce Hibma, all out with injuries. Dane Watts told Steve Pivovar of the World-Herald:
"We had our backs to the wall, but we weren't going to make excuses," said Creighton sophomore Dane Watts, who posted career highs with 12 rebounds and five steals. "We just wanted to play harder than them, play with a lot of heart and not worry about shots falling. We wanted to be the aggressor."
A week later, Watts grabbed seven rebounds in a two-point win over Xavier at the Qwest Center. He snagged seven or more boards 10 times on the year, but the Jays lost four of their final six games, including a loss to Bradley in the quarterfinals of the Valley Tournament.
They drew Akron in the first round of the NIT, and Watts led the team to victory with 10 rebounds, setting up a second-round matchup at the Qwest Center against the ACC's Miami Hurricanes, but it wouldn't end well. Watts was called for a controversial blocking foul with 2.6 seconds left, Miami's Guillermo Diaz hit one of the two free throws, no foul was called as Creighton senior Johnny Mathies drew contact on a last-second heave from just inside midcourt, and the Jays' season ended with a one-point loss.
***
Watts' junior year was all about getting back to the NCAA Tournament. With Nate Funk returning after receiving a medical redshirt and Anthony Tolliver entering his senior year, the Jays were given a No. 19 preseason ranking and expectations were high. Watts increased his scoring to just shy of 10 points per game and added six and a half boards per contest. He was becoming one of the toughest Jays of all time.
After a disappointing loss at Nebraska, its first regular-season loss to the Huskers since 1998, the Jays bounced back with a 58-56 win over George Mason on Nov. 25 at the Qwest Center. The Patriots were coming off a Final Four appearance and Creighton needed all of Watts' career-high 19 points to squeak by.
On Dec. 9, 24th-ranked Xavier came to town. Watts snared 10 rebounds and added eight points in the 73-67 win in front of a raucous crowd of 15,872. Seven days later, he would record his first double-double with 12 rebounds and 10 points in a loss at Fresno State.
Watts had three more double-doubles on the year, the most impressive of which may have been a 21-point, 10-rebound performance against Houston in the Rainbow Classic in Honolulu, but the Jays once again limped into St. Louis, losing three of their final five regular-season games.
Creighton was the No. 2 seed at the MVC Tournament, drawing a quarterfinals matchup with Indiana State, which it won handily. After a semifinal win over Missouri State, the stage was set for a showdown with 11th-ranked Southern Illinois. The Jays had lost eight in a row to the rival Salukis, but they needed a win to earn the league's automatic bid to the NCAA Tournament.
Watts scored 12 points, Nate Funk scored 19, and Anthony Tolliver had a double-double as Creighton upset SIU 67-61 to win its sixth tournament title in nine years and advance to the Big Dance for the first time since 2005. However, even with Watts' 10 rebounds, the Jays couldn't overcome No. 15 Nevada, who got 27 points from fifth-year senior Marcelus Kemp. The Wolfpack won 77-71 in overtime to end the Bluejays' season.
***
In his senior year, Watts again increased both his scoring and his rebounding averages. He was now scoring 11.5 points per game and grabbing 6.7 rebounds. And, perhaps most importantly, with Tolliver and Funk both graduated, he was now the leader of the team.
The Jays opened at home on a Friday night against DePaul. Watts had 10 points and nine rebounds, and freshman P'Allen Stinnett scored all of his game-high 23 points in the second half as Creighton rallied from an early 17-point deficit to defeat the Blue Demons.
Creighton went through non-conference play 9-1, its only loss coming at No. 21 Xavier on Dec. 5. Watts had a career-high 26 points and nine rebounds against Mississippi Valley State on Nov. 17 and 20 points and10 rebounds against Arkansas-Little Rock on Dec. 22. With a 9-1 start, hopes were high for another NCAA Tournament berth.
The Jays finished 10-8 in conference play, highlighted by a double-overtime, senior-night thriller against Bradley. Sophomore Cavel Witter scored 42 points to help extend Creighton's streak of 12 straight 10-conference-win seasons. Watts netted a double-double on Feb. 16 at Bradley when he scored 13 points and grabbed 11 rebounds, and he added 13 points on senior night.
With no hope of an at-large bid, Creighton needed to win the MVC Tournament to advance to the NCAAs. The fourth seed, the Jays were slated for a rematch with Bradley in the quarterfinals, and Witter again gave the Braves fits as he scored the final 10 points in the 74-70 victory, setting up a game against No. 20 Drake in the semifinals. It was not meant to be, however, as the Bulldogs beat Creighton for the third time of the year to end the Jays' season. Watts ended his career with back-to-back 13-point performances.
***
Dane Watts scored 1,152 points in his Creighton career, just one of 33 players to crack the 1,000-point barrier for the Jays. He started 119 of 130 games, had 686 rebounds and stole the ball 72 times.
Comments
Tagged in: