Number 52: Ralph Bobik
ED. NOTE: White and Blue Review's ongoing series "What's in a Number?" continues with a look at the best player to wear #52 for the Jays, Ralph Bobik. To read up on how we arrived at our choice, check out the introduction of the series. Or you can read about the players you might have missed by checking out the entire list.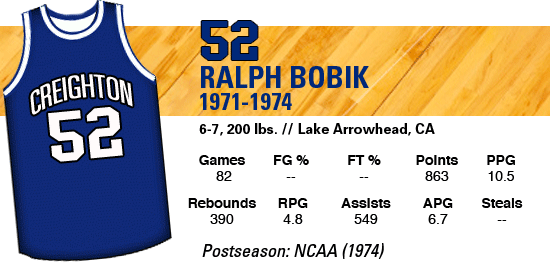 The 1973-74 team — Eddie Sutton's last on the Hilltop — is both one of the greatest Jays teams ever, and one of the most romanticized. Part of that is the fact that the team is the one that put the Jays back on the national map with an NCAA Tournament berth after an absence of more than a decade; part of it is that it marks the peak of Sutton's version of the "Travelin' Jays." Two members of the starting five on that team have already been covered in this series: Doug Brookins, and Charles Butler. While the other two have not been in the discussion for the best to wear their numbers, they were each solid players in their own right.
Gene Harmon — #44 before Rick Apke and Anthony Tolliver wore it — hit a buzzer beater on national TV to take down seventh-ranked Houston on February 17, 1973.
Mike Heck, who donned #54, was a seven-footer from Papillion who was on his way to becoming a spectacular center when he tragically died in his sleep midway in December of 1974 — what had been his junior year.
And then there's Ralph Bobik, the 6'7″ dynamo who was a great passer and had three times as many assists as any of his teammates in each of his three varsity seasons. His career coincided with the apex of the Travelin' Jays Era — Bobik and his fellow seniors played games in 36 cities and 20 states while logging 65,000 miles in the air. Red McManus coined the phrase "border to border and coast to coast" in 1959 when he began the Travelin' Jays era, but it was under Eddie Sutton that the philosophy really bore fruit and gained the Jays national recognition.
Of course, as an independent, Creighton had little choice but to travel the nation to secure quality opposition if they wanted to compete at the top level. And so they did exactly that. "Traveling is so much a part of the Bluejay basketball program," the intro to the 1973-74 media guide reads, "that a basketball prospect should reflect on what traveling means to him before he signs on with the Jays … future Bluejays must be more than tall, talented and dedicated to hard work. They must know how to pack a suitcase."
***
As a freshman, Bobik averaged 18.4 points and 10.4 rebounds for the Freshman team. He also earned the nickname "Crazy Ralph" because of his penchant for zany antics — including a hilarious stint as coach of Bobik's Babes in the women's intramural basketball league, and the invention and later perfection of "The Bobik", which is what he called his pitches in intramural slow pitch softball. As Sutton said in 1972, "What Crazy Ralph does next is anyone's guess."
When he was a sophomore, he moved on to the varsity squad where the first road trip was a nightmare: a seven game road trip spanning the entire month of December and into the new year. First up: the second-ever game at the Marriott Center in Provo against fifteenth-ranked BYU, with 18,686 people in attendance; the Jays were blown out 96-68. Next was eventual Big Eight champion Kansas State in Manhattan, a game the Jays lost 90-68. Then they traveled back out west to take on San Jose State, winning 70-59. The Lobo Invitational in Albuquerque followed, where they took on #10 St. John's in the first round and lost 94-73. The next night, they took on a tough Texas A&M team and rolled to a 100-74 win. The brutal road trip took them next to Ohio, where #6 Ohio State waited and handed the Jays a 94-76 loss. A stop at Cleveland State — and a 92-59 win — completed the trip.
One home game with San Diego on January 10 — a 77-62 win — gave them a brief respite before another trip. Later trips would take them to #2 Marquette (resulting in a 70-61 loss), #8 South Carolina (a 81-64 loss) and Tulsa (a heartbreaking 76-75 loss).
Bobik was a steadying force throughout, averaging 14.1 points, 5.7 rebounds, and 5.2 assists while shooting 48.5% from the floor. He was also named to the All Tournament Team in the Lobo Invitational in December. The Jays went 15-11 as Sutton slowly built the core of the team that would take the program back to the NCAA Tournament.
The traveling continued during Bobik's junior year, as did the challenge of tough opponents — three Top Five teams squared off with the Jays in 1972-73. The first of them was #5 Long Beach State, a team featuring former Creighton player Nate Stephens who handed the Jays a 68-51 loss. Later in the season, another #5 — old nemesis Marquette — came to Omaha and beat the Jays 61-49. But it was the game with #7 Houston, who traveled to Omaha on February 17, that most remember. Gene Harmon, a fellow junior along with Bobik, hit a 30-footer at the buzzer to take down Otis Birdsong and the Cougars. The game was televised regionally, a huge deal at the time, but was attended by just 3,379. Funny thing about that: ask any Jays fan in their 40s or 50s and inevitably, they claim to have been there despite the building being less than half full.
Bobik again led the team in assists with 6.2 per game, and also averaged 8.8 points and 4.4 rebounds. Meanwhile, the team posted a 15-11 record for the second consecutive year.
A trip to Brazil that summer — an ambitious endeavor, featuring games in 10 cities — took the theory of Travelin' to extreme levels. "At Manaus, the Jays thought about turning back home," the media guide slyly notes. "After Belem, Sao Luis, Forteleza, and Salvadore, they were excited. Sao Paulo was exciting, if somewhat overwhelming. The final leg of Santos, Jacaraci, Belo Horizonte, and Rio De Janeiro was a ball. And then there were those nine continuous hours of flight on the way back to New York…"
The players and coaches took tons of photos with their Instamatics, and many of those photos make up the cover of the 1973-74 media guide — at a native fruit market in Brazil, before the Christ of the Andes statue on the border between Argentina and Chilee, from a vantage point overlooking Sao Paulo, and on a tour bus. To no one's surprise, "Crazy Ralph" was in front of the camera in all of them, and not behind it.
That 1973-74 team was the culmination of Sutton's work over the previous four seasons, and when they jumped out to a 19-4 start, their travels caught the attention of Sports Illustrated. The venerable magazine did a feature story on the "Travelin' Jays" and their remarkable journey that season — including the exhibition tour of Brazil, they played games on two continents and in 13 states!
Their signature win came on February 9, when they traveled to Milwaukee to take on #6 Marquette. The Jays fell behind 14-2 early, but rallied to win 75-69 — handing the Warriors just their second loss in their previous 101 games at home. How did they pull off the upset on the road in such unfriendly environs? "Once you've played in Brazil or before any of those crowds south of the border," Sutton told the media, "going into Milwaukee Arena doesn't seem nearly so bad."
The Sports Illustrated article ran the following week, and included this quote from Sutton:
"Oh, I know a lot of coaches must think I'm insane with this traveling thing. But we're an independent with 14 kids on our roster from 11 different states and with 65 alumni groups across the country who want to see us play. So we go everyplace, and we've gotten a reputation for it. Any time we travel I think of it as an education for our players, not just as a sightseeing tour. Creighton is a tough school academically, and if there's something interesting in the area where we're playing basketball, we will investigate it."
Along the way, Bobik was becoming the most prolific passer in Creighton history. In a 99-86 win over BYU on December 17, he dished out 16 assists, which was the school history for all of four weeks — he broke his own record by recording 17 assists in a 79-53 win over Bradley on January 22. His 252 assists on the season are far and away the most ever in a single season; Randy Eccker is the next closest with 205. Tyler McKinney and Ryan Sears, the two best in modern times, had just 184 and 175, respectively, in their best years.
With 21 wins and the road upset over #6 Marquette on their resume, the Jays earned a trip to the NCAA Tournament for the first time since 1962. In the first round, their beat Texas 77-61 largely because of Bobik, who had 12 assists, 6 rebounds and made all three of his shots while playing 38 minutes, only coming out at the end with the game well in hand.
Their second round matchup with 14th ranked Kansas was a tight game, and one which Creighton led throughout; they clung to a 54-53 lead with 1:21 remaining when a Jayhawk layup put them ahead and gave them the win. Bobik again had a sensational game, dishing out 10 assists while scoring 8 points and playing the entire 40 minutes.
***
Few players have dished out assists like Ralph Bobik. In three seasons, he had 549 of them; it took the great Ryan Sears four years to best his mark, and even then he barely eclipsed it with 570. He owns the top three single-game marks for assists, and two of the top ten season totals in that category. He directed the offense at the peak of the Travelin' Jays Era, and captained the 1973-74 team that returned the program to the national spotlight and the NCAA Tournament — then played outstanding once they got there. And he's the best to ever wear #52 on the Hilltop.
Comments
Tagged in: