Number 54: Eddie Cole & Number 98: Ray Yost
ED. NOTE: White and Blue Review's ongoing series "What's in a Number?" continues with a look at two of Creighton's best players in program history. Eddie Cole is the best to rock #54, while Ray Yost is the best to wear #98. To read up on how we arrived at our choice, check out the introduction of the series. Or you can read about the players you might have missed by checking out the entire list.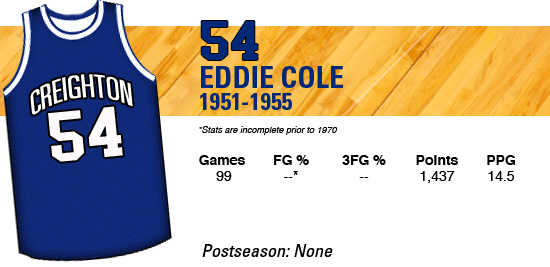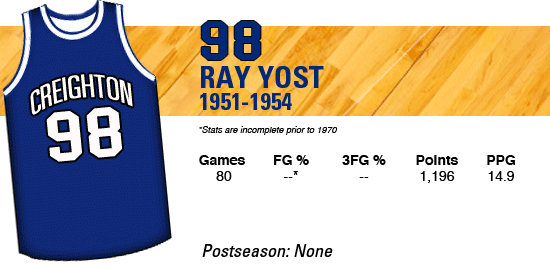 In the early 1950s, Creighton basketball belonged to Elton Tuttle, Ray Yost, and Eddie Cole. According to the 2010-11 Creighton Men's Basketball Media Guide, Tuttle and Yost became the first two players in CU history to score 1,000 points as Bluejays. Tuttle left Creighton the school's all-time leading scorer. Yost left school the owner of the single-season scoring mark. And Cole would join his two teammates a year later as the third Bluejay all-time to eclipse 1,000 points.
Because so many of their best performances occurred while teammates, it makes sense to profile Cole, Creighton's best #54, and Yost, Creighton's best #98, in the same piece.
1951-52
Duce Belford's Creighton Bluejays began their season on December 1, 1951, against Buena Vista. The Jays would win just a handful of games all season, finishing with a record of 6-15, but they did pick up the season-opener at home. And it was a pair of underclassmen who stepped up to score a few buckets while the returners were cold from the field. The World-Herald wrote:
"Duce Belford had to call on a couple of freshmen and a sophomore to steady the veterans and give Creighton a winning start on the 1950-51 basketball campaign.

"The frosh who succeeded where the old-timers failed were Ed Cole of Turtle Creek, Pa., and Jerry Lucas of Oklahoma City."
Cole, a freshman, scored 6 points in his Creighton debut. Yost, a sophomore from Omaha, scored 3 points in his first game. It marked the beginning of two great collegiate careers.
Cole and Yost probably didn't feel that way a few nights later, though, as they suffered a 100-63 thrashing at the hands of Wichita State. But even though the team wouldn't win again for a few more weeks, both players continued to improve and impress.
During a December 7, 1951 loss to Iowa State, the World-Herald reported that Cole "was a pesky problem for the Iowans all night, but not enough of a problem to swing the balance." And three nights later, in a loss to Kansas in Omaha, Cole led the Bluejays with 14 points. The Jayhawks won by 18, but the game was 48-40 late thanks in part to Cole. From the World-Herald:
"When [Bill] Heyden left, the Kansans owned only a 48-40 advantage. And they had their hands full with a Creighton team that took fire from Heyden's superb rebounding, the dash of freshman Ed Cole, and the re-awakened Elton Tuttle."
The 51-52 Bluejays would bounce back and close out their December homestand with back-to-back wins against Fresno State and Loyola. In the win against Loyola, Yost scored 11 points and Cole earned praise from the local paper yet again, calling him "a sparkling freshie" who was a "ball-hawking demon."
Creighton lost its next four games, all on the road, but not because Yost and Cole didn't play well. Yost scored 17 points and Cole chipped in 13 in an 82-67 loss to Lawrence Tech. After losses to Villanova and #9 Seton Hall, the Bluejays headed west toward home and stopped in Des Moines for a game against Drake. They dropped a 1-point game, but Yost played well. The World-Herald said, "One of the most heartening angles was the performance of Ray Yost. The former Omaha South expert collected four baskets, one of his best jobs of the campaign."
He would continue his outstanding play into the next game, during which the Bluejays played a "road" contest against the University of Omaha on February 1. Yost was top scorer that night, pouring in 17 points.
But the Bluejays wouldn't win again until a month later, against the same University of Omaha team. Eight straight losses, including two more to Wichita State and one more against both Iowa State and Drake, assured the Bluejays wouldn't post a winning record. Cole hurt his ankle in a 1-point loss to Wichita, and then played sparingly the next night as the Jays lost to Wichita by 3. Talk about insult to injury!
The Bluejays ended the season on a solid note, and Yost and Cole were at the center of attention. Yost scored 24 points in what the World-Herald called a "Massacre of Omaha Quint" against the University of Omaha. And the team finished the season two nights later with a 15-point win against Gustavus Adolphus, bringing to a close the sensational first seasons for Cole and Yost.
1952-53
Duce Belford didn't return as head coach for the 52-53 season, as Creighton turned the program over to Sebastian "Subby" Salerno. With a nucleus of Tuttle, Cole, and Yost, Salerno improved the Bluejays' record to 11-14, winning 5 more games his first season than his predecessor did in his last.
Again, the Jays started the season with a home win against Buena Vista. Then it was off to Loyola in Chicago and Notre Dame in South Bend. The Bluejays lost to the Ramblers by 7 points and were drubbed by the Fighting Irish by 21, but Cole scored 12 points against ND. He was beginning to take on more of the scoring responsibilities for the Jays, who as a team continued to struggle.
But when the Bluejays returned from Stillwater, Oklahoma, for a six-game homestand, the two stars went to work. During a 76-71 win against Drake, Yost "had one of his better nights for Creighton with 14 points, while Cole, [Bob] Meyer, and [Ed] Mullin were the sparks of that final surge."
Two nights later, the headline in the World-Herald read Torrid Bluejays Add Portland Scalp, 88-67. Yost scored 14, Cole had 11 as Creighton beat Portland.
Then, three nights after that, Yost engineered an amazing comeback to push the winning streak to three games. From the World-Herald:
"Apparently beaten by Denver University, the Jays fashioned a 68-all tie in regulation playing time, then fought back for a rousing 80-72 overtime conquest of the Rocky Mountain lads.

"And engineering that victory was Ray Yost; the south High grad who chose an opportune night to play his finest game at the Hilltop.

"Yost finished with 32 points. But it was the way he took over after Elton Tuttle left in the fourth quarter that made the difference between victory and defeat for the home forces.

"Denver was leading, 66-61, with two minutes to go. Victory seemed certain.

"Then Yost dunked a short shot, was fouled on the two-pointer and made his free throw for a 66-64 Creighton deficit. Thirty seconds later Yost hit again to tie. But Denver's Glen Busey stole the ball for a dribble-in shot and a 68-66 Denver margin.

"But Yost wasn't done. Just 22 seconds before the period ended he hooked in a beauty for the deadlocker.

"And in the overtime Yost took charge again… he broke away for a fielder and followed by dropping in two free throws. For all intents and purposes, that was the game on a 74-72 lead with less than two minutes to play."
In early February, following a four-game losing streak, Cole single-handedly beat the University of Omaha in, as the World-Herald so colorfully described, a rather exciting contest.
The headline read Cole's Shot Spoils Omaha Bid, 56 to 54, and the story intro read as follows:
"One lightning thrust by Creighton's bouncing Eddie Cole Monday night impaled the University of Omaha on a familiar picket fence.

"Little Eddie, swirling through the Indian defenses with just three seconds to play, flicked a one-handed side shot on the dead run; saw the ball swish through to give the Bluejays a 56-54 victory.

"While delirious teammates and fellow students mobbed the little guy, manhandling him and tossing him from shoulder to shoulder, [University of Omaha's] Bob Mackie knelt and smote his head time and again on the floor."
Then, two weeks later, Cole would come crashing down on the Indians again, scoring 15 points as the Bluejays took the season series from Omaha.
And in the final home game of 1953, Cole hit a shot against Beloit to cut the CU deficit to 55-54. The Bluejays eventually won, and Cole finished with scoring honors (15 points). Yost finished with 12.
Still, that win against Beloit was the one victory for Creighton during its final six games of the season.
1953-54
For the fourth consecutive season, Creighton began its season with a win over Buena Vista. Tuttle and Yost were seniors, and Cole a junior, and all three started the year with impressive outings. The World-Herald wrote:
"Ray Yost and Eddie Cole proved conclusively they can fire the goals when the goals count.

"Yost, the South High grad who teams with Tuttle as Jay co-captain, fired 24 points and Cole, the whiz kid from Turtle Creek, Pa., dumped 21."
In their next game, a win against St. Ambrose, Cole scored 29 points. The World-Herald commented:
"Eddie Cole, the perpetual motion whiz kid, Monday picked a most opportune time to go goal happy.

"Thanks to the junior guard's terrific shooting, the Creighton University basketballers dumped St. Ambrose."
Yost added 20 points during that game, then would lead the Bluejays with 18 points in a loss against #14 Wyoming. The next night it was Cole's turn, as the junior scored 21 points in a loss to Iowa State.
The Bluejays had lost four of their past five games, and frustrations boiled over against Southwest Missouri Teachers (now Missouri State). Yost got a technical foul and then wouldn't take it quietly, so he was kicked out of the game. The Jays lost.
They posted a 5-point win against Denver on their way to Seattle, but dropped two games against their foes from Washington while on the west coast. Yost led the Jays in the first game with 20 and Cole headed the scoring in the second with 24, but victories proved elusive.
Until, that is, Creighton headed to a tournament in St. Paul, Minnesota, where they would win tow of three games and start a 5-1 stretch. Cole scored 33 points in the last game of the St. Paul tournament, helping the Bluejays beat Illinois Wesleyan.
Then, after returning home, Cole (16 points) and Yost (19) helped Creighton snap a long losing skid to Regis, 81-59, and then picked up two more wins against South Dakota and Omaha.
In the win against USD, Cole moved from guard to forward to "give the Hilltoppers that 'new look.'" It worked, as Cole poured in 28 points. Yost added 19.
After beating Omaha, the Bluejays would drop seven of their next eight games, but rebound to win four of their last five to finish out the season.
And things were not all bad for Cole and Yost, although the team still couldn't make it to .500 (the 53-54 Jays finished 14-17). Yost ended the season as Creighton's top scorer, posting the most prolific single-season scoring effort to that point in Creighton history (616 points). Cole was right behind with 608 points. Both seasons are still among the top 10 efforts in CU history.
Plus, after Creighton's lone loss in the last five games (against Tulsa in Omaha), Cole left the next day for Pennsylvania to see his son be born.
1954-55
Tuttle and Yost were long gone by the start of the 54-55 season, leaving Cole as the team's leader. The World-Herald wrote about Salerno's third (and final) team it "may be the youngest varsity squad in Creighton's basketball annals."
Not that the younger players were bad. Cole's senior season marked Bob Gibson's first year on varsity.
But it was a full year before Gibson would lead Creighton in scoring for the first of two consecutive seasons. The bulk of the scoring remained Cole's responsibility, and he did not disappoint.
He led the team with 20 points in a season-opening win against Buena Vista (again), and became just the third Jay in history to score more than a 1,000 points in a careers.
So what did Cole do to celebrate the accomplishment? He went out the next game and scored a school-record 47 points, which stands as the second-greatest single game scoring effort in CU history. Sure, the Bluejays lost in overtime, but Cole made 18 shots and 11 free throws. He was a machine.
But unfortunately for Cole and his teammates, the 54-55 season marked a return to single-digit wins for the Creighton program. The Jays won just five games that season, one of which was Cole's final home game in front of the CU faithful. It took place versus Drake on February 19, 1955. Also known as "Eddie Cole Night." From the World-Herald:
"The windup appearance on the Creighton court has been designated "Eddie Cole night" out of appreciation of the Bluejay captain's four years of toil in the white and the blue.

"Captain Eddie will lead his mates into action owning the Creighton career scoring record, along with his season-long leadership in scoring."
And once again, Cole did not disappoint. He scored 31 points (as did Gibson), en route to a 94-87 win against the Bulldogs.
It was a fitting end to a great individual career for Eddie Cole. And likewise, a fitting tribute to the passing of the torch from one potent scorer to the next, Gibson.
***
Yost's 616 points in 1953-54 is the eighth-best single-season mark in Creighton history. His 1,196 career points are 22nd best all-time. Cole's 53-54 campaign is still good for 9th all-time (608 points), and his career 1,437 point total is 13th best all-time. As a senior, he scored 23.58 points per game, third best in CU history. Cole was drafted by the New York Knicks that spring, becoming the first Bluejay to be drafted to the NBA.
Comments
Tagged in: