Number 55: Nerijus Karlikanovas
ED. NOTE: White and Blue Review's ongoing series "What's in a Number?" continues with a look at the best player to wear #55 for the Jays, Nerijus Karlikanovas. To read up on how we arrived at our choice, check out the introduction of the series. Or you can read about the players you might have missed by checking out the entire list.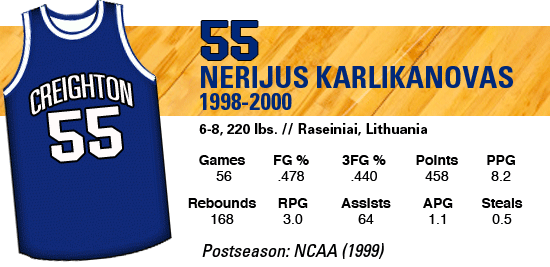 The Lithuanian flag. That's the first thing that caught my eye when I showed up at the Civic to watch the Bluejays take on Towson during my freshman year at Creighton. I'd been coming to home games at the Old Barn with my father since before I could walk, and I never remembered there being another nation's flag represented in the building besides the Stars and Stripes.
But there, across from the home bench, draped over the royal blue railings and over the main concourse wall, was a large Lithuanian flag. Members of the Lithuanian community in Omaha donned the flag to welcome Nerijus Karlikanovas to the Creighton Basketball program.
I had seen him on campus, the hulking yet friendly 6-8 forward from Europe. He was a friend of some of the guys from my floor. He wouldn't be at Creighton long, but he'd make a name for himself thanks to a deft shooting touch and a charismatic yet quirky personality.
***
A few weeks after finishing his season with a loss to Marquette in the NIT, Dana Altman received a Letter of Intent from Karlikanovas, a junior college transfer originally from Raseiniai, Lithuania. Karlikanovas came to Creighton via Mid-Plains Community College, where he averaged almost 20 points and 6 rebounds a game as a sophomore. But he actually began his collegiate career at Allegany Community College in Maryland.
In Lithuania, Karlikanovas played for his country's Under-21 team, taking his talents to what Altman told the World-Herald was "something like 25 or 30 countries. He's well known from their national team."
By the time the 6-feet 8-inch forward made it to Omaha, the Bluejays had the pieces in place for what would become Altman's first NCAA Tournament qualifier at Creighton. But Karlikanovas, known for his offensive abilities, was slow to grasp the defensive effort and skill required to succeed at the Division-I level. Asked about his first days of fall practice in 1998, Altman told the World-Herald "I don't know if he particularly likes all the conditioning and these defensive drills we're doing right now. He's not real fond of them. Sometimes I wonder what he's saying to me when he starts talking Lithuanian."
"But his physical talent and his ability to shoot the ball are things that can really help us."
And Karlikanovas helped immediately. In his first career game, a 93-48 blowout win over Towson, the junior came off the bench to score 15 points and grab 2 rebounds in 20 minutes. A few games later, against Southern Illinois, Karlikanovas chipped in 11 points and 6 boards as the Bluejays bench players paced CU to an 86-60 win and a 6-0 start to the season.
The Bluejays lost their next two games, to Nebraska in Lincoln and Drake in Des Moines, but then turned things around with three straight wins to close out 1998. Karlikanovas was rather quiet in those games, including posting his only scoreless effort of the season during Creighton's upset of the nationally ranked Oklahoma State Cowboys.
Still, Karlikanovas was averaging almost 19 minutes per game at the forward position, supporting Rodney Buford, Ryan Sears, and Ben Walker. Teams had to honor his deep shooting range, as he posted a 47.6% from 3-point land his junior season. And he was tall enough and big enough to matchup on the wing and in the paint with some of the Valley's better forwards. But his first year at Creighton was not without some troubling times.
Karlikanovas missed two games during his junior season while Creighton and the NCAA investigated questions about his eligibility. Perhaps coincidentally, and perhaps not, the information regarding possible club team participation by Karlikanovas while in high school didn't come to light until after he played his best game as a junior, against Southwest Missouri State. Getting his first start in a CU uniform because of Matt West's back injury, Karlikanovas scored 20 points on 7 of 9 shooting (including 4 of 5 from 3-point range). He added 8 rebounds and played well on both ends of the court.
"Nerijus played a great game offensively and defensively he did some good things," Altman told the World-Herald. "He really made a big, big difference in the ballgame."
Steve Alford and the folks in Springfield must have felt that way, too. Creighton Athletic Director Bruce Rasmussen told the World-Herald that someone made a phone call to the NCAA the day after the 72-70 upset win over SMS. Altman was coy when asked about the situation, saying, "It was something that was brought to our attention yesterday – I'm not sure how it originated – and we've got to get some information from over there. He must have played too well Sunday." When asked if that meant the question was brought up by SMS, Altman wouldn't say either way. Riiiiiight.
Karlikanovas, cleared of wrongdoing by the Powers That Be, returned in time to score 4 points in 23 minutes during the Jays' 95-84 win against Illinois State. A few weeks later, he scored 14 points on 5 of 6 shooting against the Redbirds in Normal, in a game the Bluejays dropped. And when the time came for Creighton to begin Arch Madness in St. Louis, the Bluejays and Redbirds met again.
But this time, Karlikanovas' big game against Illinois State translated to a quarterfinal win in the MVC Tournament. In a game when Buford scored just 4 points, Karlikanovas picked up some slack and scored 12 points on just 8 shots in 21 minutes of play. And more importantly, Creighton outlasted ISU for the 68-63 win and advanced to the semifinals.
Karlikanovas would be rather quiet during the semifinal win against Southwest Missouri State, and again in the Bluejays' championship-clinching win against Evansville. But he would come up big in Creighton's first trip to the NCAA Tournament since 1991. In a first round upset of Louisville, Karlikanovas came off the bench to score 9 points and grab 7 rebounds in 32 minutes. His 7 boards were tied for his second highest single-game total of the season, and the Bluejays needed every one of those caroms to pull out a tight 62-58 win as the #10 seed.
Unfortunately, in the second round matchup against Maryland, Karlikanovas would post his second highest turnover total of the season (4), as he and rest of the Bluejays saw their season end in a 75-63 loss to the Terps. The season was a solid one for the juco transfer, as he ended the campaign averaging 6.9 points and 2.9 rebounds in 18.5 minutes per contest.
After starting two games during his junior year, Karlikanovas earned a seemingly permanent spot in Altman's starting rotation the next fall. Gone were Buford, Corie Brandon, Cliff Bates, and Doug Swenson, and Karlikanovas and Donnie Johnson had to further establish themselves in the paint while newcomers like Livan Pyfrom took hold. Karlikanovas started the team's first four games, missed a start against Grambling State, and then strung together six more starting nods as 1999 came to a close. He scored in double figures five times in the Bluejays' first 11 games, during which the team went 9-2.
But the Bluejays, coming off a Valley Tournament championship, started conference play 0-3. Newcomers Kyle Korver and Terrell Taylor were adjusting to the collegiate game, while Altman's Bluejays were adjusting to not being able to rely on Rodzilla night after night for points and clutch plays. Karlikanovas helped ease those adjustments. He averaged 12.8 points per game during a 5-2 stretch for the Jays, starting the streak off with a 22-point effort in a road win at Southern Illinois.
After a road loss to Drake, Karlikanovas helped the Jays bounce back by scoring 17 points in a road win at Illinois State and 12 points in a road win against Colorado State on ESPN. But upstart freshman Korver took Karlikanovas' starting spot against the Redbirds, and two games later, during a win against Bradley in Omaha, Karlikanovas would play just 5 minutes because of an injury to his hip. Jays fans may not have known it at the time, but it was the beginning of the end for the Lithuanian at Creighton.
Karlikanovas played just 3 minutes against Indiana State in mid-February, but came back to log 17 minutes in a home loss to SIU and 22 minutes in a road loss at Bradley. That would be the last game for Nerijus in a Creighton uniform. Hours before taking his team to what would be a road win at Wichita State, Altman announced that he removed Karlikanovas from the program due to breaking team rules. From the World-Herald:
"I know it's not the best timing and I really regret having to make the decision," Altman said. "I really do, because I like Nerijus and he's been good for our program."

Altman said only that the reasons were basketball-related and built over a period of time. Two CU players said they were surprised by the news, but neither believed Karlikanovas had done anything seriously wrong.

"It's just a blow to the team," senior Donnie Johnson said. "Nerijus brought a lot. We're going to have to adjust and go from there. It's just something between him and Coach Altman. But it was a big surprise."

Karlikanovas, reached Friday night, said he was sorry it didn't work out. He said there wasn't one incident that led to his dismissal.

"I guess there were too many differences," Karlikanovas said. "I guess maybe I wasn't the right fit here. The team has rules and you have to follow them. I wish the rest of the guys the best of luck."
At the time of his departure, Karlikanovas was the third leading scorer for the Bluejays, averaging nearly 10 points per game. But he also led the Jays with 69 turnovers, and his lapses in defense proved too costly for Altman and Creighton to endure moving forward.
And the Bluejays did more than endure his absence. After picking up the win at Wichita and then returning home to blast Evansville 102-69 on Senior Day, Creighton won the MVC Tournament for a second consecutive season and advanced to the NCAA Tournament.
It was a sweet ending to the season for the Bluejays, but no doubt a bitter one for Karlikanovas, the best to wear #55 for the White and the Blue.
| Season | FG Pct. | Pts | Avg. | Reb | RPG | Assists | Blocks | Steals |
| --- | --- | --- | --- | --- | --- | --- | --- | --- |
| 1998-99 | .500 | 201 | 6.9 | 84 | 2.9 | 24 | 3 | 14 |
| 1999-2000 | .462 | 257 | 9.5 | 84 | 3.1 | 40 | 3 | 14 |
| Totals | .476 | 458 | 8.2 | 168 | 3.0 | 64 | 6 | 28 |
Comments
Tagged in: