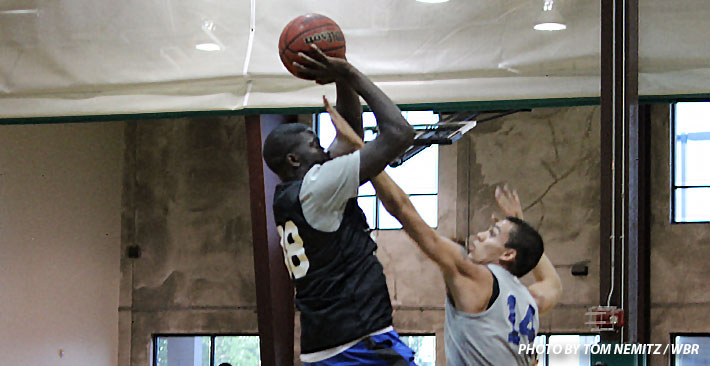 Omaha Metro Summer League 2017 Starts June 15th
The basketball diehards may be having some withdrawals as the NBA Finals went out with a whimper.  But they may also have had the spider-sense that more hoops was right around the corner.  Well, they were right as the summer spectacle of the Omaha Metro Summer League tips off on Thursday, June 15th.
Once again, WBR is proud to be your home for summer league for the eighth consecutive year hosting a micro-site that will have everything you need to keep up including schedules, rosters, scores, and more.  You can also follow along with the official twitter account @OMAMetroLeague.
There are a lot of key pieces of info and changes for this summer:
When is it?
Games will be played  Thursday nights for the rest of June.  When July rolls around games will be on Monday and Thursday with an end of the season tournament on July 17th and 20th.   Games will be played at 6:00 p.m. and 7:00 p.m. with five games during each hour.
Where are they playing?
You may be asking how 5 games could be played at once.  The league has outgrown its previous home and has moved to the new Iowa West Field House in Council Bluffs located next to the Mid-America Center.
Who is playing?
Once again, the rosters of the two Division I teams in the metro, Creighton and Omaha (UNO), will be participating as well as players from other local colleges, former players from the area, and even a few local players from the professional ranks. with over 200 players ranging from high school seniors to seasoned pros.  20 teams will make up the league this summer.
With WBR being a Creighton centric site, fans may want to know about the Bluejays playing.  Per NCAA rules only 2 current players can play on the same team from Division I schools.  Here are the Bluejays playing on the same team this summer.
Tyler Clement and Jacob Epperson
Khyri Thomas and Mitchell Ballock
Ronnie Harrell and Jordan Scurry
Marcus Foster and Martin Krampelj
Ty-Shon Alexander and Davion Mintz
Kaleb Joseph and Manny Suarez
Toby Hegner is still recovering from offseason surgery on his ankle and not expected to play this summer.
Creighton's highly touted recruiting class may draw fans out to the Field House to see Ballock, Alexander and Epperson as well as the graduate transfer Suarez.  Depending on what happens, you may see a couple other new Creighton players too.  While Summer League isn't necessarily a great barometer of how good a player might be, it gives glimpses.
At the same time we also recognize the talent playing in the league and will have coverage on other players and teams too.  Some teams may be featured at different times.
There are always a few surprises each summer. Boxing Champ, Terence "Bud" Crawford will play in the league.  Also this season there is a whole team made up of some of the best high school players in the state going against the big boys.   Get familiar with the rosters here.
Also, a reminder that just because a player appears on a roster, there is never a guarantee that every player will play each week; as a result, most rosters will change from week to week. We'll do our best to be on top of that through site updates and by following @OMAMetroLeague on Twitter.
As always, admission is free, but programs will be available for purchase to match up jersey numbers and players and to help defray the costs of the league.
---
Now that you have the basic info to get you in the door, here is what you can watch on Thursday night.
Game of the Night
7:00 p.m., Court 3:  Daeges Lawncare vs. EQ School of Hair
Daeges Lawncare will draw some fans after the season Creighton's Khyri Thomas had.  If you watched summer league last year,  you had a chance to preview what kind of season Thomas would have as he was a dominant force in the MBL.  This season there is no Justin Patton to join him, but instead plays with incoming freshman Mitch Ballock.  If you listened to White & Blue Review's latest podcast, the Bluejays are getting a special player in Ballock especially with his work ethic.  Add in Bud Crawford and this team will be fun to watch.
EQ School of Hair counters with a team with a couple of Bluejays of their own in Ronnie Harrell and Jordan Scurry.  Harrell came on strong last season for Creighton once given an opportunity to showcase his skills in multiple positions and also had a great summer last year.  The team is also full of Morans–Mitch, Connor, and Chad.  They are a scrappy crew that may surprise some people.
A Close Second
6:00 p.m., Court 1: BD vs. Going Vertical
Both of these teams will be familiar for those that are regulars to summer league with a few minor changes.  BD is led by veterans Jelani Johnson, Ben Imig and Andy King.  This season they are supplemented by current UNO players Renard Suggs and freshman Matt Pile along with recent graduate Marcus Tyus.
On the other side is Going Vertical, led by the summer league stalwarts Ben Holling, Cody Levinson and Klaye Rowe along with recent Omaha graduate Tra-deon Hollins.  They have added a little more firepower this season with the addition of high flyer James Parrott, former Creighton point guard Austin Chatman, and former Husker pro Wes Wilkinson.  This team may be tough to take down this summer.
Other Bluejay Games
6:00 p.m., Court 5: OFWF Law vs. NWU Alumni
Creighton fans have heard a lot about Ty-Shon Alexander and will be interested to watch him with OFWF Law.  Davion Mintz was thrown into a tough situation for the Jays last season as Maurice Watson went down. However, it should be fun to watch the two young Bluejays play together on the court in a preview of what you may see at times during the season. Joining them are several current college players including UNO's Alex Allbery and freshman Hayden Miller.
A staple to Summer League over the years has been a team made up of UNO Alumni.  This year, there isn't a UNO Alumni team.  Taking over the Alumni moniker is Nebraska Wesleyan.  NWU Alumni is made up of recent Wesleyan graduates with the biggest name on the team being Trey Bardsley, who is a three-point dagger.
7:00 p.m., Court 1:  WM Hoops vs. Team Narmi
Team Narmi is your annual "Creighton" team that is made up of several graduates and a couple current players, and sometimes referred to at the Nick Bahe All-Stars.  Nick is likely not coming out of retirement, but has Bluejays filling the roster.  Former walk-ons Matt Dorwart and Taylor Stormberg join Jahenns Manigat and current players Tyler Clement and incoming freshman Jacob Epperson
WM Hoops has a different mix of players which ranges from a recent high school graduate from Omaha South, a Minot State graduate, a veteran Bellevue University graduate and some players that just love playing basketball whenever they can.
7:00 p.m., Court 4:  LRS Healthcare vs. Judd Knispel Agency
Judd Knispel Agency features Creighton senior Marcus Foster and Martin Krampelj.  Foster is looking to have an amazing senior season for the Jays and is always a fan favorite at Summer League with his powerful dunks and long range shooting.  Krampelj is actually on the expanded roster for the Slovenia national team and may be doing some things with them this summer as he tries to make the main roster.
LRS Healthcare is made up of several smaller college graduates but features UNO graduate CJ Carter who is fun to watch at the point.  Also in the mix is another UNO Alumni in Alex Phillips.  Hastings College graduate Dane Bacon is solid as well.
7:00 p.m., Court 5: Spartans vs. NE Preps
The Spartans feature a couple new Bluejays that will be major contributors this season.  Kaleb Joseph sat out last season as a transfer from Syracuse and expects to make an immediate impact for Creighton like several other transfers have over the past few years.  Creighton fans got a preview of Joseph last summer, but he will likely look a whole lot different after a season of getting stronger and developing his game more.  I'm interested to see how his game has evolved since last summer.  Manny Suarez joins Creighton as a graduate transfer and is expected to fill in as a presence in the post.  Suarez has had quite a journey in his college career and looks to finish strong with the Bluejays.
NE Preps is made up of current high school players.  There have been times when some high school players played every once in a while in previous MBL years, but a full team playing each week is something new to the league.  I'm intrigued on what that may look like as they put their feet into the water with the sharks.  It may also be an indication of how far Nebraska high school hoops has come over the years.  If you follow high school hoops, the roster is filled with a lot of familiar names–Roman Behrens, Brady Heiman, Nate Thayer, Shereef Mitchell, Akol Arop, and Ed Chang, who has several major college offers.
The Rest
6:00 p.m., Court 2: Rooferees vs. Winning Mentality
The Rooferees are your defending MBL champs.  The core of Brett Dougherty, Hastings College graduate Derek Fletcher, league organizer Jason Isaacson, and powerhouse Andre Smith are back, but they have enhanced the roster a bit by adding former Bluejays Grant Gibbs and Justin Carter along with KJ Scott, which was an all-star last summer, and recent Oral Roberts graduate Jalen Bradley.  They are definitely looking to repeat
On the other side of this one, Winning Mentality returns with their own core group of Josh Horton, Jay Battle, Isaiah Gandy and former Husker Steffon Bradford.  They were a tough out at the end of last summer and are looking to have that "mentality" to win. They can start fast with an upset over the Rooferees.
6:00 p.m., Court 3:   Wildcats vs. Broncos
The Wildcats team is led by a couple of Wayne State seniors, JJ Zumbrennen and Matt Thomas, along with UNO's Mitch Hahn and Daniel Norl.
For the Broncos, this team is made up of a combination of current Hastings College and Northwest Missouri players along with UNO freshmen pair of Zach Jackson and Zach Thornhill.
6:00 p.m., Court 4:  Crusaders vs. ABIDE
ABIDE will be an interesting team to watch.  This one is made up of local players that just graduated and are headed off to college in the fall.  Isaiah Chandler (Wichita St), Anthony Laravie (Doane), Jordan Nash and Zane Anderson join UNO's Ayo Akinwole and Daniel Meyer.
They will face off against a Crusaders team that is also full of players headed off to college that may not be as familiar as ABIDE, but will be competitive against teams in the league.  Zach Imig, Carter Larson, Jaxon Harre, and Anthony Bratton lead that group.
7:00 p.m., Court 2: Regulators vs. Capehart Sales
The Regulators is a return team from last summer made up of Bellevue University graduates.  Derek Bryant, Mike Dotson and Derrick Davis lead that team
Capehart Sales has usually been made up of the current Peru State roster.  While that is partly the case this year, the rest of the team includes some other graduates and former Peru St. players.
Comments
Tagged in: