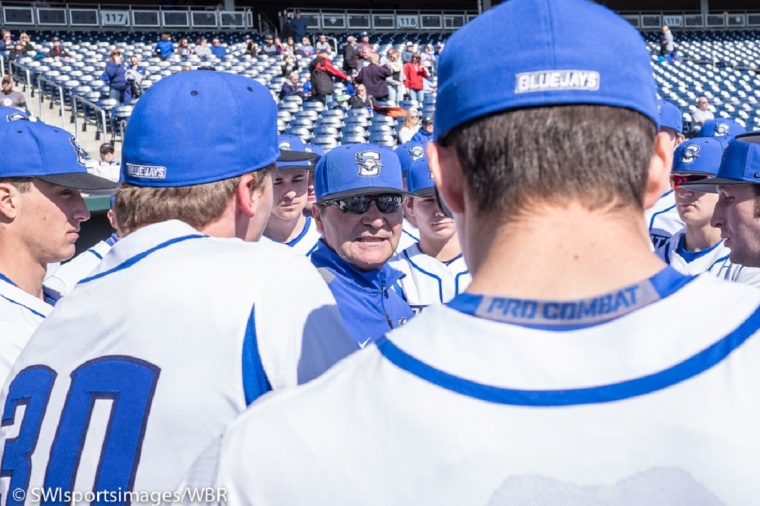 On Deck: Creighton Bluejays Baseball vs. Utah Valley Wolverines
Series Details
The Mother Nature Report
In a word, brilliant. I'm an Accuweather guy, and they forecast the following conditions at first pitch this weekend:
70 and mostly sunny Friday night
59 and mostly sunny Saturday for game one
66 and sunny Saturday for game two
66 and sunny Sunday
100-ish Words About Utah Valley
Well, I didn't know Utah Valley was a school. Not trying to be mean; I hate it when I hear those stories about people not knowing what/where Creighton is. But, truthfully, I've never heard of this school.
The two teams have never played each other. And, while I certainly don't have the encyclopedic memory that, say, Rob Anderson does, I can't remember any Creighton team hosting Utah Valley for any event.
The Wolverines will venture to the Central time zone just three times in 2015; conference series in May at North Dakota and Texas-Pan American, and this weekend at Creighton.
DYK: According to their Twitter account, Utah Valley is a 2-time NCAA team batting champion?
The Bluejays, by the Numbers
Record: 6-6 (6-6 non-conference; 0-0 Big East)
RPI: 73 (c/o warrennolan.com)
Last Time Out
In a midweek matchup in Manhattan, Creighton's losing streak extended to four after a 10-5 loss to Kansas State. The Wildcats pounced on the Bluejays in the second inning for three runs, then kept the lead the rest of the night. Creighton's bats, so so cold in past few games against Minnesota and Tulane, actually warmed up a bit in the Little Apple. The Jays pushed 5 runs across on 10 hits in the loss, then turned around Wednesday afternoon and knocked out 13 more hits en route to a 6-3 win vs. the Wildcats. Reagan Fowler was a big reason for the improvement in offense, collecting five hits during the two games. Brett Murray had four hits during the series, too, including a 3-5 day in the CU win.
On the Mound
Projected Starters
CU's Jeff Albrecht (1-1, 1.35) vs. UV's Danny Beddes (1-3, 4.70)
CU's Matt Warren (1-2, 4.43) vs. UV's Jackson Cofer (0-3, 3.00)
CU's TBD vs. UV's Kaden Schmitt (0-0, 12.15)
CU's Rollie Lacy (1-0, 2.53) vs. UV's Patrick Wolfe (1-2, 5.51)
Creighton
4.14 earned run average (125 nationally)
1.64 strikeout-to-walk ratio (194 nationally)
.978 fielding percentage (26 nationally)
1.33 double plays per game (t-4 nationally)
Utah Valley
6.19 earned run average (241 nationally)
1.13 strikeout-to-walk ratio (266 nationally)
.952 fielding percentage (243 nationally)
0.80 double plays per game (t-110 nationally)
All stats according to stats.ncaa.org
At the Plate
Creighton
.234 batting average (242 nationally)
.309 slugging percentage (249 nationally)
.308 on-base percentage (t-260 nationally)
4.5 runs per game (t-202 nationally)
Utah Valley
.245 batting average (221 nationally)
.320 slugging percentage (233 nationally)
.317 on-base percentage (246 nationally)
4.5 runs per game (198 nationally)
All stats according to stats.ncaa.org
Comments
Tagged in: