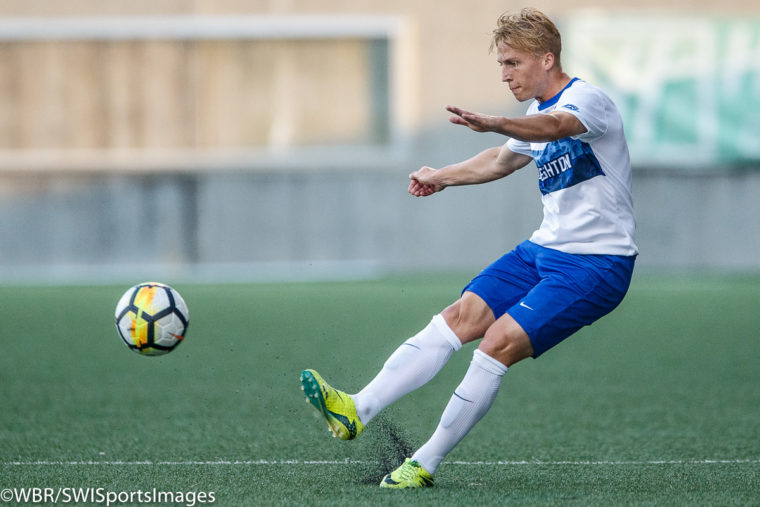 Opportunistic Bluejays Rally to Beat Tulsa With Goals in Waning Seconds of Regulation, Overtime
If squandering a two-goal lead late in Saturday's overtime loss at Butler didn't teach the Creighton men's soccer team the value of sustaining their level of play for the full 90 minutes, they surely learned the lesson with some positive reinforcement on Tuesday night.
Trailing 1-0 on their home field, the Bluejays scored the game-tying goal with 16 seconds left in regulation, then the game-winner with 14 seconds left in the first overtime period to earn a 2-1 win over the Tulsa Golden Hurricane in front of 1,311 fans on a warm, muggy night at Morrison Stadium.
"That's soccer for you. You keep going, going, going and we did — the guys never gave up," Creighton head coach Elmar Bolowich said. "It was a very bitter result on Saturday because we played well for 70 minutes. It's another thing if a team outplays you, and has a day with you and gets the result, but I felt on Saturday we — for 70 minutes — played the best we've played all season long. We just didn't continue for the entire 90 and it bit us. We didn't want to experience the same thing again, so we played the full 90, and we had to in order to get the result."
Enjoying the benefit of the wind at their back, Creighton toyed with possession for the majority of the first half, but still managed to find themselves in a 1-0 hole as they headed to the locker room at intermission. Tulsa goalkeeper Marcel Da Silva made two brilliant saves on shots by Creighton senior co-captain Ricky Lopez-Espin, and his offense rewarded him in the 41st minute when sophomore defender Gustavo Vargas beat goalkeeper Michael Kluver with a header off a corner kick to make it 1-0, Golden Hurricane, with 4:02 remaining in the opening half.
The Bluejays responded with appropriate urgency and sustained the rest of the match. They piled up an 11-3 lead in shots in the first 35 minutes of the second half and peppered away at Tulsa's back line in search of the equalizer. Da Silva, a redshirt sophomore, stopped each of the first 11 shots that Creighton put on frame and headed into the 90th minute as the obvious candidate for "Man of the Match." Until two of his former Shattuck-St. Mary's club teammates in blue uniforms spoiled the night.
With the game clock winding down under 30 seconds in regulation, junior midfielder Joel Rydstrand placed a corner kick into the box where senior goalkeeper Michael Kluver was waiting for a desperation chance to send the match into overtime. Kluver connected with side-winding shot as the ball bounced up off the turf and Lopez-Espin redirected it at the last second to put it in the back of the net with 16 ticks left on the clock, then ripped off his shirt and raced to the right corner of the field where his teammates surrounded him to celebrate.
90' || 🐦1️⃣ ⛈1️⃣ || GOOOOOOOOOOOOOOOOOOOOOOOOOOOOOOOOOOOOOOOOOOOOOOOOOOOOOOOOOOOOOOOOOOOOOOOOOOOOOOOOOOOOOOOOOOOOOOOOOOOOOOOOOOOOOAL #GoJays pic.twitter.com/UJ9bsGHDqO

— Creighton Soccer (@creightonmsoc) September 20, 2017
Creighton's co-captain said he wasn't thinking about much before or after registering his 22nd career goal, and fourth of the season, to give his team some life in the final seconds of what was almost another "bitter" defeat.
"Just desperation. Get to this ball no matter what happens," Lopez-Espin said. "Get to it and fight like hell to put in the back of the net … I didn't even know Kluver came up, but I just got wide in case he missed it. I wish he would have scored. That would have been awesome."
For Kluver, it was a last-second decision to come up for the corner kick but with little time left and his team in desperate need of a goal, he just gave his coaches a quick wave as headed to the edge of the penalty area.
"I wanted to make sure that it was okay with the coaches beforehand, because there was some time left, but at that moment we were down 1-0. We needed to score at all costs," he said. "That opportunity is like a dream. All goalkeepers dream about that, but rarely does it ever happen. The opportunity came and I was fortunate to have the ball at my foot and I did what I could with it. Luckily Ricky helped it in."
Tulsa had a chance to return the favor in the final minute of the first overtime period, but their dream scenario quickly turned into a nightmare. With a little over 30 seconds left, Creighton cleared a corner kick, then Lopez-Espin won two challenges to gain possession along the right flank and punched the ball across the midfield to get the Bluejays on the counter. Sophomore Luke Haakenson, who originally cleared the ball out of the box on the corner kick, beat everyone across the line and chased down Lopez-Espin's pass to set up a 1v1 with Da Silva as the final seconds ticked off the clock. Haakenson drove into the box, juked one way, stepped the other, then beat the Tulsa goalkeeper with a little flick to the lower right corner of the net with 14 seconds left to give the Bluejays a 2-1 come-from-behind win.
"Playing as a little kid growing that's something you always have in your head," Haakenson said. "That's a dream goal. To score in overtime to win the game, one on one with the goalie, you can't ask for anything better. Growing up you always learn as soon as the keeper start to go down that's when you hit it. I saw him start to make his move to go down and that's when I slotted it. It takes a lot of time and practice during training and it paid off there."
100' || 🐦2️⃣ ⛈1️⃣ || GOOOOOOOOOOOOOOOOOOOOOOOOOOOOOOOOOOOOOOOOOOOOOOOOOOOOOOOOOOOOOOOOOOOOOOOOOOOOOOOOOOOOOOOOOOOOOOOOOOOOOOOOOOOAL! #GoJays pic.twitter.com/qYnkVN7hOE

— Creighton Soccer (@creightonmsoc) September 20, 2017
The Bluejays improved to 4-3-0 with the non-conference win and will try to carry that momentum into Saturday night's home match with Big East foe Villanova. Already 0-1-0 in conference play after losing the lead late at Butler, Lopez-Espin hopes Tuesday's dramatic comeback will be the start of a mid-season run.
"At Butler we played probably the best soccer we've played all year," he said. "For 70 minutes they couldn't touch us, but the last 15 or 16 minutes I don't know what happened. The wheels just fell off the bus … it's a hell of a lot better feeling when you're winning in overtime instead of losing. Hopefully we can carry this momentum into Saturday. The team needs some good moral, so hopefully we can just keep rolling."
First touch between Creighton and Villanova is scheduled for 7:00 p.m. at Morrison Stadium. The Wildcats are 1-0-0 in league play after a 3-1 win at Marquette and beat the Bluejays at home last season by a score of 1-0 despite being out-shot 22-5.
"We think we should have won last year at their place," Lopez-Espin said. "They're a good team. They made the conference tournament last year, and that's tough to do, so we have to prepare like we always do and come out firing. Hopefully we'll get it done in 90 and not 99."
Comments
Tagged in: