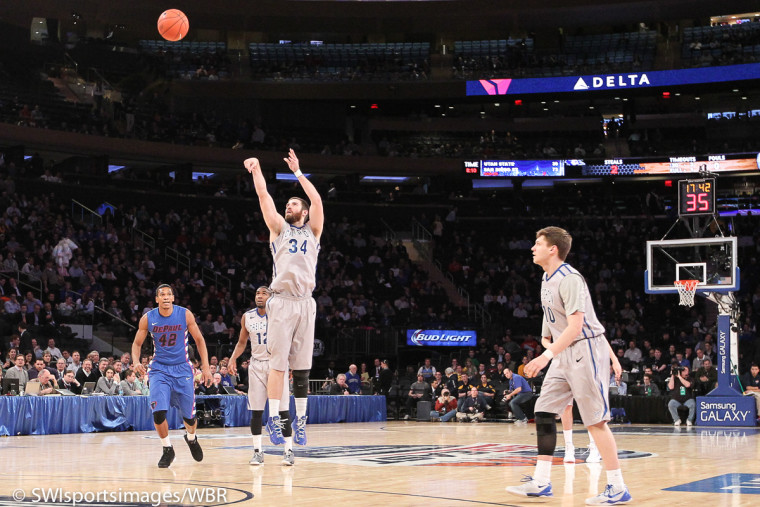 Ott's Thoughts: 10 Pressing Questions Ahead of the '14-15 Creighton Basketball Season
I'm curious (worried?) about a few things in the weeks leading up to the start of the 2014-15 Creighton Bluejays men's basketball season. So, I'm asking some questions and avoiding most answers, all in an attempt to avoid biting my nails off the cuticle waiting for the season to start. 
#7 – Who is going to #LetItFly?
So much of Creighton's identity nationally the past few years has been informed by the Bluejays' crazy shooting performances.
Ahem.
Outbursts from behind the arc against Villanova notwithstanding, Greg McDermott's squad was the most potent three-point shooting team in the nation in 2013-14. The Bluejays led the country in three-point percentage (41.4%) and three-pointers made (356), while finishing second in three-pointers per game (10.17).
Ethan Wragge made 110 threes last year as a senior, the second-best single-season total in Creighton history and the eighth-most in the country. Doug McDermott drained 96 triples last year, the fourth-best single-season total and tied for twentieth-most in the nation. As juniors, Wragge hit 78 and McDermott made 77, eighth- and ninth-best all-time at CU.
Fellow departed senior Jahenns Manigat was no slouch from behind the arc, either. He left Creighton having made 40.6% of his threes during a four-year career, putting him tenth in Creighton history for career three-point percentage. Wragge made 43.9% of his threes, good for sixth-best. The man on the top of the mountain? McDermott, with a career 45.8% mark from behind the arc.
Coach McDermott certainly facilitated a game plan that played to his players' strengths. Wragge (761), McDermott (598), and Manigat (508) are second, fourth, and sixth, respectively, in career three-point attempts at Creighton. And some of the most memorable plays of a truly sensational 2013-14 season were triples: McDermott's game-winner against St. John's, his three-pointer at home against Providence on Senior Night to give him 3,000 career points, and of course the nine threes in nine attempts to start the road bludgeoning of the Wildcats in Philadelphia.
But as the season wound to a close, Creighton's three-point shooting faltered. After making 14 threes in a Big East Tournament quarterfinal win against DePaul and 11 against Xavier in the semifinals, the Jays went just 8-30 (26.7%) in the tournament title game loss to Providence. They recovered to hit 9-23 from distances in an NCAA Tournament win against Louisiana, a victory sparked by some late-game triples by Wragge and McDermott. But the team's collective touch disappeared against the Baylor Bears, as the Bluejays went 5-24 in the most frustrating Creighton game in years.
…
I have no doubt that Coach Mac and his staff will tailor their offensive strategies to the skills and strengths of the players they have. That said, Bluejays recruitniks have billed Creighton as a destination for the nation's premier shooters, be they high schoolers or JUCO guys.
If Creighton's going to continue to embody the #LetItFly mantra that adorned their warm-ups toward the end of last season, who can the Bluejays count on for makes?
Of the returnees with experience, Creighton's best three-point shooter is guard Austin Chatman. He's made 40.2% of his shots from distance during his career, hitting 35 triples in both his sophomore and junior seasons. He didn't have to take a lot of shots, mind you, deferring most times to the aforementioned Manigat, Wragge, and McDermott.
Chatman's backcourt mate Devin Brooks hit just 28.1% of his threes last season during his first year at Creighton. Practice reports are that Brooks has worked tirelessly on his long-range jumper in the offseason, perhaps signaling that long-range looks will be more of Brooks' game in his final season at CU.
We chronicled Avery Dingman's shrinking three-point percentage here. He made 41.9% of his triple attempts as a freshman, 39.8% as a sophomore, and just 25.6% last year as a junior. It would certainly be a positive development if Dingman reclaimed his touch from long range.
Isaiah Zierden made 32.7% of his threes as a redshirt freshman, a season that was cut short by a knee injury. But he was widely regarded as one of the nation's best three-point shooters as a senior in high school. He's worked his way back from the injury, and if he improves on his long range shooting he'll give Creighton a true combo guard with a high basketball IQ and touch from deep.
CU post players Will Artino and Geoffrey Groselle haven't attempted a three during their Creighton careers, while fellow big man Zach Hanson went 0-2 from distance last year as a true freshman. Perhaps the coaches will add some wrinkles to the offensive lineups, allowing for Hanson to try his hand at a few more attempts.
Other than those with experience as Bluejays, we're left to ponder and project what the newcomers can pitch in from behind the arc.
Transfer Rick Kreklow is a career 31% three-point shooter in three previous stops before Creighton. He made 13 of his 46 attempts as a true freshman at Missouri, then 5 of just 18 attempts in his injury-riddled first year at Cal. He attempted 81 threes last year for the Bears, making 27 (33.3%). Like Brooks, Kreklow's been connecting in practice. He'll have one final year to let it fly as a Bluejay.
Redshirt junior college transfer James Milliken made 42% of his three-point attempts in his final season at Cowley County Community College, connecting on 79 total triples. He sat out last season at CU after Grant Gibbs received an extra season of eligibility from the NCAA. Milliken might be the guy who breaks out as the next truly consistent threat from deep for the program.
Or, that breakout player could be Toby Hegner. The redshirt freshman is a 6-foot-10 forward who is just as comfortable, if not more so, behind the arc as in the paint. Could he take over the role Wragge perfected for the Jays in the past few years?
Then there's the true freshmen Ronnie Harrell and Leon Gilmore III. Both are 6-foot-7 wings, but Harrell's a proven three-point gunner from that spot. He made almost 40% of his three-point attempts during three varsity seasons at Denver's East High, making 154 triples en route to a No. 71 ranking in ESPN's Top 100 recruits list.
…
I'm extremely interested to see what wrinkles and changes Greg McDermott will make to his offense. Sure, we won't see anymore #Wraggebombs. Coach Mac's son is busy making shots for the Chicago Bulls. And Manigat has taken his Canadian Red Bull act to Romania.
But the Bluejays have options at every position if the Creighton coaches want to continue to #LetItFly.
Comments
Tagged in: