Ott's Thoughts: 10 Pressing Questions for Creighton Men's Basketball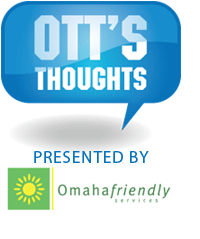 College basketball officially begins in two weeks. Friday, October 12, marks the start of team practices. In the days leading up to Creighton's Bluejay Madness event, we'll try to pose (and answer) some of the most pressing questions surrounding the 2012-2013 Creighton men's basketball team.
College basketball officially begins Friday, October 12. In the days leading up to Creighton's Bluejay Madness event, we'll try to pose (and answer) some of the most pressing questions surrounding the 2012-2013 Creighton men's basketball team.
#10: How well will Austin Chatman replace Antoine Young?
#9: Can Creighton handle being the hunted?
#8: How will the minutes shake out?
[UPDATE: I'm not strong with math. SHOCKER. Creighton's great SID, Rob Anderson, pointed out  a few miscalculations. I've revised the piece, and the outcome is more challenging than the original number. After the departure of Antoine Young and the mop-up minutes played by the walk-ons, there are about 30 minutes per game for the coaches divvy out among this year's returners and newcomers.]
Two hundred minutes.
That's all the playing time available during a given college basketball game. Sure, overtime periods can add a few more, but that's the exception to the rule. The micromanagement of minutes played is, to this hoops nerd, one of the more fascinating coaching considerations.
Based on last season's averages, Greg McDermott and his Creighton Bluejays men's basketball coaching staff have to replace Antoine Young's 30.6 minutes per game.
So, Bluejay returners and newcomers will scramble to take their share of the minutes per game up for grabs. It is hard to imagine that All-American Doug McDermott's minutes will decrease from a team-high 31.914 mpg last season. Sure, there (hopefully) will be some games Creighton can control early, giving Coach Mac the chance to rest his son. But it's much more likely that Dougie will only get the occasional break. He's a candidate for a few of those minutes left over from last season.
Grant Gibbs logged 29.857 mpg last year. That total's amazing considering the constant battle the Bluejays trainers and Gibbs faced with his nagging injuries. He, like McDermott, must be on the floor in critical situations. If health wasn't an issue, you'd surely see his minutes increase. But for the Bluejays to accomplish their goals this season, it will be vitally important to manage Gibbs' minutes so he is freshest for crunch time.
Austin Chatman seems the obvious choice to enjoy a sizeable increase in playing time from last season. He steps into the role vacated by Young, and Chatman realistically could double his 11.829 mpg from 2011-2012. Even if he played nearly 12 minutes more per game this season it that would leave 18.771 of Young's mpg unaccounted for. Perhaps newcomer Andre Yates avoids a redshirt season and picks up a few minutes? He's just one of a handful of newcomers that must fight for playing time amidst a group of experienced and established veterans.
Gregory Echenique averaged 23.857 mpg last season next to McDermott in the frontcourt. Ethan Wragge played the five here and there, swinging between that spot and forward. Bouncing back from a redshirt season because of health, Wragge averaged 16.029 mpg last year. And in his first year of playing time, post player Will Artino saw action in 34 of 35 games, averaging 7.206 mpg. Echenique, Wragge, and Artino welcome redshirt freshman Geoff Groselle to the mix for minutes.
Foul trouble takes its toll on projected minutes in the frontcourt. But in a perfect world, Echenique would build on his 23.857 mpg average and dominate from the center position. With Groselle added to the rotation in that spot, perhaps he and Artino cut Wragge out and Ethan shifts to his more natural position as sharpshooter on the wing. Perhaps not. Matchups will dictate decisions, surely, as will Echenique's ability to play a violent but controlled game among other centers in the Valley who lack his natural strength and athletic abilities. But the depth down low is the first of a few issues that force a difficult crunching of the available minutes.
The coaching staff has a tough task at hand with managing the minutes among the backcourt contributors. Junior Jahenns Manigat (22.686 mpg) and redshirt senior Josh Jones (17.029 mpg) effectively split a position down the middle last season. Both are streaky shooters who can defend, but each as plenty to build on from last season. Isaiah Zierden, a true freshman, can shoot from anywhere on the floor. But he plays the same spot as Manigat and Jones. Will Zierden push for minutes, too, or will the coaches shelve him as a redshirt so he can add strength to his 175-pound frame?
This coaching staff has shown patience with its roster decisions, and it pays off in depth at every position. Avery Dingman and Nevin Johnson entered the program as true freshmen last season. The staff redshirted Johnson and played Dingman. The sophomore from Missouri averaged 7.2 mpg as a true frosh, but his shooting ability and size (6-6) provide him a chance to cobble out more playing time.  Still, he'll have to fend off Johnson for minutes. The guard/forward from Texas been mentioned as a potential lock-down defender at 6-5, and his athleticism has been evident at practices.
And who can forget the walk-ons? Derek Sebastian (2.909 mpg in 11 games), Matt Dorwart (2.462 mpg in 13), and Ross Ferrarini (2.167 mpg in 12) didn't play in every game but still logged some minutes. This year, expect Taylor Stormberg, Alex Olsen, and Mo Oginni to see the court occasionally. The same goes for Joe Kelling, a new walk-on on the roster. Stormberg played 2.308 mpg in 13 games last season, while Olsen and Oginni practiced but didn't play. They want their share of the minutes left behind by Sebastian, Dorwart, and The Godfather.
Who takes what portion of the playing time? How does the staff split time at positions? That's why they get paid the big bucks, I'm sure. Perhaps you have some thoughts about how time should shake out? Take to the conversation already percolating at The Bluejay Underground (here).
Comments
Tagged in: