Ott's Thoughts: Creighton Hits the Road After Beating UNI Panthers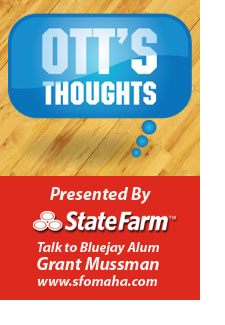 The Creighton Bluejays are off to their best start in school history. With a record of 17-1 and a national superstar in Doug McDermott, CU has garnered plenty of attention throughout the college hoops landscape.
A few days after grabbing Friday night headlines thanks to McDermott's 39-point effort at Missouri State, the junior All-American posted 31 more points in a midweek win over Northern Iowa. McDermott posterized a few UNI Panthers with just a few seconds to play, an exclamation mark that made its way to SportsCenter.
Frankly, things are rolling along right now for McDermott and the rest of the Bluejays. Their 6-0 start to Missouri Valley Conference play is the program's best since the 2002-2003 team started 7-0. Their national rankings (#12 in the Associated Press poll, #10 in the USA Today Top 25 Coaches Poll) and top-20 RPI numbers have fans and coaches thinking about a potential high seed in the NCAA Tournament. The CenturyLink Center, always home to one of the nation's top 10 average attendances night in and night out, has been sold out for four straight games.
But let's be honest. If there's any team in recent years that could ruin the warm and fuzzy feeling surrounding CU hoops right now, it is the Wichita State Shockers. Now the nation will get to witness the frenzied atmosphere that surrounds recent matchups between the Bluejays and Shox, with ESPN2/ESPN2HD broadcasting this Saturday's 3:00 p.m. game between the top two teams in the Valley.
A few thoughts while I watch highlights of Creighton's win against Northern Iowa, and while I worry about how Saturday afternoon will play out in Wichita.
Creighton's defensive strategy was effective against UNI, and the offense came around after a slow start.
After the Missouri State win, I compared Creighton's through 17 games with last year's performance. Being somewhat superstitious, I knew I was playing with proverbial fire. And after Northern Iowa finished the first half Tuesday having made nearly 52% of their shots from the field, I was worried that my analysis came a few days too early.
Anthony James scored 15 first-half points as he repeatedly got into the lane or knocked down jump shots from near the elbow. He ended with 25 points for the Panthers (on 20 field goal attempts). As a team, UNI outperformed their field goal shooting percentage by nearly 5 percentage points — the only other CU opponent to do that so far this year was Boise State, in Creighton's only loss.
The difference against UNI, though, was that the Bluejays didn't let the Panthers get hot from outside. Ben Jacobsen's team hit 15 three-pointers over the weekend in a win against Bradley. But Jacobsen's counterpart, Greg McDermott, focused his team's defense on stopping the Panthers from getting hot outside. Coach Mac told T. Scott Marr and Nick Bahe during the postgame radio show that his players were keyed on eliminating open looks for UNI from three-point range.
So while James and other UNI guards found lanes in which to shoot near the paint and the elbow, the Panthers shot just 26.7% from three (4-15), nearly 10 percentage points worse than their season average.
Meanwhile, three-pointers kept Creighton in the game early while foul trouble and UNI's defensive focus limited CU to just 16 points in the paint in the first 20 minutes. The Jays hit 6 of 8 from three-point range during the first half, with three of those makes coming from lead guards Austin Chatman (2) and Grant Gibbs (1). Gibbs' three-point make gave Creighton a 23-22 lead with 7 minutes remaining in the first half, and the Bluejays never trailed after that.
Doug McDermott struggled a bit in the first half, making less than half of his field goal attempts and heading to the locker room with 10 points. Gregory Echenique spent far more time in the first half on the bench than the court, thanks to two quick fouls. The three-point makes stemmed the tide for the Jays until McDermott got going in the second half. He scored 21 points in 16 minutes in the second stanza, missing only four shots. He accounted for half of Creighton's 42 second-half points.
After being outscored in the paint in first half 18-16, the Bluejays reversed their fortunes and beat UNI on the blocks 28-22. Creighton shooters missed all four of their three-point attempts in the second half but managed to pull away from the Panthers for the win.
When tested and teased, Austin Chatman and Grant Gibbs once again answered the call.
McDermott's 31 points and 4 rebounds were evidence of yet another outstanding effort by Creighton's All American. But the play of Chatman and Gibbs can't be understated. I mentioned their timely three-point makes in the first half. But those points were just tiny piece of what they did right against Northern Iowa.
Chatman played a game-high 36 minutes and scored 12 points while dishing 4 assists and collecting a steal. Gibbs added 11 points, 7 assists, and 6 rebounds in 29 minutes, with 6 of those assists coming on makes by McDermott.
Gibbs, a senior, has had another exceptional season as Creighton's offensive conduit. Through 18 games Gibbs averages 6.9 points, 5.8 assists, and 4.0 rebounds per game. He leads the league in assists and is in the top 25 nationally for total assists and assists per game. Plus he protects the ball; Gibbs is 8th nationally in assist-to-turnover ratio (4-to-1).
But how great has Chatman been during just his first season of running the point? Through 18 games he is averaging 7.9 points, 4.9 assists, and 2.4 rebounds per game. He is second in the league in assists. And he is making teams pay for sagging off him on the perimeter; Chatman's 53% of his three-point attempts.
After the game Tuesday, Mac expressed his feelings about how Chatman is doing in his first season of being the team's point guard, saying he is honestly surprised at how well the sophomore from The Colony, Texas, has played.
That got my mind wandering: how does Chatman compare to other recent CU point guards when reviewing their first years as the team's primary point guard?
Ryan Sears started his first game as a freshman; he started all of the 28 games he played in his first year at CU in 1997-1998. And while Rodney Buford was putting up huge numbers offensively, Sears was holding his own. He averaged 10.5 points, 4.8 assists, and 3.0 rebounds per game that year, while adding 2.2 steals a game. He shot 40.9% from the field and 39.1% from three-point range. But he was one year away from making an NCAA Tournament.
Tyler McKinney got his first start at point guard during the final week of 2001. He would start 21 of that team's final 23 games, facilitating an offense that featured juniors Kyle Korver and Larry House and sophomore Brody Deren. McKinney averaged 4.3 points and 2.1 assists per game in 32 games as a freshman, and his season ended with a 1-1 record in 2002 NCAA Tournament.
Josh Dotzler started his fourth game as a Bluejay, a loss at DePaul. That game was remembered as the night that Nate Funk suffered an injury that would eventually shelve him for the 2005-2006 season. But it was also the start of a solid freshman season for Dotzler, one that would come to an end because of his own injury. He averaged 6.4 points, 4.2 assists, and 2.3 steals per game through mid-February, when he went down with a knee injury against Southern Illinois.
Antoine Young didn't start a game during his freshman year. He played 14 minutes a night in 34 games, and his team didn't make the NCAA Tournament. As a sophomore, Young earned his first start after the team's season-opening loss to nationally ranked Dayton. He'd finish with 33 starts in 34 games, posting averages of 7.1 points, 3.2 assists, and 1.7 rebounds per game. That team imploded, though, and Dana Altman left Creighton after Young's sophomore year. He wouldn't reach the Big Dance until his senior season.
Obviously, there are major differences when putting what these guys did in the proper context. Chatman benefits greatly from having Gibbs on the floor as another pass-first guard. Unlike Sears, the Bluejays don't need Chatman to be a major scorer. He doesn't need to create his own shot like Young did. His assist averages are wonderful, but it helps that he has one of the nation's best sets of shooters around him. But Chatman compares favorably when placed alongside some of the more revered point guards in recent CU history.
A tough road awaits the Bluejays.
Creighton will play its next three games on the road, beginning with Saturday's nationally televised game at Wichita State. The CenturyLink Center hosts the U.S. Figure Skating Championships for the next few weeks, so the Bluejays got bounced from the building. It will be the first three-game road trip for a MVC school in league play since Bradley hit the road for three straight in January 2009.
The Shockers haven't lost at home yet this season. The Jays won in Wichita on New Year's Eve 2011, and CU hasn't won consecutive games at WSU since taking three straight games from 2000-2002.
Rob Anderson's stellar game notes point to Creighton's outstanding conference road record since the 2000-2001 season (the last time the Bluejays won a regular season championship outright). During that time, Creighton is 61-49 in MVC road games, a .555 winning percentage. That easily outpaces the next best team (Southern Illinois, .473), and compares more than favorably to the .348 winning percentage posted by the league's 10 teams combined.
The Bluejays have one of the nation's longest road winning streaks, and they will need an exceptional effort from McDermott and others to stretch it into next week. Good thing is, some of Doug's best performances have come away from Omaha this year. He averages 21.5 points and 6.8 rebounds per game at home this season, but a whopping 29 points and 8.2 rebounds per game in his six contests away from the CLink.
Comments
Tagged in: