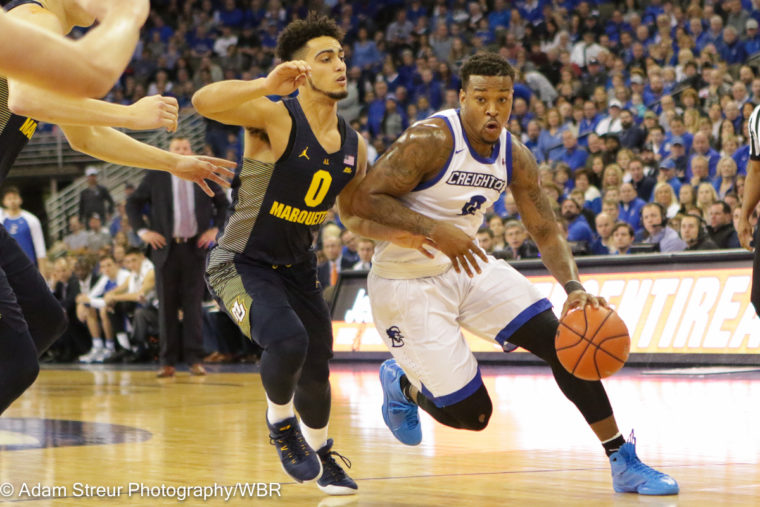 Photo Gallery: #7 Creighton Men's Basketball Falls to Marquette
The #7 Creighton Men's Basketball scored 94 points on Saturday afternoon in their first full game without Maurice Watson, Jr.,  Unfortunately for the Bluejays, the breakdowns on defense and the net burning shooting of Marquette helped the Golden Eagles pull off the upset, 102-94, in front of more than 18,000 fans at the CenturyLink Center.
Marcus Foster scored 30 points for the Bluejays on 24 field goal attempts.  Isaiah Zierden and Davion Mintz filled in for Watson at the point and offensively had a great day. Zierden was perfect from the field going 4-of-4 from three and hitting all three of his free throws to garner 15 points, while Mintz had a breakout day with 17 points, 8 assists and 4 rebounds in 26 minutes of play.
Justin Patton suffered through foul trouble all day and defensive breakdowns for easy baskets let Marquette pull out to a lead they would not relinquish, mainly because of their 12-of-24 from behind the arc and shooting over 60% for the game.
All three WBR photographers–Adam Streur, Brad Williams, & Mike Spomer were there to catch the electricity in photos.  Support them over at the WBR Store and in the meantime enjoy the slideshow gallery below.
Comments
Tagged in: