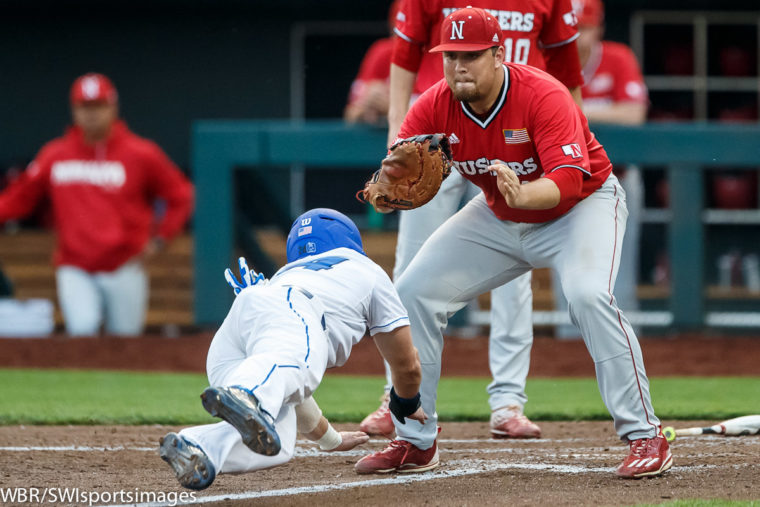 Photo Gallery: Creighton Baseball Takes Game 2 Against Huskers
The Creighton baseball team struck while the iron was hot on Tuesday night heading into the game against Nebraska at TD Ameritrade Park.  The Bluejays extended their win streak to seven straight games with a 5-2 win over the Huskers.
Over the first three innings, the Bluejays got on the board to take an early 3-0 lead.  Creighton senior pitcher Austin Stroschein took the mound with the Bluejays looking to get as much as they could in the midweek game against the in-state rival.  Stroschein pitched over five strong innings before he was chased in the sixth inning with Nebraska eventually cutting the lead to 3-2.
Creighton hung onto the lead until the bottom of the eighth where they got two more insurance runs.  Four out of the first five hitters for the Bluejays got hits with Bryce Only and Parker Upton driving in runs before Nebraska got a strikeout and tagged out a runner trying to score from third to end the inning.  Creighton had a 5-2 lead heading to the ninth.
Nebraska managed to get two runners on in the ninth inning with the tying run at the plate, but David Gerber saved the game for the Bluejays sending them to victory.
WBR photographer Mike Spomer was there to capture the action.  Enjoy the slideshow gallery below and then head over to the WBR photo store to pick up your favorite shots.
Comments
Tagged in: