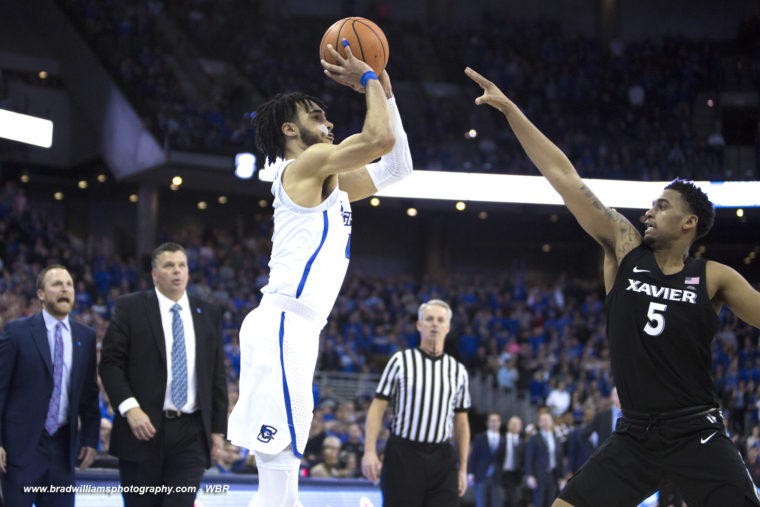 Photo Gallery: Creighton Loses in Controversial Fashion Against #5 Xavier
Sometimes the calls go your way.  Sometimes they don't.  Unfortunately for Creighton,  it came down to a call with 0.3 seconds left that kept Creighton from escaping with a victory over the #5 team in the nation.  The Bluejays season long home winning streak came to an end on Saturday with a 72-71 loss against Xavier.
Creighton trailed most of the game and was down by two when Ronnie Harrell was fouled on a 3-point attempt with four seconds remaining.  He calmly sank all three free throws after a couple timeouts and delays in between putting the Jays up by 1.  On the final drive by Xavier, Harrell was called for a questionable foul on Xavier's Quentin Gooden with 0.3 seconds remaining.  Gooden sank both of his free throws and Creighton had one final opportunity.  A no call on the inbounds caused Khyri Thomas to not be able to get to the ball for the final desparation attempt and the Musketeers ran of the court about as fast as the referees when the final horn sounded.
Marcus Foster led Creighton with 29 points while Thomas chipped in 14 while holding off Trevon Bluiett all day.  The rest of the Musketeers did the damage with 52 points in the paint.
WBR photographer Brad Williams was on hand for the game.  He shares the slideshow gallery below.  Head over to the WBR Photo store to get your own photos of the game.
Comments
Tagged in: