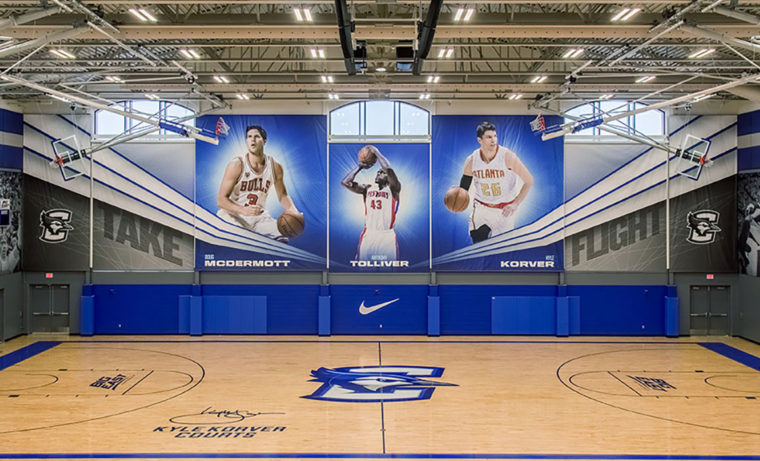 Player development, strength and conditioning program draw 2018 big man Sam Froling to Creighton
Extremely excited to announce that I have committed to Creighton University! A big thanks to everyone who has helped me get to where I am at the moment. Keen to see what the future holds! 🐦 #bluejays pic.twitter.com/gbQnbN9qJD

— Sam Froling (@sfrol13) January 16, 2018
An ever-growing track record of turning big men prospects into NBA draft picks paid off on the recruiting trail late Monday night when 6-foot-10, 215-pound Australian center Sam Froling pledged his verbal commitment to Creighton men's basketball's 2018 recruiting class, as first reported by 247Sports National Recruiting Director, and Fox Sports 1 College Basketball Insider, Evan Daniels.
Australian top 100 power forward Sam Froling just verbally committed to Creighton, he says | Story: https://t.co/uSdE5KFJNY pic.twitter.com/TJfdXPFRNN

— Evan Daniels (@EvanDaniels) January 16, 2018
The consensus four-star prospect picked Creighton over Arizona, Maryland, and Wichita State. He is not currently ranked among Rivals.com's top 150 prospects for the 2018 class, but 247sports has him 81st overall, and 131st on their composite rankings. Froling has also been listed at anywhere between 6-foot-9 and 7-foot-1 with a weight in the range of 200 to 225 pounds.  For now,  split the difference and wait until Dan Bailey and his strength and conditioning staff at Creighton get him on campus this upcoming summer for official measurements.
Speaking of Coach Bailey and his staff, that was one of the first things out of the young Aussie's mouth when he listed off the reasons why Creighton was the right school for him. One look at what five-t0-six months of weight training had done for freshman center and fellow countryman Jacob Epperson, and it told him all he needed to know about that aspect of the basketball program.
"I knew Jacob before he went there, then I came up there and saw him and I was like, 'Holy…' he's put on a lot of weight and a lot of muscle since he's been there," Froling said. "That's something that I need to do as well. I wanted somewhere that had a good weights program, and the proof is in the pudding because Jacob has stacked on a bit of weight."
Along with the results coming out of the weight room, Froling also appreciated that there weren't any mixed messages delivered to him from Creighton head coach Greg McDermott and his staff about how his playing style would fit into the way things operate in Omaha. As he watched from the stands when the Jays beat in-state rival Nebraska, 75-65, during his official visit on December 9th, the four and five-players in Creighton uniforms combined for 30 points and 23 rebounds on 11-of-20 shooting, including a 2-for-6 clip from the 3-point line. That showed Froling that the coaching staff wasn't just talking the talk to grab a commitment. They practice what they preach.
"Mac lets guys run and shoot and take shots if they are open," Froling said. "In the game I saw, everyone was allowed to shoot, which is something that I want to do. It was good to see that the coaches weren't just trying to appeal to me. They told me how it is."
That straight-shooting approach also resonated from first-year assistant Alan Huss, who spearheaded the Australian big man's recruitment.
"He's just a nice dude and told me how it is," Froling said of the Creighton alum turned assistant coach. "He was honest with me and that was a big thing for me. I didn't want anyone to blow smoke in my face and lie to me. He was honest. Mom and Dad had a really good time with him. He's a good dude."
Aside from the coaching staff, Froling also enjoyed his time getting to know his future teammates. And what he learned about them off the court during his visit was just as important to him in his final decision as anything he found out while watching them practice and play.
"I hung out with everyone when I was there and they are all just my kind of guys; good fun, laid back, relaxed," he said. "They are just nice people and that was a big factor. I wanted to make sure I enjoyed my college years … I wanted to go where the guys were nice people and I got along with everyone. I don't want to be somewhere where I'd be fighting with people and not enjoying my time with the guys. All the Creighton guys were top blokes."
A member of Australia's 2016 U17 World Championship team, Froling has some valuable international experience playing against some of the top young prospects from around the world. In seven games, he averaged 10.6 points, 10.4 rebounds, and 1.3 blocks per game while shooting 66.7% from the field to help his club finish in seventh place.
He hopes to once again put on the uniform of his home country as well play in the NBA, and in Creighton he sees the perfect bridge to those opportunities after watching the development of recent NBA first-round draft picks Doug McDermott and Justin Patton, along with arguably the Big East's most improved player this season in redshirt sophomore center Martin Krampelj.
"The ultimate dream for me is to play in the NBA, and to play for my country, and I need to develop to be able to do that," Froling said. "I need to develop my body, my skill, and my IQ, and what they've done with all of those guys really impressed me and helped sway my decision."
Froling describes his skillset in the mold of the modern NBA post player. Someone who can not only score out of the low block around the basket, but can also swim away from shore without drowning.
"I've always been training my guard skills as much as my post skills," he said. "I can stretch it out and shoot the three and I can handle the ball, so I'm just as comfortable on the perimeter as I am inside. I think it's a good attribute to have, because it's makes me a bit harder to match up with.

"I've got some good moves. I'm definitely not as strongly built as a traditional post player, but I think I've got speed and skill over that. I've got a good touch inside, and I can finish with both hands. I have quick spins and quick pivots. If I get a bigger guy on me I can pull him out and if I get a smaller guy on me I can take him inside. I think that makes me pretty hard to guard and a pretty effective offensive player."
He joins top 100 signees Christian Bishop and Marcus Zegarowski in Creighton's 2018 class, but another caveat to his commitment is that he will get to go head-to-head at least twice a year with his older brother, Harry, who his a sophomore center at Marquette.
Harry, who transferred to the Golden Eagles after one season at SMU, posted six points and a career-high nine rebounds in a 70-52 home win over DePaul while the news of his younger brother's commitment to the Jays was breaking on social media.
Congratulations to my little brother @sfrol13 on committing to Creighton!!! Proud of you! #rivalry #mubb 🦅〽️

— Harry Froling (@HarryFroling) January 16, 2018
Sam said the chance to create a rekindle a sibling rivalry in the Big East wasn't a factor in his decision, but… he's not shying away from the opportunity to deliver a little payback.
"It's a good thing that I'm going to get to play against him," Sam said. "I haven't played against him in a long time, so it will be good to test myself and see if I can finally beat the big brother. Being the younger brother I always lost, so I got a bit angry and a bit upset sometimes, and it would get a bit ugly. Now I've grown up a bit and I get to test myself against him to see if I can give him one back.

"It's going to be fun."
Comments
Tagged in: