Polyfro Primer: #20 Creighton vs St. John's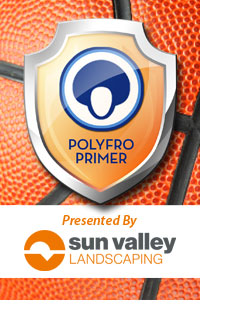 Do a Google or a Twitter search for "The Big East's most talented team" and you'll find a litany of things related to St. John's, most of them ironic, hilarious, or both. That's what happens when media and their own fans hammer that point over and over again before the season starts, and then that team gets off to an 0-5 start in league play.
The Johnnies are an immensely athletic team, but the jury is still out on whether they're talented at basketball, which is, you know, the sport they play. Watch them play three or four games, and you'll come away scratching your head at the mistakes they make on what ought to be simple basketball plays. Often they're able to overwhelm teams with their sheer quickness and athleticism, but relying on those skills hampers them against teams equipped to neutralize those things — well-coached, veteran teams with high basketball IQ's. In other words, teams exactly like Creighton.
Offensively, they get an assist on less than half of their made baskets (48.6%), which is in the bottom-third of teams in D1 and shows two things — they take a lot of difficult and/or ill-advised shots, and they do a poor job of sharing the basketball. That's not to say they don't have good shooters, just that they don't get as many high-quality shots as they should.
JaKarr Sampson is the reigning Big East Rookie of the Year, is second on the team in scoring at 12.6 points a game and is their best pure shooter. He got out of the gate slowly in conference play, scoring just 8.5 points with 6.0 rebounds in their first four games, all losses. Over their next three games, in which the Johnnies went 2-1, he's averaged 16.2 points a game and 5.5 boards, while making a scorching 59% of his shots.
Preseason All-Big East First Team selection D'Angelo Harrison leads the team and ranks fourth in the league at 17.8 points per game, while shooting 83.9% at the free throw line and 41.9% from the floor. He's generally a consistent scorer, with games of 21, 22, 24, 14, 16, 12 and 4 in league play — the four points against Georgetown are the outlier, an atrocious night where he shot 1-12 from the floor and 0-5 from three-point range. The 6'4″, 200 pound junior is adept at getting to the line, something his teammates lack, and has attempted double-digit free throws four times this year.
Harrison is also St. John's all-time career 3-point leader with 170. Yes, career leader. By comparison, Ethan Wragge will likely have more than that in just his junior (78) and senior years (77 through 20 games). St. John's has never been a place known for three-point shooting, and this year is no different — just 23.3% of their shot attempts come from behind the arc, which is 344th out of 351 teams in D1, and they get just 19.3% of their points from three-pointers, which is 328th. What's really interesting to me, though, is that they get only 21.9% of their points at the line. Typically, teams that eschew jump shots for buckets around the rim get fouled a ton, and thus get a lot of points at the line. That's not the case with St. John's. A whopping 58.9% of their points come on two-point baskets — only 15 teams in America get more points that way.
Inside, Orlando Sanchez, a 6'9″, 230-pound senior, gets the start at center/forward and is a solid all-around player, ranking among the team leaders in several categories, averaging 7.8 points per game, 5.3 rebounds per game, 1.5 assists per game, and 1.4 blocks per game. Over the last five games, he's averaging 10.6 points on 47.6% shooting to go along with 6.0 rebounds and 1.2 assists, and is a capable third option behind Harrison and Sampson.
Off the bench, Chris Obekpa and his massive 7-foot-5 wingspan was expected to provide a change-of-pace behind Sanchez. Instead, the sophomore has turned into a candidate for Big East and National defensive player of the year despite playing in a reserve role. Obekpa has blocked 69 shots so far in 20 games this year for an average of 3.5 rejections per contest — good for sixth in the nation — and a national-leading block percentage of 18.9 percent, meaning his blocks almost 1/5 of opponents shots when he's on the floor. He's St. John's all-time blocks leader with 202 and counting in only 53 career games, and his career-high of 11 blocks in a single game is second best in Big East history, trailing only the great Dikembe Mutombo, who once swatted 12 in a single game.
The rest of the team has seemingly taken cues from Obekpa, and is a shotblocking machine — actually, I'm not sure a machine would be this efficient at rejecting shots. They lead both the Big East and the nation with 8.4 blocks per game, or 22.1% of their opponent's two-point attempts. That's INSANE. Twice this season, they've blocked 15 shots in a game, thanks to a team-wide ability to swat would-be buckets; Five of the Big East's top 15 rejectors are St. John's players. Orlando Sanchez averages 1.4 blocks per game (T-6th), Sir'Dominic Pointer swats 1.2 (T-8th), followed by JaKarr Sampson (1.0, T-11th), and God'sgift Achiuwa 0.9 (T-13th). Nine different Red Storm players have blocked a shot in 2013-14, ranging from one by Rysheed Jordan and Phil Greene IV to Obekpa's 69.
After starting 0-5 in the league, St. John's has won their last two and could really get some momentum going with a win over Creighton. Fortunately, shot-blocking isn't a skill that is terribly effective against three-point shooting, and for the most part St. John's perimeter defense has been only so-so — it's entirely possible that Doug McDermott might have better luck scoring from outside tonight than in the paint. It will be very interesting to see how Sampson and Pointer do guarding McDermott; if they're able to frustrate him into a poor shooting night, the Jays will need Ethan Wragge and others to have good nights from outside, and to attack the glass for second-chances. St. John's struggles with box-outs and with rebounding generally, so those opportunities for putbacks will be there — it's up to Creighton to take advantage.
About the Red Storm: St. John's is 0-3 on the season against ranked opponents, falling to then-No. 20/21 Wisconsin on Nov. 8 (86-75), playing unbeaten and then-No. 2/3 Syracuse to a five-point decision at The Garden on Dec. 15 (68-63) — matching the Orange's smallest margin of victory this season — and falling to then-No. 8/10 Villanova on Jan. 11 (74-67) … The Red Storm's season field goal percentage of 44.4% is an improvement on last season's mark of 41.7%, and they've also gotten better behind the arc, shooting 34.1% compared to last year's 27.1% and from the free-throw line, as they're making 71.3% after shooting just 64.0% a year ago … As a team, St. John's scores 73.2 points per game while yielding just 67.4. The Red Storm are +0.6 on the glass and turn the ball over just 10.5 times per game.
One Big Paragraph with Lots O'Dots™: A win on Tuesday would be Creighton's 14th straight home win, tied for the program's third-longest in CenturyLink Center Omaha's history … Creighton is 74-27 all-time when ranked in the AP poll, and is going for their 75th all-time win while ranked in the media poll tonight … Creighton has been better than .500 in either the first or second-half of its league season in 36 straight trips through the league, including this year's first half, when they will finish no worse than 7-2 (and hopefully 8-1!) … Ethan Wragge was named Big East Player of the Week and ESPN.com's National Player of the Week on January 27 after helping Creighton to double-digit wins over No. 4 Villanova and Georgetown and averaging 19.5 points and 3.5 rebounds. He shot a blistering 60 percent from the field (12-20), with all 20 attempts coming from behind the three-point line for the week.
The RUN-DMD Show: Doug McDermott is 12 rebounds shy of becoming the fourth player in Creighton history with 1,000 rebounds; when he accomplishes the feat, he'll become the 20th player in NCAA history with 2,500 points and 1,000 rebounds.
He's also one point shy of moving into the top-20 in NCAA history in scoring, tying Daren Queenan (2,703). It's also realistic that he could pass Reggie Lewis (2,708) and Hank Gathers (2,723) and move to 18th place on Tuesday.
Out of Context Ron Swanson Quote: "Under my tutelage, you will grow from boys to men. From men into gladiators. And from gladiators into Swansons."
The Last Time They Played: St. John's and Creighton last played on December 22, 1971, when the Red Storm earned a 94-73 victory as part of the Lobo Classic in Albuquerque, N.M.
The Series: St. John's leads the all-time series with Creighton by a 5-2 count, but the Bluejays have won both previous meetings in Omaha (a 52-34 win in December of 1962, and an 86-67 win in February of 1966).
Gratuitous Linkage: Over the weekend, CBS Sports Network ran a feature on Greg and Doug McDermott that was one of the most interesting, best-produced features I've seen on them, and there's been a lot. In case you missed it (and you probably did; it was on CBS Sports Network after all), check it out. It's about four minutes, and well worth it.
This Date in Creighton Hoops History: On January 28, 1991, the Jays' Matt Petty made back-to-back three-pointers in the waning moments and then two clinching free throws with seven seconds remaining in a 78-75 win in Carbondale over Southern Illinois. In the game, Bob Harstad broke Elton Tuttle's school record for free throws made in a career, making four to boost his career total to 526. He'd go on to collect 588 in his career, still the CU record. Coincidentally, Doug McDermott is three free throws made shy of moving into second place in Creighton history with 526, and could very well pass Tuttle on the same day Harstad did, 22 years apart. Kind of a fun little fact.
Completely Random, Totally Rad Music Video of the Day:
The Bottom Line: Creighton struggles early to deal with the Johnnies' length and athleticism, but makes a run late and pulls out the win.
Bluejays 85, St. John's 76
Comments
Tagged in: