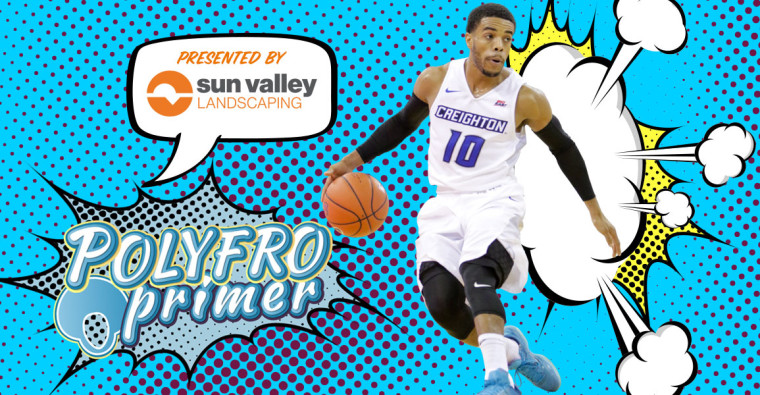 Polyfro Primer: Creighton (17-9, 8-5) at Butler (17-8, 6-7)
Prior to last Tuesday's game against Xavier, Creighton head coach Greg McDermott told his team they were starting a seven-game playoff for an NCAA Tournament berth. They got wins in the first two, including a crucial one over #5 Xavier to give them a headline victory on their resume, and have re-inserted themselves into the discussion for a tourney berth. Over the final five games, they have serious work to do, however.
Their early-season struggles, and what's turned out to be a horrible non-conference schedule, have put them in a tough spot despite being in third place in a major conference like the Big East, which would normally have them firmly in the tourney.
Our resident Bracketologist believes they need to win both of their remaining home games (Marquette and St. John's), win at least one of the remaining road games (Butler, Providence, or Xavier), AND win at least one game in the Big East Tournament. Oh, and they need Butler to finish strong so they stay in the Top 50 and keep Creighton's earlier win over them (and the potential Tuesday win, as well) as a Top 50 win. Some other bracketologists think their road is even longer, believing the Jays need to do all of the above AND win one of the other two remaining road games, too.
That's a tough road, but they've got a shot, and it continues Tuesday in Indianapolis with what could amount to an elimination game for both squads.
***
This is a different team than the one that struggled in November and December, largely because Mo Watson is a different player than he was in those months. Owning a firm grasp of his role on both offense and defense, he's spent the last two months playing even better than even the most optimistic Bluejay followers could have hoped for. Last week, he averaged 25.0 points, 7.5 assists, 6.0 rebounds and 2.0 steals in the two wins over Xavier and Marquette, and he was awarded National Player of the Week honors by both NBCSports.com and CBSSports.com. That's a helluva honor, and one that hasn't happened to many Bluejays. An exhaustive list isn't available, but my own research back to 2002 comes up with this list:
January 20, 2003: Kyle Korver (CollegeInsider.com)
January 20, 2003: Kyle Korver (CollegeBasketballNews.com)
January 20, 2003: Kyle Korver (Dick Vitale Player of the Week, ESPN.com)
November 29, 2004: Tyler McKinney (Dick Vitale Player of the Week, ESPN.com)
February 21, 2005: Nate Funk (Dick Vitale Player of the Week, ESPN.com)
December 15, 2010: Kenny Lawson (National Jesuit Player of the Week)
December 26, 2011: Doug McDermott (Andy Katz Player of the Week, ESPN.com)
December 26, 2011: Doug McDermott (Dick Vitale Player of the Week, ESPN.com)
December 27, 2011: Doug McDermott (National Jesuit Player of the Week)
December 27, 2011: Doug McDermott (USBWA National Player of the Week)
January 10, 2012: Doug McDermott (National Jesuit Player of the Week)
February 20, 2012: Doug McDermott (Dick Vitale Player of the Week, ESPN.com)
November 25, 2012: Doug McDermott (Dick Vitale Player of the Week, ESPN.com)
December 17, 2012: Doug McDermott (Seth Davis' National Player of the Week, SI.com)
December 18, 2012: Doug McDermott (USBWA National Player of the Week)
March 3, 2013: Doug McDermott (ESPN.com)
November 18, 2013: Doug McDermott (ESPN.com)
January 6, 2014: Doug McDermott (CBSSports.com)
January 6, 2014: Doug McDermott (CollegeInsider.com)
January 13, 2014: Doug McDermott (CBSSports.com)
January 13, 2014: Doug McDermott (NBCSports.com)
January 14, 2014: Doug McDermott (USBWA National Player of the Week)
January 27, 2014: Ethan Wragge (ESPN.com)
February 3, 2014: Doug McDermott (ESPN.com)
February 17, 2014: Doug McDermott (CBSSports.com)
February 17, 2014: Doug McDermott (NBCSports.com)
February 17, 2014: Doug McDermott (Naismith Trophy National Player of the Week)
February 18, 2014: Doug McDermott (USBWA National Player of the Week)
So the shorthand version is: Watson joins Kyle Korver, Tyler McKinney, Nate Funk, Kenny Lawson, Doug McDermott, and Ethan Wragge as Bluejays to have won a National Player of the Week honor since 2002. Good company there.
Butler is a different team than they were in November and December, too, but they've gone the other direction. They were 11-1 entering conference play, owning four Top 100 wins (Temple, Cincinnati, Tennessee, and Purdue) while their only loss came to Miami, a team ranked among the Top 20. They've gone 6-7 since, and are coming off a humbling 74-57 loss to Xavier at home. That loss makes Tuesday's clash with the Jays a must-win for Butler's NCAA Tournament hopes.
Kelan Martin had a double-double of 22 points and 11 rebounds in Omaha earlier this season, though he took an incredible 23 shots to get those 22 points — he was 8-23 from the floor and 3-8 from three-point range. Still, he did lead them in scoring, and that performance jump-started a great five-game stretch that followed, with Martin averaging 23.6 points per game. He has led the Bulldogs in scoring in all five contests. He started it with a (then) career-high of 27 points at Marquette January 30, bettered that with 35 points against Georgetown three nights later, and continued the offensive assault in the next three games, including another double-double in the loss to Xavier on Saturday. He's their leading scorer at 15.8 points per game, and their second-leading rebounder with 6.6 boards per game.
In three career games against Creighton, Roosevelt Jones averages 15.7 points, 8.7 rebounds and 5.3 assists. He has posted double-doubles in two of the three games and had the game-winner in Omaha last season. Despite foul trouble, he played 36 minutes in the first meeting this year, scoring 11 points with 10 rebounds and four assists, though he did shoot just 4-13 from the field as Khyri Thomas completely rattled him defensively. It will be interesting to see if Thomas is re-inserted into the starting lineup tonight for that reason, or if James Milliken will remain there for his offensive spark.
For the season, Jones ranks among the top 15 in the Big East in eight categories: he's second in steals (1.7), fourth in assists (4.8), fifth in minutes (33.0), seventh in assist/turnover ratio (2.0), ninth in rebounding (7.0), 12th in scoring (13.9), 13th in offensive rebounding (2.1), and tied-15th in field goal percentage (.485).
Kellen Dunham has also given the Bluejays fits, averaging 14.8 in five career games. He's their second-leading scorer at 15.8 points per game, has eight 20+ point games this season, and has led them in scoring eight times. A 51% shooter in Big East play, he was 3-3 from long range in the first meeting en route to 20 points. He played all 40 minutes in that contest, and shot 7-14 from the floor.
Andrew Chrabascz averages 10.4 points and 4.2 rebounds per game, but was plagued by foul trouble in Omaha and played just 27 minutes, shot 0-6 from the floor, grabbed only two rebounds, and scored just two points. It was his worst game of the year, which has been a pattern against the Jays — he missed the game in Omaha a year ago due to injury, and in the game in Indianapolis, he was 4-14 from the floor, limited in minutes due to foul trouble, and scored 13 points with just one rebound.
Butler isn't a terribly deep team, with seven players getting the bulk of their minutes and those seven providing 72 of their 80.5 points per game. Jones, Martin, and Dunham all played 35+ minutes in the game in Omaha, with Dunham playing all 40; a whopping 50 of their 64 shot attempts came from those three players. No wonder they appeared a step slow at the end of the game after chasing Mo Watson around the court all night.
There will be a lot of emotion in this game, given the stakes for both teams. Creighton might suffer a bit of a let-down after finally winning a close game; Butler might be hungover from the licking Xavier put on them. The first few minutes will tell us a lot — will one team or another jump out to a big early lead? Or will both come out with their "A" game knowing it's a must win?
I honestly have no idea how to predict this game. That should make it a lot of fun to watch.
Quick Notes on the Bulldogs:
After being out-rebounded by its first four Big East opponents, the Bulldogs have responded by out-rebounding six of its last nine conference foes. That's huge because Butler is 14-1 this season and 34-6 under coach Chris Holtmann when out-rebounding its opponent.
As a team, Butler is shooting 74 percent from the free throw line this season, which is outstanding. But in conference play, four of Butler's starters each are shooting even better than that — each are 78 percent or better at the line, led by Kelan Martin at an .860 clip in Big East games. And Kellen Dunham's season average of 87 percent at the free throw line is second in the Big East and is 28th in the country. Don't count on them missing free throws late in a close game, in other words.
Sophomore Tyler Wideman has 39 blocks this season, and his 1.6 blocks per game rank fourth in the Big East. Those 39 swats are tied for eighth on Butler's single-season list. Rolf van Rijn holds the single-season mark, blocking 64 shots in both the 1996-97 and 1997-98 seasons. That's impressive, but I included this note mostly because I wanted an excuse to print the awesome name "Rolf van Rijn". If that wasn't a real name, it could be one of the great cinematic villains of all time. Rolf van Rijn.
Bluejay Bytes:
Creighton is on a three-game winning streak, which includes Saturday's win at Marquette as well as wire-to-wire double-digit home wins over DePaul and No. 5 Marquette. During this stretch, CU has held the opposition to 9-of-50 shooting (18 percent) from three-point range, and just 61.3 points per game overall. It's worth noting that Butler leads the Big East in three-point shooting at 37.2 percent, and made 43.8% in the first meeting (7-16). In that same span, Creighton has made 14 more three-point shots than the opposition, grabbed 12 more rebounds, and made 13 more free throws.
Geoffrey Groselle has made a league-best 69.0 percent of his field goal attempts from the field (107-155), and is nearing the minimum 300 attempts required to qualify for Creighton's career leaders in field goal percentage. Groselle enters Tuesday's game having made 193-of-286 career shots from the field, good for 67.5 percent. Creighton's all-time leader in field goal percentage, Gregory Echenique, made 62.5 percent (374-598). In other words, even in the highly unlikely event that Groselle missed each of his next 14 attempts from the floor, he'd still move into first place in that category.
Toby Hegner made three three-pointers in the second half of Saturday's win at Marquette, none bigger than one that tied the game with 3:26 left. With the late trey, Hegner improved to 10-for-15 from three-point range in the final five minutes of games this season, good for 66.7 percent. Hegner also leads the team with 21 rebounds, more than twice as many as any other teammate, in the last five minutes of games this season.
The Series:
Creighton and Butler have played 12 times, with the Bluejays winning seven of them. They're 2-3 all-time in Indianapolis, including a 64-61 defeat there last year.
Greg McDermott is 2-2 vs the Bulldogs while coaching the Bluejays, but 2-4 all-time including two losses while at Northern Iowa.
The Last Time They Played:
On January 23, CU picked up a 72-64 win over then-#20 Butler in Omaha. The Jays erased a 34-29 halftime deficit with an 11-0 run to begin the second half, as Maurice Watson scored a basket to open the action and then assisted on the next three — a layup and a three-pointer by Isaiah Zierden, and a layup by Geoff Groselle. Though Butler made multiple attempts to come back, Creighton led the rest of the way and iced the game at the line late. Watson scored 18 of his 20 points and had five of his six assists in the second half, putting the team on his back when the game was on the line.
Gratuitous Linkage:
David Woods in the Indianapolis Star asks "Does Butler have enough talent to compete in the Big East?" It's a question their fans have asked on social media and message boards all season, and as they've fallen from ranked #9 to seventh place in the league, it's become more prominent.
This Date in Creighton Hoops History:
Last February 16, Creighton lost 58-56 to Butler, but thankfully the 16th is a date with lots of better memories for Bluejay fans. There's the 101-80 win over #6 Villanova in 2014, a 71-68 win at Evansville in 2013, a 75-59 win over Illinois State in 2011…the Jays have won a lot on this date, and any of those would be good ones to look back at. (And if you have the time and the inclination, click those links to read WBR's postgame coverage of them!)
But let's go back 27 years instead to February 16, 1989, for a high-octane game Creighton won 102-100 in overtime against Southern Illinois at the Civic. Trailing by six with 45 seconds left, the Jays rallied to force overtime after an impossible three-pointer by Todd Eisner went in at the buzzer — a shot he claimed to have taken without being able to see the basket.
"James (Farr) had the ball on the sideline, and I was the only person open," Eisner recalled after the game. "I took one dribble and had a defender right in my face. The clock was running down and I had to put it up. I never really saw the basket. The first time I saw the basket, the ball was going through the hole."
Tony Barone had drawn up the play to be a shot for Farr, with Eisner setting a screen to free him up, but the Salukis wouldn't allow it to happen, so "Ice" calmly tied it instead. Farr would get his chance at heroics in the overtime, making the game-winner with two seconds remaining. After dribbling out most of the clock, he made a move into the lane and pulled up for a 12-footer that broke the 100-100 tie and gave CU the 102-100 win.
"I wanted to make sure we got the last shot," Farr said. "Coach told me to make my move at about five seconds. I think I left at about seven, went to the basket and put it up, and it went in. It was a great feeling. I was telling myself, 'I'm going to put this ball in the basket. I'm the senior and I wanted to be the one to win or lose it. It was going to be on my back. I was going to take the blame or get the glory. Fortunately, it was glory."
For the game, Farr finished with 15 points and 10 assists, and committed zero turnovers while playing 43 of the game's 45 minutes. Oh, and he scored 11 of the Jays' final 17 points.
"James is a king," Barone gushed after the game, "not a captain."
Completely Random, Totally Rad Music Video of the Day:
As a bachelor I never watched award shows as a general rule of living, but as a married man sometimes you do what you have to do and make pithy remarks about celebrities' outfits, which as near as I can tell is the biggest reason people watch these things. Or in the case of the Grammys, you make fun of Justin Bieber, which is an underrated pastime. ANYWAY, late in last night's show, an act more up my alley — Hollywood Vampires — rocked the stage. Here's the Alice Cooper/Joe Perry/Johnny Depp supergroup covering "School's Out / Another Brick In The Wall."
The Bottom Line:
Another close game decided late. Now that the Jays have that monkey off their back, this one won't be nearly the uphill climb it would have been a week ago. Creighton keeps their NCAA Tournament hopes alive!
Creighton 71, Butler 69
Comments
Tagged in: