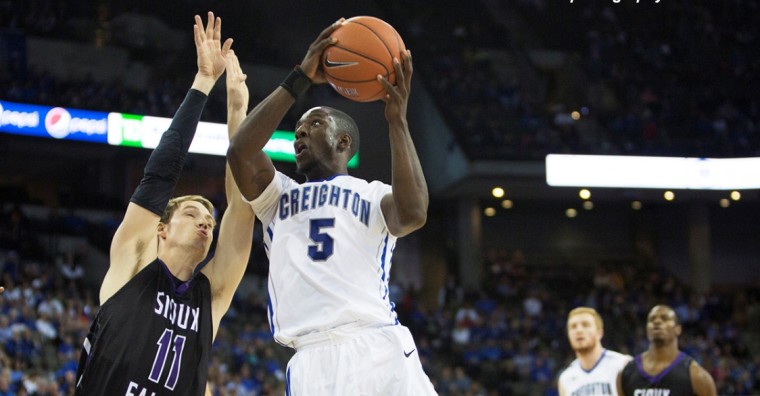 Polyfro Primer: Creighton vs Central Arkansas
Friday night, Creighton lifts the lid on the post-Doug McDermott Era with the first of two opening-weekend games designed to give them some momentum before Oklahoma comes to town next Wednesday. The first of those two opponents, Central Arkansas, is a team that was literally blown up over the summer.
If we're being honest, a team that went 8-21 a year ago might have been a candidate for demolition anyway, but unsatisfactory APR scores that have earned them a postseason ban this season made it inevitable. A whopping ten players from last year's squad are gone, and just one returns — Ethan Lee, a 6'7″, 190 pound forward, who averaged 4.0 points and 2.6 rebounds as a freshman in a reserve role a year ago.
A formerly solid program in DII that counts Scottie Pippen among its' alumni, UCA hasn't been able to gain any footing in D1 since moving up in 2006, and a three-year experiment with Arkansas great Corliss Williamson as head coach ended with a 26-62 record when Williamson bolted for the NBA to become an assistant for Sacramento. His departure in early August of 2013 left them no time to hire a new coach, so they played last year with an interim coach — Clarence Finley — who had been one of Williamson's assistants. Under Finley, UCA was a respectable 7-8 at home a year ago but an atrocious 1-13 away from home — dropping games to Kansas State, Texas Tech, North Texas and Oral Roberts, among others.
The man tasked with cleaning up this mess is Russ Pennell, who played two seasons at UCA for the winningest coach in program history, Don Dyer, back in their DII heyday. He has an impressive resume, having served as an assistant for Eddie Sutton at Oklahoma State, for Rob Evans at Ole Miss, and most notably for Lute Olsen at Arizona, where he took over as interim head coach in 2008-09 after Olsen's abrupt retirement due to health concerns. Pennell led the Wildcats to a Sweet 16 berth, but was not retained as head coach. After four seasons leading Grand Canyon University, including two straight DII NCAA Tournaments, he coached the Phoenix Mercury of the WNBA in 2013 and led them to the Western Conference Finals.
Pennell's first recruiting class is ten-deep and surprisingly good-looking on paper. The top addition is undoubtably Jordan Howard, a 5'11" guard who led the state of Arizona in scoring in 2013 at 25.6 points a game. Howard scored 42 points in their two exhibition games, making 8-14 from three-point range, and will be the top target for the Bluejay defense to focus on. Given the Bluejay defense's difficulty in holding Sioux Falls' Charles Ward down last week — he had 22 second-half points, including 6-7 from three-point range) — it will be interesting to see how they fare against Howard.
Games against these sorts of opponents are always more about your team than the opponent, though. There's no likely scenario where the outcome will be in doubt after, say, 7:30 tonight, so here's the three things I'll be looking for:
Shooting percentage: Last week, they shot 11-20 from three-point range in the first half, but just 3-11 in the second half, and went from 57% overall in the first half to just 40% in the second. For a team that many experts believed would struggle to score, that first half was a real surprise, and the second half was a regression to the expected mean. Will they be able to settle in somewhere in the middle?
Rebounding: Creighton outrebounded Sioux Falls 39-33, but that's deceiving. They lost the battle of the offensive glass 12-10, and in the second half, they lost the overall battle 22-19. That's distressing. And individually, Toby Hegner started at the "4" and played 19 minutes with zero rebounds. That can't become a trend. As Coach Mac noted after last week's game, the Jays need Hegner to impact the game on the backboards more than he is. Hopefully they figured out on film whether it's a positioning thing or simply bad luck in terms of the ball bouncing the wrong way.
Devin Brooks: I think that as Brooks goes, so go the Jays this year. He's capable of being a dynamic, game-changing offensive force, but also capable of being nearly invisible. In last week's exhibition, he scored 18 points on 6-10 shooting. More encouraging was the fact that he made 3-5 from long range, as shooting the three was not part of his arsenal a year ago. And most encouraging? Four assists, zero turnovers. He doesn't need to score 18 points every night, but if he can get the ball to open teammates without turning it over on a consistent basis while scoring 10-12 points a night, the Jays will have a formidable — nay, enviable — set of starting guards. The Big East might not be a guards league to the extent that the Valley was/is, but you can still win a ton of games with two great starting guards.
Quick Hits on the Bears: Besides Jordan Howard, another player to keep an eye on is Jake Zuilhof, who scored 18 points on 7-11 shooting in the second exhibition game … In their two exhibitions, UCA shot 52.6% from the field, 42.9% from three-point range (15-35) and 65.4% at the line (36-55) … UCA also had 45 assists against 27 turnovers and outrebounded the two foes by an average of 15.5 rebounds per game … It's worth repeating that those two opponents were Hendrix U (DIII) and University of the Ozarks (NAIA), so they're not exactly top-shelf squads.
One Big Paragraph with Lots O'Dots™: Creighton is a perfect 44-0 all-time in regular-season home games that take place on or before Nov. 26th, and has won 45 of its 46 regular-season November home games since 1990, falling only to Boise State in 2012 … Including last year's win over Alcorn State, Creighton is 85-11 (.885) in home openers all-time, and has won 19 straight home openers since a December 3, 1994 loss to SMU … Creighton's 107-61 win last year vs. Alcorn State was its highest point total in a season-opener ever, one point more than the 2002-03 team that opened with a 106-50 win over Texas-Arlington … Nine of Creighton's 19 all-time NCAA Tournament teams have scored 90 or more points in their season-opener.
The Series / The Last Time They Played: Creighton and Central Arkansas have never met. Greg McDermott hasn't faced them, either, but is 3-0 all-time against teams that are currently in the Southland Conference.
Gratuitous Linkage: WBR's popular feature, From The Other Side, returns this season and the first installment is a Q&A with David McCollum who covers Central Arkansas for the Log Cabin Democrat. He has some interesting insight into their program, so check it out.
This Date in Creighton Hoops History: On November 14, 1998, Creighton beat Towson State 93-48 in front of 4200 fans at the Civic. The Jays jumped out to a 20-2 lead and led 48-19 at the break thanks to shooting 56% from the floor, a 21-12 rebounding edge, and just four turnovers. Rodney Buford began his senior season with 19 first-half points and 24 for the game, and Doug Swenson had 12 points and 14 rebounds in 19 minutes.
Completely Random, Totally Rad Music Video of the Day: My ears are still ringing from rocking out with Alice Cooper and Motley Crue last night at the CLink — that's what happens when you're 75 feet from the stage and 25 feet from the speakers, rendering earplugs a mute point — so what the heck. Let's kickstart the season with one of the Crue's best tracks. You bet.
The Bottom Line: Creighton steamrolls past Central Arkansas in comfortable fashion.
Jays 86, Central Arkansas 59
Comments
Tagged in: