Polyfro Primer: Drake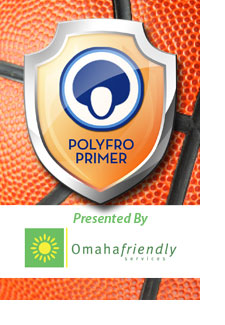 15 days ago in Omaha, Creighton blew Drake out 91-61 in a game that somehow wasn't as competitive as that already-uncompetitive score sounds. It was 20-2 just minutes into the game, and 42-12 late in the first half. But lest anyone get too overconfident heading into tonight's rematch, it's worth remembering that weird things happen to the Jays at the Knapp Center. It's the building where Pierce Hibma annually looked like the second coming of Kyle Korver. It's the building where three times between 2000 and 2004, the game went overtime — with Drake winning two of them — despite the Jays being an NCAA Tournament team and Drake being, well, Drake.
The Bulldogs actually hold an edge in the series in Des Moines, leading 37-33, and in 20 games at the Knapp Center, the teams have split them 10-10. Keep in mind, the Bulldogs are 237-320 over that 20-year stretch, so being even at home with the generally superior Bluejays is quite a feat — and illustrates the difficulties CU has had in Des Moines over the years.
Of course, as the deep-voiced narrator in all those TV commercials for retirement funds is fond of saying, historical performance is no guarantee of future success, and this Drake team would need an awful lot to go right to pull off a win. They're the poster child for "living and dying by the three"; Drake is 7-0 when they shoot 40% or better from three-point range, and 1-10 when they shoot worse than that. You hear that phrase used to describe a lot of teams, but with Drake it's pretty cut-and-dry: when their perimeter shots are falling, they win every time, and when they don't, they lose (almost) every time.
Senior starting wings Chris Hines and Ben Simons combined for four points in Omaha, and nine in their 30-point loss in Cedar Falls on Sunday. Meanwhile, those two combined for 85 points in the two games in between, a pair of wins over Illinois State and Evansville. It's no coincidence the two games where they were invisible ended in blowout losses, and the two games where they rained in threes ended in wins.
They struggle to score in the paint, either through dribble penetration from their guards or low-post catches by their big men — nearly 35% of their scoring (27 of their 72 points), on average, comes from shots behind the arc. Combined with an average of 15 points from the line each game, they get just 30 points a game on field goals inside the arc on average. It's little wonder why, when outside shots aren't falling, Drake struggles to score.
Seth Van Deest, the Bulldogs 6'11" center, was no match for Gregory Echenique in Omaha — attempting just four shots and scoring six points — so if Echenique's sprained wrist limits his minutes it will be interesting to see whether the gameplan is similar to a year ago in Des Moines when Echenique played just 17 minutes due to foul trouble. Will Artino played 16 minutes and was outstanding, grabbing eight rebounds to go along with six points and two assists. Artino matches up well with Drake's undersized post players, so if there was ever a game where Echenique had to be limited, this is the one you'd hope for.
The last two times Creighton has beaten a conference foe by more than 30 points in the first meeting, they lost the rematch. In 2002-03, Creighton beat Evansville 93-56 in Omaha, and a week later, the Jays lost to Steve Merfeld's Aces 74-66. Two years before that, Creighton beat Evansville 87-57 at home, only to lose on the road 61-52 four weeks later. That's a fun little piece of trivia, but I don't think it makes too much difference against this Bulldog team. Most pundits have this as a double-digit Creighton win, and I'd be shocked if it wasn't.
Catching up with the Bulldogs: Freshman Joey King leads all MVC freshmen in scoring and rebounding in conference games with 10.7 points and 5.0 rebounds per game … In the first meeting in Omaha, King scored 17 points on 5-of-9 shooting from the arc … The Bulldogs are averaging 71.4 possessions per game, the second fastest pace in the MVC … In the last two games, Richard Carter is averaging 14.5 points and 4.0 assists per game on 45% shooting from the field and 57.1 percent from three point range … Drake's bench has outscored its opponents' reserves in each of the last three games by a 65-43 margin … Ben Simons recently hit his 200th career three pointer and is one of just four Bulldogs to accomplish that feat.
One Big Paragraph with Lots O'Dots™: Creighton has been .500 or better after 20 games in each of the last 18 seasons, including this season, and they've won 13 of their first 20 games in 15 of the last 16 seasons … The Jays have had the same starting five in every game on both the men's (Austin Chatman, Jahenns Manigat, Grant Gibbs, Doug McDermott and Gregory Echenique) and women's (McKenzie Fujan, Ally Jensen, Carli Tritz, Sarah Nelson and Alyssa Kamphaus) side — the only school in the country to do that on both the men's and women's teams … Avery Dingman ranks fifth in the MVC in three-point percentage, connecting on 48.2% of his shots from downtown this season, and in his career, he's shot 44.9% (53-118) from deep, fourth-best in Creighton history (minimum 100 attempts). The only men ahead of him (Doug McDermott, Booker Woodfox, and Kyle Korver) have combined to win four MVC Player of the Year awards and three MVC Tournament Most Outstanding Player accolades.
The RUN-DMD Show: Doug McDermott has scored 20 or more points in 44 of his first 93 career games in a Bluejay uniform. He's put up 20 points or more against a Valley opponent 18 times, including four times against Drake, more than any other foe. McDermott's 133 points against Drake are also easily his most against any opponent. As usual, when you choose to heckle Doug, he makes you pay.
The Last Time They Played: On January 8 in Omaha, Creighton made their first three attempts from three-point range and took an 11-2 lead after four minutes. The lead extended to 20-2, and later a 9-0 run made it 39-10 with seven minutes still to play in the first half, and they ultimately prevailed 91-61. Ethan Wragge tied his career-high with 22 points, sinking six three-pointers in the game. Joining him in double-figures were Doug McDermott (16), Jahenns Manigat (13) and Grant Gibbs (10), and Nevin Johnson added a career-best nine points in 12 minutes of action. The Jays shot 64.2% for the game, including 59.3% from three-point range, and they dished 28 baskets on its 34 hoops.
Furthering the domination, CU outrebounded the Bulldogs 40-22, outscored them off the bench 45-31, and in the paint 26-20.
The Series: Creighton leads the all-time series with Drake by a 93-58 margin, but Drake leads 37-33 in Des Moines. CU's 93 wins and 151 meetings with Drake are easily its most against any other opponent. Creighton has won 19 of the last 27 meetings between the schools.
Greg McDermott is 14-6 in his career against Drake, going 8-2 while at Northern Iowa, 1-3 while at Iowa State, and 5-1 at Creighton. McDermott is 6-2 in head-to-head meetings with Mark Phelps.
Gratuitous Linkage: Bulldog legend Dolph Pulliam — leader of their late-sixties Final Four team and for five decades the face of the athletic department — is retiring at the end of the season. Mark Emmert of the Des Moines Register wrote this outstanding feature about his career a couple of weeks ago following the announcement, and it's a fun read. As color commentator on their radio broadcasts, he's a frequent critic of referees, which should endear him to the segment of Jays fans who take to Twitter with the hashtag #valleyrefs every time an egregious call goes against them. My favorite passage in the article features an anecdote about that criticism:
The ball went out of bounds and was awarded, incorrectly (play-by-play announcer) Larry Cotlar said, to Utah State. Uh, oh.
"The official is running right in front of our broadcast table," Cotlar said. "Dolph stands up, points his big index finger and says, 'You! You made the wrong call!' I thought he was going to be kicked out and I was going to have to finish the broadcast alone."
That kind of bluntness even drew the attention of Missouri Valley Conference commissioner Doug Elgin.
"I was getting on the referees during the Tom Davis era because they were treating Tom brutally out on that floor. And I would just ride those guys," Pulliam said. "And so they knew; I don't know how they knew. So the commissioner then sent out an email to all broadcasters that said: 'Take it easy guys, quit criticizing officials.' And I got a great laugh out of that."
Pulliam is one of the treasures of the Valley, and he'll be missed.
This Date in Creighton Hoops History: The infamous upset loss at Evansville in 2003 occurred on this date ten years ago, but that's a horrible memory so let's go a bit further back.
On January 23, 1999, the inimitable Doug Swenson had 21 points on 9-13 shooting in a 95-84 win over Illinois State at the Civic. Rodney Buford added 22 points and nine rebounds, including a perfect 8-8 from the free throw line, as the Jays erased a 46-41 halftime deficit.
Completely Random, Totally Rad Music Video of the Day: If you haven't heard the isolated vocal track to Van Halen's "Runnin' With The Devil", you haven't lived. Enjoy the original song, then listen to just the vocals…and tell me you can do it with a straight face.
The Bottom Line: This one's tight for a while, but Creighton wears down the Bulldogs and wins big.
Jays 83, Drake 66
Comments
Tagged in: