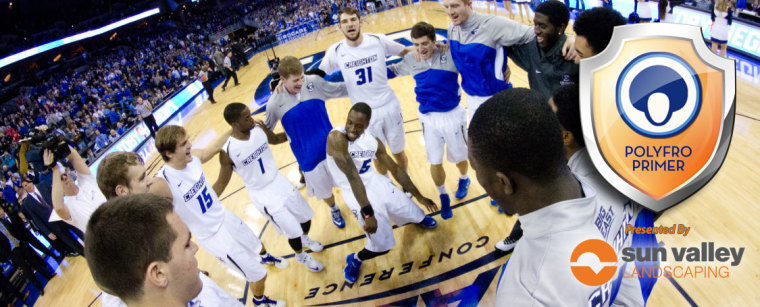 Polyfro Primer: Marquette at Creighton
Saturday in a Valentine's Day matinee, the Big East's two worst teams meet in Omaha. It's been a frustrating season for the Bluejays and Golden Eagles, but both teams should be quite a bit better next year — especially now that Creighton has added Khyri Thomas to the fold for 2015. At the moment, though, Saturday's game is a battle for last place as Creighton (11-14, 2-10 Big East) hosts Marquette (11-13, 3-9 Big East).
That's depressing as hell for both proud programs, so…
WE INTERRUPT OUR REGULARLY SCHEDULED PRIMER'ING TO BRING YOU TWO PARAGRAPHS ON THE NBA ALL-STAR GAME!
Creighton alum Kyle Korver and Marquette alum Wesley Matthews are among eight participants in Saturday night's Foot Locker Three-Point Contest, to be held at Barclays Center in Brooklyn as part of the NBA's All-Star Saturday festivities, which should feature the best collection of shooters in years. Through Wednesday, Korver and Matthews were tied with Golden State's Stephen Curry for the NBA lead with 161 three-pointers made, while Korver also leads the league with a 52.3% three-point shooting percentage. It's worth noting that the only players in NBA history to lead the league in both three-point percentage and three-pointers made in the same season are Darrell Griffith (1983-84) and Mike Dunleavy (1982-83).
It's not just the shootout that Korver will participate in, though. He was named to the Eastern Conference All-Star team on Tuesday, replacing a former Marquette player — Dwyane Wade — on the roster. At 33 years and 11 months, Korver will be the fourth-oldest player to make his NBA All-Star game debut, trailing only Nat "Sweetwater" Clifton, Sam Cassell and Anthony Mason. And he's Creighton's first participant in the NBA All-Star game since Paul Silas had six points and four steals in 15 minutes in the 1975 All-Star Game.
We now return you to the Polyfro Primer, already in progress.
The Golden Eagles have one of the best defenses in the Big East, ranking first in field goal percentage allowed and third in points allowed. That's good! However, they score the second-fewest points per game, and have the third-worst shooting percentage in the Big East. That's bad! It also means they've played a slew of plodding, low-scoring games — the 53-52 score in the first meeting with Creighton is not an anomaly. They've failed to crack 60 points in eight of their 12 conference games, and needed overtime to get past that mark in two others.
They've played their last two games without leading scorer Matt Carlino, the BYU transfer who averages a team-high 14.5 points per game. Carlino suffered a concussion at Villanova, and was not even at the arena for Tuesday night's loss to Xavier. They scored 44 points in losing to the Musketeers, their lowest output in conference play by far.
Carlino tops the club in both assists (76) and three-point baskets (60), and drained a game-winning three-pointer last month to beat the Jays. He's listed as doubtful for Saturday's game, and if he can't go, it will leave them without their best scorer and with just seven rotation players.
Their second-leading scorer is Duane Wilson, who averages 11.7 points per game. He hit 3-of-6 from three-point range and scored 17 points in the win over Creighton last month. Indiana transfer Luke Fischer (10.0 ppg., 4.8 rpg., 2.2 bpg.) has come back down to Earth a bit after a red-hot start, going from shooting 81.6% from the floor and averaging 13.1 points per game in his first seven games – including the Golden Eagles' first three Big East conference games – to averaging just 7.6 points on 44% shooting over his last nine games.
This figures to be an ugly game, much as it was when these two teams hooked up in Milwaukee last month. Marquette's offense is bad, and Creighton's offense is bad. Marquette's defense is good, and Creighton's defense is less good. It's tempting to give the edge to the Golden Eagles but when you're talking about two teams with five combined wins in six weeks, there are no winners, just one team that's slightly less bad on that particular day.
Quick Notes on the Golden Eagles:
Senior forward Juan Anderson is averaging 10.0 points and 9.5 rebounds over the last two games in Carlino's absence, but has narrowly missed collecting his first career double-double on both occasions. He finished with with nine points and 10 rebounds in the February 7 win at Seton Hall before putting up 11 points and nine boards in Tuesday night's loss to Xavier. In the two games he has combined to shoot 9-of-14 from the floor.
In league games through February 11, Marquette's field goal percentage defense (.401) is ranked first in the Big East and third in scoring defense (66.8 ppg.). MU, which has utilized a variety of zone and man-to-man defensive looks all season, is also first in steals per game (7.9) and fifth in blocks per game (3.7).
On the other end, however, Marquette's offense has struggled in conference action. The team's scoring offense (61.3 ppg.) is ninth and its field goal percentage (.409) is eighth.
Bluejay Bytes:
Devin Brooks leads Creighton in rebounding and steals, and is second on the team in assists. If his numbers hold, Brooks would join Kyle Korver (2002-03) as the only Bluejays to lead the team in rebounding and steals in the same season.
Creighton has just two home games during the entire month of February, and both will be in a 56-hour span. Creighton hosts Marquette on Saturday at 12:01 pm, then welcomes Butler on Monday night at 8:15 pm. It marks the first time since 1975-76 that Creighton has had as few as two home games in the month of February. Ironically, both of those games were also on February 14 and 16 (You can read more about the first of those games below).
Creighton has won 85 straight home games against teams that enter with a record of .500 or worse. The last sub-.500 team to upset them came on February 25, 2002, when Drake won at the Omaha Civic Auditorium. Marquette enters Saturday's game with an 11-13 record, and will be the last Creighton opponent of the regular-season to visit Omaha with a record of .500 or less.
The Series:
Marquette leads the series with Creighton by a 49-30 margin, but the teams have split 38 all-time meetings in Omaha. The teams met for the first time in 15 years last season, with CU picking up a pair of double-digit triumphs in their first season as conference rivals since 1927.
Greg McDermott is 0-1 against Steve Wojciechowski as a head coach, but is 2-1 in his career against Marquette.
The Last Time They Played:
Marquette claimed a 53-52 win at home this year on January 14 thanks to a come-from-behind three-pointer by Matt Carlino with 11.2 seconds left. The Bluejays had a pair of chances in the closing seconds to claim the win, but both shots failed to fall. Carlino and freshman guard Duane Wilson scored all of the squad's 25 second-half points in that game, and Carlino had five points in the final minute to secure the win.
Gratuitous Linkage:
Luke Fischer has struggled after a hot start, and is drawing ire for not being aggressive enough, as Jim Owczarski of OnMilwaukee.com writes.
This Date in Creighton Hoops History:
On February 14, 1976, Creighton played the first of only two February home games (as noted above, the last time it's happened before this year), and defeated Nebraska-Omaha 77-62 at the Civic. Ironically, those two games were also a Saturday-Monday quick turn, and on the same dates. Crazy town.
Against the Mavs, the Bluejays won by 15 in front of one of the largest crowds in Creighton history at that time according to a World-Herald article the next morning — 9,043 fans — thanks in large part to Rick Apke. The sophomore scored 26 points on 12-16 shooting, grabbed 14 rebounds, and had four assists.
It's not Apke's sensational performance that dominated the day-after recaps, though, but rather a ridiculous technical foul on the Bluejays. With 11 minutes to play in the first half, Creighton's Cornell Smith was guarding the inbounds pass, and UNO was unable to get it in. The referee signaled 'five seconds', and awarded CU the ball. Then suddenly, Smith was T'd up. Why? "My hands were in his face, and I just started laughing," Smith told the media after the game. Referee Wayne Clinton ruled the laughter Unsportsmanlike Conduct, and whistled him for a T.
CU promptly switched to their ball-control offense to slow down the pace of the game. They normally didn't do that so early in games, but coach Tom Apke explained later that "We just decided to not give 'circumstances' the chance to decide the outcome of the game," with a heavy emphasis on the word circumstances. He didn't need to say it; everyone knew what he meant.
Completely Random, Totally Rad Music Video of the Day:
The Bottom Line:
First team to 60 wins!
Bluejays 60, Golden Eagles 56
Comments
Tagged in: