Polyfro Primer: St. Joseph's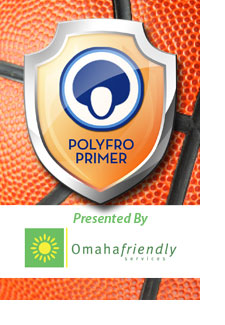 Derrick Marks scored 28 points in the second half on Wednesday night for Boise State, including a ridiculous 18 straight during a seven-minute stretch where he went 8-10 from the floor and made two free throws. We've seen this before, haven't we? Last December, Missouri State came to Omaha and gave a similarly annoying performance courtesy of Kyle Weems, who scored 25 of his 31 points in the second half, continually breaking them down off the dribble. Guard Anthony Downing added to the misery by scoring 26 points on 11-14 shooting that night and the two players combined to score 40 of the Bears' 45 second-half points.
I thought of that game as I sat at a local bar letting a cold one soothe my wounds after Wednesday's loss. The similarities are eerie: the Bluejay defense had no answer for an athletic wing player, and compounded the madness by being unable to stop an equally-athletic forward. Three days after that loss, they had to regroup in order to avoid a two-game losing streak, and had to do it against a terrific opponent that seemed poised to exploit those very same weaknesses. Of course, they circled the wagons, went into Wichita on New Years Eve, walked out with a win, and everyone backed off the ledge.
Three days after this latest frustrating defensive performance in a loss, they need to regroup again in order to avoid a two-game losing streak — and the opponent is a fantastic team that seems perfect for exploiting those same weaknesses. It's like déjà vu. Can they repeat their rebound from a similarly maddening defensive breakdown? We'll know early on tomorrow, because the St. Joseph's Hawks feature a player in Carl Jones who destroyed them a year ago off the dribble en route to a career-high 29 points. He attempted just one three-pointer in that game, instead driving into the paint possession after maddening possession, ultimately putting up 1/3 of his team's shot attempts and accounting for more than 1/3 of their points.
Jones is a terrific player who's also precisely the type of player that gives the Bluejays fits — an athletic slasher who can create his own shot off the dribble. But as they showed in their 80-71 win a year ago, the Hawks are much more than just Jones. Langston Galloway scored 12 points on 5-8 shooting, C.J Aiken scored 11 points on 4-6 shooting and had three blocks, Halil Kanasevic snared 12 rebounds and Ronald Roberts scored 12 points off the bench with six rebounds and three blocks. Included among Roberts' five made baskets were two or three backboard-shaking dunks — I can't remember the exact number because I've tried so very hard to forget, and apparently was successful. Anyway, all of those players return, which is a big reason why the Hawks are picked to win a tough Atlantic 10.
They scored 80 points on Creighton last year while making just three treys, and attempted only ten shots from behind the perimeter. Their game plan then, as it will likely be tomorrow, was to slash and get to the rim with their wings — who then either put up a shot or dished it off to one of their big men who were open after the defense collapsed on the ball handler. It worked brilliantly a year ago, and they kept the Jays at arms length most of the afternoon.
If there's an achilles heel, it's their depth. All 13 letterwinners return from last year, but only six of those players see significant minutes. Their top six all play an average of 28 minutes a game or more; no one else plays more than nine minutes a game. Of course, those six are all solid players — Carl Jones (17.7 ppg.) leads six Hawks averaging in double-figures, and is 11-of-22 from three-point range. Jones' fellow guard Langston Galloway has scored a team-best 67 points (13.4 ppg.) and also owns a team-leading nine steals. The others are no slouches, either: Ronald Roberts (11.6 ppg., 10.8 rpg.), C.J. Aiken (11.6 ppg., 4.8 rpg., 2.2 bpg.), Halil Kanacevic (10.3 ppg., 7.0 rpg.) and Chris Wilson (10.0 ppg., 4.4 apg.) all score in double-figures.
Defensively, the Hawks have limited teams to 38.8% shooting from the field and have made 10 more free-throws (66) than their opponents have attempted (56). They're one of the best non-conference foes to visit Omaha in years, and it shows at the box office: according to a tweet from the Creighton ticket office, the game is unofficially sold out and the only tickets still for sale are standing room only. There could be 18,000 people in the building tomorrow. Will they leave happy, or frustrated after another opponent goes off for a career high?
It goes without saying that if the same Bluejays squad who showed up Wednesday — the one making sloppy passes, committing careless turnovers, missing shots they normally make and giving up wide-open looks — makes an encore performance on Saturday, things will get ugly. However, their poor play in that game may actually bode well for tomorrow. Good teams coming off of bad losses usually come back with an inspired performance the next time out. It refocuses them, re-energizes them and frequently leads to a great game the next time they take the court. That's what I expect on Saturday. Carl Jones will probably have success driving on the Jays' defense, but if they can limit his teammates' open looks, not allow them to go on big runs, take care of the ball, and make shots at their usual rate, the game will be come down to who makes the plays late — in other words, exactly the type of game you'd expect between two teams picked to win their leagues.
About the Hawks: St. Joseph's received nine votes in the AP Poll and 10 votes in the USA Today Poll this week … Halil Kanacevic is probable for today after missing the American game with a back strain … This is the Hawks' first true "road" game of the year as the only games played outside of Hagan Arena were the two games of the Coaches vs. Cancer Classic at the Barclays Center in Brooklyn … The Hawks lead the nation in fewest personal fouls, with 11.2 per game, having been whistled for 56 fouls in four games … Ronald Roberts was named the Player of the Week in both the Atlantic 10 and Big 5 for Nov. 19 after averaging 15.3 points and 13.0 rebounds. The junior earned All-Tournament honors at the Coaches vs. Cancer Classic, scored 21 points and grabbed a career-high 16 rebounds in the overtime win versus #20 Notre Dame, and followed that with another double-double (15 pts, 11 rbs) in the loss to Florida State.
One Big Paragraph with Lots O'Dots™:  Since Greg McDermott took over three years ago, Creighton is averaging 77.84 points per home game (3,347 points in 43 games). That's a vital number since Creighton is 84-0 at home (57-0 at CenturyLink Center Omaha) when scoring 78 points or more and 68-0 at home (45-0 at CenturyLink Center Omaha) when scoring 80 points or more at home dating to a 92-83 loss to Southern Illinois on Feb. 19, 2000 … The loss Wednesday dropped them to 69-8 (.896) in non-conference games since CenturyLink Center Omaha opened. Creighton has not lost consecutive games, both at home, since February 14 & 17, 1996 … Creighton has lost multiple non-conference home games in the same season just once (2004-05) since 1996-97, something it'll try to avoid on Saturday … In Creighton's last two games, Arizona State's Jahii Carson scored 30 and Boise State's Derrick Marks scored 35 points. Last season, Northwestern's Drew Crawford had 34 points, while Missouri State's Kyle Weems had 31 vs. the Jays. Before last season, the last previous time Creighton had allowed 30 points or more to an individual in consecutive games came all the way back in 1990, when Bradley's Curtis Stuckey (39 points) and Wichita State's John Cooper (36) lit up the Jays in consecutive contests.
The RUN-DMD Show: Two years ago, Doug McDermott began his collegiate career with 116 points in his first eight games (14.5 ppg.) before facing St. Joseph's in Omaha. The Hawks held McDermott scoreless, as he was 0-for-5 from the field and 0-for-2 at the line in 19 minutes of play. McDermott has scored at least five points in each of his other 80 career games at Creighton, including 73 games of 10 or more points, 35 games of 20 or more points, eight games of 30 or more points and one game in the 40's.
The Last Time They Played: Carl Jones scored 29 points, with 20 in the second half, to lead four Hawks in double figures as Saint Joseph's upset #19 Creighton, 80-71, in front of a sold-out crowd at Hagan Arena last December 10. Ronald Roberts had 12 points, six rebounds and three blocks while Langston Galloway had 12 points and C.J. Aiken added 11 points and three blocks. Halil Kanacevic grabbed a game-high 12 rebounds as the Hawks outrebounded the Bluejays, 40-28. Jones shot 6-for-10 in the second half and got to the foul line 11 times in the contest, making 10 free throws. It was Saint Joseph's first win over a Top 25 team since March 14, 2008.
The Series: St. Joseph's has won five of nine all-time meetings, but the Bluejays have won four of the past five encounters. After a 26-year gap, the teams will be playing for the fifth time in six years, as Creighton won close games in 2007, 2008 and 2010. All nine previous meetings have been decided by 11 points or less.
Greg McDermott is 1-1 against St. Joseph's, and 3-3 in his career against the current Atlantic-10 membership. Martelli is 1-3 in his career against Creighton.
This is first in a new four-game series contract with the Hawks. The schools will play in Philadelphia in 2013 and 2014, and back in Omaha in 2015.
Gratuitous Linkage: Earlier this week, St. Joseph's coach Phil Martelli told the Philadelphia Inquirer that Doug McDermott reminds him of Larry Bird. Actually, his words were stronger than that: "This kid is Larry Bird. McDermott is Larry Bird. He is this year's Larry Bird. He has all the stuff."
This Date in Creighton Hoops History: On December 1, 1987 the Jays beat Nebraska-Omaha 61-60 thanks to last-second heroics from James Farr, and a couple of key plays from freshman Bob Harstad. The future Bluejay great rebounded a missed three-point shot by guard Duan Cole and scored to give Creighton a 55-52 lead. Then with 3:26 left, he rebounded a missed free throw by Rod Mason, shot and scored again to give the Jays a 57-52 advantage. UNO took the lead on back-to-back threes by Bryan Leach, leaving the Jays just eight seconds for a last shot. With all 6,217 fans in the Civic Auditorium — and everyone on UNO's bench, for that matter — knowing who would get the ball, Farr took a pass in the backcourt and dribbled through UNO's defense for a layup with two seconds remaining that gave the Bluejays a 61-60 victory.
He told the World-Herald after the game, "Coach Barone told me to get the ball, take it down and penetrate and make something happen if I had the shot take it, if not, penetrate and dish off. Fortunately, everybody stayed with their man, so I just took it to the basket."
Completely Random, Totally Rad Music Video of the Day: Philadelphia's own Hall & Oates doing their excellent cover of Mike Oldfield's obscure single, "Family Man." I saw these guys play an outdoor show at Stir in September and they're still tremendous.
The Bottom Line: There's no two ways around it. This was a huge game (lowercase) before, but the loss on Wednesday to Boise State makes this a HUGE GAME (all caps). With a loss, the Jays probably drop out of the top 25, and their chances of a good seed in the NCAA Tourney will rely on the rest of the Valley being good enough to provide them with solid RPI games in January and February. With a win, they can chalk the Boise State game up to a bump in the road instead of a roadblock, and their shot at a good seed in the NCAA Tourney will still rest in their own hands.
No pressure.
Jays 76, St. Joseph's 73
Comments
Tagged in: