Polyfro Primer: University of Mary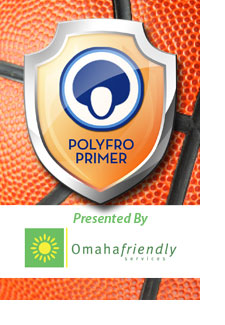 "This is not a competition, this is only an exhibition. Please … no wagering." -Dave Letterman
Wednesday night, Jim Flanery's Creighton women's team rolled to a 90-60 victory in their exhibition opener, and believe it or not, the score isn't indicative of just how much they dominated. The Jays were up 14-2 less than five minutes in and never led by less than double-digits the rest of the way. Southwest Minnesota State was completely overmatched right from the start — Creighton's ridiculous 54 points in the paint illustrate this perfectly — and that makes it tough for anyone to form opinions on what they've seen. When the men's team tips against the University of Mary on Friday night, much of the same can be expected, particularly in the paint where Mary's tallest player is a robust 6'6″.
In that sense, it's too bad the NCAA no longer allows squads like Global Sports or Athletes in Action to barnstorm the country providing exhibition opposition to teams in early November. Those teams, comprised of former D1 players who hadn't latched on professionally yet, had the talent, athleticism and depth to really push their opponent. Heck, Global Sports actually beat the Jays three times, in 1999 (77-73), 2000 (82-74) and 2003 (66-65).
In the "current" era of exhibition scheduling, exhibition games are mostly about experimentation and measuring the team's progress before "real" games start, because winning is almost a given. The stars rarely play after halftime, with the emphasis shifting to getting the newcomers' feet wet in a real game situation, and giving the coaches actual game film to study on those players. That will likely be even more true this year, as Creighton has a lot of certainties at the top of their roster (Doug McDermott is still a superhero, Gregory Echenique is still a beast in the paint, Grant Gibbs is still a terrific playmaker, etc.) but several unknowns as you make your way down the roster. Seven players will likely play Friday night who have never logged a minute in a D1 game, meaning this is their first opportunity in game situations to try and earn playing time.
Don't expect to see McDermott, Echenique, Gibbs or Manigat — the four returning starters — more than 15-20 minutes each. This is a night for players like Geoffrey Groselle, Andre Yates and Isaiah Zierden to show they deserve to be part of the rotation, and a night for the walk-ons to see their most significant PT of the season. Most of all, it's a night to get the butterflies out before the season begins for real one week from tonight. It has been 229 days since they last played a game in front of fans, after all.
It's not the first exhibition game they've played this season, though; the Jays traveled to Iowa City to take on the Hawkeyes last Sunday. Around the same time the NCAA put a stop to barnstorming teams like Global Sports, they passed a rule allowing "closed-door" scrimmages to take place between D1 teams, provided no media or fans were present and no details about what happened were disclosed. That the NCAA expects these scrimmages to remain shrouded in mystery in an age of social media and message boards is ridiculous; that they require the scrimmages to be as secret as a Cold War military training exercise in the first place is absurd.
Much to their chagrin, I'm sure, details can and do leak out. Both the Omaha World-Herald and the Cedar Rapids Gazette ran reports of the scrimmage with quotes from the team's respective coaches. Creighton won the scrimmage; how they did it varies depending on who you talk to and which legit media sources you put stock in.
Luckily, Friday night no such secrecy will be required. Just after 7:00, Greg McDermott will pull back the curtain on the 2012-13 Creighton Bluejays and everyone in attendance will get to make their own observations without the need for espionage. Thank God for that. Basketball is back!
About the Marauders: The University of Mary is a DII school located in Bismarck, North Dakota, and has been an NCAA member since 2007 when they moved up from the NAIA ranks … They compete in the Northern Sun Intercollegiate Conference, where they are picked to finish 14th out of 16th teams this year … The Marauders opened their exhibition slate with an 84-77 win over Another Level Blue Angels, a barnstorming team much like the old Global Sports squads (DII teams can still play non-college teams in exhibitions) … Mary is coached by Jevin Budde, an ex-Jay who played for Dana Altman in 2000-01. You're excused if you don't remember him: he played in five games and made just one field goal in his Creighton career. His highlight performance game against Providence in the EnergiaSystems Thanksgiving Tournament in Kansas City, when he made 4-5 free throws and hit a three-pointer — the only field goal of his career — in the Jays 63-51 win … Mary played before 31,773 fans in 26 games all of last season (1,222 per game), and no crowds larger than 4,013. It's highly probable they'll be halfway to last year's total after one game tonight.
One Big Paragraph with Lots O'Dots™: The starting five is expected to once again not include a freshman, which will make it 24 years since a Bluejay freshman started the exhibition opener. Latrell Wrightsell was the last, scoring eight points, grabbing four rebounds and dishing out three assists in 31 minutes of a 75-66 win over Turkey in November of 1988 … Thanks to their NCAA Tournament win over Alabama, the Creighton men's basketball team has now won a postseason game in a school-record five straight seasons, besting the previous mark of three in a row from 1962-64 … Creighton finished sixth nationally in home attendance last year, averaging 16,665 fans per home game in 2011-12. They surpassed 200,000 home fans in a season for the sixth time, a feat no other MVC team has ever accomplished … Last season's Creighton team extended its MVC record by winning 10 or more league games for a 16th consecutive season, a stretch where the Jays have never finished lower than fourth in the standings … Ten of Creighton's last 15 teams have finished either first or second in The Valley's regular-season race, and two of the five that didn't won the MVC Tournament.
The RUN-DMD Show: Doug McDermott became the first player in MVC history to be named a preseason First Team All-American by the Associated Press last month. McDermott earned acclaim on 62-of-65 ballots, trailing only Indiana's Cody Zeller. The rest of the team consists of Isaiah Canaan (Murray State), Deshaun Thomas (Ohio State), Trey Burke (Michigan) and C.J. McCollum (Lehigh).
The Last Time They Played: Creighton and Mary have never met.
The Series: Since these two schools have never met, let's look at Creighton's exhibition history instead. Greg McDermott, remarkably, has never lost an exhibition game as a coach — despite his horrid early teams at UNI. He's 19-0 overall, including a 10-0 mark at UNI, a 7-0 record at Iowa State, and a 2-0 mark at Creighton. All but one of his triumphs has been by double-digits. Creighton is 37-6 since 1987 in exhibition games and owns 11 straight victories. The only team since 1994 to beat Creighton in an exhibition setting has been Global Sports, which has done so three times.
Gratuitous Linkage: While the Jays are opening their exhibition slate tonight, two alums will open the NBA season as teammates when Atlanta takes on Houston. If both Anthony Tolliver and Kyle Korver play, as they're expected to, it will be the first time since March 22, 1970 that two former Jays play in an NBA game as teammates (Neil Johnson and Paul Silas played together for the Phoenix Suns that night). Including 2012-13, Creighton has now had an NBA player in 29 of the last 30 years, and 46-of-49 seasons since 1964-65. Think about that. For almost half a century, or essentially the entire modern era of professional basketball, Creighton has had at least one player in the league in all but three seasons.
This Date in Creighton Hoops History: On November 2, 2006, the aforementioned Anthony Tolliver had 24 points and eight rebounds in an 80-76 win over EA Sports in the team's exhibition opener. He also blocked a potential game-winning three-pointer with less than five seconds remaining in OT, then sank two free throws on the other end to seal the win. Nate Funk had 15 points, five assists and four rebounds in his first action since suffering a shoulder injury in January of that year.
Completely Random, Totally Rad Music Video of the Day: It's time to start it up. Hit it, Keith!
The Bottom Line: Big first half performances from Doug McDermott and Gregory Echenique. Big second half minutes from the bench. Free pizza for everybody in attendance. Everybody wins! (Except for Mary. They will lose.)
Jays 89, U of Mary 68
Comments
Tagged in: