Polyfro Primer: Wichita State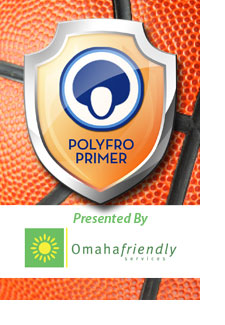 After losing four starters off a team that went 26-7 and won the regular season MVC crown a year ago, it was hard to know what to expect from Wichita State coming into 2012-13. So much of their team was comprised of unknown or unproven quantities, at least to people who don't follow the Shockers closely, that their preseason prediction as a middle-of-the-pack team wasn't surprising.
That they've started 16-2 and have clearly reloaded, rather than rebuilt, isn't surprising either given Gregg Marshall's track record. He's taken the foundation Mark Turgeon built and expanded on it, turning the Shockers into a perennial powerhouse built in his own image — tough, tenacious, with a chip on their shoulder at all times. That "Us Against the World" mentality can be exhausting for opposing fanbases, but it's been an effective motivational tool for the Shockers.
Wichita State is a difficult team to play against, particularly for Creighton, because their style of play is so vastly different from what the Jays try to do. The Shockers, for the most part, are an average shooting team (46.2% from the floor, third in the MVC, 33.8% from three-point range, sixth in the league), but they are relentless in trying to create extra possessions for themselves. They have the second-most steals in the league, they're outstanding on both the offensive and defensive glass (first in the MVC in total rebounds, first in offensive boards, second in defensive boards) and average nearly five blocked shots a game (most in the MVC). They also allow the fewest points in the league, giving up just 59.9 points a game.
Meanwhile, the Jays are very good at not doing the very things Wichita tries to force opponents into doing. They don't turn it over much (11.9 per game, third fewest in the MVC) and they're the only team in the league better than Wichita State at defensive rebounding. In simpler terms: Wichita State is very good at creating extra possessions for themselves to make up for their comparatively average offensive prowess, and Creighton is very good at not allowing opponents to get extra possessions.
The Shockers do have some offensive weapons that the Jays should be concerned about, despite their defense-first reputation. Cleanthony Early, a JuCo transfer, averages 15.5 points and 5.1 rebounds a game, and scored 24 and 39 points in back-to-back games against Bradley and Southern Illinois earlier this month. He's a very athletic, very talented player, and at 6'8″ 215 pounds he's difficult to guard. But he's not a great defender, and he has a propensity to foul — it's probably not a coincidence that in both Shocker losses this year, Early has fouled out.
Carl Hall, the MVC Newcomer of the Year, missed seven games with a broken thumb but returned Wednesday night against Illinois State. He showed signs of rust offensively, getting off just two shots, but he did grab 10 rebounds. Hall was averaging 12.8 points a game before his injury, and had a monster game in Wichita against the Jays a year ago, scoring 17 points and grabbing 13 rebounds.
WSU guards Malcolm Armstead (9.2 points, 2.1 steals per game) and Demetric Williams (8.6 points, 2.7 assists per game) lead the way in the backcourt. Williams was pressed into starting duty in late December after an injury to starter Evan Wessel sidelined him, and he's responded well. Wessel's loss hurts them on the perimeter, as he was one of their best outside shooters (11-24 in eight games before the injury). Armstead has picked up some of the slack, but most days, the Shockers are not a team that will beat you on the perimeter. They shoot just 33.8% as a team, and have just one player above 40% for the year — Nick Wiggins, a JuCo transfer who is 17-36 in limited minutes off the bench.
Who can impose their will on the other team? A year ago in Omaha, Wichita State destroyed Creighton on the glass (37-23)  and managed to get Doug McDermott, Grant Gibbs and Jahenns Manigat all into foul trouble trying — unsuccessfully — to keep Joe Ragland and Ben Smith out of the lane. Those two players combined to go 17-24 from the field, so thank goodness both players are gone. The Shockers scored 89 points while only attempting 16 three-pointers, making eight. Meanwhile, their defense so frustrated Doug McDermott (5-14 from the field, 13 points) that he got into a shouting match with Coach McDermott on the sidelines, a moment captured by ESPN's cameras.
The game in Wichita last year went the opposite way, as it was Creighton who frustrated the Shockers. Their defense forced Wichita State to settle for jump shots — the Shockers attempted an uncharacteristic 26 three-pointers, making just five including a brutal 1-14 in the second half — and they were essentially even on the glass (38-36 in favor of WSU).
Wichita State is perhaps the only Valley team able to play Creighton more or less straight-up defensively, thanks to their length and athleticism. The usual double teams on McDermott that free up shooters on the wings simply don't happen against the Shockers, because they don't use many double-teams. That makes it harder for Creighton to execute their offense, both because McDermott isn't scoring and because their perimeter shooters aren't getting the looks they're used to. They were able to beat the Shockers at their own game last year in Wichita, by playing tough defense and rebounding well, and that's probably what it will take to get a win on Saturday.
About the Shockers: Wichita State has had trouble with turnovers the past week, giving it away 22 times in a loss to Evansville and 16 times in a 74-62 win over Illinois State … Cleanthony Early has scored in double figures in every game but three, and has scored 20 or more five times … In his Wichita State career, Gregg Marshall is 1-4 in games decided by four points or less vs. Creighton and 15-25 overall in such contests … Since 1994-95, Wichita State is 4-26 in the 30 match-ups vs Creighton when they score less than 70 points, but 6-2 when WSU scores 70 or more.
One Big Paragraph with Lots O'Dots™: With a win, Creighton would win their seventh consecutive road game for the first time since 1962, and would start 7-0 in the MVC for just the second time since rejoining the league in 1977-78 … Creighton has won 11 straight games heading into Saturday, the sixth different win streak of six or longer in the three years with Greg McDermott as head coach … Since the start of last season, Creighton is a remarkable 46-7, the best record over any 53 games since the Jays went 46-7 in 53 games from Nov. 17, 2002 to Feb. 4, 2004 … Creighton is 36-17 in its last 53 games on ESPN, ESPN2 or ESPNU, and will be making its third appearance of the year on a World Wide Leader network on Saturday. In these 53 ESPN-affiliated appearances, Creighton is 33-9 when scoring 62 points or more, but just 3-8 when scoring 61 points or less.
The RUN-DMD Show: Doug McDermott is averaging 21.5 points and 6.8 rebounds per game in 12 home games this year, but those numbers surge to 29.0 points and 8.2 rebounds per game in six games away from home. That's potentially significant on Saturday, as a hostile crowd awaits.
The Run-DMD Show, Part Deux: Doug owns 20 or more points in 43 of his first 92 career games in a Bluejay uniform. He's put up 20 points or more against a Valley opponent 17 times, but before Tuesday, he'd never done it against either Northern Iowa or Wichita State. He got off of one schneide by scoring 31 on UNI earlier this week; his best output in four tries against Wichita State has been 12 points as he averages just 10.8 points and 43.6% shooting from the floor.
By comparison, he's averaged 20.1 points and 57.1% in all other games in his career.
The Last Time They Played: To keep from becoming enraged as I think back to the last matchup, I'm choosing to go to my happy place. White lace, promises and Carl Weathers on piano. There, better!
The Series: Creighton leads the all-time series with Wichita State by a 53-44 margin. The Jays have won 29 of the last 39 games. Greg McDermott is 8-7 all-time vs. Wichita State (1-3 at Creighton), including a 3-4 record in road games, and has won three of his four most recent trips to Charles Koch Arena.
Eight of the last 15 Creighton/Wichita State games have been decided in the final seconds. Creighton has overcome a double-digit deficit to beat Wichita State six times since 2003, including last season's meeting at Koch Arena and a 57-55 Bluejay win over the Shockers on January 28, 2006 in which WSU had led 25-6 before eventually falling on a buzzer-beater by CU's Anthony Tolliver. That remains the largest comeback victory in CenturyLink Center Omaha history.
Gratuitous Linkage: Paul Suellentrop of the Wichita Eagle penned an utterly tremendous look back at the Wichita State-Creighton rivalry, with quotes from players on both sides and stories of heartbreak from both CU and WSU. I hate it when people say something is a must-read, but this is worthy of that admonishment.
This Date in Creighton Hoops History: On January 19, 1985, Benoit Benjamin scored 45 points with 16 rebounds, five blocked shots and five assists in a 115-80 win over Illinois State at the Civic. It came two days after he exploded for 43 points in a loss to Bradley, giving him an insane one-week average of 44 points, 16 rebounds and 7.5 blocked shots over two games. Benjamin's second-straight dominant game overshadowed a terrific one from Vernon Moore, who made 15 of 17 shots from the floor and tied his career high at the time by scoring 30 points.
The 115 points remains third-highest in Creighton history, behind a pair of early-60s juggernauts. The 1963-64 team set the school record of 124 against Miami and the 1962-63 team hit 120 against Nevada.
Completely Random, Totally Rad Music Video of the Day: A little Hagar-Era Van Halen for your Friday — "Black and Blue", a hidden gem off of OU812, live in Tokyo.
The Bottom Line: This one goes back-and-forth, but Creighton pulls it out late.
Jays 71, Wichita State 67
Comments
Tagged in: