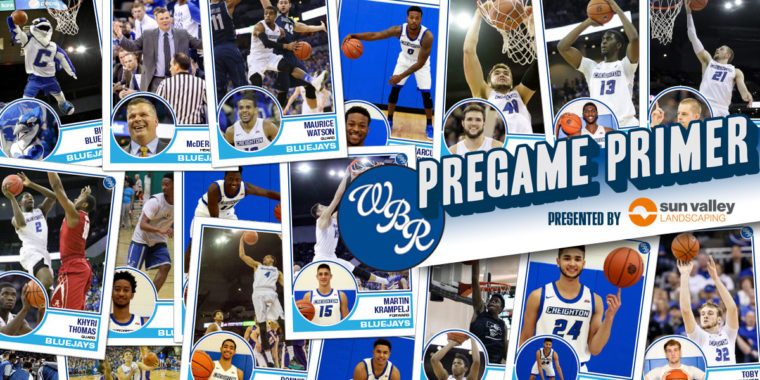 Pregame Primer: #20 Creighton at Seton Hall
When the NCAA released their "official projections" for the top 16 seeds in next month's tournament over the weekend, Creighton was not among them. They're on the five-seed line according to most bracketologists, and with six Big East games left to play plus the conference tournament, they have plenty of opportunities to move up. But their seed is the only real question; their accomplishments so far have made them a lock for the tourney.
Seton Hall is not in the same boat. The Pirates are 15-9 and 5-7 in the league, and by virtue of a decent resume that includes a pair of top-50 wins out of conference (Cal and South Carolina) and a historically weak pool of bubble teams, they're in — barely — in most bracketology projections. ESPN's Joe Lunardi, CBS' Jerry Palm, and Bluejay Banter's Tim Krueger all have them in the field of 68 as of Tuesday night, though they're in that stress-inducing group of "last four in" according to all three pundits.
There's no margin for error, in other words, and as the Pirates begin a three-game homestand with games against Creighton, Villanova, and Xavier over the next eight days, they find themselves needing to beat two of the three to stay on the right side of the bubble. That's a tall task, but the Hall is 9-1 at the Prudential Center this year, including a 4-1 mark in conference play. It's being billed by the team's marketing department as the biggest homestand in the "Prudential Center Era" (spanning 2007 to the present):
Just over 24 hours from now, we tip off the biggest home stand in our @PruCenter era. Cheese has a message for Pirate Nation! #HALLin pic.twitter.com/AAH7fR1QQr

— Seton Hall MBB (@SetonHallMBB) February 15, 2017
It's been almost two months since these teams first met, with Creighton beating Seton Hall 89-75 on December 28, and things have changed for both teams since then. Creighton's lost Mo Watson but added Zach Hanson, obviously, but what about The Hall?
Khadeen Carrington came into that first meeting as their leading scorer at 19.3 points per game, and had been shooting 48.6% overall (84-173) and 50.0% from three-point range (28-56) with six 20-point games. He hung 27 on the Jays, shooting 8-13 from the field including 3-5 from three-point range. He's scored more than 20 just twice since, and has been mired in a prolonged offensive slump. He's slipped to being their third-leading scorer, with his average plummeting by over five points (14.1 ppg.) over those two months, thanks to shooting a markedly worse 37% (58-155) from the floor and 26% (17-64) from three point range in Big East games.
The raw numbers are ugly, but they're even worse when you consider how big of a role he continues to have in their offense. He's taken 22% of their shots in Big East games despite making only 37% of them; he's taken 25% of their three-point attempts despite making just 26% of his attempted threes. On the one hand, the only way for a shooter to break out of a slump is to keep shooting. On the other, routinely taking (and missing) a ton of shots every game hurts your team. At some point Carrington will get his groove back. If you're a Bluejay fan, the hope is that it doesn't happen Wednesday night.
Desi Rodriguez (15.4 points, 5.4 rebounds) and Angel Delgado (15.1, 13.0) remain top-tier scorers and rebounders. Rodriguez has picked up some of the scoring slack during Carrington's slump, and leads the team in scoring since conference play began. He's made 44% of his three-pointers in league games (30-68), and 41.9% overall (72-172).
Delgado was a beast on the glass in the past, but he's now something closer to the Terminator. In Big East games, he's averaging 14.3 rebounds a game, including nearly five offensive boards per contest. He's had a double-double in six straight games and 12 of the last 13, including a 21-point, 20-rebound game against St. John's and a 12-point, 22-rebound game later that week against Butler. By those standards, he had an off night in Omaha; he scored 10 points with 10 rebounds in the first meeting.
If Carrington shoots too much, given his shooting woes, Delgado has the opposite problem — he doesn't shoot enough. Despite shooting a team-best 50% from the floor in league play, he's attempting just under 10 shots per game because his guards either can't or don't feed him the ball. Those 10 shot attempts are even more galling when you consider he grabs five offensive boards a game.
The Pirates are a big, physical team that cleans the offensive glass as well as any team on CU's schedule; often times, the defensive battle really begins once a missed shot hits the rim, because the Pirates best offense comes off of mismatches created in the scrum for a rebound, or in quick put-backs off a missed shot before the defense can reset.
Seton Hall has had double-digit offensive rebounds in each of the last four meetings against CU — 12 in the first game a year ago, 17 in the second, 14 in the Big East Tourney, and 11 earlier this year. They've had an average of 10 second-chance points in each of those games.
And so, although both teams possess great guards, this is a game that will likely be decided in the paint. That's where the return of Zach Hanson looms large for the Bluejays, as he gives them a big, physical presence in the low block that they didn't have in the first meeting. For all of Justin Patton's superlatives, of which there are too many to count, getting physical with opposing big men isn't his strong suit. Hanson can and will be tasked with setting that tone in this one, and CU's chances to win could depend on a big night from Hanson.
One thing to look for along those lines: forward Ish Sanogo is a gametime decision with a sprained ankle. If he can't go, that leaves the Pirates thin up front and hurts them both defensively and on the glass.
Seton Hall's Ismael Sanogo (ankle) is expected to be a game-time decision for Wednesday's game vs. Creighton, per Kevin Willard. #shbb

— Jon Rothstein (@JonRothstein) February 14, 2017
Quick Notes on the Pirates:
Delgado had 13 points, 10 rebounds, and a career-high five assists in Saturday's loss to St. John's. Sophomore Michael Nzei also had a double-double with 11 points and 12 boards. The Red Storm scored 30 points off 18 Pirate turnovers.
Over the last two seasons, Seton Hall is 11-4 when facing an opponent for the second or third time in the same season.
Seton Hall's attendance has surged this year to 7,832, nearly 1,000 more fans than they drew a year ago. They've already sold over 16,000 tickets for Saturday's game with Villanova. Tonight's crowd will likely be around half that.
Bluejay Bytes:
Justin Patton had 11 points and a season-high 11 rebounds in Saturday's 93-58 win at DePaul, his third double-double of the season. Patton is just the third Creighton freshman since 1988-89 to post a double-double, joining Ronnie Harrell Jr. (1 in 2015-16) and Doug McDermott (9 in 2010-11).
In the last four games, Khyri Thomas has averaged 15.0 points, 5.5 rebounds and 5.0 assists per game, to go along with a 4/1 assist/turnover ratio. In last Saturday's win at DePaul, he had 12 points, seven assists and five rebounds while holding DePaul's top scorer, Eli Cain, to five points on 2-of-9 shooting. For the season, Thomas leads Creighton in steals and is second on the team in rebounds, assists, and blocks.
Thomas tied a career-high by sinking 4-of-5 three-point shots in Creighton's Jan. 31 win at Butler. Creighton is 15-1 this year, and 24-6 in his career, when he drains a trifecta. Since arriving on campus, Thomas has made 41-of-88 (46.6 percent) three-pointers in Creighton wins compared to 12-of-43 (27.9 percent) marksmanship from deep in Bluejay losses.
The Series:
Seton Hall leads the all-time series with Creighton 10-5, including a 6-3 mark in New Jersey. However, last season Creighton went in to Newark and posted an 82-67 victory, its second double-digit road victory over The Hall in three tries since joining the Big East.
Greg McDermott is 4-4 against Seton Hall and coach Kevin Willard. Willard is 5-4 all-time against Creighton, leading his 2009-10 Iona team to a 63-55 win over the Bluejays at the Old Spice Classic near Orlando, Fla.
The Last Time They Played:
Creighton dominated the Pirates in an 89-75 win, with a 16 point advantage in points in the paint, 18 point advantage on points off turnovers, and gave up just eight second-chance points. This portion of Matt DeMarinis's recap sounds relevant for the rematch:
Creighton got off to a good start inside as well. While fronting the post on Seton Hall big man Angel Delgado with senior forward Cole Huff and rotating a double team from freshman center Justin Patton on the defensive end, they also got plenty of touches on the low block on their end of the floor. The seven-foot tall Patton had a dunk and beat Delgado on a nice up and under move to help the 10th-ranked Bluejays open up a 10-5 lead after around five minutes of action.

The Bluejays continued to stay up on the boards and limit Seton Hall second-chance opportunities midway through the first half, but the Pirates hung in there thanks mainly to hitting four of their first six shots from downtown to head into the under-12 timeout trailing by just one at 18-17. Junior forward Toby Hegner made a couple of key plays — a blocked shot on one end and a 3-pointer from the left wing on the other — to put Creighton in front.
Gratuitous Linkage, Pirate Edition:
"Mo Watson is not there. We're not focusing on him," Seton Hall guard Khadeen Carrington after Saturday's loss at St. John's. "We're just going to focus on the players that they have."

They have 7-foot freshman Justin Patton, the only postman in the Big East who can rival Pirates star Angel Delgado. Patton ate Delgado's lunch when they met in December, scoring 17 on 8-of-13 shooting and grabbing nine boards.
–"Seton Hall Enters Decisive Homestead on the Bubble", Asbury Park Press
Gratuitous Linkage, Bluejay Edition:
With Watson out, Khyri Thomas has had to handle the ball more and make more decisions. He's had 20 assists the last four games, including a season high-tying seven in a 93-58 win at DePaul on Saturday.

"Besides everything happening on the floor, his leadership has elevated as well," McDermott said. "He's speaking his mind more. He's encouraging and being demanding defensively with his teammates, which he can do because of the effort he gives each and every possession.

"He's changed for the better in almost every aspect of the game, and a lot of has taken place the last three weeks."
–Khyri Thomas ups his game to keep No. 20 Creighton winning, Associated Press
What the Other Side is Saying:
The pieces — save an Isaiah Whitehead-caliber lead guard — are there to go on a run, but there seems to be a glue-like x-factor (see: Derrick Gordon) that must be channeled over the next six games if Seton Hall is to stay in the bubble picture; they're clinging to life heading into Wednesday night.
–Seton Hall has Plenty of Opportunities Over Final Six Games, SHUHoops.com
This Date in Creighton Hoops History:
On February 15, 1986, Creighton defeated Indiana State 64-51 in a game far more memorable for a bench-clearing scrum than anything that happened in the actual game. Senior forward Keith Smith, a player described as the Bluejays' equivalent of an offensive lineman by first-year coach Tony Barone, rebounded a miss and put it back to give the Jays a 31-27 lead with three minutes left in the first half.
Indiana State's Bryan Kegerreis and Creighton's Kenny Evans got into it as they ran up court, and after exchanging vicious shoves, both benches emptied onto the court to join the melee. Smith was in the middle, of course, and played the role of enforcer in protecting his teammates in the wrestling match. Once the officials cleared the court, they determined Evans was to blame and sent ISU to the line to shoot technical foul shots. They missed both, then missed a wild shot after keeping possession due to the technical, and instead of capitalizing on an opportunity to tie the game, remained down four and were never as close again.
"I think it was a factor because A, it helped fire them up, and B, we didn't capitalize," Indiana State coach Ron Greene said after the game. "We were down four when it happened and could have tied the game. The incident also fired up the Bluejays' fans. They booed the rest of the game every time Kegerreis touched the ball."
Completely Random, Totally Rad Music Video of the Day:
The Bottom Line:
Creighton's going to get Seton Hall's best shot, because a loss tonight makes the next two must-win. If their best shot results in a monster game from Delgado, a back-on-track shooting night from Carrington, and solid supporting performances from Nzei and Rodriguez, CU's chances will rely on rebounding — both on their own end and on defense to keep second-chance opportunities to a minimum — and three-point shooting. The Jays were just 5-16 from outside the arc in the first meeting; they will likely need to be much better tonight.
KenPom predicts a two-point Creighton win, and Vegas (as of the time this published) had them a 1.5 point favorite. I've got a feeling the Pirates get this one, but I'm not going to argue with my man KenPom.
Creighton 77, Seton Hall 75
Comments
Tagged in: