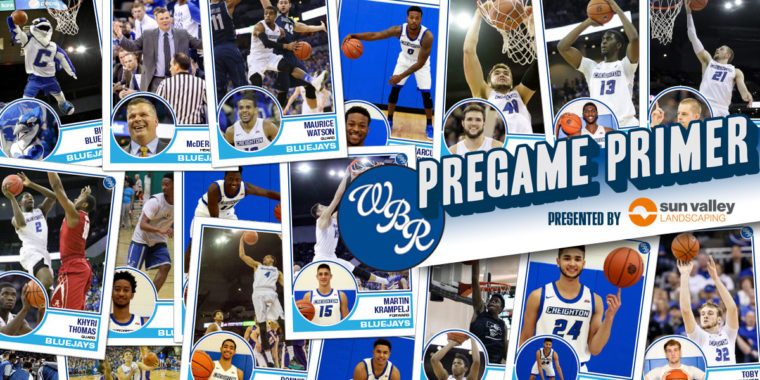 Pregame Primer: #23 Creighton at #2 Villanova
It's a depressing time to be a fan or a follower of Bluejay basketball, for reasons on the court — another last-second loss, another round of mock brackets seeing their projected seed dropping — and off the court. It's the off-court stuff that matters most, obviously, and is the hardest to stomach. Maurice Watson, Jr., their former All-American guard, is accused of first-degree sexual assault and has had an arrest warrant issued for him.
The last time Creighton and Villanova played seven weeks ago, the Jays and Wildcats were both undefeated and played a great, spirited game that was thoroughly enjoyable other than the outcome going 'Nova's way. When they rematch on Saturday, their former point guard could very well be behind bars during the game, accused of something pretty awful, and that makes previewing the actual game seem beside the point. But that's what we're here for, so I'll leave it at this: Whatever the outcome, the best you can hope for is that justice is served, one way or the other.
The game seems insignificant in the grand scheme of things, but it's an awfully big one in the world of college hoops. Villanova enters the game ranked #2, with a 26-3 record and having already clinched a share of a fourth-straight regular season Big East title. They have National Player of the Year candidate Josh Hart leading the way at 18.7 points per game. They have the Big East's leading three-point shooter in Kris Jenkins. They have Jalen Brunson (14.9 points, 4.4 assists per game) and Mikal Bridges (10.5 points, 4.6 rebounds per game).
What they don't have is depth. Like, any at all.
Darryl Reynolds (6'9″, 240) is their only rotational player taller than 6'8″, and their only true post player. He's missed the last four games with a rib injury, and it hasn't been announced whether he'll play Saturday or not. Combined with the earlier injury to Phil Booth, if Reynolds is out it leaves Villanova with essentially a six-man rotation and no traditional center. It's made practices difficult; they've suited up their video coordinator and a graduate assistant in practice just to give them enough bodies to run full five-on-five drills. During the NBA All-Star Break they even had Daniel Ochefu back on campus to run with them in practice.
Patton had a big game in the first meeting even with Reynolds on the court — he was 9-12 from the floor with 18 points, 8 rebounds and two blocks — and his length and quickness gave Villanova all kinds of problems offensively. On defense, Patton was less dominant, but still impactful. If Reynolds doesn't play, Patton could really be an X-Factor in the game; even if Reynolds does go that could still be the case.
Hart, Brunson, and Bridges all played 37 minutes Wednesday against Butler, but as long as they don't get into serious foul trouble, the Wildcats' six-man rotation isn't that much different from the short seven-or-eight man rotations most teams employ as March approaches. Not having a center to defend the middle, on the other hand, seems problematic against teams with legit size in the post.
Or so you'd think. Seton Hall thought they'd have a big advantage with Reynolds out last Saturday, too, but instead were blown out 92-70 and beaten on the boards by the smaller Wildcats 26-23.
They've survived because their top four players are so terrific. Brunson scored 24 points on 9-13 shooting against Butler, and is averaging 20.2 points over his last four games, coinciding with Reynolds being out of the lineup. His career high came against Creighton earlier this year, however, when he scored 27 points. He outplayed Watson on NYE, and now he'll have either a freshman in Davion Mintz or a defensively-challenged senior in Isaiah Zierden guarding him.
Hart (7-18 from the floor, 0-4 from the line) and Jenkins (1-8 from the floor, 1-5 on threes) had off-nights against the Bulldogs, but have otherwise played at a consistently high level all year. Hart scored 18 with 10 rebounds against the Jays on New Years Eve, making 6-8 inside the arc and 1-3 outside of it. Jenkins scored 21, but that's deceiving; he was just 4-12 from three-point range and had two boards and an assist.
If Reynolds doesn't play, and the Jays are able to take advantage with Patton and Zach Hanson at the rim on both ends, the Bluejays could keep this closer than expected and maybe even pull off an upset if Marcus Foster shoots like he did last Sunday against Georgetown.
The far more likely scenario is a somewhat unfocused Bluejay team from the off-court events of the week coming into the Pavilion to play a laser-focused Villanova team coming off their seniors' first-ever loss at that building, and getting smoked as Brunson runs circles around the Jays' point guard committee.
I think the reality will be somewhere in the middle, but I still don't see many realistic avenues to a Bluejay win.
Quick Notes on the Wildcats:
Saturday is the final home game for the senior trio of Josh Hart, Kris Jenkins and Darryl Reynolds. They've been part of 123 wins (owning a 123-16 record), more than any other class in Villanova history, 61-9 in the Big East, a perfect 16-0 in "Big 5" competition, and had a 48-game home winning streak at The Pavilion snapped earlier this week when they lost to Butler. Salute.
The Wildcats' senior class has never lost two straight games — they've followed all of their 16 losses with a win in the next game.
Bluejay Bytes:
Saturday's game is on network FOX, and if the last three games on FOX are any indication it'll be a shootout. Creighton lost 98-93 at Xavier on March 5, 2016, fell 102-94 at home against Marquette on January 21, 2017, and lost 82-80 to Xavier on February 4, 2017. Those first two setbacks remain the only times in Greg McDermott's 16-year and 521-game career as a Division I head coach that his teams have lost when scoring 90 points or more. McDermott's Division I teams are 44-2 when scoring 90+ points all-time.
Creighton is 10-2 away from home this winter (7-2 road, 3-0 neutral), outscoring foes by an average of 10.8 points per game. Creighton's victims in that time include Washington State, North Carolina State, Ole Miss, Nebraska, Arizona State, St. John's, Providence, No. 22 Xavier, No. 16 Butler and DePaul.
Marcus Foster has scored a team-high 521 points this season, including a career-high 35 points last Sunday vs. Georgetown. Doug McDermott (581 as a freshman in 2010-11) and Paul Silas (551 in 1961-62 as a sophomore, back when freshmen were ineligible) are the only previous players to score 500 points or more in their first season on the court for Creighton.
The Series:
Villanova leads the all-time series with Creighton, 8-2, including a 5-1 record in games played in Philadelphia. None of those six games in Pennsylvania have been decided by less than 18 points. Creighton swept the regular-season series in 2013-14 with a pair of victories by 20+ points, but the Wildcats have won the last five meetings.
Greg McDermott is 2-5 against Villanova and Jay Wright. Wright is 5-2 versus Creighton.
The Last Time They Played:
Re-reading the Morning After from the December 31 loss is a hell of a thing with the benefit of hindsight.
"For Creighton, Watson is almost always the straw that stirs the drink, with apologies to Reggie Jackson, and that was the case again Saturday even though his line wasn't overly impressive (six points, nine assists). They outscored the Wildcats by six with him on the floor, and were beaten by 16 when he wasn't. He's got to stay on the floor for Creighton to reach their potential, and to do that he has to stop picking up dumb fouls.

…

That seven-minute stretch in the first half where Watson sat with two fouls changed the complexion of the game — the Bluejays were running and scoring in rhythm, they were dictating tempo, and they'd built a double-digit lead on the #1 team in the country in front a wild home crowd. It's always a marked difference between when Watson is on the floor and when he isn't, but it was never more evident than it was on Saturday. With him, Creighton was going toe-to-toe with the best team in the country, and was good enough to beat them straight-up. Without him, they played slower, more tentatively, and with less confidence — Villanova smelled blood in the water any time he left, and took advantage the way great teams do."
Gratuitous Linkage:
CSNPhilly.com interviews the Wildcats' three seniors prior to Saturday's final home game, and it's a really good read. Excellent, even.
"A Villanova senior is all about everything but himself," Darryl Reynolds said. "You hear about so many times guys become seniors in different places and they focus on themselves and their next step. Your job as a senior here is to make sure everyone else is OK, that this culture is staying alive. That this team is where it needs to be, that you and coach are on the same page. So it honestly is a role of selflessness in its purest form."

Kris Jenkins expands on the importance of the leadership provided by the senior class.

"We all take a great deal of pride in it because when you get to this point a lot is expected of you," he said. "These younger guys look up to you, they believe in you. And the guys that were seniors before us set the standard real high and they expect nothing less. So we owe it to not only those guys but the younger guys and to ourselves to give it our best shot and make sure we continue to hold this program up high and be great Villanova seniors."
–"Villanova's Seniors Reflect as Winningest Class in School History" – CSNPhilly.com
What The Other Side is Saying:
Even a healthy Reynolds struggled the first time around as Patton punished Villanova with 18 points on 9-12 shooting. He's athletic, runs the floor well, and has the type of length that can cause problems for Villanova's small-ball lineup interior.

Will we see Dylan Painter helping to control the paint in a zone? Or will Jay Wright roll with his 6-man rotation and rely on Eric Paschall, Kris Jenkins and Mikal Bridges to take turns dealing with him?
–"Villanova vs Creighton Preview", VUHoops.com
This Date in Creighton Hoops History:
On February 25, 1991, Creighton clinched the regular season MVC title with a 65-64 win at Wichita State, thanks to a last-second shot by Duan Cole that remains etched in Bluejay lore.
The Shockers took the lead, 64-63, with 10 seconds left on a jumper by Robert George. Cole was guarding him, and he took it personally. "I was down because he had just scored on me," Cole told the media afterward. "I was frustrated, and I wanted to do something about it."
Coach Tony Barone took timeout to draw up a final play, and instructed Cole to penetrate, then make the decision of whether to kick it out to the wings, pass inside, or shoot it himself. Cole shooting was the last option, Barone said later. But Cole had other ideas.
"I had one focus," he said after the game, "to take it to the basket. I felt I owed my team something. It would have been a tough night for me to sleep if I hadn't hit that shot."
And so with his team trailing by a point, the diminutive guard drove the length of the court and pulled up for a 10-foot jumper with 3.8 seconds left. It, of course, went in, and the Jays won their second MVC title in three years, this one an outright title. They'd win the MVC Tournament title a week later and advance to the NCAA Tourney, where they toppled 15th-ranked New Mexico State in the first round before bowing out to 13th-ranked Seton Hall.
The shot's shown at the 2:15 mark of the season highlight video, which we featured on WBR a couple of summers ago.
Completely Random, Totally Rad Music Video of the Day:
Let's take a four-minute break for a training montage from Rocky IV.
The Bottom Line:
Not many people give Creighton a legitimate chance to win on Saturday, and an awful lot of them are predicting a bloodbath — I've seen more predictions of a 25+ point loss than I can ever remember, including during the middle of the nine-game losing streak in the 2014-15 season.
They lost at Villanova by 21 two years ago, and by 25 last year. Given where this team and program are right now, and how they've played in Philly the last two years, it's a tempting prediction to make. It's easy to be down on them. It's easy to see where they'd get smoked by the defending national champ on Senior Day for their most accomplished senior class ever. But I just have a feeling they'll make this a lot more interesting than that.
And if they can get a couple of breaks here and there for once late in a close game? Who knows.
#2 Villanova 85, #23 Creighton 75
Comments
Tagged in: