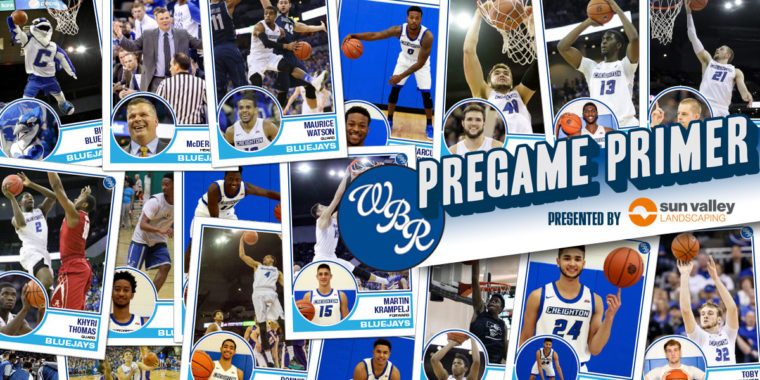 Pregame Primer: #23 Creighton at DePaul
After a week off to lick their wounds from a gut-punch loss to Xavier, Creighton begins the home stretch of the season with a Saturday matinee in Chicago. They have seven games remaining, with just two of them against teams that currently have a winning record in the league (at Villanova and at Marquette). The other five? At Seton Hall (5-6), a trio of home games against St. John's (5-7), Georgetown (4-8) and Providence (4-8), and Saturday's game at DePaul (1-10). It's as manageable of a seven-game stretch as you could hope for, with home games against the 7th, 8th, and 9th place teams and road games at the 5th, 6th and 10th place teams.
First up is the DePaul Blue Demons, who've lost seven straight and 10 of their first 11 in the Big East. They've been much more competitive at home, however; they've lost games by one, three, and six points, while picking up their lone win, and have an average margin of defeat of just under six points. On the road, they've lost by double-digits in all but one of their six losses, and have an average margin of defeat of 16 points — ten points worse than at home. That's a big difference, even in the world of college hoops where homecourt advantage is a very real factor.
Part of that, certainly, has to do with Allstate Arena, a building that is mercifully in it's final season as the Blue Demons' home court. It was once referred to as the "Armpit of all Arenas" by the late Steve Pivovar of the Omaha World-Herald, and I can't say I disagree. It isn't that it's an old, run-down building, though it's certainly seen better days. It's that DePaul hasn't drawn well at Allstate for years, and when they don't, it's a strangely quiet, cavernous place to play a game; with a capacity of 18,600, an average paid attendance of 5,514 last season and an actual attendance of 2,395 per game (!), that means on an average night 85% of the seats are empty.
Not to mention, it's been a house of horrors for Creighton over the years — Nate Funk suffered his season-ending shoulder injury there in 2005, Grant Gibbs' career nearly ended there in 2014 with a dislocated knee cap that cost him six weeks of his senior season, and Doug McDermott injured his shoulder in the same game.
Northwestern will play there next season while they renovate Welsh-Ryan Arena on campus, which is a bit of a shame; if they were imploding the place after DePaul moves into the swanky new Wintrust Arena this fall, I'd take great satisfaction in wielding a sledgehammer to whatever tiny corner they'd let me attack.
Back to this year's Blue Demons. Eli Cain leads DePaul in scoring at 16.5 points per game, though his average has steadily declined in Big East play; he scored 20+ in seven of 13 non-conference games, and has done it once in 11 conference battles. For the year he shoots 40.4% (133-329) from the floor and 37.0% (47-127) from three point range. In the first meeting in Omaha, he was 4-17 from the floor and 1-5 from three-point range, scoring nine points.
Billy Garrett is second with 15.5 points per game, and after a career of underwhelming offensive games against Creighton — he'd scored 53 total points in eight games before the meeting last month — he broke out with 18 points on 6-10 shooting, including 4-5 from three-point range, with three assists and four steals. It was Garrett's finest all-around game against the Bluejays, and strangely, it came in spite of not getting to the line (he was 2-2 from the stripe). The senior has a career-long trend of both getting to the line a ton and making almost all of them. He's shooting 91.0% there this year, and 131 of his 372 points this season have come from the line.
Junior college transfer Tre'Darius McCallum is the only other player scoring in double figures, at 10.1 points per game, and leads the team with 6.9 rebounds per contest. He was held down in the first meeting, scoring seven points and grabbing just four boards in 29 minutes; he was 3-9 from the floor and 0-3 from three-point range. That game appears to have put McCallum into a bit of a funk.
Prior to the game in Omaha, he'd had two straight double-doubles; McCallum logged 14 points, 10 rebounds, two blocks and two steals at St. John's, and followed it up with 15 points, 11 rebounds, and two blocks in 42 minutes of action against Butler. He narrowly missed double-doubles three other times in league play (8/8 against Providence, 14/9 against St. John's at home, and 19/7 against Villanova), but since the game against Creighton in Omaha, he's been a different player. He scored six points with three boards in 35 minutes against Georgetown and six points with four boards against Xavier, though he did come back a bit with 21 points and seven boards while playing all 40 minutes against Marquette.
6'5" freshman guard Brandon Cyrus has started all 24 games this year, and lately has begun to emerge as a serious scoring threat — he's scored in double figures in three of the last games, after doing so in just one of the first seven Big East games (and three of 13 non-conference games). He had 12 points and 6 rebounds in Omaha, and made a pair of three-pointers. Earlier this week against Xavier, he set or matched career highs in points, field goals, field goal attempts, three-pointers, three-point attempts and minutes — he scored 18 points with six boards, an assist and a steal in 36 minutes.
Quick Notes on the Blue Demons:
DePaul is in its 37th and final season at Allstate Arena in Rosemont, Illinois, where the Blue Demons are 342-180 (.655) all-time. They debuted the arena with a 74-56 win over Gonzaga and John Stockton on December 1, 1980. Of the 522 games played in the arena, current DePaul head coach Dave Leitao has coached in 71 of them across two stints; he holds a record of 48-23 (.676) there.
DePaul is outscoring opponents 919-885 in the second half this season. On the flip side, the Blue Demons have been outscored 868-752 in the first half of games.
The Blue Demons have totaled at least nine steals in six of the last 13 games. A year ago, DePaul tallied at least nine steals in four games the entire season. In conference play, the Blue Demons have a Big East-best 7.8 steals per game.
Bluejay Bytes:
Justin Patton had a career-high five rejections in Saturday's game vs. Xavier, twice blocking two shots on the same possession. Patton's five blocked shots were the most by a Creighton player since Gregory Echenique blocked six shots in the 2013 MVC Tournament title game win over Wichita State (enjoy video of them here!!), and one shy of Creighton's single-game record at CenturyLink Center Omaha, a mark held by — no one guessed it — Jeffrey Day. Creighton's single-game blocked shot record is 12, set by Benoit Benjamin at Bradley in 1985.
Isaiah Zierden's eight three-pointers at DePaul (January 17, 2016) were tied for third-most in Creighton history for a single-game, and one shy of the record set by Kyle Korver (1/15/03 vs. Evansville) and Ethan Wragge (1/20/14 at #4 Villanova). Zierden is one of four men with exactly eight trifectas in a contest, joining Korver (12/31/02 at #19 Xavier), Tad Ackerman (1/23/95 at Drake) and Terrell Taylor (3/15/02 vs. #15 Florida).
Creighton is 23rd in this week's AP Poll, their 14th straight week in the top 25 this season. That's their third-longest streak all-time; the 2012-13 team spent 17 consecutive weeks inside the top 25, and the 2002-03 team was rated for 15 straight weeks.
The Series:
Saturday is the 32nd all-time meeting between the two programs, and the Blue Demons hold a 16-15 advantage in the series. Creighton has won five straight games against DePaul, including a 91-80 win at Allstate Arena last January and an 88-66 decision in Omaha. They're 8-1 in the series since joining the Big East; Creighton's 79.8 points per game against the Blue Demons is its most against any Big East foe in that span.
Creighton is 3-5 all-time at Allstate Arena, but 3-0 in the Big East.
The Last Time They Played:
Creighton beat DePaul 83-66 on January 28. From the Morning After:
"Over the first 12 minutes of the game, DePaul made just 1-15 field goals and had five turnovers through a combination of good defense from Creighton and just general futility on the part of the Blue Devils. As tempting as it would be to give the credit to CU's defense, some of DePaul's missed shots were so ugly I was legitimately concerned for the safety of the rim and/or backboard from the weight of their bricks. The last-place Blue Devils looked every bit as bad as their 1-6 league record would indicate over those 12 minutes. Creighton had something to do with that, obviously; they stuck to their gameplan defensively and forced DePaul into doing things like launching long three-pointers that they'd have rather not done.

I have no such reservations giving credit to CU's offense for taking advantage. They led 26-8 after the first 12 minutes, capitalizing on a slow start by their opponent in a way they were unable to on Wednesday against Georgetown. After that initial stretch, DePaul actually outscored the Jays 58-57, but because Creighton built enough of a cushion during the early going, they were still able to win going away."
Gratuitous Linkage:
KETV's Josh Planos has written numerous feature-length stories on Bluejay players this season for the TV station's website, and his latest is terrific: he talked to other Nebraska college point guards to get their reflections on the legacy of Maurice Watson, and to Watson himself to reflect on his time at Creighton. How's this for a quote?
"I'm just playing the game I love, letting my feelings and emotions take over my passion. I look at kids looking at me like I did when I was younger. I wanted to be a guy that people looked up to. Seeing it really makes me feel like I can't be mad about being hurt because I've done my job. I've impacted kids. I can go kiss babies if I want. Kids at the age of 5 and 6 want to go play like me. I have what I wanted out of this game besides all the money — other than that, I've done all I wanted to do."
It's a long read, but worthwhile for the anecdotes from his interactions with teammates at practice, with ESPN's Fran Fraschilla when he was in town to visit the Jays last week, and more.
This Date in Creighton Hoops History:
On February 11, 2004, Kellen Miliner scored a career-high 22 points off the bench in a 74-56 win over Bradley. Brody Deren had 16 points to lead the starters, as Creighton improved to 18-3 on the season and responded to a crushing 61-60 loss to SIU with a big win.
"I was a little concerned," Creighton center Brody Deren said after the game. "A lot of our guys have quiet personalities, so it's hard to get a read on them emotionally. We had a couple of good practices, but we might be the best practice team in America. We don't always show what we can do to the public, but tonight, we had some guys step up."
Deren led the way, scoring 11 of his 16 points in the game's first 10 minutes, including the first five points of the game. Then their defense closed it; they held Bradley to 14 points on their last 22 possessions, helping turn a 44-42 lead into an 18-point victory.
Completely Random, Totally Rad Music Video of the Day:
True story: the video for the Scorpions' "Big City Nights" was filmed at a 1985 concert at Allstate Arena (then known as the Rosemont Horizon). There's even a shot of the arena's original signage at the 1:38 mark, though there's some other scenery elsewhere in the video that might distract you.
The Bottom Line:
KenPom pegs this as an 11-point Bluejay win, and though the Blue Demons have played teams close at home, with a week the prepare I think the Jays do indeed win by double-digits.
Creighton 82, DePaul 70
Comments
Tagged in: