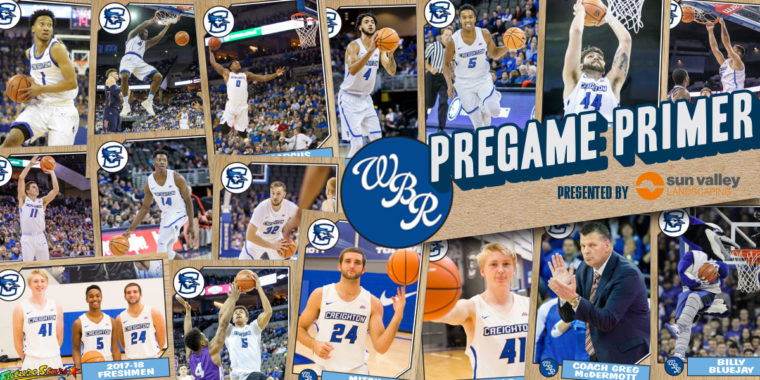 Pregame Primer: #25 Creighton Hosts Butler, Welcomes Steve Lavin on Dollar Beer Night
Tuesday night, the 25th-ranked Creighton Bluejays play host to the Butler Bulldogs on Dollar Beer Night. Officially known as "Fan Appreciation Night" because there's also soft drinks on sale for a buck, it's unofficially being renamed "Steve Lavin Night" — or officially as far as the WBR Pregame Primer is concerned — in honor of the Fox Sports analyst.
Lavin first latched onto the promotion after last January's edition, and to the amusement of Creighton fans everywhere, has name-dropped it into segment after segment on FS1's studio shows ever since. He even suggested during a game break at last year's Big East Tournament that Madison Square Garden should have a Dollar Beer Night during the Jays' semifinal against Xavier. (MSG ignored the suggestion, of course, and continued charging $12 a glass).
Rare is the game that you don't see Lavin offering a virtual toast, complete with clinking beer mug emojis, to a Jays fan on Twitter. His GIF game is strong, too.
Nick a rising star! Trading places! I'm taking his gig! #Omaha #DollarBeerNight 🍻 @BluejayMBB @jphaxton @NickBahe 🎙🎙🎙🎙📺📺📺📺🔥🔥🔥🔥🎯🎯🎯🎯🎯🏀🏀🏀🏀@FS1

— Steve Lavin (@SteveLavin64) February 1, 2017
— Steve Lavin (@SteveLavin64) December 21, 2017
— Steve Lavin (@SteveLavin64) December 21, 2017
But it's his halftime and postgame mentions of $1 Beer in Omaha that have endeared him to Creighton fans the most, especially when he's joined by studio host Rob Stone. The best of those segments was undoubtedly this one from the Jays' win over USC Upstate in December, where Lavin was egged on by Stone as he offered real-time commentary of the CenturyLink Center's halftime (on that night, "Champions Forever", the unicycle-riding family of acrobats).
At one point, Lavin said, "Creighton games are better than the Roman Colosseum in terms of entertainment. Bring out the tigers and the lions!"
Here's a collection of Lavin's Greatest Hits:
***
Butler and their new head coach LaVell Jordan come into the game 12-5 and 2-2 in the league. Widely predicted to be retooling this season — they were picked eighth in the preseason coaches poll — the Bulldogs seem instead to be doing what they always do, which is reloading. Most bracketologists have them in the field of 68 if the season ended today, despite losing arguably their three best non-conference games (at Maryland, and at neutral sites vs Texas and Purdue). They do have wins over a surprisingly good Ohio State team (4-0 in the Big Ten under former Butler coach Chris Holzmann), and Utah (who's currently on the bubble out of the Pac-12) but otherwise it's a pretty nondescript resume outside the Big East.
However, they've faced the gauntlet to open conference play, and it's amazing what playing a power conference schedule can do for your overall body of work. This will be Butler's fourth straight game against a ranked opponent, as they beat then-#1 Villanova 101-93, and then lost 86-79 to #5 Xavier and 90-87 to #21 Seton Hall. Their schedule is now rated 10th toughest in the country according to RealTimeRPI and 17th according to KenPom.
Half of their shot attempts (515 of 1068) come from two players: Kelan Martin and Kamar Baldwin. They're combining to average 48.4 points per game through the team's first four Big East contests, with five 25-point performances between them in those four games.
Martin, the Bulldogs 6'7″, 220 pound senior, leads them in both scoring (19.8 points per game) and rebounding (6.5). He's scored 20 or more points in nine of the team's last 11 games, and has eleven 20+ point games on the season. In Big East play, he's been remarkably consistent: he scored 27 in the win over Georgetown, 24 in the win over Villanova, 25 in their loss to Xavier, and 27 in their loss to Seton Hall.
As good as he's been against everyone else, he met his match in Khyri Thomas a year ago as the Co-Big East Defensive Player of the Year frustrated him, rattled him, and made his life miserable. In the Jays' 75-64 win over Butler in Omaha, Martin missed his first eight shots, wound up making just 3-14 from the floor, and scored just seven points — the fewest he's scored in any of his 39 starts the last two seasons. In the Jays' 76-67 win in Indianapolis, Martin made 5-12 shots and scored 11 points.
If that repeats itself, it will be up to Baldwin to shoulder more of the scoring load. The 6'1″ guard is certainly capable; he averages 15.1 points per game, and has been on a tear. He'd scored 20 or more points in a game just once in his first 47 career games, and has done it twice in four Big East games this year including 31 against Georgetown and 28 at Xavier.
Martin takes more threes (42% of his shot attempts) than Baldwin (just 32.8% of his shots), and both make them at virtually the same rate (30.2% for Martin, 30.8% for Baldwin). Baldwin has a more refined mid-range game, and Martin is better at converting near the rim. They're a tough duo to defend, and how well the non-Khyri guards for the Jays handle Baldwin could well be the key to the game.
6'2″ junior Paul Jorgensen, in his first year at Butler after transferring from George Washington, averages 11.8 points per game. He's their leading three-point shooter, having made 38 of them so far this year (41.8%). That's where he does most of his damage, as six out of every 10 shots Jorgensen attempts come from behind the arc.
Tyler Wideman, the 6'8″, 240-pound senior, is averaging 9.4 points and 4.9 rebounds. Similar to years past, Wideman's range shooting the basketball is about five feet; 75.6% of his shot attempts come at or near the rim, and all but two of his 90 shot attempts on the season have been from 10 feet or closer. To his credit, he knows his strength is scoring on high-percentage shots at the rim, and that's what he does — he makes an incredible 68% of his shots from that range. Wideman scored 14 combined points in two games against CU a year ago, and 14 two years ago in two games; it's up to Martin Krampelj and Toby Hegner to continue to hold him in check.
6'2″ freshman Aaron Thompson is their fifth starter, and he's averaged 4.9 points and nearly 3 assists a game through the first 17 games of his collegiate career. Thompson is not a threat from the perimeter, having attempted just one shot from behind the arc all year, and if you can keep him from driving into the paint, he's not much of a scoring threat (half of his shot attempts have come at the rim, where he makes 48.6%; the other half of his shots are mid-range jumpers, and he's making less than 30% of those). Something to keep in mind, too: Thompson is an atrocious free throw shooter, making just 25-46 (54%).
Their sixth man is Sean McDermott, a 6'6″ sophomore who plays nearly 25 minutes off the bench (though he has started six games this year). McDermott averages 7.9 points and 4.5 rebounds a game, and stretches defenses with his ability to shoot well both from the perimeter and off the dribble.
With all that said, the Bulldogs have been a far different team away from Hinkle Fieldhouse this year. They're 9-1 at Hinkle, where they average 88.0 points and shoot 54% from the field. Everywhere else, they have a 3-4 record, average 69.7 points, and make just 40% of their shots. They've made 42.5% of their three-pointers at Hinkle, and 25.3% away from their home floor. Those are striking differences. If that trend continues, and Khyri Thomas once again holds Kelan Martin in check, the Bluejays will like the result.
---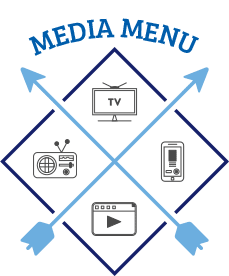 Tip: 7:30pm

Venue: CenturyLink Center Omaha

TV: FS1

Announcers: Justin Kutcher and Nick Bahe
In Omaha: Cox channel 78 (SD), 1078 (HD); CenturyLink Prism channel 620 (SD), 1620 (HD)
Outside Omaha: FS1 Channel Finder
Satellite: DirecTV channel 219, Dish Network channel 150

Radio: 1620AM

Announcers: John Bishop and Josh Dotzler
Streaming on 1620TheZone.com and the 1620 The Zone mobile app

For Cord Cutters
Satellite Radio:
---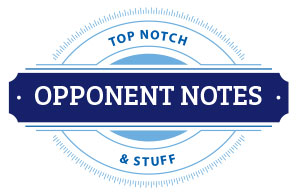 Butler's win over Villanova was the Bulldogs third straight win over 'Nova, which is insane — since the start of the 2016-17 season, Villanova is 0-3 against Butler and 46-2 against everyone else.
Through four Big East games, Butler is averaging 89.5 points scored per game. However, their defense is giving up the exact same number — 89.5 points per game.
Butler has received strong efforts off the bench in conference play from Henry Baddley, Sean McDermott and Nate Fowler. Baddley had 14 points against Seton Hall Saturday, the second-best scoring output of his career. McDermott has games of 12 and 11 rebounds, respectively, over the team's four Big East games, the two best marks of his career. Fowler had 11 points against Seton Hall following nine rebounds at Xavier. Coach LaVall Jordan called on the three players off the bench against Villanova; the trio combined for 26 points on 10-of-11 shooting. Over the last five games, Baddley is Butler's fourth-leading scorer (9.2 points per game). During that stretch, he has made eight of his nine from three-point range.
---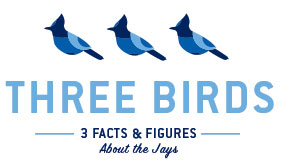 Martin Krampelj had a double-double in both games last week, finishing with 14 points and 11 rebounds vs. St. John's, then contributing 12 points and 11 rebounds at Georgetown. Krampelj could become the first Bluejay with a double-double in three straight games since Doug McDermott from February 9-16, 2013. McDermott also had a streak of four straight double-doubles in 2011-12, when he became CU's first player with three straight double-doubles since Nate King in the 1993-94 campaign.
If/when Creighton hits a three pointer tonight, it will be their 800th straight game with at least one triple. According to Rob Anderson, during Creighton's current streak of 799 straight games with a three-pointer, the Bluejays have drained 6,095 total trifecas, an average of 7.63 treys per game. Only four times in the streak has Creighton made just one three-pointer, but on 198 occasions the Bluejays have made 10 or more trifectas, including a Big East record 21 on January 20, 2014 at Villanova (and 16 on Saturday at Georgetown).
Creighton has made 10 or more three-pointers in each of their last five home games, and in eight of 10 games at CenturyLink Center Omaha this season. The Bluejays own 85 three-pointers in their last seven games at all sites, an average of 12.1 per game.
---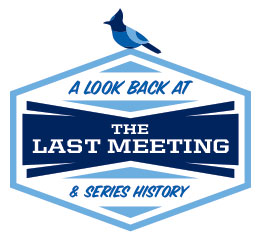 Creighton is 9-6 all-time vs. Butler in a series that dates to a 27-22 Bluejay win in 1933. CU has won five of seven in Omaha.
The Bluejays swept the Bulldogs last season, winning 75-64 in Omaha over #12 Butler on January 11 and 76-67 on January 31 at #16 Butler. Greg McDermott is 5-5 in his career vs. Butler, including a 5-3 mark on the Creighton sideline. He has never faced LaVall Jordan.
In their last meeting, Justin Patton had a big second half with 12 points, six rebounds and two blocks while playing 19 of the 20 minutes. The two blocks were nasty, too:
✋✋✋
👀👀👀#GoJays #TakeFlight #BIGEASThoops pic.twitter.com/2DXkluQiST

— Creighton Basketball (@BluejayMBB) February 1, 2017
✋😳😱 #GoJays #TakeFlight #BIGEASThoops pic.twitter.com/SsRF5sIFbO

— Creighton Basketball (@BluejayMBB) February 1, 2017
Butler scored the first five points of the second half to erase CU's halftime lead, but Butler's lead lasted all of 32 seconds before the Jays' freshmen took over the game. Davion Mintz scored on a drive to the rim bookended by a pair of Patton layups, and following a three from Marcus Foster, the Jays led by eight, 46-38. It was the start of a 17-4 run, with 14 of the points scored by Patton and Mintz.
---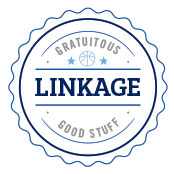 Bracketology in early January is more useful for gauging seed lines and where your team slots in than for looking at the potential matchups a given bracket projects. Sometimes, a matchup makes me do a double-take, though. In this case, NBCSports.com's latest bracket has Creighton seeded sixth in Dallas, facing off against the winner of a play-in game between Minnesota and Houston, which is interesting as the Jays lost a closed-door scrimmage to Minnesota in October but the two teams' seasons have taken opposite directions since.
It's the other pod in Dallas that really turns heads, though — it features Marquette as an 11 seed against Florida State, and three-seed Wichita State (!) against the team currently in first place in the Missouri Valley…none other than the 4-0 Drake Bulldogs as a 14-seed.
An MVC reunion in Dallas, plus a fellow Big East rival? That'd be a fun day of games for Bluejay fans. (Worth noting that the Shockers, Bulldogs, and Golden Eagles are all in the opposite pod from the Jays, so while the games are at the same site, they'd not play any of them.)
---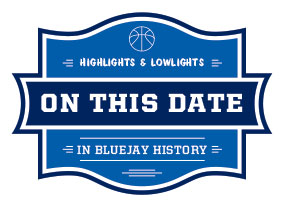 On January 9, 2011, Creighton defeated Evansville 74-69 to cap a rugged, hard-fought two game road trip to two of the more distant outposts of the Valley — Carbondale, where they beat SIU 72-65 in OT, and Evansville. The latter was keyed by Kaleb Korver, who broke a 50-50 tie with 11 minutes to go with a three-pointer, then extended it with a second 3-ball moments later. It was one of the best stretches of Kaleb's career, as he scored 29 points with 10 rebounds in the two wins, with all but one of his baskets coming on a three-pointer.
---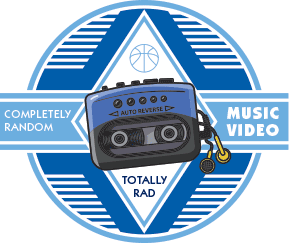 A friend of mine goes to estate sales with his wife, and likes to buy lots of cheap vinyl records to play at his design studio. Often times, he'll text me photos of the bargains he scores, and we either laugh about the random obscurity of the purchase, or I get jealous if it's something actually worth owning (which happens more than I'd like to admit).
Over the weekend, he got a giant lot of 80s records still sealed in the original packaging, including Jermaine Jackson's first solo record. I listened to it on Spotify Monday morning while he spun it on vinyl and we texted back and forth as we tried to decide what to make of it. I'm still not sure. But this duet with Michael is pretty decent.
The Bottom Line:
As Steve Lavin likes to tweet via emoji:
🍺 + 🏀 + 🔑 = Bluejay's W

— Steve Lavin (@SteveLavin64) December 9, 2017
I like that equation.
#25 Creighton 83, Butler 74
Comments
Tagged in: