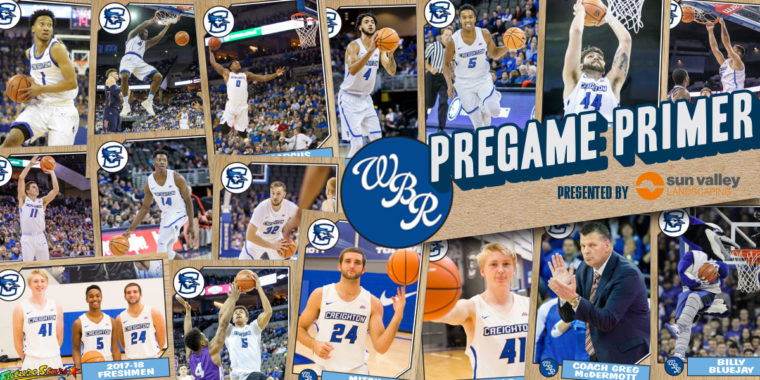 Pregame Primer: #25 Creighton Opens Big East Action at #23 Seton Hall
The Creighton Bluejays went on Christmas break with a 10-2 record and a #25 ranking, and they begin Big East Conference action on the road at #23 Seton Hall. It's a tough opener, and not just because The Hall is a veteran team expected to challenge Villanova for league supremacy. It's tough because as always, the Pirates are a big, physical team that cleans the offensive glass better than almost any team in college basketball; often times, the defensive battle really begins once a missed shot hits the rim, because the Pirates best offense comes off of mismatches created in the scrum for a rebound, or in quick put-backs off a missed shot before the defense can reset. They rank 11th in D1 in offensive rebounding percentage, grabbing a board on 37% of their missed shots.
Seton Hall has had double-digit offensive rebounds in each of the last five meetings against CU — 12 in the first game in 2015-16, 17 in the second, 14 in the Big East Tourney that year, and 11 and 12 in two games a year ago. They've had an average of 10 second-chance points in each of those games.
The meeting in Newark last February saw the Pirates grab eight offensive rebounds in the game's final five minutes, out-rebounding CU 11-2 over that decisive stretch. Seton Hall scored on each of their final 13 possessions, thanks in large part to repeated second chance opportunities that led to them having twice as many shot attempts (12) as Creighton did (6) over those five minutes. Combined with an inability to guard Khadeen Carrington without fouling (he shot 18-22 from the line, the most attempts by a Bluejay opponent since at least 1980-81), CU was outmuscled in the paint and outworked on the perimeter.
In that game Carrington was 10-15 from the floor, 3-5 from three-point range, and 18-22 from the line, with five rebounds, seven assists, and four steals in 38 minutes en route to 41 points.
The senior trio of Carrington, Desi Rodriguez, and Angel Delgado are 5-2 against the Bluejays in their careers. On the Big East coaches' conference call Tuesday, Greg McDermott said with a laugh, "I'm tired of seeing them. My goodness, it seems like they've been there forever."
Carrington has been the team's primary point guard this year after playing the off-guard his first three seasons, and it's been a success so far — he has a 2:1 assist to turnover ratio, with 51 assists and just 27 giveaways. And he's committed just 21 total fouls through 13 games, often defending the opponent's point guard without putting him on the line.
He's played seven games against CU in his career, and has averaged 20.1 points, 3.1 rebounds and 3.1 assists in those battles while making 48.1% of his shots from three-point range (13-27).
Rodriguez was the fourth-leading scorer in the league a year ago at 17.3 points in conference games, making 44% of his threes. He's been even better this year, averaging a team-high 17.9 points per game and shooting 51.5% from the floor (87-169) and 36.7% on threes. He's come up huge in their biggest games this year — he scored 24 points and had four assists and seven rebounds in a win over #22 Texas Tech, and he scored 29 with eight boards in a road win at #17 Louisville. Rodriguez made the game-winning layup with 7.5 seconds left in that game to give SHU a 79-77 win.
In his seven career games against Creighton, Rodriguez is averaging 12.7 points, 4.7 rebounds, and is shooting 48.6% from the field and 60.0% (12-for-20) from three-point range.
And then there's Delgado. The preseason All-American center is exactly as you remember, and probably better — he averages 13.5 points and 11.3 rebounds, and his average of 4.2 offensive boards per game ranks fifth best in college basketball. Delgado is a beast on the glass, leading the country in rebounds a year ago and grabbing over 200 more than the next closest player in the Big East. This year has been more of the same. Delgado has had 10 or more rebounds in 10 of their 13 games, including 21 at Rutgers and 18 against Manhattan.
He's averaged a double-double in seven games against the Jays, with matching 10.1 point/rebound averages, against a wide variety of post players for Creighton, and likely lives in the coaching staff's nightmares. Delgado owns 71 points and 71 rebounds in those games, producing four double-doubles.
The stellar play of those three seniors is a constant. Also a constant? Midseason drama off the court. The last week for Seton Hall has seemingly been a microcosm of the entire Kevin Willard Era:
This week in the world of Seton Hall basketball:

– Jordan Walker leaves the team and returns a day later
– Ismael Sanogo gets suspended for violating team & university rules
– Myles Powell gets ejected for his role in a scrum between Angel Delgado and Zane Waterman

— Gary Phillips (@GaryHPhillips) December 23, 2017
Tuesday: Jordan Walker leaves the team. Wednesday: He returns. Friday: Ismael Sanogo suspended. Saturday: A skirmish in a 22-point rout. Coming off the rails for Seton Hall. #shbb

— Zach Braziller (@NYPost_Brazille) December 23, 2017
Let's take those storylines one at a time. Senior forward (and their best defender) Ismael Sanogo was suspended late last week for what the New York Post called "really bad judgements." After Saturday's game, head coach Kevin Willard told the media he had no idea when Sanogo would have his suspension lifted.
"Right now, I'm in no rush," Willard said. "You have to act a certain way at this University, you have to respect the program, the University, you have to respect your teammates. When you don't do all three, that's a huge issue with me. He's a senior. If you don't get it, then I don't know. The timetable is nothing – it's not like he's back tomorrow, that ain't happening."
Sanogo's numbers don't tell the story of how big of a piece he is for The Hall; he averaged 4.3 points, 4.6 rebounds, and 1.2 steals in 12 games before the suspension, but he's their best defender and a key leader on both ends of the floor. The rangy Sanogo is invaluable on defensive switches, because his 6'8″, 215-pound frame is big enough to cover almost anyone — he not only covered up teammates' mistakes defensively, he kept opponents from taking advantage of the mismatches that typically happen on switches. He's impossible to replace, though senior Mike Nzei has filled in admirably.
Willard told the media on Tuesday that there was no update on Sanogo's suspension, and there's been no indication on whether he'll play against the Jays or not, though the team's beat writers think it'll be surprising if he does.
Kevin Willard said there is no update on Ish Sanogo's status for Thursday vs. Creighton.

— Jerry Carino (@NJHoopsHaven) December 26, 2017
I will repeat what I said after the Manhattan game: I will be surprised if he plays.

— Jerry Carino (@NJHoopsHaven) December 27, 2017
My stance: very doubtful for Creighton, back by @ Butler, worst-case #shbb https://t.co/1Nve19RXau

— Chris McManus (@ChrisSHUhoops) December 26, 2017
For his part, Sanogo issued a long apology on Twitter on Tuesday night, so we'll see if his contrition gets him back on the court in time for Thursday.
— Dragonfly jones (@_17ish) December 27, 2017
Next in the "As The Hall Turns" soap opera, freshman guard Jordan Walker quit the team only to return the next day. He missed nine games with a torn ligament in his thumb, was cleared to play last Saturday prior to the Rutgers game, and when he didn't get into the game he decided to quit according to a report from Jerry Carino of the Asbury Park Press.
Walker is the only true point guard on the roster, and now that he's healthy, is slated to be the primary backup to Carrington. He was talked into returning, and after apologizing to teammates for the distraction, played in Saturday's win over Manhattan.
And that brings us to Myles Powell, the 6'2″ sophomore who's emerged as one of the Pirates key players this year and averages 14.4 points per game. He jumped into a skirmish between Angel Delgado and Manhattan's Zane Waterman in the game with Manhattan, and was ejected on a flagrant-two foul. The Big East determined it was merely a "skirmish" and not a fight since no punches were thrown, and thus the feared suspension for Powell did not happen.
In spite of the drama, Seton Hall is one of the favorites to unseat Villanova for a reason, and has the experience and talent to challenge them. If Creighton can figure out a way to get out of Newark with a win, they can join that group of teams looking to challenge the Wildcats.
---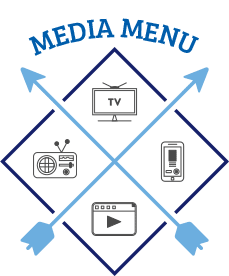 Tip: 5:31pm

Venue: Prudential Center (Newark, N.J.)

TV: FS1

Announcers: Brian Custer and Jim Spanarkel
In Omaha: Cox channel 78 (SD), 1078 (HD); CenturyLink Prism channel 620 (SD), 1620 (HD)
Outside Omaha: FS1 Channel Finder
Satellite: DirecTV channel 219, Dish Network channel 150

Radio: 1620AM

Announcers: John Bishop and Nick Bahe
Streaming on 1620TheZone.com and the 1620 The Zone mobile app

For Cord Cutters
---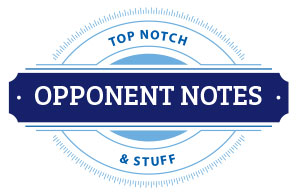 This is the first time a ranked Seton Hall team will face a fellow ranked opponent since January 21, 2001, when then No. 18 Seton Hall knocked off No. 8 Syracuse at the Meadowlands. It's being billed in New Jersey as "Ranked Versus Ranked!"
The Pirates concluded non-conference play with an 11-2 record, and have won seven of their last eight games – four against KenPom top-100 teams, including Vanderbilt (71), Texas Tech (11), Louisville (32) and VCU (93). It is the first time since 2012-13 that the Pirates have accumulated 11 non-conference wins.
Five Pirates reached double-figures in scoring against Manhattan on Saturday, and senior Angel Delgado notched his NCAA leading 59th career double-double as Seton Hall came away with a 74-62 victory at Prudential Center. Seton Hall never trailed despite Manhattan connecting on seven of its first eight shots.
---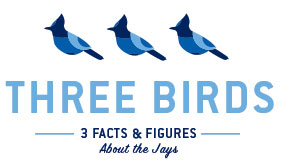 Creighton has scored 90 points or more in eight of their 12 games this year. When Greg McDermott coached at UNI (2001-06) and Iowa State (2006-10), his teams reached 90+ points six total times in nine seasons.
Though no one's really grasped the lead point guard role, CU has had little trouble scoring because of balance. Khyri Thomas leads the Bluejays with 32 assists, and five teammates have between 29 and 31 assists as the Jays have shared the load in creating offense for each other.
With a win on Thursday, this team would join the 2016-17 club as the only Creighton teams to defeat three or more ranked teams in the same season. It would also make Creighton the nation's first team with three wins over top-25 competition this season — and all will have been on the road.
---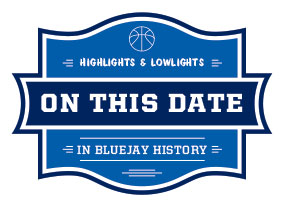 Last December 28, Creighton opened Big East play with an 89-75 win over Seton Hall in Omaha. CU turned Seton Hall over 18 times while committing just 10 turnovers themselves, and the Bluejays turned those 18 Pirate miscues into a +18 advantage in points off turnovers.
Of the 18 Seton Hall turnovers, 13 came from Creighton steals; the baker's dozen swipes were a season-high for the Jays and the second-most in a game during the Greg McDermott era (17 vs. Tulsa in December 2012).
---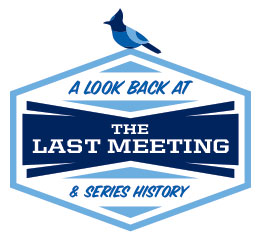 Seton Hall leads the all-time series with Creighton 11-5, including a 7-3 mark in New Jersey. Greg McDermott is 4-5 against Seton Hall and coach Kevin Willard, while Willard is 6-4 all-time against Creighton, leading his 2009-10 Iona team to a 63-55 win over the Bluejays at the Old Spice Classic.
Creighton and Seton Hall have met nine times since becoming conference rivals, and three of those games were decided by a single-point. Creighton won a February 3, 2014 meeting in Omaha by a 72-71 margin, then lost heartbreakers to the Pirates on January 10, 2015 in Omaha (68-67) and 67-66 on February 28, 2015 in Newark.
In their most recent meeting, Seton Hall defeated the Jays 87-81 in Newark in a game that followed a similar blueprint to previous meetings with the Pirates: a tight game tipped The Hall's way by dominance on the glass late in the game.
---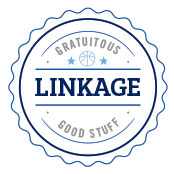 NBC Sports reset the Big East prior to the first batch of conference games, and lists their All-Big East first team as Jalen Brunson, Marcus Foster, Mikal Bridges, Trevon Bluiett, and Angel Delgado. Of Foster, they wrote:
"It is tougher than you might think picking between Foster and Khyri Thomas, but I lean Foster because of the volume and efficiency he is scoring with playing on a team that doesn't have great point guard play."
They have Creighton as a near-lock for the NCAA Tournament, and six Big East teams in the dance.
Meanwhile, Daly Dose of Hoops debuted "Big East Bonanza" this week with a breakdown of all 10 teams. It's a pretty solid look at the entire league as we enter conference play.
And ICYMI, here's a great photo of the Bluejays celebrating Christmas with the McDermott's:
Merry Christmas from our Creighton basketball family to yours! pic.twitter.com/zeadgyL9eg

— Coach McDermott (@cucoachmac) December 25, 2017
---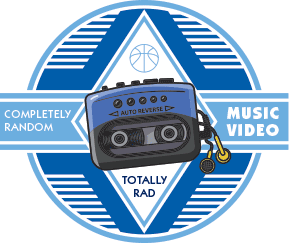 Over Christmas, my wife and I were in the car driving across stretches of Iowa with no LTE service for streaming Spotify, and in a car without satellite radio. We had the choice of country music (yuck), no fewer than six channels playing Christmas music (nope) or Top 40 pop on FM. We heard this song at least 12 times. Maybe more. And now I've heard it once more. You're welcome?
---
The Bottom Line:
This game is a big moment for both teams. It's the first ranked-vs-ranked game for Seton Hall in 16 years, and an opportunity for the Pirates to put the drama of the last week behind them as conference play begins. For Creighton, a win gives them an excellent opportunity to begin league play 5-0 with the next four games coming against a struggling Providence team at home on New Years Eve, and home games with St. John's and Butler sandwiched around a trip to Georgetown. And it would be their best win to date.
Seton Hall's seniors have tormented the Bluejays, and unfortunately I think it continues. Don't fret, though; Creighton will in all likelihood be 4-1 in the league entering a Saturday showdown at Xavier on the 13th.
#23 Seton Hall 84, #25 Creighton 81
Comments
Tagged in: