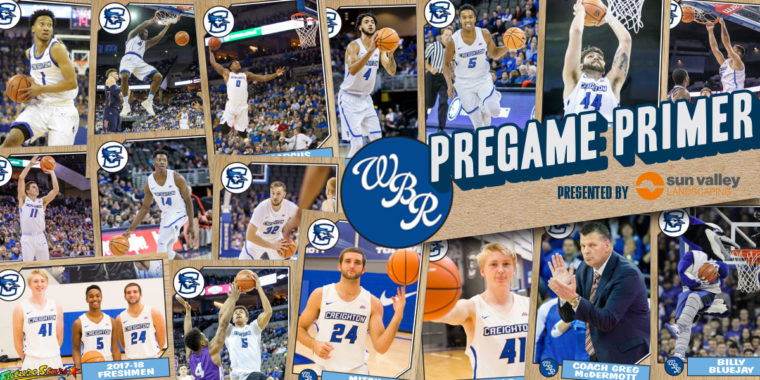 Pregame Primer: Clash of Styles as Creighton and St. John's Meet in Omaha
St. John's began the season 10-2, with their only two losses coming to a solid Missouri team, and to then-#3 Arizona State. That start to the season put them on the bubble for the NCAA Tournament as league play began — Joe Lunardi had them "in" as an 11 seed — despite the lack of a true marquee win (their best wins, according to KenPom, are against UCF and Nebraska).
The Big East offers a ton of chances for those wins. Unfortunately for the Johnnies, they're 0-2 in the league so far. And though it's only January 3, they come into tonight's game with the Bluejays desperate for a win after losing to both Providence and Seton Hall to open Big East play, and a loss to the Jays would start to sound the panic alarms in Queens.
They lost All-Big East guard Shamorie Ponds to a knee injury in the Providence game, and neither Ponds nor fellow guard Marcus LoVett played in the loss to Seton Hall — LoVett is nursing his own knee injury, and has missed the last seven games. They're both questionable for tonight's game, and for good reason, the potential absence of St. John's top two scorers is the headline story before this game.
With Ponds and LoVett, St. John's has one of the most dynamic backcourts in the country. Ponds averages 20.1 points, 6.2 rebounds, and 4.8 assists per game, while LoVett averages 14.9 points; replacing both at once is a tall task.
Both Ponds and LoVett traveled with the team to Omaha, and according to the New York Post, Ponds practiced fully on Tuesday while LoVett was held out.
St Johns had an off day yesterday in Omaha. Some players got up shots in a light workout. Shamorie Ponds and Marcus LoVett didn't. Both remain day to day. #sjubb

— Zach Braziller (@NYPost_Brazille) January 2, 2018
Shamorie Ponds practiced, Marcus LoVett didn't today, per source. #sjubb

— Zach Braziller (@NYPost_Brazille) January 3, 2018
We'll see tonight whether one or both see the court.
Regardless of whether Ponds and/or LoVett play, the Johnnies present problems defensively for the Jays (and almost every team they face off with). They're aggressive, their length allows them to extend out on defense further than most teams, they put a ton of pressure on the ball, and they're adept at jumping passing lanes to steal the ball. And they mix things up between a man-to-man and a zone scheme.
Either by old-fashioned stats or advanced metrics, they're terrific defensively. They average 8.9 steals per game, 18th most in the country (and come up with a steal on 12.9% of opponent's possessions, 14th best in D1). They hold opponents to 42.9% shooting on two-pointers, 23rd best in the country. They force a turnover on 25.5% of opponent's possessions, ranking 3rd best in college basketball. They block 20.9% of opponent's shots, also ranking 3rd best in all of college hoops.
Measured in terms of KenPom's adjusted efficiency, St. John's is the 28th best defensive team in the country (sandwiched right in between Wichita State and Seton Hall, and two spots ahead of Gonzaga, if that gives you any idea of what the Jays will be facing tonight).
Offense is another story. They're a little less turnover-prone than they were a year ago, but still cancel out a lot of what their defense forces with turnovers of their own — St. John's commits a turnover on 17.3% of possessions. They're a thoroughly mediocre team shooting the basketball, with an effective field goal percentage of 48.1% (256th best in the country, or put another way, only 94 teams are worse!). They make 33% of their threes, which is a touch below average but respectable. And they make just 46% of their two-point attempts, which is atrocious but a tad deceiving; according to Hoop-Math.com, when they can penetrate all the way to the rim, they make six of every 10 shots, but if you can stop their dribble penetration and force them into a jumper, they make just over three out of every 10 shots. That's a HUGE difference.
Generally speaking, the further out you can force them to shoot from, the better. Ponds, for example, has taken 80 of his 217 shot attempts at or near the rim, and he makes them at a 62% clip. 52 of his shots have been two-point jumpers, and he's made just 35% of them. And his other 83 shots have been threes, which he makes just 21% of the time. Granted, it can be difficult to keep him from getting to the rim, but if you can, odds are good you can hold him down. (One other fun note about Ponds: just 12 of his 69 made two-pointers were assisted by a teammate. He creates almost every shot he takes by himself.)
The same is true of almost every other player on the roster. Bashir Ahmed, who averages 11.7 points per game, shoots 53.2% on shots at the rim but just 27.9% on two-point jumpers and 35% on three-pointers. Justin Simon averages 10.6 points, and while he's a 58.1% shooter at the rim, he makes just 20% of his two-point jumpers. Tariq Owens averages 7.7 points, and is a 75.7% shooter at the rim. He makes 32.4% of his two-point jumpers.
If both Ponds and LoVett are out tonight, that changes things a bit, but the general blueprint to beating St. John's remains the same: force them into jump shots, take care of the basketball, and be patient in attacking their defense. If the Jays can do those things, they'll like the result.
---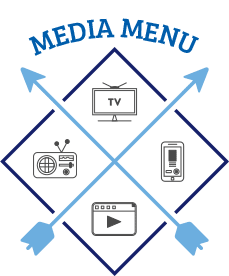 Tip: 7:01pm

Venue: CenturyLink Center Omaha

TV: FS1

Announcers: Justin Kutcher and Nick Bahe
In Omaha: Cox channel 78 (SD), 1078 (HD); CenturyLink Prism channel 620 (SD), 1620 (HD)
Outside Omaha: FS1 Channel Finder
Satellite: DirecTV channel 219, Dish Network channel 150

Radio: 1620AM

Announcers: John Bishop and Nick Bahe
Streaming on 1620TheZone.com and the 1620 The Zone mobile app

For Cord Cutters
---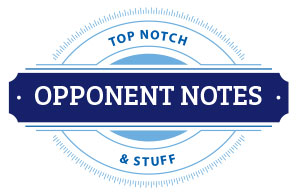 St. John's has forced more turnovers than its opponent in 12 of 14 games this season. The Johnnies rank among the national leaders in turnover margin (+6.1, fourth) and turnovers forced (18.5, 10th).
The Red Storm leads the Big East and ranks sixth in Division I averaging 6.6 blocks per game. After leading the conference in blocks last season, Tariq Owens has climbed to the top of the chart again, as the red-shirt junior forward averages 3.6 swats per game, which is the fifth highest total in the nation.
On Sunday against Seton Hall, Tariq Owens (19 points, 14 rebounds) and Justin Simon (15 points, 10 assists) each recorded double-doubles, which marked the first time the Johnnies had two players notch a double-double in a game since D'Angelo Harrison and Sir'Dominic Pointer did it against DePaul on February 11, 2015.
Through two Big East games, Marvin Clark II has led the Red Storm in scoring by averaging 19.0 points per game, a signifcant increase from his 10.3 scoring average in non-conference play this season.
---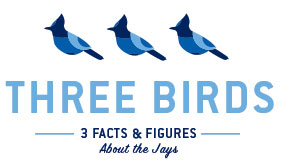 Creighton has not trailed in any of its last three meetings with St. John's, outscoring the Red Storm 267-199 in those games. To find the last time that St. John's led at any point against Creighton you'd have to go all the way back to 2015. In that New Year's Eve contest, St. John's scored on its opening possession to lead 3-2. Creighton would take a 3-2 lead with 18:59 left in the first half, and has not trailed against the Red Storm in the 158:59 minutes of gametime since.
Creighton owns 51 dunks already this season, which is already more than three entire seasons under Greg McDermott, but still well behind the 144 last season that ranked fourth-most nationally. Martin Krampelj has 27, which is more than Gregory Echenique's 24 in the entire 2010-11 season and close to his output in both 2011-12 (30 dunks) and 2012-13 (36).
Creighton is 11-3 so far, the 16th time in the last 20 years that Creighton has started 10-4 or better through 14 games, which includes 13-1 starts in 2002-03, 2003-04, 2012-13 and 2016-17. By comparison, before this 20-year stretch, Creighton's only start of 10-4 or better in the 17 seasons from 1981-82 to 1997-98 came in the form of a 10-4 start by the 1984-85 club.
---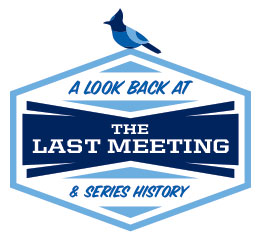 Creighton leads the series 8-7 overall, and is 6-2 against the Johnnies in Big East action. The Bluejays are a perfect 6-0 all-time against the Red Storm in Omaha, with four double-digit victories as well as a Doug McDermott game-winner with 2.8 seconds left in 2014. Creighton has won the last four meetings, all by double-figures, and has not trailed in any of the last three meetings.
In their last matchup, Khyri Thomas nearly had a triple-double with 14 points, 12 rebounds, and 7 assists in a 82-68 win. They led 13-2 after six minutes, and were never seriously threatened the rest of the way.
---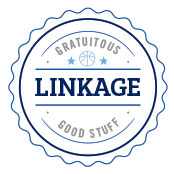 Last night, Fox Sports turned their telecast of the Creighton/Seton Hall women's basketball game into an all-access pass, with mics on both coaches, cameras in the locker room to show halftime speeches/adjustments, and dedicated webcast streams showing iso cameras of each coach all game long. It was tremendous. Here's some of the highlights:
Cool look at the collaboration inside the Creighton locker room at halftime. Flan went over a few things, then deferred to his assistants for their input, then let Sydney Lamberty have the room for the player perspective. Instructions were calm and specific.

— Matt DeMarinis (@mjdemarinis) January 3, 2018
"How does she in good conscious look at the official like that was not a foul." – Flan starting to feel himself a little bit. Only thing missing tonight has been some Bozzella-Flan gamesmanship.

— Matt DeMarinis (@mjdemarinis) January 3, 2018
Flan: "Brian, that's a foul."
Bozzella [to the official]: "Wow, he's arguing a lot."

Now we're getting the good stuff.

— Matt DeMarinis (@mjdemarinis) January 3, 2018
Really interesting locker room interaction between @CreightonWBB's Jim Flanery and his players here. Very cool. #BIGEASTwbb pic.twitter.com/Sa30woYG4b

— John Fanta (@John_Fanta) January 3, 2018
BEST OF THE BEST! Check out the highlights of tonight's @FOXSports All Access #BIGEASTwbb Game between @SHUWBB and @CreightonWBB. pic.twitter.com/cA97ByCoRL

— BIG EAST Conference (@BIGEAST) January 3, 2018
Interaction pic.twitter.com/NUJO5AtKwr

— Creighton Basketball (@CreightonWBB) January 3, 2018
Flan huddle at 1st media timeout pic.twitter.com/SN5zINWXUU

— Creighton Basketball (@CreightonWBB) January 3, 2018
Buckets from Agnew and Brown Get the Bluejays within one, 13-12 pic.twitter.com/rZbHgSl7ha

— Creighton Basketball (@CreightonWBB) January 3, 2018
Flanery at halftime pic.twitter.com/GSlzXPnAAX

— Creighton Basketball (@CreightonWBB) January 3, 2018
An interior bucket from Norby makes it 29-26. pic.twitter.com/eetBEToix2

— Creighton Basketball (@CreightonWBB) January 3, 2018
Agnew beats the double team on her own! pic.twitter.com/juvj01WI9b

— Creighton Basketball (@CreightonWBB) January 3, 2018
Out of the media Elger drills a three! pic.twitter.com/Vb8HHkSoyQ

— Creighton Basketball (@CreightonWBB) January 3, 2018
Bluejays on the run! pic.twitter.com/6N1U8O9qeu

— Creighton Basketball (@CreightonWBB) January 3, 2018
The lane simply opened by for Agnew! 40-32 (1:15) pic.twitter.com/OjPoSH1LOA

— Creighton Basketball (@CreightonWBB) January 3, 2018
Go ahead, dare Carda to shoot! You won't like it, but we will… pic.twitter.com/fbQHW0y8ZU

— Creighton Basketball (@CreightonWBB) January 3, 2018
Lambety with the bucket and follows with the +1 pic.twitter.com/GqbPy8u9vo

— Creighton Basketball (@CreightonWBB) January 3, 2018
Agnew said I'll take that! pic.twitter.com/YRZiBKpOfW

— Creighton Basketball (@CreightonWBB) January 3, 2018
Olivia Elger! What a move to give @CreightonWBB its biggest lead of the night! #BIGEASTwbb pic.twitter.com/QvexXiAmng

— BIG EAST WBB (@BIGEASTWBB) January 3, 2018
"Does anybody want me to dance?" – Jim Flanery after @CreightonWBB's big road win over Seton Hall pic.twitter.com/qmldrB6jlY

— FOX College Hoops (@CBBonFOX) January 3, 2018
---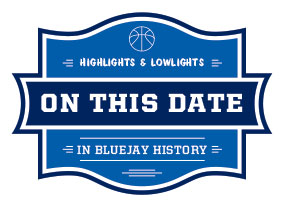 On January 3, 2010, Creighton gave up a 17-2 run in the second half at Evansville to erase a big lead. Coming on the heels of a blown lead in Terre Haute two days earlier, the Jays were staring an 0-3 MVC record in the face when Justin Carter and Kenny Lawson took over the final seven minutes of the game to lead them to victory. From Ott's recap:
Two free throws by Ned Cox (seriously?! Ned?!) gave the Aces a 2-point lead with just under 7 minutes to play. Much grumbling and negative flashbacking ensued, thinking about how predictable yet another Bluejays collapse might be.

But then something borderline miraculous happened. The Jays hit a few free throws. Lawson converted a 3-point play. Then Lawson added a layup, and P'Allen Stinnett hit his only shot of the day — a 3 — to give the Jays a 6-point lead, one they would never relinquish. And just like that, instead of folding and taking a 0-3 MVC record back to Omaha, the Bluejays battled on the road and won at Evansville for the second straight season.

Jays fans can thank Lawson in large part for the win. He scored 18 points and grabbed 11 rebounds against the Purple Aces, while blocking a career-high 7 shots. Seriously … 3 swats away from being the first Bluejay since who knows when to record a triple-double. Huge. Simply huge.
After the latest meltdown in Terre Haute on Friday, the players held a closed door meeting. As USA Today so eloquently described it, "Team meetings can send mixed signals. It's good somebody cares enough to recognize problems and the need to find solutions. It's bad that things get to that point." Many fans would probably tell you things were at that point a few weeks ago. What went on in that room is between the players, but two players who have been vocal with the press during the struggles put some bite behind their statements by steering the team out of the abyss on Sunday.

At the 7:36 mark, Ryan Colt hit a three-pointer to cap the 17-2 run for Evansville and give them a 58-56 lead. Dana Altman called timeout. Fans, coaches and players alike all felt like they'd seen this game before. Except Justin Carter decided he'd seen it too often, and scored the team's next four points. A tough layup with 7:04 to go in the game tied the score at 58, and the fact that it came just 32 seconds after Evansville had taken the lead at least showed the Jays were going to fight. After the Aces retook the lead on their next possession, Carter drew a foul and made two free throws at the 6:36 mark to once again tie the game. Now it was Evansville calling timeout.

On the ensuing possession, Evansville missed two shots with Carter corralling the board on the second miss. The Jays failed to score on offense, but after another Evansville miss on the other end, Kenny Lawson took a feed from Antoine Young for a bucket in the paint and drew a foul. He completed a three-point play by sinking the free throw, and the Jays had retaken the lead, 63-60. On Evansville's next possession, Lawson blocked a shot, then sank a jumper to give the Jays a 65-60 advantage with 3:36 to play.

Lawson would had two more blocks and three more rebounds down the stretch as the Jays pulled away for a 72-64 win. On the day, he went 8-13 from the floor, 2-3 from the line, grabbed 11 boards, blocked 7 shots and scored 18 points in 27 minutes.
No highlight reel exists from this game because, as with many road games at Evansville over the years, it was broadcast back to Omaha via unreliable webcast. Most followed along by listening on the radio to the dulcet tones of T. Scott Marr.
2010 seems like an eternity ago.
---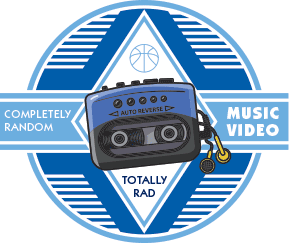 In Ott's recap of that trip through Indiana, he embedded this classic Bone Thugs N' Harmony track. And now the damn thing is stuck in my head!
---
The Bottom Line:
KenPom favors the Bluejays by nine, and Vegas has the Jays as 10 point favorites. That sounds about right — my guess is CU will have trouble with St. John's aggressiveness on defense and will give up some easy buckets at the rim to the Johnnies, and that keeps the game close most of the night. CU ultimately has too many weapons offensively (especially if Ponds and/or LoVett don't play), and pulls away late in the second half.
Creighton 86, St. John's 76
Comments
Tagged in: