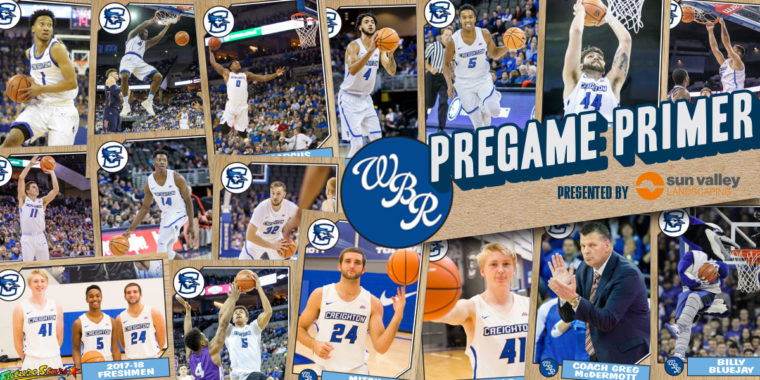 Pregame Primer: Creighton Begins Five Game Homestand With Game Against North Dakota
Four of Creighton's first seven games came against ranked opponents who were coming off NCAA Tourney berths a year ago, all away from home. They split those four games, and return home with a 5-2 record to take on another NCAA Tournament qualifier from last March when the North Dakota Fighting Hawks visit CenturyLink Center. It's a grueling start to the year, but one that should provide dividends this March.
The Fighting Hawks were 22-10 a year ago and gave Arizona a competitive battle in the first round of the NCAA Tourney. They have three new starters this year, though, following the departure of Corey Baldwin (10.4 points per game, made 43% of his threes), Drick Bernstine (8.3 points and 7.5 rebounds last year; is now a grad transfer at Washington State) and Quinton Hooker (19.1 points per game, named a Lou Henson All-American for second straight year). Those are three pretty big losses, and it's shown so far this year.
UND is 4-3, but two of those wins came against Northland College (a JuCo from Minnesota) and Presentation College (an NAIA school in Aberdeen, SD). The other two wins came in the Rainbow Classic against Troy and Arkansas Pine-Bluff. And the losses? To Hawai'i, Utah Valley, and Nebraska, the latter a 92-70 pasting in Lincoln.
They're led by point guard Geno Crandall, a 6'4″ junior who averages 19.0 points, 4.7 rebounds, and 3.3 assists per game. Crandall is prolific at stealing the ball defensively, with 138 in his two-plus season career — and 15 so far this year. They call it being "Crandallized" in Grand Forks, and why not? He's had five games in his career with five or more steals, including two weeks ago against Utah Valley (a monster game where he had 15 points, 10 rebounds, and 5 steals).
He's a well-rounded offensive player, with his shot attempts split nearly into even thirds between shots at the rim, two-point jumpers, and three-pointers. That was most evident in their win over Troy, as Crandall scored 41 points on 15-19 shooting overall (8-10 on two-pointers, 7-9 on threes) and 4-8 from the line. He's scored 20 or more in four of their games.
Joining him in the backcourt is former Bluejay Marlon Stewart, a 6'3″, 200-pound sophomore in his first year of eligibility with the Fighting Hawks. He's averaging 12.4 points and a team-best 3.9 assists per game, and had 20 points in their loss to Nebraska. Stewart played in 13 games as a Bluejay in 2015-16, scoring seven points with three rebounds in 40 minutes of action. UND seems to be a good fit for him, as he's flourished early in his career there.
Stewart's been able to create shots for himself pretty consistently off the dribble, both by getting to the rim and by pulling up for midrange jumpers. That's where most of his offensive production has come from; he's just 6-22 on three-pointers this year.
6'4″ junior Cortez Seales is their third guard in the starting lineup, and averages 11.0 points and 3.4 rebounds a game. He was the Big Sky Reserve of the Year (their equivalent to a "Sixth-Man" award) a year ago, and has shifted into a starting role seamlessly. He operates almost entirely inside the arc offensively, with just six of his 67 shot attempts coming on three-pointers so far in 2017-18; he's not made one yet this year. He's not as adept at getting to the rim off the dribble as Stewart is, and about two-thirds of his shot attempts come on two-point jumpers.
Their frontcourt features Dale Jones, a 6'8″, 225-pound senior (9.7 points, 8.0 rebounds a game) and Conner Avants, a 6'7″, 235-pound junior (12.9 points, 7.0 rebounds). Jones is an interesting story, as he spent three years at Tyler Junior College (including a redshirt year) and then transferred to Iowa. He played just 11 career games over two seasons for the Hawkeyes due to various injuries, and after being granted a waiver for a sixth year of eligibility by the NCAA, comes to UND as a grad transfer. Jones has been healthy for UND and started all seven games so far, and showed some flashes of the player Fran McCaffery recruited to Iowa — he's scored in double figures four times, and had five or more rebounds in every game. He's beefed up his rebound average against their non-DII opponents, with 15 against Northland and 10 against Presentation, but even if you take those games out of his numbers, he's still been a reliable rebounder.
Avants, meanwhile, is the second returning starter from a year ago. He's the most efficient shooter on the team, converting 59.1% of his field goal attempts. Most of those come on jumpers, as Avants doesn't play around the rim much (despite his size, only 37% of his shot attempts have come at or near the rim — while 61% of his shots have been two-point jumpers).
This should be a fast-paced game as Creighton (14.2 seconds, 7th-shortest in D1) and North Dakota (14.7 seconds, 15th-shortest) have a nearly-identical average possession length. North Dakota averages nearly 75 possessions in their seven games so far (74.7), 18th most in D1, while Creighton is at 74.5. It probably won't be a shootout, though, because while they both like to play fast, Creighton is an incredibly good shooting team and North Dakota is not. UND shoots just 29% on three-pointers (315th in D1) and 48.4% on two-pointers (207th); they get just 24.9% of their points on three-pointers, ranking 297th.
It'll be a fun game, but likely a comfortable win for the Jays.
---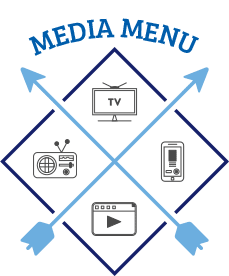 TV: FS2

Announcers: Steve Physioc and Nick Bahe
In Omaha: Cox channel 216 (SD), 1216 (HD); CenturyLink Prism channel 621 (SD), 1621 (HD)
Outside Omaha: FS1 Channel Finder
Satellite: DirecTV channel 618, Dish Network channel 397
Streaming on FoxSportsGO

Radio: 1620AM

Announcers: John Bishop and Brody Deren
Streaming on 1620TheZone.com and the 1620 The Zone mobile app

For Cord Cutters
---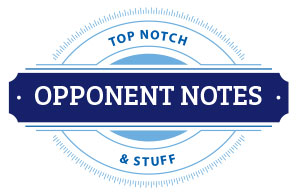 UND enters the week ranked second in the Big Sky with an average of 9.4 steals per game. Led by junior Geno Crandall (15) and sophomore Marlon Stewart (12), the Fighting Hawks are forcing opponents into 16.6 turnovers per game and have registered 10 or more steals in three of their last five games.
North Dakota is coached by Brian Jones, who has a 170-182 record in 12 seasons. Since moving to Division 1 nine years ago, he's taken them to postseason play six times (five bids to the CIT, and once to the NCAA's). Jones was a teammate of Bluejay assistant Darian DeVries at Northern Iowa, and was an assistant at Nebraska-Omaha from 1996-98.
This is the final season in the Big Sky Conference for UND. They'll move to the Summit League next season after going 54-40 in five previous seasons in the Big Sky. They've advanced to at least the semifinals of the Big Sky tourney in four of the last five years, winning it last year
---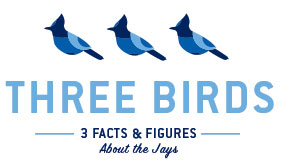 Including North Dakota on Tuesday, five teams on Creighton's non-conference slate played in the NCAA Tournament a year ago. They'll play 12 league games against 2017 NCAA Tourney teams, meaning CU will play 56% of their games against teams that made the big dance a year ago.
This marks the start of a five-game homestand for CU, as the Jays won't play away from CenturyLink Center again until December 28 at Seton Hall. They've gone 5-0 each of the last two times they've had a five-game homestand, coming in 2013-14 and 2014-15.
Marcus Foster finished last season with 10 or more points in each of his final 18 games, and has started his senior season with seven straight double-figure contests. His current 25-game double-figure streak is the longest by any Bluejay since Doug McDermott closed his career with 28 straight double-figure games from December 3, 2013 to March 23, 2014
---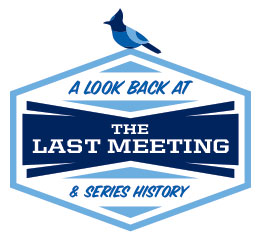 Creighton and North Dakota have played 12 times, with the vast majority coming prior to WWII. The teams played a home-and-home series in the mid-1970s, with CU winning 74-68 on December 3, 1974 in Omaha, and losing 69-64 on December 1, 1975 in Grand Forks.
Greg McDermott is 3-1 against North Dakota, splitting a pair of games while he was coach at North Dakota State and winning two against them at Iowa State.
In their last meeting in 1975, the Jays were horrid in all aspects — they shot 26-73 (35%) with 27 turnovers, and committed 21 fouls despite playing just seven players. Rick Apke had one of his worst games as a Bluejay, fouling out and scoring just 12 points on 5-18 shooting.
Tom Apke told the Omaha World-Herald in their recap that "We just didn't play very well on the road against a team we thought we could beat. Everybody was maybe a little cocky, or over-confident."
Here's hoping history doesn't repeat itself.
---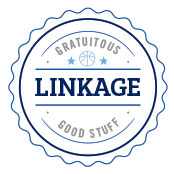 Greg McDermott started his career as an assistant at North Dakota in 1989, and spent five years on their bench; during his stint at UND, Doug McDermott was born. The 1994 team went 28-7 and went to the DII Elite Eight; one of their star players was Ben Jacobson, who would later serve as an assistant to McDermott at Northern Iowa and ultimately replace him as head coach.
Coach Mac talked to Jack Michaels of Fargo's 740AM The Fan on Monday about his time at UND, and previewed Tuesday's game. Here's a link to the podcast of their segment.
---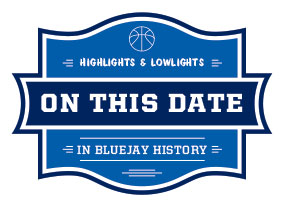 On December 5, 1998, Creighton defeated Southern Illinois 86-60 in the MVC opener (back when MVC schools used to play one or two conference games in the middle of the non-con slate). A rough night for Rodney Buford — he was 1-10 from the floor — and foul trouble for Doug Swenson that left him on the bench most of the game meant lots of minutes for the reserves, and their bench responded, outscoring SIU's bench 45-14.
Swenson still managed to lead Creighton with 15 points and Buford added 14, but Nerijus Karlikanovas' 11 points and six rebounds and Corie Brandon's nine points were also key contributions.
Speaking of Swenson: the former Bluejay sent WBR a tweet yesterday with this note about tonight's opponent and the abbreviation some arenas use for their nickname. Hilarious!
@FakeBlueCrew @whitebluereview @mjdemarinis quick reminder: tomorrow's opponent hates the way some arena's abbreviate their new nickname😂🏀 pic.twitter.com/ddNveJ0dzQ

— Doug Swenson (@CommonSwense) December 5, 2017
---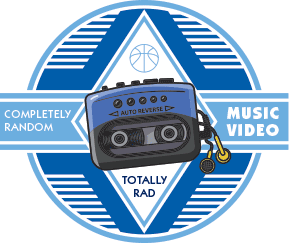 It's been a little too frosty lately. Let's heat things up, shall we?
---
The Bottom Line:
Creighton rolls in this one before turning it's attention to Nebraska.
Bluejays 96, Fighting Hawks 72
Comments
Tagged in: