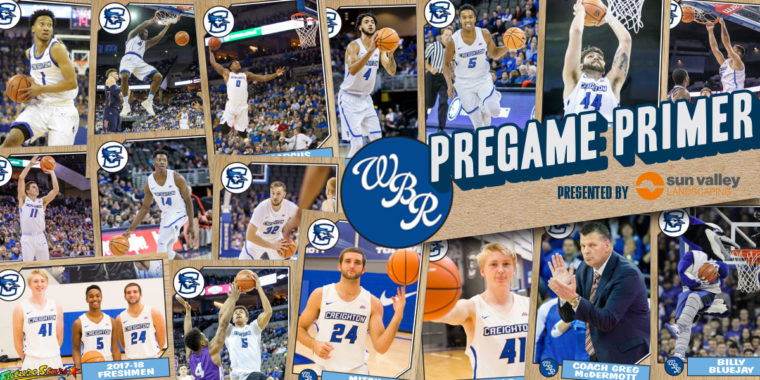 Pregame Primer: Creighton Hosts Battle Tested, Senior-Laden UT Arlington Squad
Creighton's next opponent, UT Arlington, spent the first six weeks of the season as one of the darlings of the college basketball world, earning significant vote totals in the Top 25 polls after a 7-1 start that included a road win at BYU and a one-point loss at Alabama.
The Mavericks won 27 games and advanced to the quarterfinals of the NIT a year ago after an upset in the Sun Belt tournament left them out of the NCAA's. This year's team returns an awful lot of key contributors from that one, and is the most experienced squad in all of college basketball (according to KenPom, whose rankings show that UTA's roster averages 2.81 years of experience). In fact, seven of their top eight contributors are seniors, including all five starters.
This group owns road wins over BYU (twice, including last year's NIT), then-#12 Saint Mary's, Bradley, Ohio State, Memphis, and Texas in their careers — and has had a slew of near misses. They took Texas to OT in 2015 before losing. They had a halftime lead at Minnesota in 2016, and lost by four. They had a double digit halftime lead at Arkansas later that season, and lost by four. This year's team lost second-half leads at both #25 Alabama and Northern Iowa in tight losses — but beat Oklahoma by 15 in a charity exhibition in October.
They seem to thrive in hostile road environments, as their coach Scott Cross noted in their preview article on UTAMavs.com. "Having a large, partisan crowd is a good thing. For our basketball team, the biggest question mark is usually energy. When our guys play with great energy, we are usually very good. I think they feed off the crowd. I felt like at Northern Iowa, Alabama and BYU, even though we were on the road, our guys were energized."
UT Arlington is picked to win the Sun Belt again this year, and will enter CenturyLink Center on Monday night expecting to win. They may not have the name recognition to get casual fans excited, but that's a shame because other than Nebraska, this is the best team Creighton will play at home in the non-conference this year (and depending on how the Huskers' season goes, could end up being the best team on the pre-Big East home slate). Either way, it's a win that would look awfully good on their resume in March if they can take care of business.
They're led by 6'7", 230-pound senior forward Kevin Hervey, who's scored in double figures in 38 consecutive games and averages 23.6 points per game to rank fifth nationally. That presents a bit of a dilemma for Creighton, because Hervey's the type of player they've struggled to defend — too big for Khyri Thomas to match up with, but whose versatility forces whichever forward is guarding him to extend out away from the basket.
What makes him such a dangerous scorer? He shoots from all three levels, and is really good from all three. 27% of Hervey's shots come at the rim, both on shots he creates himself off the dribble and on shots his teammates create for him, and he shoots a ridiculous 67% on those attempts. 33% of his shots are two-point jumpers, and he's a very respectable 45% shooter on them with a wide variety of moves to create shots over defenders. The other 40% of his shots are three-pointers, and he makes 38.9% of them. Hervey's a big dude who can and will shoot (and score) from anywhere, and that's tough to defend. It's no wonder he's had NBA scouts watching him closely all year, and there will reportedly be around 15 scouts in attendance Monday night to watch Hervey.
5'10", 155-pound senior guard (yes, those measurements are accurate!) Erick Neal is second on the team in scoring at 13.2 points per game, and leads the nation in assists at 9.4 per game. He's a flashy passer with lightning-quick foot speed and an explosive first step, as this collection of clips shows:
Well over half of Neal's shot attempts come from behind the arc; when he dribbles into the paint, it's almost always to create shots for his teammates because his size makes it difficult to get shots off.
Kaelon Wilson (6'2", 190) joins him in the starting backcourt, and averages 10.8 points, 3.2 rebounds, and just over 2 assists a game. He's scored in double figures in seven of their 11 games this year, and had a career-high 22 against Niagara. On Saturday, he scored 21 points with six rebounds and five assists in the win over Texas-Rio Grande Valley.
Nathan Hawkins (6'7", 210), their fourth senior starter, averages 6.2 points a game. He began his career at Nebraska in 2013-14, and after missing the first eight games of his collegiate career with a foot injury, made his debut against Creighton with two rebounds in 11 minutes of the Bluejays' 82-67 win. He transferred to UTA after that season, and was a solid contributor off the bench the last two years before taking over a starting role this year.
Inside, they have a pair of seven-footers. 7'0", 230-pound senior Johnny Hamilton is a grad transfer from Virginia Tech, and averages 12.6 points, 8.6 rebounds and 2.3 blocked shots per game in his first season with the Mavs. As you'd expect with a true seven-footer, Hamilton does most of his offensive damage around the rim (60% of his shot attempts), and for the most part, relies on his teammates to create his shots. With Neal slicing and dicing defenses with his quickness, Hamilton is one of the chief beneficiaries.
Key reserves include 6'9" junior Davion Turner (4.6 points, 3.5 rebounds in around 15 minutes a game) and the other seven-footer, Link Kabadyundi. He doesn't play a big role, but at 7'1", 275 pounds Kabadyundi can create some mismatches just with his size. In 10 minutes a game, he averages 3.8 points and 2.5 rebounds.
"This is a very talented basketball team," Coach Greg McDermott said on the postgame show after Friday's win. "They fully expect to be in the NCAA Tournament this March. So this is a win that would mean something for us if we could get it. Obviously for them, they're looking at it the same way. We need the CenturyLink Center packed on Monday night. This is a very, very tough game."
---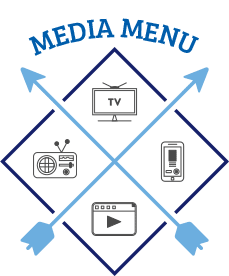 Tip: 8:00pm

Venue: CenturyLink Center Omaha

TV: FS1

Announcers: Vince Welch and LaChina Robinson
In Omaha: Cox channel 78 (SD), 1078 (HD); CenturyLink Prism channel 620 (SD), 1620 (HD)
Outside Omaha: FS1 Channel Finder
Satellite: DirecTV channel 219, Dish Network channel 150

Radio: 1620AM

Announcers: John Bishop and Nick Bahe
Streaming on 1620TheZone.com and the 1620 The Zone mobile app

For Cord Cutters
---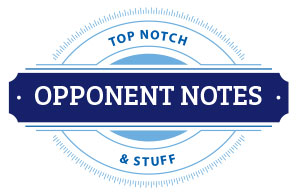 UT Arlington forward Kevin Hervey owns a career-high of 34 points (at Louisiana on March 4, 2017), and his 30 point performance on Saturday moved him up to fifth nationally with 23.6 points per game. In 14 seasons at CenturyLink Center, Creighton has hosted three players that finished in the top-10 in scoring that season. All but one of them scored below their season scoring average against CU: Jodie Meeks (Kentucky, 2009) came in averaging 23.7 and was held to 16; Jimmer Fredette (BYU, 2010) came in averaging 28.9 and scored just 13; and Bryce Cotton (Providence, 2014) averaged 21.8 entering the game and scored 23.
UT Arlington is coached by Scott Cross, who's 211-151 in 12 seasons. He's coached each of the program's top four winningest seasons, and is the only coach in program history with a winning career record. They had one postseason berth in 46 years prior to his arrival, and have gone five times in his time on the bench — including an NIT quarterfinal run last year. At 12 years he's the longest tenured D1 basketball coach in the state of Texas.
All 7 of UTA's non-conference road games are against teams from different athletic conferences. The combined travel distance for the team's 9 road trips will total approximately 9,385 miles, according to Google maps.
---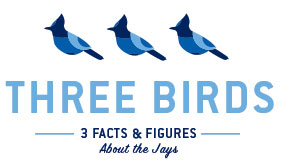 With a win on Monday, Greg McDermott can become the second coach in program history to record 175 wins as Creighton head coach, as only Dana Altman (327 wins) has previously reached that milestone. Monday will mark McDermott's 259th game on the Bluejay sideline, whereas Altman didn't win his 175th game at CU until his 274th contest.
Creighton's 87-36 win on Friday over Maryland Eastern Shore was tied for the seventh-largest margin of victory in program history. CU's largest win ever was by 57 points after beating Midland on December 12, 1925 by a 63-6 score. The second-largest winning margin was 106-50 on November 17, 2002 against — drum roll — UT Arlington.
Ronnie Harrell Jr. has grabbed 10 or more rebounds in two straight games, both in a reserve role, making him the only Bluejay reserve with consecutive games of 10 or more rebounds in the last 25 years. Harrell is one of six Creighton players to have 10 or more rebounds off the bench in a game under Greg McDermott (joining Wayne Runnels, Will Artino, James Milliken, Devin Brooks, and Toby Hegner), and the only player to do it more than once in a season.
---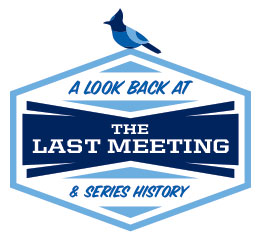 Creighton has won both previous meetings with UT Arlington, both coming as part of holiday tournaments. The Jays won 81-63 on December 30, 1993 in the Big Island Invitational held in Hilo, Hawaii, to earn seventh place in the tourney. The Jays had dropped the first two games of the tourney (to LaSalle and Hawaii-Hilo), the latter their 21st consecutive loss away from home to tie a school record, before Rick Johnson's final Creighton squad rallied to defeat Texas-Arlington in the finale. Denny Halligan scored a career-high 19 points in the win, with Jerry Vanderheydt, Nate King, and Mike Worley adding 13 each.
In these two teams' only other meeting, Creighton won 106-50 in the season opener of the 2002-03 season; the game was an opening round matchup of the Guardians Classic tourney where the Jays would eventually knock off Notre Dame. Their 106 points were the third-most of the Dana Altman era and most for any Bluejay squad since the 1985 team scored 115 on Indiana State. They made 15-25 from three-point range, and were 24-36 overall in a second half where they scored 63 points. Larry House started the scoring with a thunderous dunk off the opening tip, and Kyle Korver made all six of his three-point attempts, leading Texas-Arlington coach Eddie McCarter to tell reporters after the game, "They're a lot better team than we are. They have better athletes. I've never seen anyone shoot the ball as well as Korver did, and I watch Dallas (of the NBA) all the time. He really can knock some shots down, but the fact was they all shot the ball well tonight. We misjudged that team by tons and tons. We thought our athletic ability would be as good as theirs, but they jumped over the top of us all night long."
---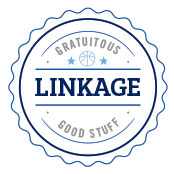 Greg McDermott stopped by NBC Sports' College Basketball Talk podcast for a long-form discussion of how his coaching philosophy has changed along the route from Northern Iowa to Creighton, and what it's like being an NBA dad while running his own program. It's a highly recommended listen.
CBT Podcast: Creighton's Greg McDermott, plus a preview of the weekend
Speaking of podcasts, if you missed WBR's "Bluejay Beat" postgame podcast after the Maryland Eastern Shore game, Matt DeMarinis and the Omaha World-Herald's Jon Nyatawa previewed Monday's game against UTA in the second half of the show.
---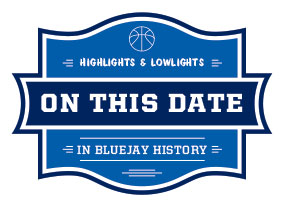 On December 18, 2010 Gregory Echenique made his long-awaited debut in a Bluejay uniform after sitting out the first semester because of a mid-season transfer from Rutgers the year before. Echenique was the 15th-rated overall prospect in the 2009 class by virtually every publication, and the #2 rated center. He was dominant as a freshman in the "old" Big East, and had a monster game against Providence at the tail end of the 2008-09 season — 14 points, 16 rebounds, 7 blocks, and 5 steals. Understandably, the game against Idaho State was almost a sideshow to the debut of one of the highest-profile newcomers for the Jays in years. Creighton's marketing team ran huge ads in the Omaha World-Herald the entire week before the game that, while not explicitly promoting "Gregory Echenique's Debut!", did feature a giant picture of the giant player. The story was Echenique, not the opponent, as Ott wrote the next day:
"Before last night it had been slightly more than 12 months since Echenique played a collegiate basketball game; December 6, 2009, to be exact. Since that time he's sustained a serious eye injury, transferred from Rutgers to Creighton, sat out the second semester of what would become the worst season of Creighton basketball in more than a decade, practice throughout the summer and fall of 2010, and cut more than 25 pounds while getting back into game shape.

The guy's been through a lot. And, if you hadn't noticed, things haven't been so smooth around the Hilltop and its basketball program in the past year, either. Creighton fans suffered through a stomach-punch season in 2009-2010, one that seemed to try and overcorrect Bluejays backers' expectations after nearly a decade of success in the Missouri Valley Conference. Creighton failed to make the NCAA or NIT Tournaments for the first time since 1997, then the coach who led the decorated decade took off for the Pacific Northwest, and then the school's most talented player (P'Allen Stinnett) wasn't asked back for his senior season. Throw in the introduction of a new coaching staff and a handful of players, and you can't blame fans of the program for looking ahead to Echenique's arrival.

To be sure, many of the die-hard Jays fans have placed enormous expectations on Echenique's broad shoulders. Saturday night was merely the start to what CU backers hope will be break the Bluejays need to make the jump in status many around the program have expected since Dana Altman started taking CU to Big Dance after Big Dance."
---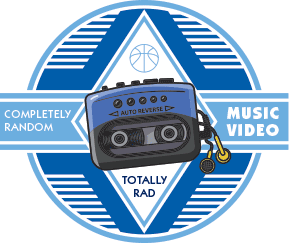 While looking back in the WBR archives at our coverage of Echenique's debut — and specifically at the Pregame Primer — I saw that this was the video. The note? "Billy Squier and the MTV Chorus from 1981! Hideous or rad? That's for you to decide. Its no "The Stroke," sure, but then, what is, really?"
Two things: I've been writing these Primers for a LONG DAMN TIME (since 2005, pre-dating WBR by four years!). And I've been linking to cheesy videos for that entire time. For better or worse. Mostly worse.
The Bottom Line:
My best guess in this one is that Kevin Hervey proves difficult to handle, and UTA hangs around most of the night before Creighton pulls away late.
Creighton 82, UT-Arlington 74
Comments
Tagged in: