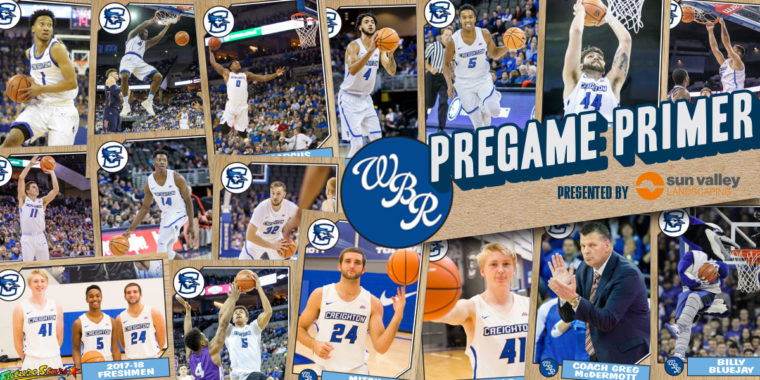 Pregame Primer: Creighton Looks To Build February Momentum Starting with a Road Game at DePaul
Despite a plethora of changes for DePaul — chief among them the departure of four-year starter and All-Big East performer Billy Garrett, the addition of two newcomers who have become their leading scorers in Max Strus and Marin Maric, and the opening of Wintrust Arena to replace their home arena of 37 years (Allstate Arena, nee Rosemont Horizon) — DePaul enters Wednesday's game with Creighton in a familiar spot at 2-8 in the Big East, stuck in ninth place out of 10 teams. They've won just three times since mid-December, and the best team they've beaten — the only Top 100 KenPom team they've beaten — is a St. John's team without a win in league play. In other words, the more things change for DePaul, the more they stay the same.
Leading scorer Max Strus is a remarkable story, transferring from Division II Lewis University and becoming one of the Big East's most prolific scorers right off the bat. He averages 17.3 points per game, has scored in double-figures in 18 of 22 games, and has scored 20+ seven times and 30+ twice. He's made 60 three-pointers already this season, which is the most for a Blue Demon player for a full season in nearly a decade, and he still has one-third of the season to go.
The 6'6″ junior hung 33 points on Xavier, making 10-18 from the field, 6-12 on threes, and 7-9 from the line. He also had 33 against Northwestern, with a similar shooting line (11-19 overall, 6-12 from three, 5-8 on free throws). His 27-point outing against Butler looked similar, too (8-17 overall, 5-10 on threes, 6-7 at the line). At the other end of the spectrum are a game against Providence where he was 3-13 from the floor and 2-8 on threes, scoring eight points. And in his last two games, he had nine points against Seton Hall (4-9 shooting, 1-5 on threes) and seven at Butler (1-8 shooting, 1-5 on threes).
That's the thing about Strus: he's a volume shooter. When he's hot, he scores a ton of points. When he's not? He misses a ton of shots.
His streakiness is largely tied to the fact that such a large percentage of his shots are jumpers. 78% of Strus' shot attempts are jumpers — 57% of his shots are threes, and another 21% are two-point jump shots. When he does take a shot near the rim, it's set up by a teammate roughly half of the time (45%, to be exact). In other words, when his jumper isn't falling, Strus can't really drive to the rim and create points for himself — he just has to keep shooting and hope he finds his stroke.
With that said, he's a far deadlier shooter in transition than he is in the half-court, and his go-to move is pulling up for a three before the defense is settled. Strus shoots 45% from three-point range in transition (23-52), but just 31% in the half-court (37-119). That's a shocking split. Making sure not to lose him in transition can go a long way towards making it harder for Strus to score; that's true of lots of players but particularly for him.
DePaul's second-leading scorer is also a newcomer. 6'11" grad transfer Marin Maric averages 12.8 points and 6.2 rebounds after playing three seasons at Northern Illinois. Maric has been a dependable rebounder, with five or more in every single Big East game, with highs of 10 against Villanova and 11 at St. John's.
Offensively, he's been the typical 6'11" post — most of his shot attempts come from near the rim, assisted by teammates. And he's terrific on those shots, making 63% on close-range shots. But that percentage drops all the way to 32% if you can force him into mid-range jumpers, which he's prone to do. Of note: one-third of his total points have come from the line, as he's a 87.7% shooter on free throws (71-81). It's no coincidence that his two biggest offensive games in league play were the same two games where opposing defenses couldn't keep him off the line; Maric was 9-10 from the line at St. John's and scored 25, and 7-9 from the line against Georgetown in scoring 18.
Among the returnees, Eli Cain leads the way at 11.3 points per game, good for third-best on the team, and his 4.1 assists lead the team. Cain and Strus combine to take 40% of DePaul's shots and 54% of their threes, and just over half of their made baskets. The duo have made 81 of DePaul's 141 made threes, and if you include Tre'Darius McCallum, the trio has 104 of the 141.
Cain remains a maddening player, as he's a really good scorer off the dribble — one-third of his shots are created for himself on dribble-penetration, and he makes over half of them. But for whatever reason, 101 of his 263 total shots have been mid-range jumpers, and he's just a 25% shooter from there.
Rounding out the starting five (and the bulk of DePaul's production, as their bench isn't terribly deep) is McCallum, who averages 11.0 points and 6.1 rebounds a game, and Brandon Cyrus, who averages 6.6 points, 3.5 rebounds and 1.8 assists.
---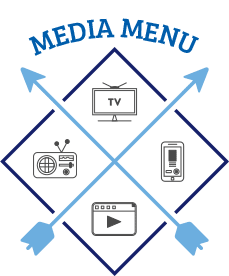 Tip: 8:15pm

Venue: Wintrust Arena, Chicago, IL

TV: FS1

Announcers: Jeff Levering, Len Elmore
In Omaha: Cox channel 78 (SD), 1078 (HD); CenturyLink Prism channel 620 (SD), 1620 (HD)
Outside Omaha: FS1 Channel Finder
Satellite: DirecTV channel 219, Dish Network channel 150

Radio: 1620AM

Announcers: John Bishop and Josh Dotzler
Streaming on 1620TheZone.com and the 1620 The Zone mobile app

For Cord Cutters
---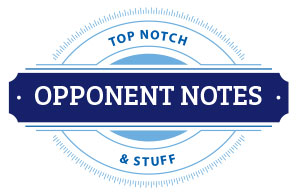 The new Wintrust Arena seats 10,387 fans, with 479 club-level seats and 22 suites. They've generally been filling about half of the seats, though even that's a huge improvement over the cavernous Allstate Arena where a crowd of 5,000 fans were so spread out it was impossible to create any atmosphere. Of note, the Blue Demons are playing every home game under the same roof this season for the first time since the 2009-10 season. The last seven seasons have seen DePaul host games at both Allstate Arena and on campus at McGrath-Phillips Arena.
DePaul leads the Big East with 12.5 offensive rebounds per game and is second with a .329 offensive rebound percentage. In Big East games only, DePaul leads the league with 39.8 rebounds per game, 13.2 offensive rebounds per contest and a .332 offensive rebound percentage. DePaul is also second with a +4.8 rebounding margin and is third with a defensive rebound percentage of .758.
6'9″ freshman Jaylen Butz has had five or more rebounds 12 times so far this year, including seven of the last nine games. Highlights have included eight points and five boards against Providence, and 11 points and six boards against Villanova.
---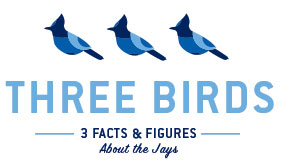 New DePaul assistant coach Shane Heirman was Jacob Epperson's head coach at La Lumiere School last year, where he led the Lakers to the mythical national title. Creighton assistant Alan Huss preceded Heirman as La Lumiere's head coach from 2010-14; Heirman was an assistant coach to Huss.
Marcus Foster owns 1,971 career points (875 at Kansas State, 1,096 at Creighton) entering Wednesday's game at DePaul. The game against the Blue Demons will be the 121st game of his Bluejay career. With 29 points, he could become the fourth Creighton player to surpass 2,000 career points at the Division I level, joining Doug McDermott (3,150), Rodney Buford (2,116) and Bob Harstad (2,110). McDermott reached 2,000 points in 101 games, Buford needed 111 games and Harstad required 121 contests to reach 2,000 points.
Creighton is shooting 77.1 percent at the free throw line this season, which puts the Bluejays on pace to shatter the previous school-record of 75.9 percent by the 2012-13 club. Creighton has made 80 percent or better of its foul shots in each of the last eight games, the program's longest streak in the last 25 years, making 104-of-123 (84.6 percent) attempts in that span.
---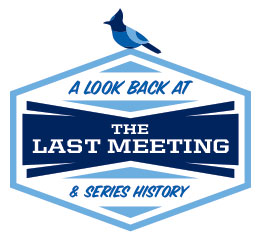 Creighton and DePaul have split 32 all-time games (16-16), but the Bluejays have won 11 of the last 12 meetings and are looking to take the lead in the series for the first time since a 4-3 edge following the 1976-77 season. Each of the last 10 meetings in the series have been decided by double-figures. Creighton is 9-1 in the series since joining the Big East, including six straight victories.
The teams have also split 16 all-time games in Chicago, though this will be CU's first trip to Wintrust Arena.
In their last meeting, Creighton won 93-58 in Chicago, using a 12-2 run at the end of the first half and a 17-8 run to open the second to break the game open. The highlight was undoubtedly this dunk from Marcus Foster early in the second half. From our recap:
Marcus Foster throws down a monster dunk!! #SCtop10 pic.twitter.com/Kg0lJ6p83v

— Creighton Men's Basketball (@BluejayMBB) February 11, 2017
"DePaul finally broke their scoring drought with a pair of free throws from Billy Garrett, and cut the deficit back under 20 points. Moments later, if they had any illusions about staging a comeback, Marcus Foster told the Blue Demons what they could do with them (literally and figuratively).

Figuratively? That dunk was so vicious, with so little regard for the DePaul defender (Brandon Cyrus) who was unlucky enough to be in the path, it reminded everyone in the building who the ranked team was and who was 1-10 in conference play. Literally? Foster didn't take any chances on the message being received and said a little something to the Blue Demons as he ran up court. He was called for a technical, and rightfully so, but sometimes playing with a little edge can go a long way. That was an intimidating dunk, and though it came with 15 minutes to play, was the exclamation point on the afternoon — Creighton never led by fewer than 20 the rest of the day, and eventually led by as many as 40."
---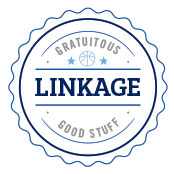 Ken Pomeroy wrote a piece for The Athletic comparing the eras in the Big East, and his data-driven conclusion has stirred a fair amount of criticism online because it runs so contrary to the popular opinion ESPN has offered up for years. Namely: the current Big East is on par with the bloated version that directly proceeded it, objectively better by a large margin than the 1990s version, and not as good as the original 1980s version.
It's a remarkable study, because it takes the emotion that so often drives ESPN's diatribes about the "old Big East" out of the equation. By stone cold numbers — percentage of top seeds in the NCAA Tournament, strength from top to bottom — the myth of the Big East, post-1991 when football-driven expansion began, being markedly better than this version is shown to be just that. A myth.
---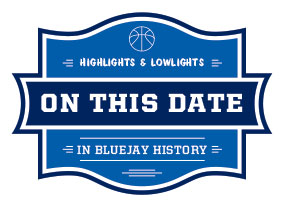 On February 7, 2014 Creighton chopped down DePaul 76-66 on "Lumberjack Night." It was quite a sight — Creighton fans had a blast honoring senior sharpshooter Ethan Wragge. Everywhere you looked, people were sporting real (or fake) beards, dressed in flannel, suspenders, or trapper hats. The student section got foam axes to wield, and several fans brought oversized cardboard chainsaws. Billy Bluejay wore a flannel shirt with the sleeves cut off, blue jeans, suspenders and gloves. But the highlight was certainly the moment that the cameras caught "Dancing Grandma" sporting a fake beard. It was the loudest roar of the night, without a doubt. From the Morning After:
"DePaul's rebounding kept them in the game, and after a run halfway through the second half, they cut the lead to just 59-58 with seven minutes to play. There was palpable uneasiness in the arena, as visions of last Tuesday night's blown lead late in the game against St. John's — and of potentially losing at home to the last place team in the league (ugh) — crept into people's minds.

Nonsense, said Doug McDermott. He immediately took the ball to the rim on the next possession, drew a foul, and made both free throws to give the Jays some cushion. They got a defensive stop, and then Wragge chopped down a t(h)ree to make it 64-58. DePaul answered with a layup by Billy Garrett, but that would be their last stand. McDermott rattled off a personal 9-0 run to ice the game, going 7-8 at the free throw line and 1-1 from the field over a three-minute stretch."
---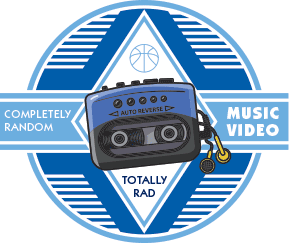 ---
The Bottom Line:
DePaul has yet to win a Big East Conference game at their new home. Tonight will not be the first, though it will probably be closer than Bluejay fans would prefer.
Creighton 84, DePaul 75
Comments
Tagged in: