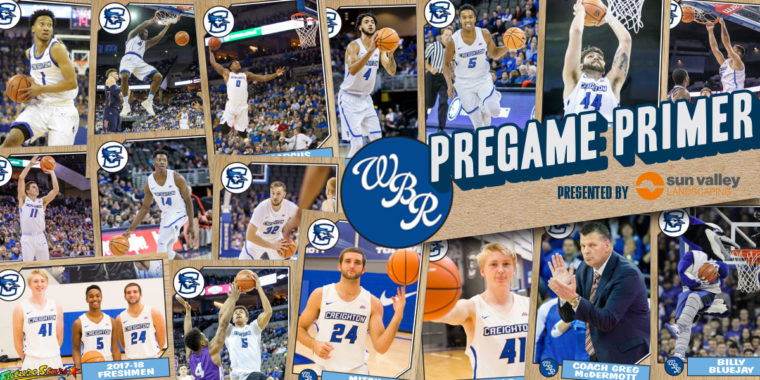 Pregame Primer: Creighton Prepares for Toughest Test of Season (So Far) at #1 Villanova
There's challenges, and then there's taking on the #1 ranked, 20-1 Villanova Wildcats in Philadelphia. They've beaten Creighton seven straight times by an average of nearly 15 points each game, and have beaten almost everyone else, too: they've lost just 18 total games the last five years.
They've had just three games this season decided by less than 10 points, and it took an other-worldly shooting performance to beat them in their lone loss — in Butler's 101-93 win, they made 10 straight threes, and 13 out of 14 in a crazy stretch, to bury the Wildcats in an early hole they couldn't dig out of. Does that remind you of anything?
While they've been terrific for a long time — four straight Big East crowns, a national championship two years ago — this year's Villanova team boasts the nation's best offense, and one of the best offenses in the last two decades of college basketball.
Through their first 21 games, Villanova has averaged 1.28 points per possession. They shoot it better, from everywhere on the court, than almost anyone else (41.4% from three-point range, 8th best; 58.8% on two-pointers, 6th best; 76.1% from the line, 37th best; and a 60.3% effective field goal percentage, tops in the land.)
They can drive and score with the best of them, but it's their three-point shooting — and their ability to stop opponents from turning the tables on them — that has made them almost unbeatable. Over 45% of their shots come from behind the arc; they make nearly 42% of those shots, and get 39.4% of their total points on three-pointers. Meanwhile on defense, they prevent teams from attempting enough threes to keep up; just 34.9% of opponents' shots have been threes, and they've made just 32.7% of them.
What does that mean? Villanova takes a ton of threes, makes a ton of threes, and their opponents do not. Simple as that.
But perhaps the most frustrating thing about playing the Wildcats is that they're so disciplined and fundamentally sound. They turn it over less than almost anyone else (committing a turnover on just 14.9% of their possessions, 8th fewest). Their assist-to-turnover ratio is third best in the country. Everyone they play knows they rarely make mistakes, take poor shots, or commit unforced errors — which puts immense pressure on an opponent to not make mistakes themselves, because there's seldom any opportunity to make up for a turnover by forcing one of your own. And inevitably, that self-pressure leads to the very thing you're trying not to do.
Creighton experienced that first-hand in the Big East Championship game a year ago. 15 minutes into the game, they'd played superbly — it was a two-point game, the Jays had executed their defensive gameplan exactly as drawn up, and they were playing controlled, mistake-free basketball on offense. And then came the surge. From the Morning After:
"…the Jays committed turnovers on six of their next nine possessions, leading to a 14-2 Villanova run to end the half. What had been a highly-competitive two-point game was suddenly a 36-22 deficit heading to the locker room. The start of the second half only made things worse; over their first ten possessions after halftime, they committed six turnovers. Over a 19-possession span across both halves, they had 12 turnovers and just nine points.

Against the best team in America, that's not going to work, and Villanova blew the game open. They built a 46-26 lead as the Jays' made critical errors one after another — careless dribbles, rushed decision-making, poor passing, and selfish play-making. Against a team as good as the Wildcats, mistakes add up quickly because they're always ready to pounce."
That can't happen tonight. For the Jays to hang around, they have to take care of the basketball. Villanova shoots 67.0% in transition, so if you turn it over, you're basically giving them free points. The silly mistakes that littered the middle portion of last year's Big East title game — or the Jays' ugly loss at Xavier a couple of weeks ago — simply cannot happen tonight if they hope to have an opportunity to win. They also need to take away *some* of Villanova's open looks on the perimeter; they're going to get open shots, because their spacing, dribble-penetration, pump fakes, and cuts are designed to do exactly that. Finding the balance between cutting down on those open looks, while not over-committing and exposing your interior defenders, is easier said than done.
Villanova's going to create good looks and score points. Don't give them even better looks and even easier points by turning it over a ton, and the Bluejays can probably keep things relatively close — and if they can do that, roll the dice late in the game with Marcus Foster and Khyri Thomas against Jalen Brunson and Mikal Bridges, and try to pull off the upset.
---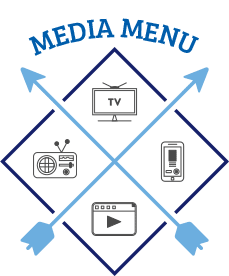 Tip: 5:31pm Central

Venue: Wells Fargo Center, Philadelphia, PA

TV: FS1

Announcers: Joe Davis and Bill Raftery
In Omaha: Cox channel 78 (SD), 1078 (HD); CenturyLink Prism channel 620 (SD), 1620 (HD)
Outside Omaha: FS1 Channel Finder
Satellite: DirecTV channel 219, Dish Network channel 150

Radio: 1620AM

Announcers: John Bishop and Matt Dorwart
Streaming on 1620TheZone.com and the 1620 The Zone mobile app

Satellite Radio: SiriusXM channel 201 (Internet channel 961)

Villanova broadcast with announcers Ryan Fannon and Whitey Rigsby

For Cord Cutters:
---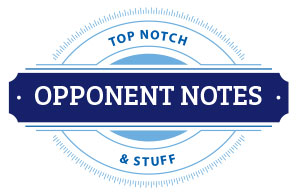 Villanova has five players who rank among the top 15 three-point shooters in the Big East, sharing the load and spreading defenses thin. National Player of the Year candidate Jalen Brunson leads the way in scoring at 19.4 points per game, and shoots 55.5% from the floor. His 5.0 assists per outing rank third in the conference and he is atop the Big East in assist to turnover ratio (104 assists, 31 turnovers); his ratio of +3.35 ranks ninth in the nation. He's scored 31 points three times this year, most recently in their win over Marquette this past weekend.
Mikal Bridges is also on the Wooden Award Midseason Top 25 list alongside Brunson, and averages 16.7 points, 6.0 rebounds, 2.0 assists and 1.9 steals a game. Bridges had his first-career double-double against St. John's on January 13 with 15 points and 11 boards, and narrowly missed another with 15 points and 9 boards against Xavier.
Three others average in double-figures: Donte DiVincenzo (13.7 ppg.), Omari Spellman (10.1 ppg., 7.4 rpg.) and Eric Paschall (10.0 ppg.). Phil Booth was their sixth player averaging double figures; he had been averaging 11.6 points per game, but broke his hand last week and is out indefinitely.
---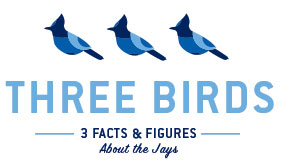 Creighton is 0-2 all-time against men's basketball teams ranked No. 1. But they're 12-24 under Greg McDermott against nationally-ranked teams, as Mac owns more top-25 wins than any coach in Creighton history, and they've won seven of its last 11 games against top-25 teams not named Villanova.
Junior guard Kaleb Joseph is in his first season playing for Creighton, but Thursday won't be the first time he faces off against Villanova. Joseph had maybe the best game of his college career against the Wildcats on December 20, 2014 while at Syracuse. In that contest, an 82-77 overtime loss to Villanova, Joseph finished with 10 points and career-highs of 10 assists and 45 minutes played.
Jacob Epperson's debut on Saturday, burning his redshirt in the process, came in the team's 22nd game. In the last quarter-century of Bluejay basketball, no player has burned a redshirt after conference play started, and you have to go all the way back to 1996 to find a Bluejay who even came close — Matt West was a redshirt candidate in the 1996-97 season but made his debut in the team's 12th game.
---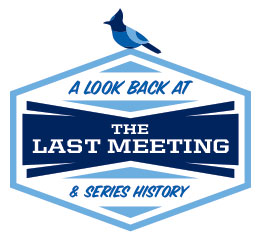 Villanova leads the all-time series 10-2, and holds a 6-1 advantage in games played in Philly. Creighton swept two games with the Wildcats in 2013-14, but hasn't beaten them since.
In their last meeting, Villanova defeated the Jays 74-60 in the Big East Tournament title game.
---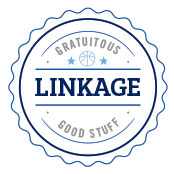 Martin Krampelj's ACL surgery on Thursday morning was a success, as Coach Greg McDermott announced on Twitter. Here's hoping Martin makes a full and quick recovery, and is back dunking lobbed passes in November.
Just received report that @MartinKrampelj surgery went well. The road to recovery begins now. Can't wait to see him back on the floor next season!

— Coach McDermott (@cucoachmac) February 1, 2018
Meanwhile, SB Nation published a piece entitled "How Marcus Foster and Khyri Thomas Became College Basketball's Most Underrated Backcourt." That long title pretty much sums it up; it's a good read.
And finally, the last time Creighton played at Wells Fargo Center, they drained 21 three-pointers and defeated Villanova 96-68 in January of 2014. There's been lots of reminiscing about that game this week — and some scolding from the No-Fun-Police to knock it off because what happened five years ago has no bearing on tonight's game — but that's not going to stop me from watching this Highlight Reel for the 1,000th time and getting goosebumps all over again.
…or from listening to John Bishop's audio call of that game, which is equally tremendous.
24 hours from our next visit to Wells Fargo Center, an audio look back at the last time @bluejaymbb played in Philly's big arena. #Creighton #GoJays #Timeout2Vote #CoachGregMcDermott https://t.co/rRrjfl7Voa

— John M. Bishop (@JohnBishop71) January 31, 2018
Incidentally, Ethan Wragge remembers…
#LetItFly tonight boys! Good luck @BluejayMBB! #GoJays pic.twitter.com/t197d9akg7

— Ethan Wragge (@Wragge34) February 1, 2018
---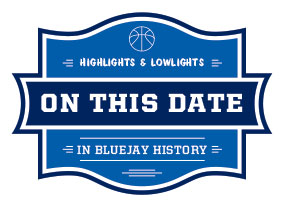 On January 25, 2014, Creighton returned home triumphant from that historic win at Villanova and dispatched with a pesky Georgetown squad 76-63.
"It was 8-7 Georgetown after ten minutes of "action." No doubt, it was the type of game Georgetown wanted, as they entered the night scoring a Big East-worst 65 points a game but holding opponents to 39.3% shooting — the lower the score, the better the chance of victory for the Hoyas, and through ten minutes this was about the lowest score imaginable.

A minute later, the teams traded threes, with the first salvo dropped by Georgetown's Reggie Cameron, answered with the first #WRAGGEBOMB of the evening. A dunk by Mikael Hopkins just before the under-8 media timeout increased the Hoya lead to 13-10, temporarily silencing the huge crowd. Temporarily.

Coming out of the timeout, CU got another #WRAGGEBOMB to tie it, followed by D'Vauntes Smith-Rivera making a tough jump shot to give Georgetown the lead again at 15-13. That would be the Hoyas final lead of the night, as the Jays immediately ran off an 11-0 run to seize control of the game. First, they got a tip-in of his own missed shot by Austin Chatman to tie it, followed by Doug McDermott making one-of-two free throws the next trip down the floor to give them the lead. Ethan Wragge was then hammered on a three-point attempt, and calmly sank all three free-throws to make it 19-15. Another #WRAGGEBOMB the next trip down the floor made it 22-15, and the nearly 19,000 fans in attendance were officially in a frenzy. Will Artino converted a layup to run the lead out to 24-15, and it looked like the Jays were off and running."
---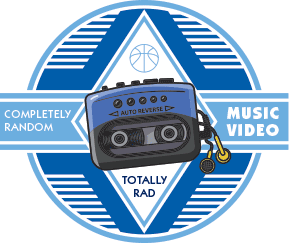 The Bottom Line:
Both Vegas oddsmakers and KenPom's computers have made 'Nova a 13-point favorite, and why not? In the Jays' last three trips to Philly, they've been on the wrong side of a straight-up butt kicking — a 71-50 loss in 2015, a 83-58 loss in 2016, and a 79-63 loss last year.
The baseline for me in this one is whether the Bluejays can compete better than they did in their 92-70 blowout loss at Xavier on the 13th. I don't think they'll win tonight, but I also don't think they'll get run out of the gym like they did that afternoon.
#1 Villanova 88, Creighton 77
Comments
Tagged in: