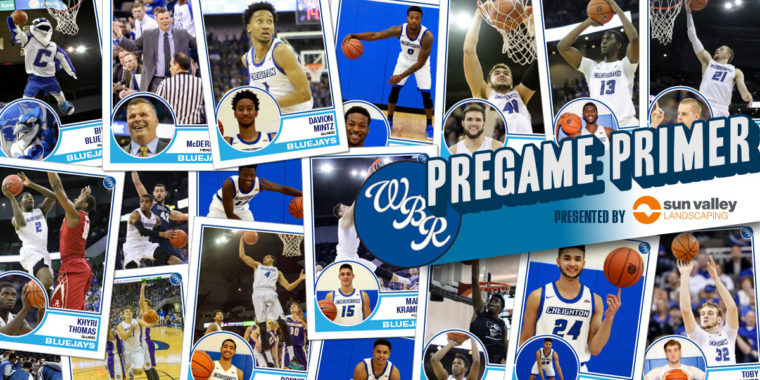 Pregame Primer: Creighton Tries To Wrap Up Third Place Finish in Season Finale at Marquette
Heading into the final Saturday of the regular season, the top and bottom of the Big East Tournament bracket is set. Villanova and Butler are the top two seeds; the play in round will pit (7) Xavier against (10) DePaul and (8) St. John's against (9) Georgetown. The middle of the bracket is wide-open, with Creighton, Marquette, Seton Hall, and Providence jockeying for position. Of those four teams, the Bluejays are the only one that controls their destiny — with a win, they clinch third place outright and the three seed in NYC. A loss could drop them as low as the six seed.
There's 32 possible scenarios for how those four teams could match up, and that's far too many to analyze. According to Rob Anderson's game notes, this is the Cliffs' Notes version:
With a win, Creighton is the three seed
With a loss, Creighton is the four, five or six seed
Creighton will play Providence if the Bluejays are the fourth or sixth seed
Creighton will play Seton Hall or Marquette if it is the third or fifth seed.
But first things first: an extraordinarily difficult game at Marquette, a team who looked every bit as terrifying in beating Xavier 95-84 on Wednesday as they did in their 102-94 win here in Omaha.
Last night's summary for @MarquetteMBB:

👌👌👌👌👌👌👌👌👌👌👌👌 pic.twitter.com/BNgOjfoOYl

— #BIGEASThoops (@BIGEASTMBB) March 2, 2017
They made 11 straight baskets at one point in the second half, and spread the scoring around with five players in double figures. Creighton knows a little bit about how Xavier feels; the Golden Eagles had seven players score in double figures in the game in Omaha. If you watched just those two games, you'd think Marquette was one of the best teams in America, because they looked damn near unbeatable both times.
They rank first in D1 in three-point shooting percentage (42.8%) and first in the Big East in threes made (298, which is a new single-season Marquette record). They shoot 48.9% overall from the floor (14th best in D1) and 78.0% from the line (sixth best in D1). They have five players averaging in double-figures, seven players at 8.5 points per game or more, and they're one of just three teams in D1 with seven or more players with 200+ points.
Here's the thing, though: Marquette is 18-11 and 9-8 in the league, 5-5 in their last 10 games, and 3-2 in their last five because while their offense is legitimately great, their defense and rebounding are legitimately not. They're tough to beat when their offense gets clicking — they've scored 90 or more points eight times this year, and are 8-0 when they do — but not so tough when their offense isn't on because they have trouble stopping their opponent.
In Big East play, they've scored 87.4 points in their nine wins and 71.6 points in their eight losses. They've made 48.9% from three (making nearly 12 threes a game) and 53.3% overall in their nine wins, but just 39.5% from three and 43.1% overall in their eight losses. That's a 16-point difference in points and a steep drop in shooting percentage. Almost 38% of their points come via the three-pointer; just 18 teams in D1 get more of their points behind the arc. If you get into a shootout with Marquette, it's awfully tough to beat them (as Creighton found out in Omaha), so how might Creighton scheme to defend them better than they did the first meeting?
One thing is pretty clear, and that's that how CU defends ball-screens — both from a tactical standpoint and from an execution standpoint — will be very important. Will they scheme to hedge aggressively on ball screens rather than switching, in an attempt to keep mismatches to a minimum and make everything behind the arc a tough, contested shot? That seems smart, as Marquette's not nearly as effective driving or scoring inside; just 45% of their points come inside the arc, one of the lowest rates in all of D1.
That's where the return of Zach Hanson plays a big role, because while the Jays have doubled the post a lot this year, that can't happen against Marquette. Doubling the post and leaving an open shooter on the perimeter that you're daring to shoot is suicidal. They'll have to defend straight-up in the post, and do it without fouling — Justin Patton played just 11 minutes in the first game because of constant foul trouble attempting to guard Luke Fischer. As a result, Fischer was 8-9 from the floor with eight rebounds. Should Patton struggle again, Hanson can come in and use his size to disrupt things. At a minimum, Hanson gives the Jays five more fouls to work with in their attempt to stop a post game from developing.
Katin Reinhardt, the Golden Eagles' 6'6″ forward who lit up the Jays for 21 points in Omaha, is probably the toughest individual matchup. He'll be guarded a lot of the day by Toby Hegner and Cole Huff; when ball screens come to attempt to free him up, the Jays will have a choice to make on the screens, as we mentioned earlier — do you hedge the screen and give the ball-handler a little space to launch a shot? Or do you switch on the screen, knowing it might result in matching a smaller guard up on Reinhardt? That's a pick-your-poison situation, honestly, with no good answer.
That brings us to another line of thinking, namely that on a night like Wednesday where Marquette's shooters are taking 25 or 30-foot threes and making them there's not much you can do defensively. You can't guard consistently that far out from the basket. If the Golden Eagles do THAT again, good luck.
Whichever way you lean, the bottom line is the Bluejays can't let Marquette score 100+ if they want to win. My guess is they'll change up their defensive looks; executing perfectly won't be enough if the Jays play a straight man-to-man defense all day. They'll employ man, 2-3 zone, 1-3-1 zone, box-and-one's, and throw everything but the kitchen sink at them. It might not be enough if the entire Golden Eagles roster is going to channel the spirit of Ethan Wragge, but hey, it's worth a shot.
Quick Notes on the Golden Eagles:
Guard Katin Reinhardt is hoping to become just the second player (Derrick Gordon of Seton Hall is the other) to make an appearance in the NCAA tournament with three different programs (Reinhardt played for UNLV and USC previously). He has appeared in 26 games during his first season with the Golden Eagles as a graduate transfer and is averaging 10.8 points per game. His two free throws in the closing seconds proved to be the difference in the win over No. 1 Villanova.
Marquette boasts five men averaging in double-figures, a group led by freshman Markus Howard (13.0 ppg.). Howard also leads the nation in three-point percentage at 55.6 percent. Jajuan Johnson (11.8 ppg., 4.1 rpg.), Luke Fischer (11.1 ppg., 6.0 rpg.), Andrew Rowsey (11.3 ppg., 45.0% from 3) and Katin Reinhardt (10.8 ppg.) average in double-figures, with Haanif Cheatham (9.5 ppg.) and Sam Hauser (8.6 ppg.) not far behind.
Center Luke Fischer, who transferred to MU after one semester at Indiana, has the opportunity to become just the second player in school history with 1,000 points, 500 rebounds and 150 blocked shots in his career. Regardless of his shooting efficiency the rest of the way, he will conclude his tenure as the program's all-time leader in field goal percentage (currently .622). The Germantown, Wisconsin native has started 76 of the 86 games he has appeared in with Marquette.
Bluejay Bytes:
Creighton enters Saturday's regular-season finale with a 23-7 record. In 99 seasons of Bluejay Basketball, this is the 14th team to earn 23 or more wins and fifth time in seven seasons they've done it under Greg McDermott. However, this is just the eighth team to reach 23+ wins before the league tourney, and a win on Saturday would make this year's squad one of six in program history with 24+ wins before the league tourney.
Marcus Foster has scored in double-figures each of the last 13 games and now leads the Big East Conference with 18.8 points per game. That puts him just ahead of Villanova's Josh Hart (18.6 ppg.) and Georgetown's Rodney Pryor (18.0 ppg.) for the league lead. In conference-only action, Foster's 18.5 ppg. ranks just ahead of Hart (18.0) and St. John's Shamorie Ponds (17.3 ppg.). Foster owns 314 points in league play, compared to 306 for Hart, 294 for Ponds.
Marcus Foster had a season-high eight assists in the Feb. 25 game at Villanova. He has now distributed 37 assists in his last 10 games after dishing just 32 dimes in the first 20 games of the year. Against Seton Hall, Foster became the first Bluejay since 2000 to have at least 23 points, six rebounds and six assists in the same game — the last Bluejay to do that was Ryan Sears who had 25 points, eight rebounds and assists at Southern Illinois on January 8, 2000. Going back further, Foster's line against Georgetown of 35 points, five rebounds and five assists made him Creighton's first player with a 35/5/5 line since Benoit Benjamin had 45 points, 16 rebounds and five assists vs. Indiana State on January 19, 1985.
The Series:
The Golden Eagles lead the all‐time series 51‐32, claiming the most recent matchup in Omaha on Jan. 21. Marquette has claimed 24 of the last 32 outings, including 10 straight between 1975 and 1984, and are 30-12 all-time in Milwaukee.
Creighton has won four of the seven meetings since the schools became Big East rivals, though the road team has won the last three meetings in the series. Each of the last five meetings have been decided by eight points or less, including Creighton's 65-62 victory in Milwaukee last season.
The Last Time They Played:
On January 21, Creighton lost at home to Marquette 102-94 in their first full game without Maurice Watson. The defense was shredded and gave up over 100 points in a home loss for the first time in nearly three decades, but instead of dwelling on all that, relive the game through this highlight reel that features all of their offensive plays (and there were a lot!) from the game — and none of their defensive miscues.
Gratuitous Linkage:
"We could say a lot of things about what happened in this game. We could talk about how Marquette shot 12-of-21 from deep. We could talk about how they didn't have an offensive rebound until there was 3:43 left in the game….. and then they got three in 90 seconds to help ice the game. We could talk about how Marquette put Xavier into the double bonus with 11:02 left in the game and how it had absolutely zero impact on how the game turned out.

I think the biggest thing that we have to talk about is how at one point in the second half, Marquette connected on eleven – one, two, three, four, five, six, seven, eight, nine, ten, ELEVEN – straight field goal attempts. It covered a stretch from the 14:18 mark, when Luke Fischer scored to put Marquette up 54-43, down to the 6:01 mark when Andrew Rowsey missed with Marquette leading 81-66. Now, to be fair, it's not like the world ended for Xavier in this more than eight minute long run. Marquette only pushed the lead out six more points at most, to 17, and it was 15 when the streak was snapped."
–"Queen City Business Trip: Marquette 95, Xavier 84" -AnonymousEagle.com
Even More Gratuitous Linkage:
The great Marquette site Paint Touches wrote a piece analyzing their defense, specifically against the pick and roll:
"It turns out Marquette's general pick and roll defense is in the bottom 1% of all Division I teams, giving up 1.027 Points Per Possession (PPP) and ranking 347th out of 351 teams. Read that sentence once more and realize the only teams MU is better than are Miss. Valley State, Chicago State, Pepperdine and Idaho Sate. Oy.

Not only does it get abused, it gets abused often. 17% of Marquette's defensive possessions were in P&R, the 8th most in the country."
The entire article is a fascinating dive into a big part of why Marquette's defense is as bad as it is.
This Date in Creighton Hoops History:
On March 4, Creighton has won three MVC Tournament titles, two against Southern Illinois and one against Illinois State. The first came on March 4, 2002, a 84-76 victory over SIU in which Terrell Taylor led the way with 20 points. Junior Kyle Korver added 18 along with nine rebounds and five assists. Trailing 36-33 at halftime, Creighton opened the second half on an 11-2 run to take a 44-38 lead. Over the second half's first 12 minutes, the Bluejays shot 60% (12-for-20), while Southern Illinois mustered only 26%, missing 14 of 19 shots in falling behind 64-53. During that stretch, the Salukis had seven turnovers.
Then on March 4, 2007, the Jays toppled top-seeded and 11th ranked SIU 67-61 in front of 22,612 fans at Scottrade Center in St. Louis. Their seniors led the way, as tournament most outstanding player Nate Funk scored 19 points, while Anthony Tolliver recorded his sixth double-double of the season with 15 points and 13 rebounds and Nick Porter had 15 points and a team-best six assists. The Bluejays snapped an eight-game losing streak to SIU, topping the Salukis for the first time since the 2003 MVC Championship game. They controlled the game throughout, owning a 32-28 halftime lead and pushing ahead by as many as 14 in the second half.
Most recently, they defeated the Redbirds on March 4, 2012, 83-79 in overtime to capture the first MVC Tournament title of the Greg McDermott Era. Doug McDermott scored 33 points, and senior Antoine Young had 14 — including eight in an overtime period where he literally put the team on his back.
March 4 has been pretty good to the Bluejays over the years, no?
Completely Random, Totally Rad Music Video of the Day:
The Bottom Line:
Marquette scores a lot. Creighton scores a little more.
Bluejays 89, Golden Eagles 85
Comments
Tagged in: