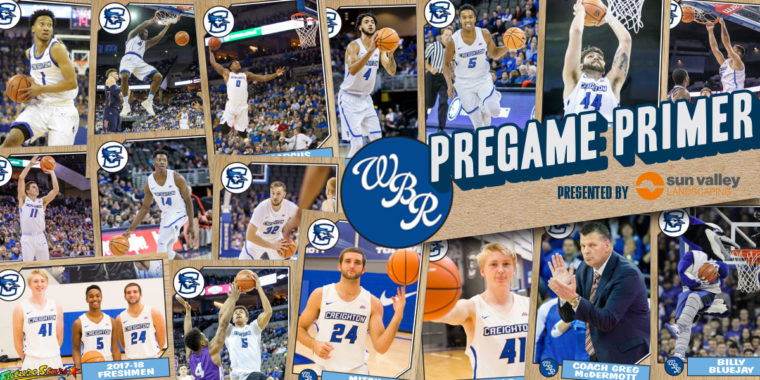 Pregame Primer: Creighton Visits #20 Northwestern for First Real Test of Young Season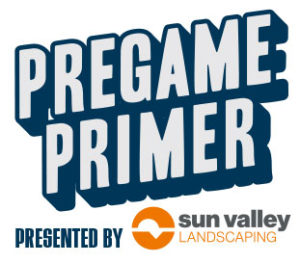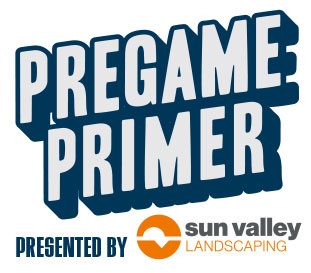 Northwestern's basketball program has real expectations for the first time ever following their maiden voyage to the NCAA Tournament (and a first-round victory over Vanderbilt). Four starters return, as do their top five scorers. They're ranked #20, securing a ranking in the preseason poll for the first time.
So it's a bit surprising that they struggled in winning two games over the weekend against mediocre foes. On Friday, they escaped Loyola-Maryland 79-75 — coming back to win after trailing by a point with four minutes to play. Monday night they squeaked past Saint Peter's 75-66, leading most of the way but never able to create any separation between themselves and a subpar opponent. The Wildcats were unimpressive in both games, but the question is why? Is it because they're learning how to play as the hunted instead of the hunter?
On an emotional level it very well could be, but a more concrete reason is turnovers. Northwestern committed 15 turnovers in Friday's win, and 17 more in Monday's win. That's a HUGE difference from last year, when the Wildcats were 16th best in D1 with a 1.41 assist to turnover ratio; two years ago this was a team who ranked 15th at 1.60. This year? A ghastly 0.88, as they have 32 turnovers and just 28 assists through 80 minutes of play. Ouch.
Another factor is home court advantage, or lack thereof. The Wildcats thrived on the wild, almost joyous atmosphere at their cozy on-campus Welsh Ryan Arena last year. It's being renovated this year, and they've relocated temporarily to the cavernous Allstate Arena, where the same crowds of 6-8,000 that packed their own arena barely fill 40% of the seats. Allstate (formerly the Rosemont Horizon) is a dump — referred to as the "armpit of all arenas" by the late legendary Omaha World-Herald writer Steve Pivovar — and when it's half empty, it's a depressing place. The arena factor is a big enough storyline that a Google News search for Northwestern basketball brings up no less than eleven stories that reference it; the Wildcats will settle in to their temporary digs and benefit from the place's idiosyncrasies before long, but unless they start drawing crowds rivaling the Chicago Bulls in size, the lifeless atmosphere won't give them much of an advantage. Ask DePaul.
The four returning starters are senior guards Scottie Lindsey and Bryant McIntosh, junior forward Vic Law and junior center Dererk Pardon, who were all named captains. The fifth starter is a bit up in the air; replacing Sanjay Lumpkin's statistical production (six points, 5.4 rebounds in 28 minutes a game) is one thing, but replacing his underrated defense and on-court leadership is another. Senior forward Gavin Skelly started both games over the weekend, though sophomore forward Aaron Falzon, who missed the entire 2016-17 season with a knee injury after starting as a freshman, is expected to contribute at some point. He hasn't played yet this year as he deals with a hip flexor and is questionable for Wednesday night.
All four returning starters are averaging double figures through two games; they've scored 80% of their team's points this year. As good as they are — and they're terrific — there isn't a whole lot of quality depth yet on this team. Lindsey (19.0 ppg., 6.0 rpg.) leads the pack; McIntosh (16.5 ppg., 5.5 rpg., 5.0 apg.), Dererk Pardon (15.5 ppg., 5.5 rpg.) and Vic Law (11.0 ppg., 7.0 rpg.) aren't far behind.
Lindsey had 26 points and 9 rebounds in the opener against Loyola, but took a TON of shots to get there; he was 9-20 from the floor (5-9 on twos, 4-11 on threes) and 4-8 from the line. When Lindsey struggled on Monday (12 points, just 3-5 from the floor), McIntosh picked up the slack by scoring a team-high 17 on 5-9 shooting. One of them will have the unfortunate task of trying to score on Khyri Thomas, whose #Khyrifense will be even more locked in after a frustratingly foul-plagued (and thus short) game Sunday night. The other will need to have a good night to make up the difference, and whoever the Jays assign to guard him will need to accept that challenge. That could well be the key to the game. If the player Thomas doesn't guard is held in check, Creighton's chances to win go up substantially.
Inside, the 6'8", 235-pound Pardon will be a load for the Jays' big men to handle. He's had two nice games to start the year, scoring 15 on opening night (4-9 shooting, 7-8 from the line) and 16 on Monday (6-9 from the floor, 4-10 from the line). So will Vic Law, his 6'7", 200-pound counterpart who flies a little more under the radar but is no less dangerous. It will be fascinating to watch Martin Krampelj and Manny Suarez against a good, solid group of bigs from a power conference team. Can they defend without fouling? Can they defend at all? Can they hold their own on the glass? Those are big questions for the Bluejays, and ones that couldn't adequately be answered against Yale and Alcorn State.
Northwestern has basically played a seven-man rotation through two games, riding their four stars heavy minutes — McIntosh has played 75 of a possible 80 minutes through two games, Law has played 70, Pardon's played 65, and Lindsey has 64. That's something to keep in mind if the Bluejays are able to get out and run in transition. Can Northwestern sustain their energy with such a short bench if CU runs the way they want to?
---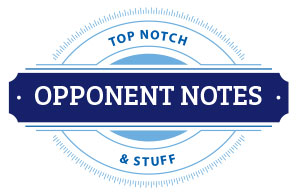 Northwestern has out rebounded their two first two opponents by 7.5, and has 16 blocks. Both are important numbers to keep in mind against a Jays team that likes to attack off the dribble and has had problems rebounding misses. It's worth noting that much of that rebounding edge is because Northwestern was dominant on the glass in the win over Saint Peter's, though (small sample size!). The Wildcats finished with a 34-16 rebounding advantage; the 16 rebounds by Saint Peter's were the fewest by a Northwestern opponent in over 25 years.
McIntosh's 561 career assists are a school record and are the most of any active player in the nation. He holds the top two single-season assist totals in school history. After posting a school-record 213 assists as a sophomore, McIntosh had 188 assists in 2016-17. The team's leading scorer with an average of 14.8 points per game a year ago, McIntosh currently ranks 13th in school history with 1,374 career points. He is the only Big Ten player over the last 25 years to post 1,340 points and 550 assists through his first three collegiate seasons and is one of only 15 players in league history to reach both of those two standards in a career.
The Wildcats limited their opponents to 40.3 percent shooting from the field last season, the 23rd-best mark in the nation and second best in the Big Ten. NU's foes shot 40.1 percent during the 2015-16 season, the school's best mark since the 1998-99 season. The Wildcats' average of 65.5 points allowed per game ranked second in the Big Ten last season behind only Wisconsin (62.4 ppg).
---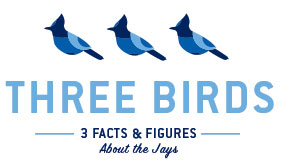 The Bluejays have met DePaul at Allstate Arena in each of the previous four seasons, shooting a combined 115-for-218 (52.8 percent) from the field, including 45-of-89 (50.6 percent) from three-point range. How much of that is liking the rims and the sightlines, and how much is DePaul being DePaul? Probably more of the latter than the former, but it's something to note.
Creighton has scored 201 points through two games, just the second time in program history the Jays have averaged more than 100 points after two games. Creighton's 2013-14 club scored 203 points in the first two games to start a 27-8 season. They've never scored 84 points or more in each of its first three games to any season, something it will attempt to achieve on Wednesday.
Greg McDermott coached in his 250th game at Creighton on Sunday vs. Alcorn State, the third Bluejay basketball coach in history to reach that milestone. McDermott owns a record of 168-82, more wins than both Dana Altman (160) and Red McManus (134) after 250 games.
---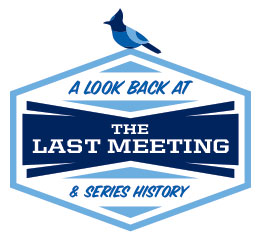 Northwestern has won three of five all-time meetings, including two of three at home. The last meeting was on December 22, 2011, an 87-79 Creighton win in Omaha. WBR's Creighton Otter recapped it:
"The Creighton Bluejays continue to capture the imagination of a fan base frustrated with the lack of NCAA Tournament appearances in recent seasons. After handing the Northwestern Wildcats just their second loss of the season, Greg McDermott's team can enter Missouri Valley Conference play with a realistic chance at an at-large bid to the Big Dance. His son, Doug, is the country's leading scorer and an All-American candidate. His team's ranked in both polls. His squad sits within the top 25 in most RPI rankings. Thursday night was the best Christmas present the coach could receive this year.
But with 12:18 to play in the first half, the evening looked like it may end up one big lump of coal for the 17,000-plus crammed into the CenturyLink Center. That's when Doug McDermott picked up his second foul in less than 30 seconds, sending arguably the nation's most efficient scorer to the bench for the remainder of the first half. Without McDermott, who had scored 9 points in the game's first 13 minutes, the Bluejays promptly watched a 1-point lead dissolve into an 8-point deficit against the game Wildcats.
Looking for a spark without McDermott on the floor, senior guard Antoine Young scored 5 points in the half's final 5 minutes. Ethan Wragge came off the bench and hit one three-pointer to tie the score and then seconds later hit another to give CU a 3-point lead. John Shurna erased that margin with a three-pointer of his own, but Northwestern fouled Gregory Echenique with less than 5 seconds in the half. His subsequent free throw gave Creighton a 1-point lead heading into the locker room. But more importantly, without their best player, the Bluejays refused to give in to a well-coached Wildcats team fueled by an outstanding effort from Drew Crawford (19 first-half points).
Crawford couldn't stop knocking down shots. He gave Northwestern the lead out of halftime with a three-pointer, and he'd score 15 second-half points en route to 34 points — tying an arena record for a Creighton opponent. The Wildcats maintained that lead until the under-16 media timeout. That's when McDermott asserted himself offensively, scoring 6 points on three straight possessions and giving the Bluejays back the lead.
The Wildcats stuck around, though, tying the game with just under 8 minutes to play. With Northwestern's 1-3-1 zone giving Creighton problems in the middle of the offense, Jahenns Manigat and Wragge stretched the wings to the far corners of the front court and waited. Grant Gibbs found Manigat for a three-pointer that gave the Bluejays back the lead, and then after a steal by Wragge Gibbs found the sophomore sharpshooter from Minnesota for a back-breaking three-pointer. Wragge was fouled on the play, calmly hit the free throw, and capped a quick 7-0 spurt that gave the Jays a 7-point lead with under 7 minutes to play."
Yes, you read that right: a pre-Lumberjack, pre-#WraggeBomb Ethan Wragge made the play of the game by stealing the ball and hitting a three where he was knocked to the floor. Here's a shot of the aftermath from WBR's Adam Streur:
And here's all the highlights, including Wragge's heroics:
---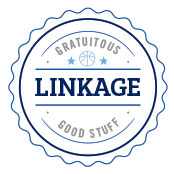 Northwestern's student paper looks at the team's early-season struggles to keep from turning it over.
"We really pride ourselves on taking care of the ball, and if you've looked at us over the past couple years, our assist-to-turnover ratio has been one of the better ones out there," head coach Chris Collins said. "We've had two games now where we've been in the negative turnovers-to-assists, and that's not a good recipe for us. We're a good team, and we can be a very good team, but we don't necessarily have the kind of firepower to withstand 17 to 20 turnovers."
Meanwhile, Andy Katz in his new gig writing for NCAA.com had a blurb about this game in his "Daily Word" column.  He says of this one, "Just a hunch, but this game will go down to the last few possessions and have a round of 32 feel."
---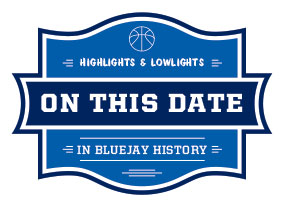 On November 15, 1994, the Dana Altman Era got off to an inauspicious start in the first exhibition game when the Dutch National Team refused to take the court for a second overtime, causing the game to end in an 80-80 tie.
The Dutch's Okke te Velde hit what appeared to be a three-point basket with nine seconds left in the first OT, giving his team an 81-80 lead. The international officiating crew disagreed: Dutch official Henk Kleersnijder signaled for three, while U.S. official John Higgins overruled him and signaled two. Creighton's Marcus Lockett missed a long shot at the buzzer, and the teams headed for a second OT tied at 80.
Except the Dutch team refused to get off their bench when the horn sounded to begin the second overtime, and after a long delay for dramatic effect, walked off the court and into the locker room in protest. "We're not the home team, and we expect a couple of calls not to go our way," Dutch Coach Toon van Helfteren was quoted in the next morning's Omaha World-Herald. "No problem with that. But we could take only so much. That was the final thing for us. In my mind, yes, we won that game. It was a three – point shot, and that's enough for me."
"I've never seen anything like that," Altman told the media in his first postgame press conference as Creighton coach. "I'm still not sure what happened. They just walked off the court. It was one of those games where the whole thing was kind of in a blur."
Bluejay forward Randall Crutcher was equally confused. "At first, I thought they hadn't heard the buzzer. Then I saw them start to walk off, and I couldn't figure out what was going on. You always want to start what you finish. Hey, this isn't hockey."
---
Completely Random, Totally Rad Music Video of the Day:
The Bottom Line:
You could take the pessimistic view here, and say that a Creighton team with an unsettled point guard position, an inexperienced frontcourt, and a bunch of newcomers/freshmen playing in their first road game against a battle-tested veteran title contender from a top conference has no chance. There's people on the BluejayUnderground making that case. And it's a compelling one. Northwestern is really damn good.
But here's the more optimistic view, and the one I'm going with. Sometimes in sports, timing is everything. It certainly looks like Creighton is catching Northwestern at a good time — this is a really solid, veteran team that has looked sluggish in their two games so far this year and struggled against lower-tier teams they should have handled easily. They'll get on track, but they haven't yet, and with just 48 hours between this game and their last one, it won't happen tonight. For that reason, I like the Jays in this one, though it's going to be close and a nail-biter start to finish.
Creighton 82, Northwestern 79
And whichever viewpoint you take, if you're in the Omaha area join us to watch the game at Bärchen Beer Garden for a WBR Viewing Party! It'll be a great time at a great bar; we hope to see you there.
Comments
Tagged in: