Rewind: Arch Madness 2012
Through the words and pictures of White & Blue Review's four credentialed media members (two writers and two photographers) at this year's Arch Madness, here's a look back at Creighton's championship run. All photos by Adam Streur and Mike Spomer for White & Blue Review.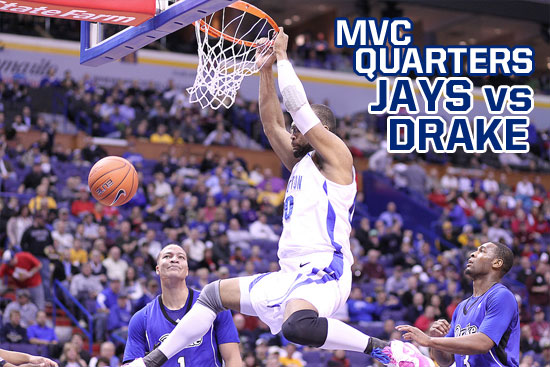 "By recent measures, Creighton's seven-point win over Drake was a blowout. After winning three straight games by a total of four points, the Bluejays outlasted the Bulldogs despites frustrating free throw shooting down the stretch and the inability to pull away from a tired opponent.
The win, in front of thousands of Bluejays fans inside St. Louis' Scottrade Center, gave Creighton the season sweep over Drake and put CU in the MVC Tournament semifinals for the 11th time in 14 seasons. The Jays will play Evansville, after the Purple Aces advanced to their first semifinal appearance since 1999 with a win over Missouri State. After hounding Drake's Ben Simons for 40 minutes (yes, Simons didn't leave the game last night, after playing 36 minutes in the quarterfinals), Jahenns Manigat and Grant Gibbs and Josh Jones will spend Saturday afternoon chasing Colt Ryan."
–Ott's Thoughts: #24 Creighton 68, Drake 61
"At the nine minute mark, the Jays finally took the lead, 22-20, on a layup from Antoine Young — his fourth of the game without a miss — and except for a couple of brief, fleeting moments, it would be a lead they would not relinquish. He played with the sort of fire and intensity you often see from seniors in conference tournaments.
'The way I play is if things are getting a little stagnant and tough, I'll be a little more aggressive,' Antoine Young commented after the game. 'Tonight, we were a little stagnant, so it was time to be a little more aggressive.'
That included his fifth basket of the half, a buzzer-beater to give Creighton back the lead at 35-34 after briefly allowing Drake to go back in front. After it dropped through the net, he let out a scream, then encouraged his teammates as they ran into the locker room. It was a rare show of verbal emotion from a normally quiet leader, but one that epitomized his desire to go out a champion in his final go-round in St. Louis."
–Polyfro Postgame: Jays Escape Pesky Bulldogs
Photo Gallery
Highlight Reel
*****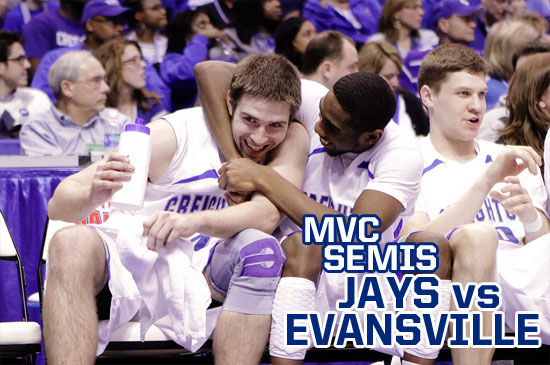 "Creighton put Evansville in a 7-0 hole just 150 seconds into the game. The fast start was more than just offensive, though — they had changed up their defensive gameplan in an attempt to make Colt Ryan and Denver Holmes work harder for their shots, and it was working.
"Sometimes you go into a game and put together a game plan and it works great," Coach Greg McDermott said after the game. "Sometimes the game is over and you ask yourself 'What the heck was I thinking?' Against Evansville at our place, I asked myself 'What the heck was I thinking?' So we made some changes overnight that we basically instituted without a walk-through."
Those changes included putting more pressure on the ball, aggressively switching on ball screens, and in the process, made it difficult for Ryan and Holmes' to make the Jays pay for mistakes. "We gave up a few easy baskets," Coach McDermott said, "but I understood going in that that was going to happen to take away some of the other things we were trying to take away from Holmes and Ryan."
–Polyfro Postgame: Jays Roll Evansville
Photo Gallery
Highlight Reel
*****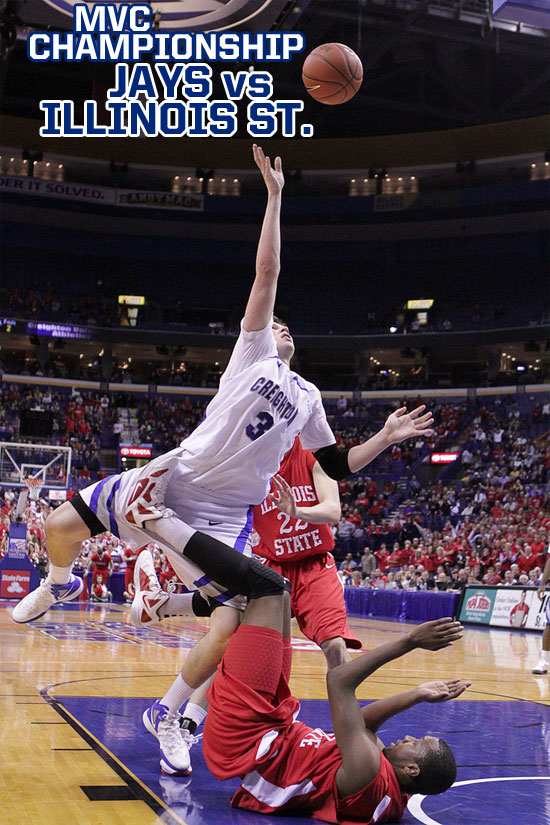 "Antoine Young and his teammates will rest easy this Championship Week, watching intently as other teams fight for spots in the Big Dance. But because of MVC Tournament Most Outstanding Player Doug McDermott, the Bluejays can focus not on if they'll get in but against whom they'll likely wear their home whites in the tournament.
Great players take over the most important of games, and McDermott did so Sunday afternoon in front of a national broadcast television audience. He scored 12 straight points during one stretch of the second half, cutting into Illinois State's 4-point lead and answering every Redbird run with a pick-and-pop three-pointer or a nifty finish in the frontcourt. Jon Ekey played solid defense against McDermott, and the sophomore Player of the Year in the Valley still managed to score 33 points, grab 6 rebounds, and carry the Jays and Creighton Nation on his back to a tournament title."
–Ott's Thoughts: #24 Creighton 83, Illinois State 79 (OT)
Photo Gallery
Highlight Reel
*****
For more WBR coverage from Arch Madness, including locker room interviews, press conferences and other goodies, visit our special section devoted to the tourney at whiteandbluereview.com/archmadness
If you didn't get a copy on-site, download a PDF of the White & Blue Review Magazine distributed at the team hotel here.
Comments
Tagged in: