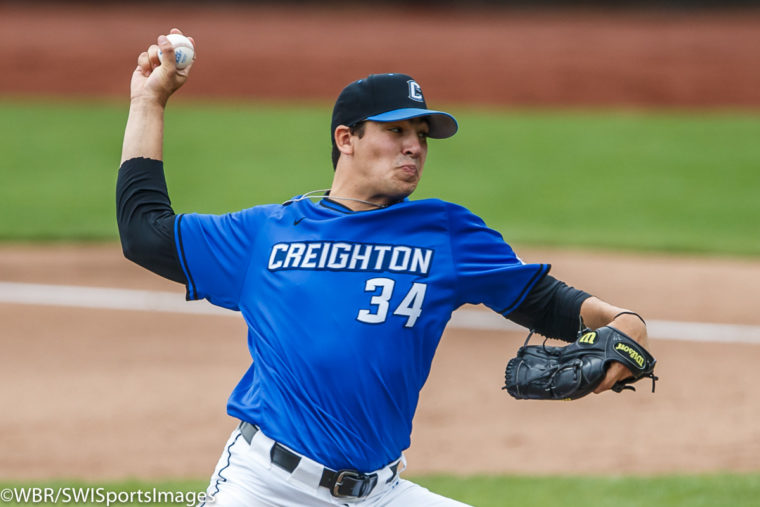 Rogalla shuts down St. John's, clinches series win for Creighton
Keith Rogalla's first career win in four starts against St. John's, and his first nine-inning complete game as Creighton Bluejay, could not have come at a time when he team needed it more. The junior right-hander from Oak Park, Ill., allowed only one run on five hits and struck out eight men without issuing a single walk in a 5-1 series-clinching, corner-turning win over the 14th-ranked Red Storm.
"He was really poised," Creighton head coach Ed Servais said of his Sunday starter. "He got his secondary stuff over. He threw a lot of breaking balls for strikes, he threw some change-ups against all of those left-handed hitters, and it made his fastball jump on them a little bit more. He threw a lot more strikes today. I think it was his best outing in the three years that we've had him."
Rogalla retired 16 of the first 17 batters he faced and made the early cushion that his offense provided seem insurmountable.
The Bluejays lit up St. John's starter Michael LoPresti from the first plate appearance on. Sophomore center fielder Clark Brinkman drew a leadoff walk and freshman second baseman Isaac Collins singled through the four-hole to put two men on with nobody out for sophomore shortstop Thomas Luevano, who drove a 1-2 offering up the middle for an RBI single. It was shaping up to be a big inning for the home team, but with Collins and Luevano on the move, senior left fielder Riley Landuyt hit a line drive right at St. John's left fielder Michael Donadio to kick off a 7-4-3, threat-killing triple play — the first in the history of TD Ameritrade Park Omaha.
LoPresti didn't have the same kind of luck getting out of his second inning of work, however, as Creighton sent eight men to the plate in a four-run frame to extend their lead. Sophomore catcher Michael Emodi, freshman right fielder Will Robertson, and senior third baseman Bryce Only each found holes in the St. John's infield to load the bases with three straight singles with nobody out. A swinging bunt by freshman designated hitter Parker Upton plated the first two runs as LoPresti threw the ball into right field as he tried to get Upton at first. Freshman first baseman Jason Allbery drove in the third run of the inning on an RBI ground out to shortstop, and Brinkman capped off the inning — making it 5-0, Bluejays — with a safety squeeze back in front of the mound.
"We're starting to get into a little bit better rhythm offensively," Servais said. "Our bunt game has been spotty, but we executed that safety squeeze today, and our hit-and-run game is something that we've been anxious to get going, and Isaac had a great hit-and-run again today as well as on Friday in the first inning. We're starting to get into more of a rhythm, and we're starting to understand what we can and cannot do."
The St. John's sophomore right-hander last only four innings, giving up five runs (all earned) on six hits to go with a pair of walks and a pair strikeouts on the afternoon. He entered the game with an earned run average of 4.02 in two career starts against the Bluejays. He left with it sitting at 5.92.
Creighton only managed to get one runner into scoring position over their final six innings worth of at-bats, but their production in the first two innings proved to be more than enough for their starting pitcher to protect. Rogalla allowed one or fewer hitters to reach base in eight of the nine innings, with his only trouble coming in the sixth when St. John's scratched across their only of the game. He generated swings and misses 18 times and started off 21 of the 33 men he faced with strike one to put them in an early and set up his secondary pitches.
"[Sophomore catcher Mike Emodi] deserves huge credit for that," Rogalla said. "He works really well back there and maybe frames a couple strikes that should be balls. He deserves a lot of credit, and Coach Wordekemper is always preaching to pound the zone and make them beat us. As good of an hitting team as they are not many come here and bang the ball around. We just wanted to pour it in the zone and see what happens."
The weekend rotation allowed only five earned runs on 23 hits in 24 innings of work, which included career-bests from Rogalla (nine innings) and Jeff Albrecht (eight innings on Saturday). Overall as a pitching staff they compiled a 1.69 earned run average in 32 innings this weekend. Rogalla credited some in-staff competition for the ability to go and one-up the starter from the day before.
"That's something that me, Jeff, and Rollie talk about all the time," Rogalla said. "We all want to beat each other, and when that happens then we're all pitching good. We have a little competition within ourselves about who can go the longest or who can pitch the best, and those guys are tremendous. To have them do what they did on Friday and Saturday like that and then give me the chance to win the series today was huge."
The win moved Creighton to 10-16 on the season, but more importantly gave them a 2-1 record in Big East play with a head-to-head tiebreaker over a team that many believe will be in the hunt for a regular season title by the end of May.
Next up for Rogalla and the Bluejays is a 6:30 p.m. midweek game at home against South Dakota State on Tuesday before heading out to Washington D.C. to continue conference play against the Georgetown Hoyas on Thursday, Friday, and Saturday.
Comments
Tagged in: