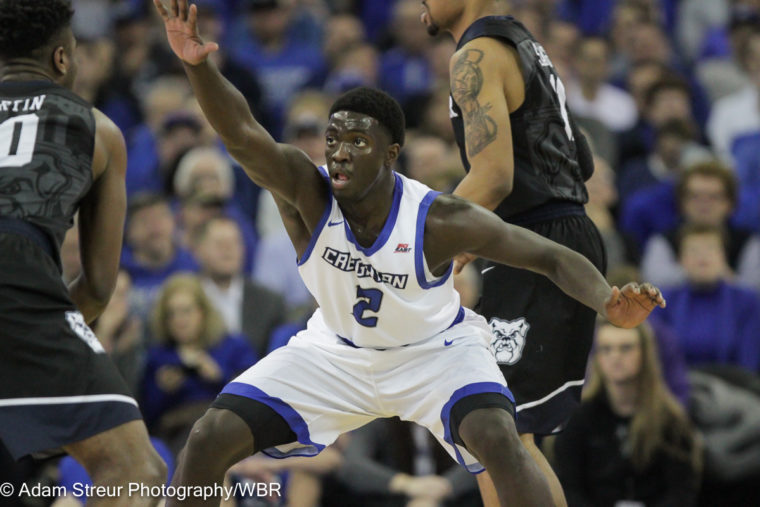 Summer League 2017 Session 4 Recap
The feature game of the night was Khyri Thomas putting on a show for Daegas Lawncare against Martin Krampelj and Marcus Foster of Judd Knispel Agency.  While the game was close in the first half it was Thomas shooting lights out throughout the game as Daeges pulled away in the second half.
Khyri Thomas with the hammer over teammate Martin Krampelj pic.twitter.com/1EVY0vJl8n

— Bluejay Banter (@bluejaybanter) July 7, 2017
It's a good camera angle @JustinPatton17 so it really looks good.But I'm just trying to get my little bro ready.I told him to finish strong

— Martin Krampelj (@MartinKrampelj) July 7, 2017
This didn't count, but Khyri Thomas was 🔥🔥🔥 all night pic.twitter.com/sYiJftqVp9

— Bluejay Banter (@bluejaybanter) July 7, 2017
#Khyrifense https://t.co/Plt01viyYW

— Matt DeMarinis (@mjdemarinis) July 7, 2017
Khyri Thomas goes off for 47 points at @OMAMetroLeague tonight. Went about his business like he was playing to cut down some nets at MSG.

— Matt DeMarinis (@mjdemarinis) July 7, 2017
Other games:
Going Vertical 97, Regulators 94:  The undefeated Going Vertical had a scare in a closely contested game down the stretch.  With the Regulators up 94-91, three-baller Klaye Rowe hit a clutch 3-pointer to tie the game with 50 seconds to go.  After an empty possession by the Regulators, Tradeon Hollins was fouled with 33 seconds left hitting one of two free throws to give the 95-94 lead.  Rowe was fouled after another empty Regulators possession and sank two more free throws for a Going Vertical three point lead.
Setting up for a final shot to tie the game and send it to overtime, Going Vertical's Ben Holling did his best Manu Ginobili impression blocking the shot from behind as time expired allowing GV to escape with the victory and remain undefeated at 4-0.  The Regulators fall to 2-2.
OFW&F Auditors and Accountants 128, EQ School of Hair Design 126–In probably one of the highest scoring MBL game in hisotry, both teams were on fire from all areas of the floor.  Both teams were tied at the half 52-52.  It was Creighton's Davion Mintz that took over the game in the final moments.
Down 126-125 with 15 seconds to go, after hitting several threes in the game, Mintz drove the lane and got fouled scoring the bucket.  After the And-1 free throw to give OFWF a two point lead, Mintz defended the ball the final 15 seconds as EQ's Jordan Scurry (& Mintz's Creighton teammate) was trying to get the win with a last second three-pointer.  The three was off as time expired and OFW&F earned their first win of the summer.  EQ School of Hair falls to 0-4.
ABIDE 83, Spartans 65:  Abide took a big lead early looking to run away with the game going up by 30.  The Spartans had a come back to get the deficit down to 14 points behind nice performances by former Husker Ryan Anderson and Creighton junior Kaleb Joseph, but it wasn't enough down the stretch.  ABIDE improves to 2-2.  Spartans fall to 0-4
.@_kalebjoseph14 showed his athleticism tonight, skying to spike a couple of layups off the backboard. Nearly led a comeback from down 30+.

— Jacob Padilla (@JacobPadilla_) July 6, 2017
Rooferees 91, Broncos 60:  The defending MBL champions ran away with this one moving to 4-0 for the summer.  The Broncos fall to 1-3.
BD 83, Winning Mentality 77:  After losing their first game of the summer, BD has rattled off three straight wins.  Winning Mentality is still looking for their first one sitting now at 0-4
WM Hoops 81, Capehart Sales 71:  WM Hoops came out early to get a double-digit halftime lead and never relinquished it in the second half to head to victory.  WM Hoops and Capehart Sales are both 2-2.
NWU Alumni gets the win over Crusaders in a close back and forth game with NWU Alumni coming from behind for the victory.
Team Narmi gets an easy win over the Wildcats in the battle of two undefeated teams.  The team full of former Creighton players took a 44-34 halftime lead and cruised to victory.
Comments
Tagged in: