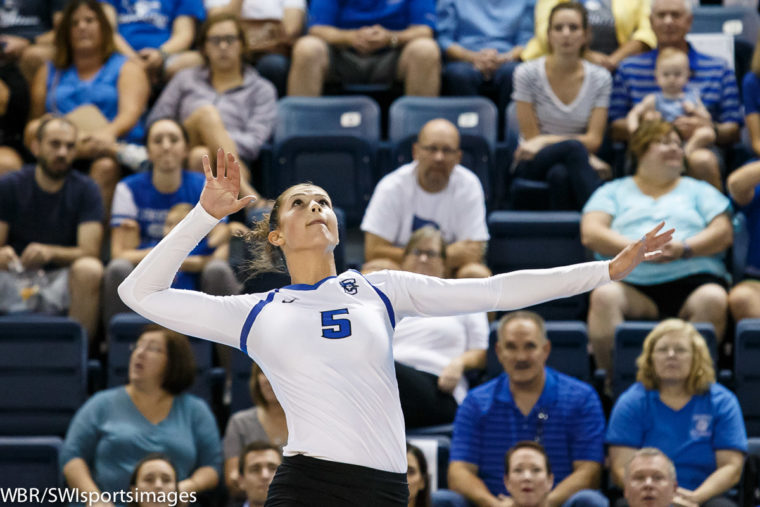 Tested but Triumphant; Bluejays Push Past Xavier
The Creighton volleyball team continues to roll through Big East opponents as they enter the final month of regular season play. On Sunday afternoon, the Bluejays faced off against the Musketeers of Xavier in the second chapter of a six match homestand in Omaha. Entering the match at 9-4 in Big East play and third in the conference standings, Xavier appeared to be one of the more difficult challenges on the latter half of the Bluejays' schedule. Ultimately, the Bluejays were able to win with another 3-0 sweep, their 10th in their last 12 matches, 25-16, 25-23, 25-21, but not without overcoming an impressive effort from the Musketeers.
The beginning of the first set was a back and forth grind, with Creighton finding themselves up one point in a 7-6 game. From there, Creighton's sophomore outside hitter Taryn Kloth took over. She registered kills in five of the next six Creighton points, pushing the lead to 13-8. Kloth finished the first set with eight kills on 11 attempts, for a .636 hitting percentage. Creighton went on to win the set easily 25-16, despite committing four service errors. Junior setter Lydia Dimke led both teams with 16 assists as she helped her offense strategically dismantle Xavier's blocking scheme. With Dimke's help, Creighton hit an incredible .516 in the first set compared to Xavier's .143.
Creighton found themselves in unusual territory in the second set of the afternoon, falling into an early 9-2 hole. The Bluejays found new life in a barrage of kills and service aces from the likes of sophomore Jaali Winters, freshman Megan Ballenger, and freshman Brittany Witt. Creighton closed the gap to two before Xavier took their first timeout of the set up 10-8. The Bluejays' momentum faltered and Xavier pulled out to an intimidating 17-11 lead. Again, the Bluejays mounted a comeback to pull within two points and force another Xavier timeout at 17-15. Senior middle blocker Lauren Smith won a battle at the net to tie the match at 19. Megan Ballenger followed it up with a crucial block to give the Bluejays their first lead of the set at 20-19. Creighton hung on to complete the comeback 25-23 and took a two set to none lead into intermission.
Since conference play began in late September, Creighton has rarely found themselves in positions such as those in the second set. Despite getting out hit, .262 to .270, and beaten on digs, 20-15, the Bluejays overcame the large deficits. Coach Booth was quick stress the importance of that resilience.
"What I liked the most was game two with us being in the hole and seeing how we would respond," Booth said. "They impressed me with that. It was a big hole against a good team and [Xavier] had good momentum. I like us to get pushed in a tough game and see how we respond."
After dominating in the first set, Taryn Kloth was held to four kills on eleven attempts in the second. Kloth stressed the importance of a complete team performance in helping secure the second set win.
"We always talk about having eye contact with all the players, making sure we stay together the whole time and play together as a team," Kloth stated. "That is the only way we will get out of it."
The third, and final, set of the match saw a role reversal as Xavier crawled back from deep holes to come within striking distance of Creighton. The Bluejays found themselves with a commanding 21-15 lead before a Xavier timeout. Following the break, the Musketeers racked up four straight points to bring the game within two. Coach Booth chose not to call a timeout and let her team continue. Momentum shifting kills by Winters and junior Marysa Wilkinson helped the Bluejays secure the sweep with a 25-21 victory.
Throughout the match, Xavier's defensive emphasis was on blocking and disrupting the Creighton attack coming from the middle blockers/hitters. Smith, Ballenger, and Wilkinson all had to deal with regularly contested shots, while outside hitters Winters and Kloth found themselves with clearer holes to make plays.
"The way that Xavier was blocking us, they committed to our middles", explained setter Lydia Dimke. "Our middles may have had a slower game today, but that opened up things for our outside. [The middles] were very selfless so our outsides got to light it up."
As a beneficiary of Xavier's focus on the middles, Kloth added her appreciation: "We have amazing middles. Teams see that and want to stop out middles. They are selfless and take the block away from us and give us holes."
The Bluejays' vision for the season extends well past an undefeated Big East season, and Coach Booth realizes that continued growth is crucial heading into the end of the season and tournament play. Despite an impressive win against a quality opponent, Booth is already highlighting areas to improve going forward.
"One thing we will really go back to the gym and work on is power," stressed Booth. "I think we have to get better in dig transition situations, hitting the ball hard and putting the ball down. As we player higher level teams that are better defensively, that is going to be more and more of an issue. I think we saw some of that tonight."
Regarding her team's ten service errors, she continued: "our serving consistency will also be a priority. But not losing our aggressiveness is the fine line. I like what we are doing offensively, I just think we can take another step forward."
When asked about her choice to let the third set continue despite the late run by Xavier, Coach Booth showed tremendous confidence in the players on the court.
"I never looked at them and thought they had hit panic," Coach Booth said. "I did wait a little longer than I normally would. I didn't think they had looks on their faces of 'uh-oh'. I thought they had looks of 'ok give me the next one, I'm ok'."
The Bluejays continue to justify the confidence their coach has in them, moving to 14-0 in Big East play. The four remaining tests of the regular season include three games against Providence and Georgetown, who have accumulated a combined three wins in conference play this year. The final game of the year will bring the Villanova Wildcats to Omaha for Creighton's Senior Day celebration on Nov. 20th. However, the Bluejays plan to be playing well beyond that date with their sights on a deep run in both the Big East tournament and the NCAA tournament.
Notes: 
In a new scheduling move, next weekend's matches against Providence will both be at home on Friday and Saturday, cutting down on some travel expenses.  Creighton will play both matches against Providence in Rhode Island in the 2017 season.
Starting on Wednesday is the early signing period for Volleyball as well as some other sports.   The Bluejays are expected to sign two players:

Steph Gaston — 6'5″ OH from Omaha, NE (Premier Nebraska Volleyball, Papillion/LaVista H.S.)
Naomi Hickman — 6'4″ MB from Lawrence, Kansas (K.C. Power Volleyball, Free State H.S.)
Comments
Tagged in: