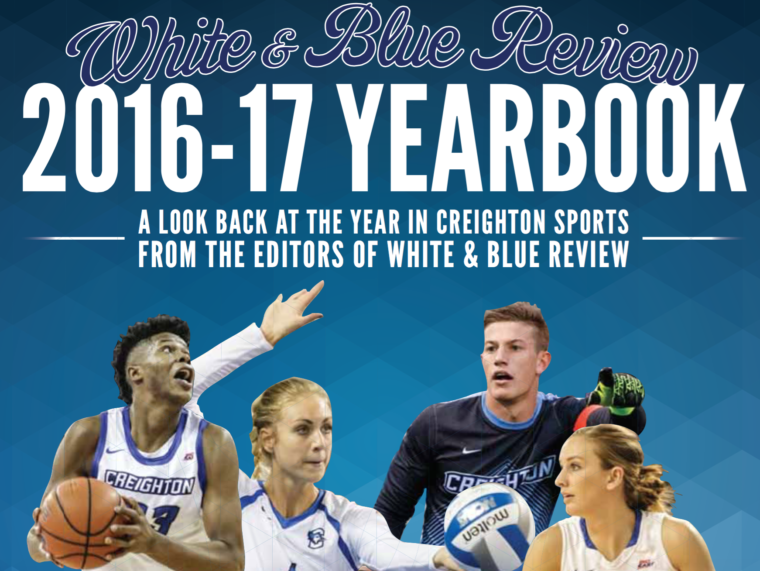 The 1 Way You Can Support Independent Creighton Bluejays Coverage
For the last 8 years, this site has chronicled Creighton Bluejays sports. As Year 9 begins, we need your help.
Buoyed by a handful of dedicated sponsors like Creighton Federal Credit Union and Sun Valley Landscaping, White & Blue Review has covered championship teams, coaching changes, conference moves, and even the College World Series.
We're part of the social conversation about Creighton sports, often starting the discussion from our Twitter account.
We want to keep that conversation going. We want to grow our Creighton coverage.
We want you to help.
In return, you'll receive a printed copy of our exclusive 2017-18 Creighton Bluejays Yearbook.
Designed by Tom Nemitz and featuring original works by the WBR writers and photographers, this 150-page book includes a detailed look at last year's seasons for:
Creighton men's basketball
Creighton women's basketball
Creighton volleyball
Creighton men's soccer
The book is a required collectible for all die-hard Creighton fans, featuring:
Games and season recaps, with exclusive interviews
Full-color action pics from WBR's three professional photographers
Never-before-published features on some of Creighton's most popular teams
Here's how you can get one:
We plan to use the funds generated by this project to financially support our coverage of Creighton Bluejays athletics in 2017-18 and beyond.
Thank you for your pledge; it'll go a long way to ensuring we bring you the kind of coverage your favorite team deserves.
Comments
Tagged in: