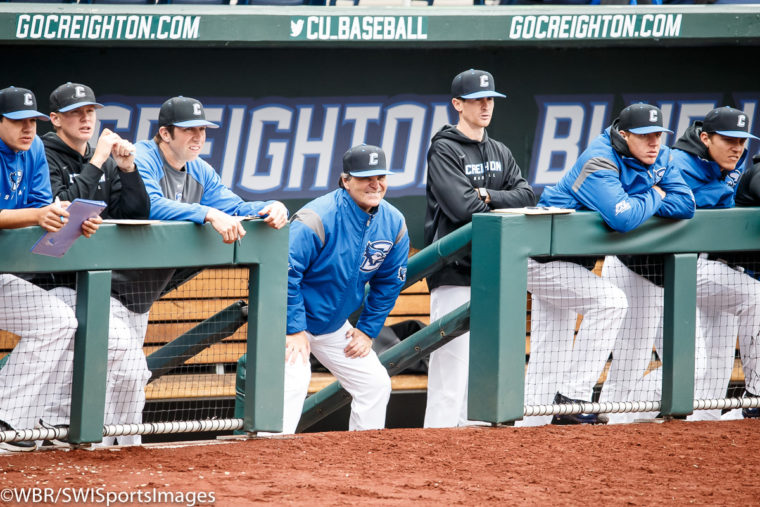 The Bluejays get knocked around by UC Davis to begin seven-game home stand
Sunday afternoon's weather forecast was cloudy with a chance for rain, and UC Davis brought the thunder to TD Ameritrade Park Omaha. The Aggies knocked the ball around the yard en route to 12-1 win over the Creighton Bluejays in game one of a three-game series. They lit up Creighton's pitching staff for 19 hits all together, including five doubles and a two-run home run in the top of the ninth inning for good measure.
"Today we took a big step back," Creighton head coach Ed Servais said. The Bluejays entered the game with a 5-11 record overall, but were riding a four-game winning streak that saw them outscore the opposition by a combined total of 20 runs. But all of that momentum went head first into a brick wall on Sunday.
"I was happy with the last four games," Servais said. "I thought we played well. We played what I thought was our best game of the year at Kansas — there was a lot of energy, we executed, we got some two-out base hits, and multiple guys pitched and did their job."
"This is one thing with a group like this that we were hoping to avoid, that we would continue to inch forward and take a positive step. That doesn't necessarily mean you're going to win every game, but you want to see more positives than negatives out there."
From Creighton's perspective, things went neutral to negative to worse with every throw and swing from the first pitch on. The Aggies went to work right away against junior right-handed pitcher Rollie Lacy by putting three runs on the board before Creighton's ace could even record his second out of the afternoon. Senior catcher Ignacio Diaz provided the big knock with a one-out double over the head of Creighton center fielder Clark Brinkman to drive in a pair and triple up what was already a 1-0 lead. Lacy allowed three singles and two doubles in the opening frame, but actually managed to limit the damage to a degree by stranding two runners in scoring position.
After squandering another scoring chance in their second trip to the plate, the Aggies ended Rollie Lacy's afternoon with a four-run frame in the top of the third. Ignacio Diaz started things off by driving in his third run of the day with another double over Brinkman's head in center field. Second baseman Cameron Briggs brought Diaz around to score with a single to right field, then right fielder Ryan Hooper plated two more runs against Creighton relief pitcher Austin Stroschein to make it 7-0, UC Davis, heading to the bottom of the third inning.
Lacy just never could establish anything in the bottom half of the zone, while didn't issue any walks, there was one wild pitch and several others that had to be scooped off the dirt. He didn't retire a hitter in the third inning and finished the afternoon with all seven runs counting against him in his two innings of work.
"Everything was elevated and that's a fly ball hitting team," Servais said. "Those fly balls turned into a lot of extra base hits. No matter what pitch we tried he just couldn't get it down."
Creighton's ace has given up nine earned runs on 13 hits in his last three innings of work going back to a mid-week outing against Kansas where he gave up two runs on three hits in one-inning, glorified bullpen session. That's enough of a sample size to at least cause for some concern on the part of his head coach.
"He had a little trouble on Wednesday, too, in that one inning we asked him to pitch, so I hope that he can recover," Servais said. "We need him out there this weekend. We've got the conference coming up here shortly and we can't have one of our top guys go out in the third inning of a ball game. That's way too early."
The Bluejays had a rally going in the bottom of the third sparked by their three freshman at the bottom of the order in right fielder Will Robertson, first baseman Jason Allbery, and designated hitter Parker Upton. Robertson singled to lead off the frame, then Allbery doubled, and Upton shot one through the middle of the infield for an RBI single to cut the deficit to six, but with runners on the corners Brinkman popped out to third base and freshman second baseman Isaac Collins lined into a double play to strand Allbery and Upton.
UC Davis responded right away with two more runs in the top of the fourth to extend the lead to 9-1 and a run in the eighth, and two more in the ninth while holding Creighton's offense without a hit over the final six-plus innings. UC Davis starting pitcher Orlando Razo scattered four hits and four walks and just allowed the one run in the third over his six innings of work to get the win. He lowered his earned run average from 6.43 to 4.64 before giving way to sophomore left-hander Robert Garcia who worked around four walks to hold the Jays without a hit in his three innings of relief, earning his first save of the season in the process.
Ignacio Diaz led the potent UC Davis offense with three hits, four runs batted in, and two runs of his own from the number five spot in the lineup. When it was all said and done the Aggies saw all nine starters record at least one hit, while seven men drove in a run and scored a run.
The only positive takeaway from Sunday afternoon was that it's only game one of a three-game set and tomorrow offers an opportunity to take a step forward for a lineup that features four freshmen, three sophomores, and two seniors who are in their first year as every day starters.
"Today obviously was a big step backwards," Servais said. "The good thing is we've got an opportunity tomorrow to get back out there and see if we can play with a little more energy, a little more bounce."
On the bump for Creighton in game two will be senior left-hander Jeff Albrecht, who has a 3.38 earned run average in 24 innings over the course of five starts and one relief appearance this season. He's normally a guy who elevates the ball, but relies on deception to keep hitters off balance. That will be key against a team that feasted on balls up in the zone against Creighton pitchers on Sunday.
"Jeff is a fly ball pitcher, but he's been as good as anybody we've had," Servais said. "He's done a nice job. He's throwing more strikes and he's getting his secondary stuff over, so I think he'll give us a good chance tomorrow night."
First pitch for game two between the Bluejays (5-12) and Aggies (6-10) at TD Ameritrade Park Omaha is scheduled for 6:30 p.m.
Comments
Tagged in: