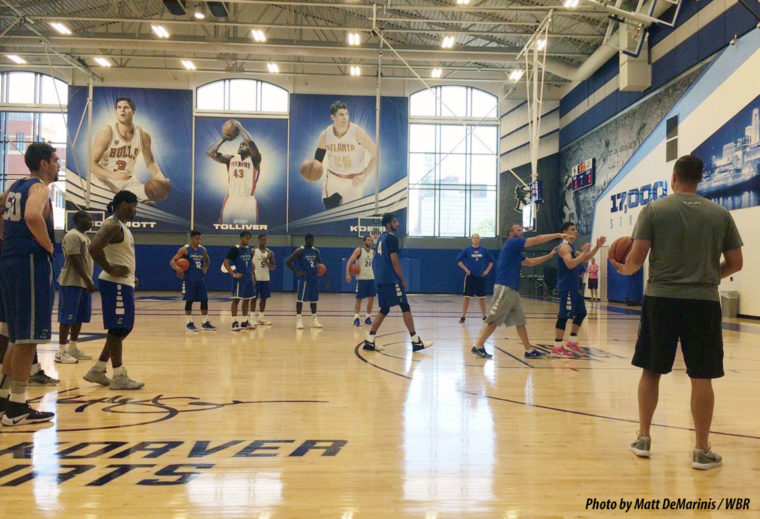 The Championship Center is an ideal summer vacation spot for Creighton's new trio of gym rats
How would an eight-week, all expenses paid getaway to Omaha, Nebraska featuring an intro to Division 1 basketball and a handful summer school classes look on a vacation brochure?
That probably ends up at the bottom of a garbage bag in most homes, but for Greg McDermott's incoming class of basketball junkies it's an offer they wouldn't refuse even if they could.
"I'm fine with not having a summer. I'd be doing this kind of stuff, minus the school obviously, back home, so I might as well be on campus and get going with the guys," freshman guard Mitchell Ballock said after going through his first team workout as a Bluejay on Monday afternoon.
Ballock is a 6-foot-4 left-handed shooting guard from Eudora, Kansas, and on Monday he got his first taste of life as a college basketball player along with classmate Ty-Shon Alexander, a 6-foot-4 guard from Charlotte, North Carolina, and Jacob Epperson, a 6-foot-11 center from La Lumiere High School in Indiana by way of Melbourne, Australia.
They each went through all the same ball screen, shooting, defending, ball-handling, and rebounding drills that the returning players have been going through since they were freshmen.
"It helps us get into the flow and learn what we have to do every day," Ballock said. "We have a schedule every day, so we always know what we're doing. Then we also have a little down time to hang out, chill, and get to know the guys a little better. It's been going really well."
Creighton's coaching staff is allowed to work with the players on the court for two hours each week over the next two months, and although it doesn't seem like a lot of time on paper it's still an essential allotment for player development.
"I love the summer workouts, because it's a chance for them to kind of grow a little bit without the stress of preparing for games," Bluejays assistant coach Darian DeVries said. "It's not quite as highly intensive — you can go through some of the mistakes — it's just a great time for the players to grow without it costing us games. It's also a great time for us as coaches to see what guys are capable of. You give them a little more rope and let them try some things.
"At the same time, you've got eight weeks to start to build what your team is going to look like in November. They have these eight weeks, then they'll go home for a little bit, regroup, and think about what happened over the course of the summer. Then when they come back, they're ready and have an idea of what you're looking for. Sometimes they come in and have an idea of what they're looking for as well, and when you put the two together you can really make some progress, especially in the fall."
Based on the physical side of the equation, Epperson is the one with the most catching up to do, but that's not something he doesn't already realize if his self-assessment on Monday is any indication.
"It should be a good experience playing against everyone here. Hopefully I'll put on tons of weight, because I need it. I'm getting pushed around a bit," he said.
"I just want to try to improve on all aspects of my game, work on some low post stuff, and try to get used to the playing with the point guards we have here throwing me the ball. I'm going to work on everything: mid-range, inside, and outside. Just take it one step at a time and talk to the coaches if I'm having problems or anything like that. You're going to fail along the way a lot, but failing means that you can work on it and get better over time."
According to DeVries, there aren't any preconceived evaluations regarding any of the freshmen or their potential roles for the upcoming season. These eight weeks are ground zero for all of them. Regardless of height or weight on day one, they all have a chance to prove themselves.
"What we tell every new guy, is you come in here trying to earn a starting job and try to earn playing time, whatever it is, and then in the fall after you've gone through all of that in the summer, September, and October when the games start to come now you've prepared yourself to be in that position. We'll give you an honest assessment about where we think you stand at that time, and then your role can obviously change during the course of the year."
"I don't know yet what will be the best thing for Jacob or the team. You just never know how quickly a guy is going to take off. What Jacob has going for him is he competes and plays really hard. Obviously he's going to continue to gain strength and bulk, and as that keeps coming you just never know what that might mean for this year's team."
That same mantra goes for Alexander and Ballock, who are thrust into a log jam of experience and talent on the perimeter.
"They are still freshmen so there's a big learning curve, but we are really excited about what those two can be here long term," DeVries said. "What I love about Mitch and Ty-Shon is they are perfect fits for how we like to play. They both know how to share it, they have great basketball IQs, good size for guards, and can do multiple things as ball-handlers and as defenders."
One thing you can bank on about all three is that if you ever need to find them, the Championship Center on Florence Boulevard should be the first place you look. Ballock drove up to Omaha to work out with redshirt junior point guard Kaleb Joseph while the rest of the team was in Sacramento for the NCAA Tournament, and on Sunday night when he got into town he locked himself out of the gym because the coaches had not given him his key card yet.
Even if they were back home in Kansas, North Carolina, or Australia with an opportunity to spend more time with friends and family before heading off to college, they would one way or another find themselves back in the gym working on their game.
"I want to be in the gym a lot. Every time I go back home, I wake up around 5:40 and drive 30 minutes just to go work out a whole hour or two," Alexander said. "I know that I'm going to get myself up early in the morning and come down here to get some shots up. I'm going to grab Mitch and tell him to get up to workout with me too."
On Monday morning, with a day of travel on their legs and their first team practice looming in a matter of hours, Creighton's new trio of freshmen gym rats were still up with the sun.
"That's what I love about all of the new guys; they love to play," DeVries said. "Today was their first day, they didn't have anything this morning, and they were in the gym at 8 a.m. on their own just in here shooting. That says a lot about what they hope to accomplish while they're here. When you get guys with that type of attitude in a group, then it starts to really filter into everybody else."
Comments
Tagged in: