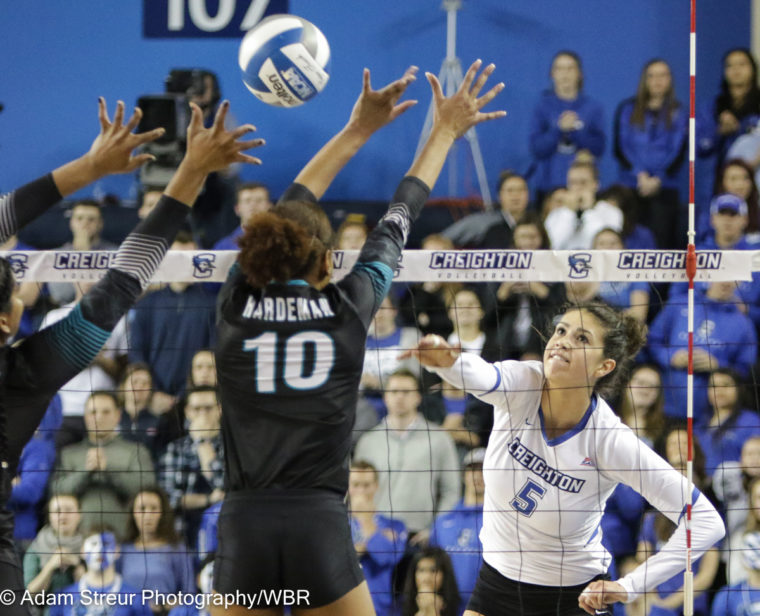 Their performance wasn't clean, but in the end the 9th-seeded Bluejays did enough to get past Coastal Carolina
For as much as Friday night meant as a milestone for the Creighton volleyball program, there was still a match that needed to be played, and Coastal Carolina didn't travel more than 1,300 miles just to get to Omaha and roll over the 9th-seeded Bluejays who were hosting a regional in the NCAA Tournament for the first time ever.
First they had to fight through the nerves, next they had to overcome their own inconsistent play, then they had to figure out how to deal with Coastal Carolina stud outside hitter Leah Hardeman. They did just enough in all three areas to earn a 25-20, 27-25, 20-25, 25-22 win in four up and down, nip and tuck sets in front of 2,517 fans at D.J. Sokol Arena — the second-largest crowd in school history.
It wasn't the prettiest process, but at this time of year no one is trying to earn style points. Survive and advance is the name of the game and at the end of the evening the Jays were one of 30 teams that get to play for something tomorrow.
"We were fortunate to get a win tonight," head coach Kirsten Bernthal Booth said. "I thought Coastal really challenged us. I don't think we really played our cleanest match. You could tell there were some nerves, so I think it's huge to get past this first match."
There were obvious jitters on both sides of the net from the opening serve. With all of the miscues, long swings and serves, there was only one dig on the first 19 points of the match. Creighton eventually settled in from the service line midway through game one to ignite a 6-1 run that put them in front 19-14. Defensive specialists Alexa Roumeliotis and Samantha Bohnet each found the floor for aces from behind the line down the stretch finish off a sloppy opening game that saw both teams combine for 11 attack errors and nine service miscues.
Coastal Carolina responded right away in game two with a 5-1 run to start things off, but Creighton would rally to take the lead. Sophomore libero Brittany Witt recorded her 1,000th career dig as a Bluejays, leading to a kill by junior outside hitter Taryn Kloth during an 8-point stretch that resulted in an 8-6 lead for the No. 9 overall seed. The Chanticleers would eventually take the lead back and looked to be on the verge of tying the match prior to intermission when a kill by Hardeman gave them set point at 24-21, but a kill by Creighton junior All-American Jaali Winters sandwiched around a pair of attack errors by the Coastal Carolina star helped the Jays save three game points in a row.
Creighton would have to save one more game point at 25-24, and did so on a kill by senior middle blocker Marysa Wilkinson. Then Winters put her team ahead with a kill down the line before an long attack by Coastal Carolina's Kyra Manning gave the Bluejays a 27-25 win and a 2-0 lead heading into the locker room.
"I think it was huge momentum for us to get back into that set," Winters said. "Just showing ourselves how tough we can be. Our fans were great during the end of that second set."
Wilkinson finished with 6 kills on 9 swings in game two, while Winters terminated on five of her 11 attacks after going 0-for-6 with a couple errors in set one.
"I just started going after it. Guns out," Winters said of her game two adjustment.
The Chanticleers played as if their season was on the line in set three, using six unanswered points early on to build a comfortable lead on their to extending the match with a 25-20 win. Leah Hardeman reaffirmed herself as the best player on the court with seven kills during game three, while Kyla Manning turned in her best set of the night with four kills on nine swings to help her team outhit the Bluejays, .294 to .100.
With the offense sputtering most of the night, senior setter Lydia Dimke started incorporating a new piece to the attack in redshirt sophomore Megan Ballenger once game four got rolling. The Ankeny, Iowa native led all players with six kills in the fourth set after combining for just two through the first three.
"I have faith in all my hitters, and I know people are going to step up at times," Dimke said. "Megan was feeling it and I could feel that vibe from her … she wants it, she's commanding it."
Ballenger's six kills helped Creighton build the lead and Wilkinson and Winters helped finish it off to spoil Coastal Carolina chance at pulling off what CCU setter, and Lincoln, Nebraska native, Sara Boothe called "the upset of the tournament."
Hardeman led all players by far with 25 kills on the night, finishing off her career with a school record 1,811 kills as a Chanticleer. The Bluejays were led by Marysa Wilkinson, who finished with 13 kills and six blocks, and Jaali Winters, who chipped in 12 kills to go along with 14 digs for her sixth double-double in eight career NCAA Tournament matches.
The Bluejays improved to 26-6 with the win and will not turn their full attention to a Michigan State squad that sliced through a red-hot Missouri State team like a hot knife through butter. The 15th-ranked Spartans ended the Bears' 21-match winning streak in straight sets 25-19, 25-11, 25-15.
"Tomorrow night we are playing a team that some think that when they play their best they could win the national championship," Kirsten Bernthal Booth said. "It will be a battle and we are really stoked for the opportunity to put our best out on the court."
First serve between the Bluejays and Spartans is scheduled for 6:00 p.m.
Photo Gallery from Adam Streur:
Comments
Tagged in: