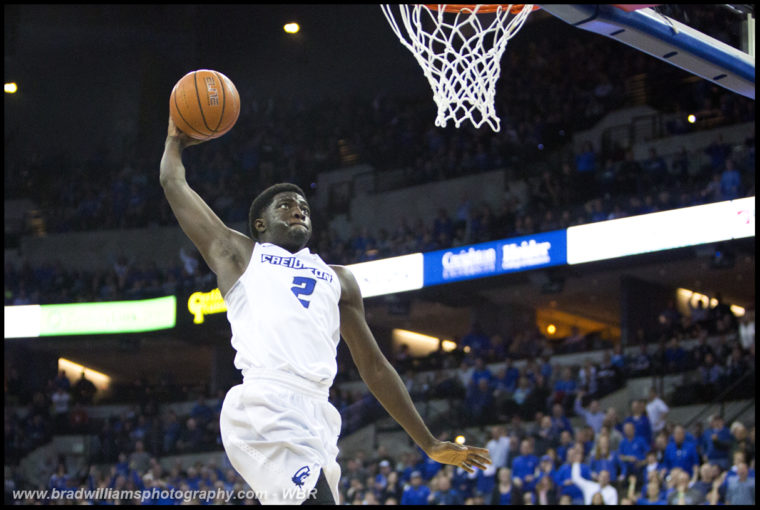 Thomas and Harrell go toe to toe on opening night of Omaha Metro Summer League
On a night when fans showed up to see new faces in a new venue, a couple of Bluejay veterans kicked off the 2017 edition of the Omaha Metro Summer League in style.
Khyri Thomas and Ronnie Harrell Jr. went head-to-head on Court 3 in the nightcap at the Iowa West Field House in Council Bluffs. Thomas, a junior guard coming off a breakout season in which he won a share of the Big East's award for Defensive Player of the Year along with Villanova's Josh Hart and Mikael Bridges, dropped a game-high 39 points (26 after halftime) in his Daeges Lawncare-sponsored team's 111-99 win over Harrell's EQ School of Hair squad. Thomas added five rebounds and six assists — two coming on a pair of alley-oops to teammates in transition that had the crowd jumping off their bar stools — to his stat line in about 35 minutes of action.
Thomas was calculated with his aggressiveness throughout the game. He displayed a good mix of drives to score, or to spray it if the defense collapsed on him in time to stop him from getting all the way to the rim. He also avoided settling for threes, something most players tend to do in summer league with the lack of structure that is typically on display. Thomas do a fair share of "letting it fly" — going 5-of-12 from beyond the arc — but he went to the dribble pull-up from the 15-18 foot range quite a bit as well, whether it was in transition, on isolation plays, or after coming off a ball screen. He finished 10-of-15 inside the 3-point line, putting his full offensive arsenal on display for the fans that surrounded Court 3.
Harrell Jr. put in a solid night's work even by the normal casual standards of summer league, scoring 32 points, hauling in 14 rebounds, and dishing out 5 assists. It appeared as if he and Thomas were headed for quite a battle down the stretch with the game tied at 97, but EQ's lack of depth meant Harrell had to play the whole game, and it appeared to take a toll in the final three minutes when Thomas scored seven of his team's points during a 12-2 run to cap off the win. Harrell showed off that versatility that allowed him to break into the rotation at the tail end of the 2016-17 season. The one knock on his performance was a 4-of-14 shooting night from the 3-point line. He was 9-for-12 inside the arc, but playing all 40 minutes at his normal high pace drained his gas tank, taking the lift out of his jump shot late in the second half.
Sophomore guard Jordan Scurry shot the ball well in a losing effort for EQ. He went 10-of-17 from the field, including 5-for-10 from beyond the arc, to finish with 25 points. His best stretch of the night came during a personal 5-0 run that took about 40 seconds. With 3:50 remaining and his team trailing 97-92 after Khyri Thomas posterized one of his teammates, Scurry drove and scored at the rim, then hit a pull-up three in transition from the left wing to tie the game with 3:08 to go.
Incoming freshman guard Mitchell Ballock added 16 points, four rebounds, three assists, and three steals in his exhibition debut in front of the Bluejay faithful in attendance. With Thomas taking over the game in the second half, Ballock didn't get to show off as much late in the game, but he didn't let that discourage him from contributing in other areas, which is not typical of a player his age. He only shot 5-of-16 from the field, but two of his makes were easily the most impressive of the game. The first came on a baseline drive on Harrell that he punctuated at the rim. The second came as he was bringing the ball up in transition only to pull up from 35 feet and bury a three so cleanly that it didn't even move the net on its way through the cylinder. Although the shooting percentage on Thursday night didn't reflect it, Ballock is a pure shooter in every sense of the word — a deceptively athletic left-hander with Ethan Wragge-like range.
The other Bluejay I watched on Thursday was Ballock's back court partner in the 2017 freshman class, Ty-Shon Alexander. With sophomore guard Davion Mintz sideline after having his wisdom teeth pulled, Alexander was flying solo with a team of complete strangers on OFWF Law. Without any continuity whatsoever, they got rolled by NWU Alumni, 92-59. However, the incoming Creighton freshman did heat up enough from the perimeter in the second half to finish with 26 points on 6-of-11 shooting from the field. He was 4-of-6 from the beyond the arc and pulled down eight rebounds to compliment his shooting touch. Alexander did most of his scoring on isolation plays, setting up his defender with a jab step into a fade away or selling a crossover as if he were looking to attack the rim to set up his step-back jumper. There wasn't much to evaluate defensively as his entire team was spinning in circles on that end of the floor. It'll be interesting to check in with him later on when Mintz is able to join him on the court.
Scores:
Going Vertical def. BD, 86-85.
Team Narmi def. WM Hoops (score was not turned in)
Rooferee's def. Winning Mentality, 91-73.
Capehart Sales def. Regulators, 87-60.
Wildcats def. Broncos, 83-80.
Daegas Lawncare def. EQ School of Hair, 101-93.
Abide def. Crusaders, 86-84.
Judd Knispel Agency def. LRS Healthcare, 86-81.
NWU Alumni def. OFWF Law, 92-59.
NE Preps def. Spartans, 88-81.
Comments
Tagged in: