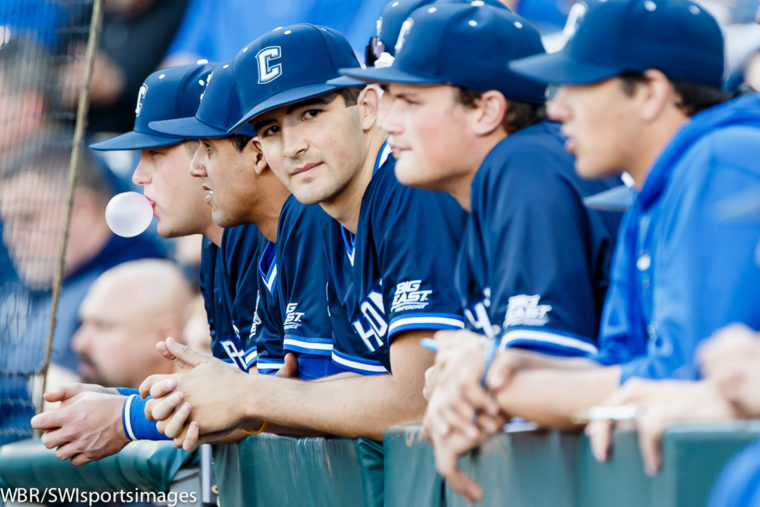 Villanova's Bullpen Implosion Allows Creighton to Earn Ninth Consecutive Win
Jeff Albrecht has watched his team be on the wrong end of an inning that has no end in sight this season, so he wasn't complaining in the dugout as he watched his teammates bat around in a six-run seventh inning that broke open a tie game and helped the Creighton Bluejays cruise to an 11-2 win over Villanova on Saturday night under the lights at TD Ameritrade Park.
The Bluejays managed only eight hits all night, but scored two runs in the sixth, six runs in the seventh, and three more just for good measure in the eighth to clinch their straight Big East regular season series and improve to 7-1 overall in league play.
"It's a lot better being on that end," the senior left-hander said of the big seventh inning. "We were on the wrong side of that in Lincoln earlier and it's just one of those things where no matter what you do you can't get out. It's nice to have one of those every once in awhile."
Albrecht earned the start on the mound for the Bluejays, ending his night with a career-high 109 pitches in six innings of work. He scattered five hits, allowed two runs and three walks, and struck out seven hitters while trying to keep pace with his counterpart in Villanova left-hander Hunter Schryver.
The Wildcats scratched across a run in the both the top of the fifth and sixth inning to stake their senior ace to a 2-0 lead, but things started to slowly and painfully unravel for the Villanova pitching staff in the bottom half of the sixth. Creighton freshman Isaac Collins slapped a one-out single back up the middle, then third baseman David Rodgers air-mailed a rushed throw to first after Jays' sophomore shortstop Thomas Luevano sent a chopper down the line in the next at-bat. That put two men in scoring position for sophomore catcher Michael Emodi, who dropped an RBI single into no man's land down the right field line to score Collins and cut the deficit to 2-1 with one out in the bottom of the sixth.
The next man up, freshman right fielder Will Robertson, would eventually strike out, but a wild pitch during his plate appearance allowed Luevano to trot home and send the game to the seventh inning tied up at 2-2.
Junior right-hander Ethan DeCaster held the Wildcats off the board in the seventh in relief of Albrecht, and senior third baseman Bryce Only worked the count full after falling behind 0-2 and eventually earned a leadoff walk to kickoff the bottom of the seventh, chasing Schryver from the game after six-plus innings of work in which he allowed only four hits and strike out nine batters.
Only then swiped second base on botched hit and run, successfully avoiding the tag by pulling his left hand back to his side and touching the base safely — despite Villanova head coach Kelvin Mulvey's best efforts to argue otherwise — with his right hand.
Two pitches later, freshman first baseman Jason Allbery delivered the go-ahead hit when he poked a 1-1 pitch into center field to bring Only around to score and give the Bluejays a 3-2 lead that they would not relinquish.
"Jason has been scuffling a little bit after having a pretty good weekend at Georgetown," Creighton head coach Ed Servais said. "He's had a slow couple of games here, but that was a big at-bat for him. I think that's going to go a long ways to getting him going a little bit, because we certainly could use his offense."
Villanova's bullpen proceeded to give away free bases like bags of candy on Halloween night. Creighton's next five runs came courtesy of one wild pitch, two hit batters, a bases-loaded walk, and a sacrifice fly. By the end of the frame the Bluejays had stretched their lead to 8-2 and the Wildcats had used five pitchers — Hunter Schryver, Ryan Pfutzenreuter, Jason Applegate, Mike Sgaramella, and Jake Esp — to get three outs.
Implosion or not, Ed Servais was pleased to see his team exhibit some plate discipline in that inning. The Bluejays produced six runs on just two hits, but drew three walks and worked five three-ball counts.
"One thing you'll notice if you look at our statistics is that we don't have very many walks," Servais said. "This is one of the few games where we've had a few of those opportunities, so I was pleased with what our hitters did during the second half of the game. Sometimes when you get a four or five-run lead and have the bases loaded you want to be the guy that drives in two or three runs and often times you get yourself out, but they did a fine job tonight."
Creighton's ninth consecutive win moves them to 17-16 overall on the season. After losing 11 of their first 12 games and 16 of their first 24 prior to Big East play, the Bluejays have fought their way to above .500 for the first time all season, and will go for their second straight conference series sweep tomorrow at noon in the third game against Villanova.
Through eight games, Creighton still owns what is essentially a two-game cushion over second-place St. John's — courtesy of the head-to-head tiebreaker — and third-place Xavier, via their record in league play. The Bluejays have now won 19 of the 21 series they have played in conference since joining the Big East in 2014.
Photos from WBR Photographer Mike Spomer.  Purchase your favorite here.
Comments
Tagged in: