WBR Launches iPhone App
A few months back, we were proud to launch WBR: The App into the Android Marketplace. Today, we're equally proud to announce the official launch of a WBR Web App for the iPhone platform.
Inside the app, you'll find:
The latest articles from WBR
Quick links to Bluejay Underground forums
Access to Live Game Stats from GoCreighton.com
Access to Bluejay Banter podcasts
Team scheduling information for current and future seasons from WBR
And more!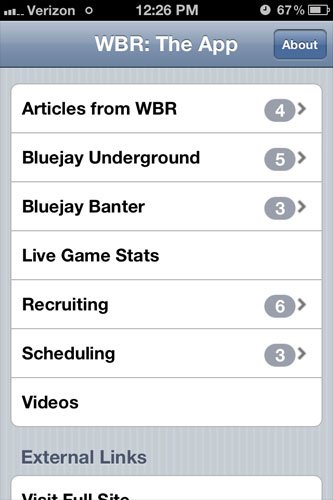 To download the app, go to this URL from your iPhone:
http://whiteandbluereview.com/app/
And click the center icon on the bottom dock in Safari (the box with the arrow popping out of it).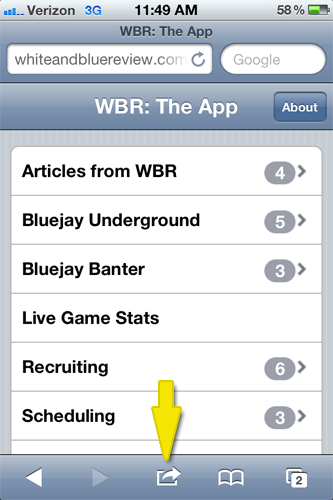 From the menu that pops up, click "Add to Home Screen" to download the app.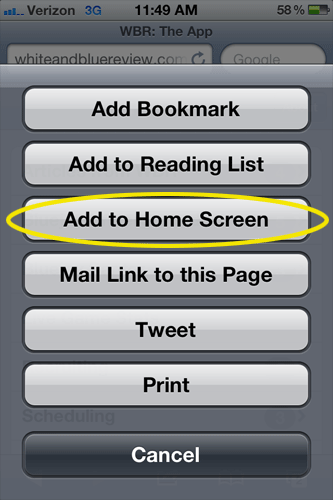 Now go to your home screen, and you'll notice the WBR app will be there alongside your other apps. Click on the WBR icon, and a nice little splash screen loads, followed by the app itself!
We hope you enjoy the easy access to Bluejay information this app provides, but if you have suggestions for features we should add, or if (gasp!) you run into any technical problems, let us know.
Comments
Tagged in: