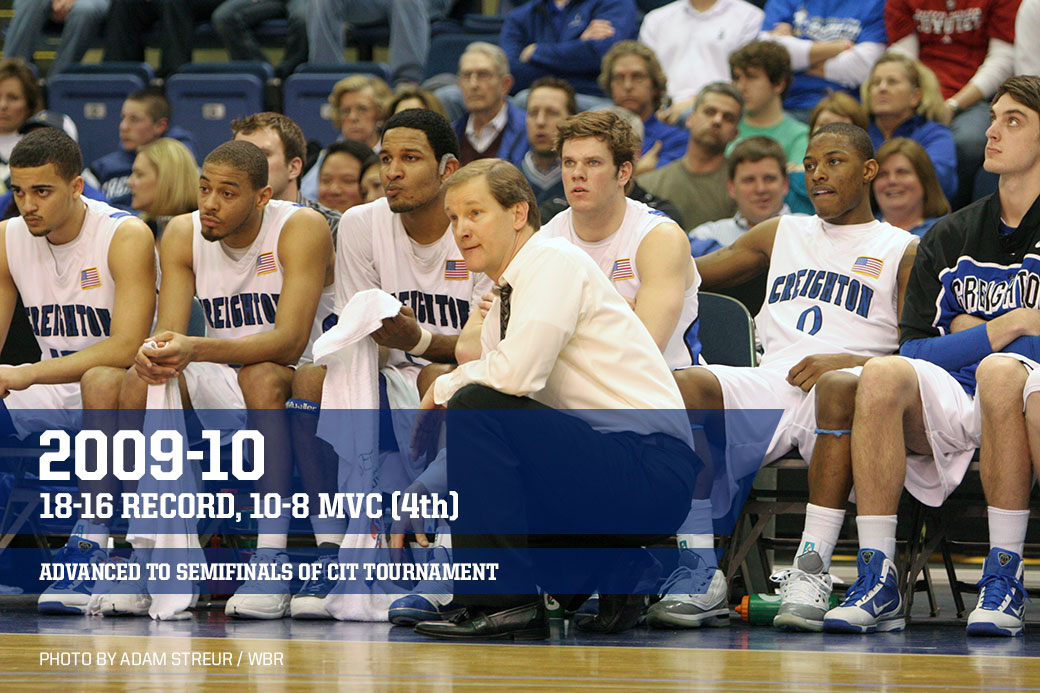 WBR Season Archives (2009-10)
Offseason News | Season Previews  |  2010 MVC Tournament  |  CIT Tournament  |  Coverage of Dana Altman's Departure
Dana Altman's final Creighton squad was the school's first ever to win consecutive postseason games, going 2-1 and reaching the semifinals of the CollegeInsider.com Postseason Tournament. The Bluejays saw their streak of 11 straight 20-win seasons snapped, but did win at least 10 MVC games for the 14th straight year and reached the postseason for a 13th straight campaign.
Kenny Lawson Jr. led Creighton in scoring, rebounding and blocked shots, while Antoine Young led the team in assists. The team lost double-digit leads in road losses at No. 21 Dayton and No. 19 New Mexico; they were nearly unbeatable at home and barely won anywhere else, finishing 15-2 at home, 3-10 in true road games and 0-4 in neutral site contests.
Altman accepted the head coaching job at the University of Oregon on April 26, ending his 16-year career at Creighton with 327 wins and 13 postseason appearances.
| Date | Opponent | Score | |
| --- | --- | --- | --- |
| 11/04/2009 | Missouri Western State (Exhib.) | W, 94-69 | Details |
| 11/08/2009 | Nebraska-Omaha (Exhib.) | W, 93-77 | Details |
| 11/14/2009 | at #21 Dayton | L, 90-80 | Details |
| 11/17/2009 | Florida A&M | W, 78-53 | Details |
| 11/22/2009 | UALR | W, 80-65 | Details |
| 11/26/2009 | #15 Michigan (Old Spice Classic) | L, 83-76 (OT) | Details |
| 11/27/2009 | Xavier (Old Spice Classic) | L, 80-67 | Details |
| 11/29/2009 | Iona (Old Spice Classic) | L, 63-55 | Details |
| 12/06/2009 | Nebraska | W, 67-61 | Details |
| 12/12/2009 | at George Mason | L, 75-72 | Details |
| 12/16/2009 | Savannah State | W, 77-62 | Details |
| 12/19/2009 | at #19 New Mexico | L, 66-61 | Details |
| 12/22/2009 | Houston Baptist | W, 85-56 | Details |
| 01/01/2010 | at Indiana State | L, 70-64 | Details |
| 01/03/2010 | at Evansville | W, 72-64 | Details |
| 01/06/2010 | Drake | W, 73-69 | Details |
| 01/09/2010 | at Wichita State | L, 70-58 | Details |
| 01/13/2010 | Southern Illinois | W, 71-69 | Details |
| 01/16/2010 | Wichita State | W, 57-56 | Details |
| 01/20/2010 | at Illinois State | L, 71-62 | Details |
| 01/24/2010 | Missouri State | W, 76-72 | Details |
| 01/27/2010 | at Bradley | W, 73-68 | Details |
| 01/30/2010 | at Drake | L, 79-74 | Details |
| 02/03/2010 | Evansville | W, 84-71 | Details |
| 02/06/2010 | at Missouri State | L, 70-52 | Details |
| 02/09/2010 | Indiana State | W, 65-52 | Details |
| 02/13/2010 | Illinois State | L, 67-63 | Details |
| 02/16/2010 | at Northern Iowa | L, 70-52 | Details |
| 02/20/2010 | Loyola Chicago | W, 78-58 | Details |
| 02/23/2010 | at Southern Illinois | W, 83-78 (OT) | Details |
| 02/27/2010 | Bradley | W, 82-71 | Details |
| 03/05/2010 | Bradley (MVC Quarterfinal) | L, 81-62 | Details |
| 03/16/2010 | South Dakota (CIT First Round) | W, 89-78 | Details |
| 03/22/2010 | Fairfield (CIT Second Round) | W, 73-55 | Details |
| 03/24/2010 | at Missouri State (CIT Semifinal) | L, 67-61 | Details |