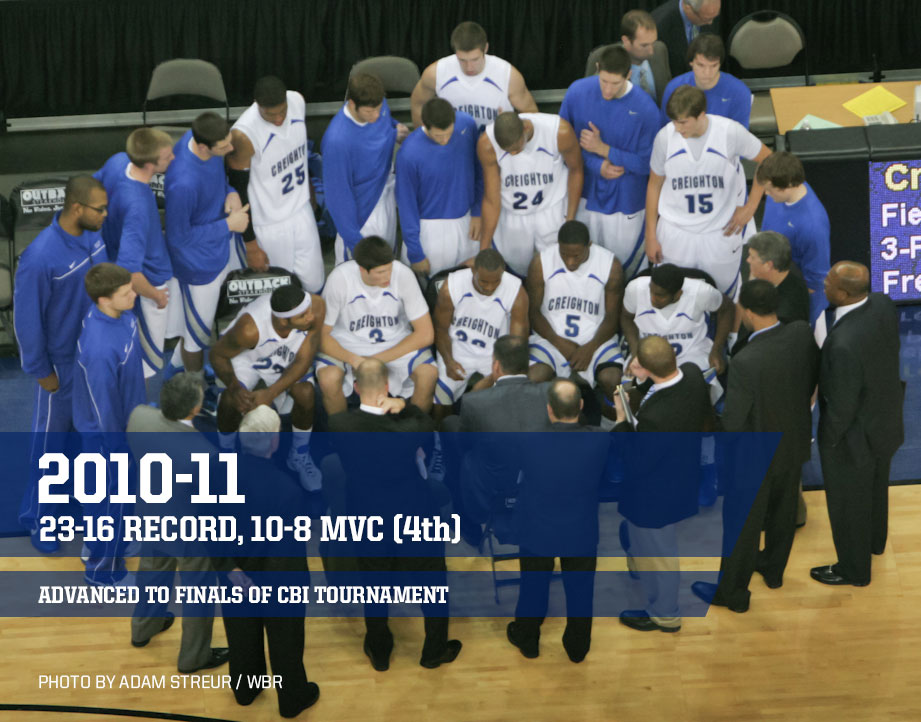 WBR Season Archives (2010-11)
Offseason News | Season Previews  |  Coverage of Greg McDermott's Arrival  |  2011 MVC Tournament  | 2011 CBI Tournament
In 2010-11, Greg McDermott became the winningest first-year coach in Creighton history, leading the Bluejays to 23 wins and an appearance in the CBI finals. McDermott's son, Doug, led the Jays in scoring (14.9) and rebounding (7.2), sweeping MVC Freshman and Newcomer of the Year honors, and becoming the first freshman to be named first-team all-MVC since 1952.
Antoine Young led the MVC in assists per game (5.0) and assist/turnover ratio (2.38) while also ranking seventh in the league in scoring (13.1). Meanwhile, Gregory Echenique became eligible on Dec. 19 after transferring from Rutgers and went on to earn MVC All-Newcomer and All-Defensive Team honors.
Creighton won four straight postseason games for the first time, only to lose the final two games in Eugene (against former Creighton head coach Dana Altman) to drop the best-of-three finals, 2-1.
| Date | Opponent | Score | |
| --- | --- | --- | --- |
| 11/04/2010 | Northern State | W, 79-67 | Details |
| 11/12/2010 | Alabama State | W, 71-57 | Details |
| 11/14/2010 | Northern Arizona | W, 74-70 | Details |
| 11/17/2010 | Louisiana | W, 63-58 | Details |
| 11/21/2010 | Iowa State (Global Sports Challenge) | L, 91-88 | Details |
| 11/26/2010 | Kennesaw State | W, 75-57 | Details |
| 11/28/2010 | at Northwestern | L, 65-52 | Details |
| 12/01/2010 | #21 BYU | L, 77-65 | Details |
| 12/05/2010 | at Nebraska | L, 59-54 | Details |
| 12/11/2010 | St. Joseph's | W, 82-75 | Details |
| 12/18/2010 | Idaho State | W, 66-60 | Details |
| 12/20/2010 | Western Illinois | W, 60-47 | Details |
| 12/22/2010 | Samford | W, 58-40 | Details |
| 12/29/2010 | at Illinois State | W, 64-53 | Details |
| 01/01/2011 | Drake | W, 73-57 | Details |
| 01/04/2011 | Missouri State | L, 67-55 | Details |
| 01/07/2011 | at Southern Illinois | W, 72-66 (OT) | Details |
| 01/09/2011 | at Evansville | W, 74-69 | Details |
| 01/12/2011 | Wichita State | L, 68-54 | Details |
| 01/16/2011 | at Indiana State | L, 61-59 | Details |
| 01/19/2011 | Bradley | W, 81-68 | Details |
| 01/22/2011 | at Missouri State | L, 67-66 | Details |
| 01/26/2011 | at Northern Iowa | L, 71-66 | Details |
| 01/29/2011 | Indiana State | W, 83-69 | Details |
| 02/01/2011 | at Bradley | L, 69-61 | Details |
| 02/05/2011 | Evansville | W, 75-69 | Details |
| 02/08/2011 | at Drake | L, 67-64 | Details |
| 02/13/2011 | Southern Illinois | W, 69-50 | Details |
| 02/16/2011 | Illinois State | W, 75-59 | Details |
| 02/19/2011 | at Akron | L, 76-67 | Details |
| 02/23/2011 | at Wichita State | L, 67-65 | Details |
| 02/26/2011 | Northern Iowa | W, 63-55 | Details |
| 03/04/2011 | Northern Iowa (MVC Quarterfinal) | W, 60-57 | Details |
| 03/05/2011 | Missouri State (MVC Semifinal) | L, 60-50 | Details |
| 03/15/2011 | San Jose State (CBI First Round) | W, 85-74 | Details |
| 03/21/2011 | Davidson (CBI Quarterfinal) | W, 102-92 | Details |
| 03/23/2011 | Central Florida (CBI Semifinal) | W, 82-64 | Details |
| 03/28/2011 | Oregon (CBI Finals, Game One) | W, 84-76 | Details |
| 03/30/2011 | at Oregon (CBI Finals, Game Two) | L, 71-58 | Details |
| 04/01/2011 | at Oregon (CBI Finals, Game Three) | L, 71-69 | Details |