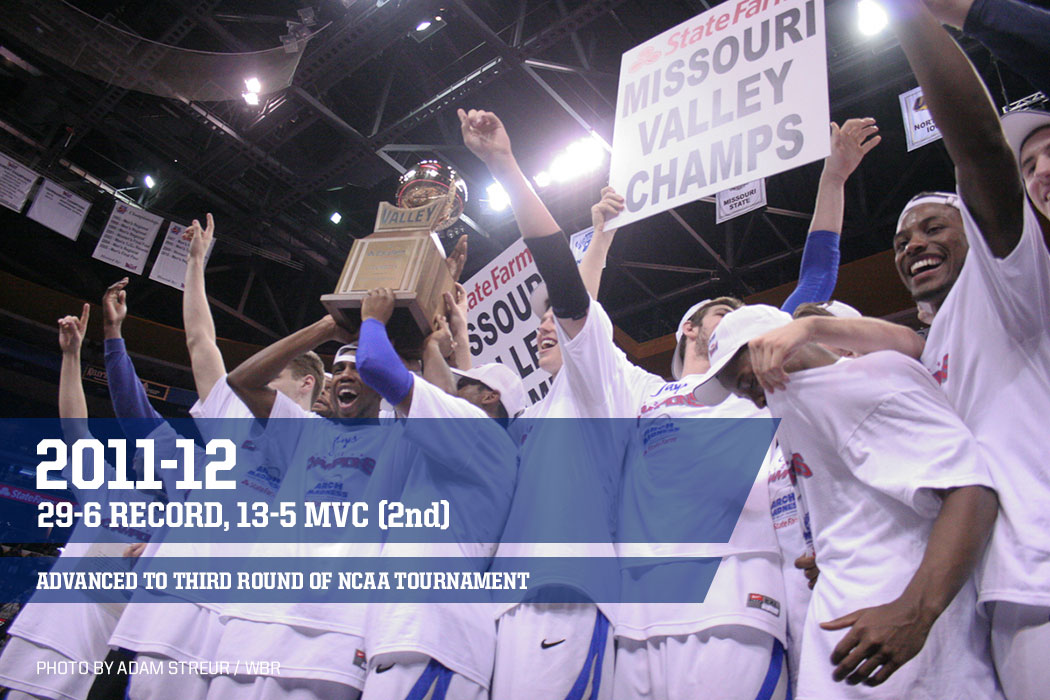 WBR Season Archives (2011-12)
Offseason News | Season Previews  |  2012 MVC Tournament  | 2012 NCAA Tournament
In 2011-12, Creighton tied a school-record for wins and was nationally-ranked for much of the season. They beat Drake, Evansville and Illinois State to win its 11th MVC Tournament, then beat Alabama in the NCAA Tournament for their first tourney win in a decade before falling to North Carolina. The win over Alabama improved CU to 7-1 in games decided by three points or less.
First Team All-American Doug McDermott became the first sophomore ever named MVC Player of the Year, and was named a finalist for the Naismith and Wooden National Player of the Year. McDermott also won the CollegeInsider.com Lute Olson National Player of the Year award. He led the country in field goals made, and ranked third nationally in scoring, including a high game of 44 points at Bradley.
Antoine Young was named Second Team All-MVC, while Gregory Echenique became CU's first MVC Defensive Player of the Year honoree. Gonzaga transfer Grant Gibbs led the team in assists and steals from the wing position. Creighton ranked second nationally in field goal percentage and assists per game, third in three-point percentage, fifth in assist/turnover ratio, sixth in average home attendance, seventh in winning percentage and ninth in scoring offense.
| Date | Opponent | Result | |
| --- | --- | --- | --- |
| 11/06/2011 | Rockhurst (Exhib.) | W, 104-53 | Details |
| 11/11/2011 | North Carolina A&T | W, 97-65 | Details |
| 11/13/2011 | Chicago State | W, 95-61 | Details |
| 11/16/2011 | at UAB | W, 70-60 | Details |
| 11/20/2011 | Iowa (Dale Howard Classic) | W, 82-59 | Details |
| 11/25/2011 | Campbell | W, 104-81 | Details |
| 11/30/2011 | at San Diego State | W, 85-83 | Details |
| 12/04/2011 | Nebraska | W, 76-66 | Details |
| 12/10/2011 | at Saint Joseph's | L, 80-71 | Details |
| 12/17/2011 | Houston Baptist | W, 97-62 | Details |
| 12/19/2011 | at Tulsa | W, 83-64 | Details |
| 12/22/2011 | Northwestern | W, 87-79 | Details |
| 12/28/2011 | Missouri State | L, 77-65 | Details |
| 12/31/2011 | at Wichita State | W, 68-61 | Details |
| 01/03/2012 | Drake | W, 76-59 | Details |
| 01/07/2012 | at Bradley | W, 92-83 | Details |
| 01/10/2012 | Northern Iowa | W, 63-60 | Details |
| 01/13/2012 | at Illinois State | W, 87-79 | Details |
| 01/15/2012 | Southern Illinois | W, 90-71 | Details |
| 01/18/2012 | at Missouri State | W, 66-65 | Details |
| 01/21/2012 | Indiana State | W, 75-49 | Details |
| 01/25/2012 | at Drake | W, 77-69 | Details |
| 01/28/2012 | Bradley | W, 73-59 | Details |
| 02/01/2012 | Illinois State | W, 102-74 | Details |
| 02/04/2012 | at Northern Iowa | L, 65-62 | Details |
| 02/07/2012 | at Evansville | L, 65-57 | Details |
| 02/11/2012 | Wichita State | L, 89-68 | Details |
| 02/14/2012 | at Southern Illinois | W, 88-69 | Details |
| 02/18/2012 | Long Beach State | W, 81-79 | Details |
| 02/21/2012 | Evansville | W, 93-92 (OT) | Details |
| 02/25/2012 | at Indiana State | W, 61-60 | Details |
| 03/02/2012 | Drake (MVC Quarterfinal) | W, 68-61 | Details |
| 03/03/2012 | Evansville (MVC Semifinal) | W, 99-71 | Details |
| 03/04/2012 | Illinois State (MVC Final) | W, 83-79 (OT) | Details |
| 03/16/2012 | Alabama (NCAA Tournament) | W, 58-57 | Details |
| 03/18/2012 | North Carolina (NCAA Tournament) | L, 87-73 | Details |