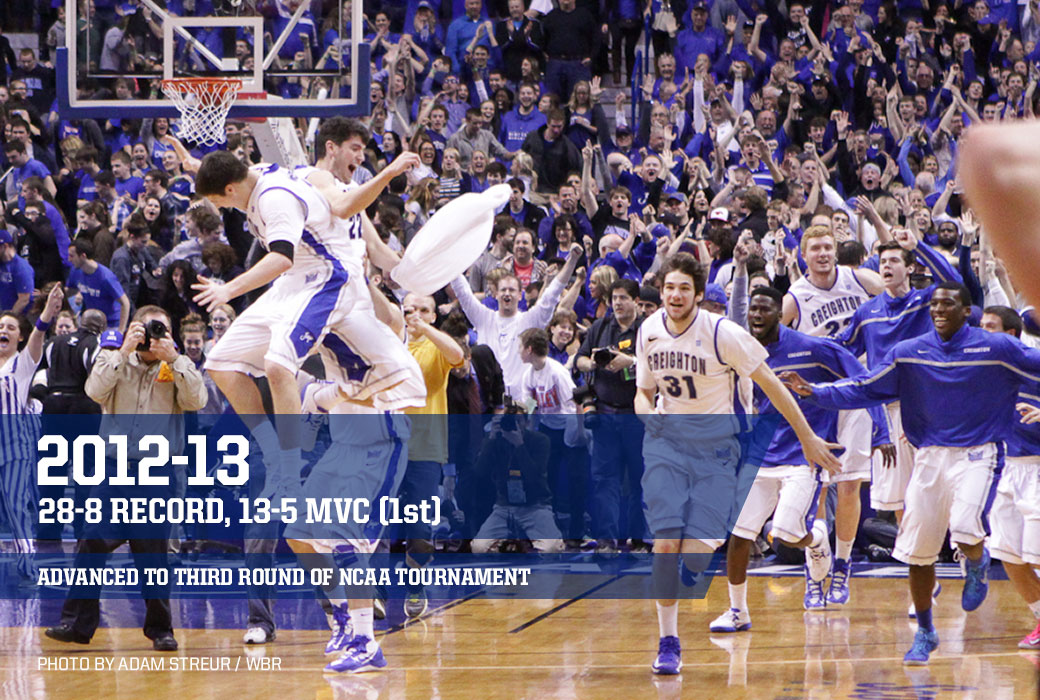 WBR Season Archives (2012-13)
Offseason News | Season Previews  |  2013 MVC Tournament  | 2013 NCAA Tournament  |  Coverage of Big East Move
Creighton won its first outright MVC title since 2000-01 and record 12th MVC Tournament title in their final season in the Valley. The seventh-seeded Jays defeated Cincinnati in the second round of the NCAA Tournament before falling to second-seeded Duke.
Doug McDermott set CU records for points in a season and career points while repeating as MVC Player of the Year and MVC Tournament MVP. McDermott was also named First Team All-American by the Associated Press, USBWA, NABC and Basketball Times and finished the season leading the nation in points scored and field goals made. Grant Gibbs led the MVC in assists for a second straight year and was named honorable-mention all-MVC along with teammate Gregory Echenique.
Creighton's 57 wins were its most ever for a two-year span and its 80 victories its most for a three-year span. CU won NCAA Tournament games in consecutive seasons for the first time. Creighton finished the year ranked sixth nationally with a Valley-record average home attendance of 17,155.
| Date | Opponent | Result | |
| --- | --- | --- | --- |
| 11/02/2012 | Mary (Exhib.) | W, 89-51 | Details |
| 11/09/2012 | North Texas | W, 71-51 | Details |
| 11/14/2012 | UAB | W, 77-60 | Details |
| 11/18/2012 | Presbyterian | W, 87-58 | Details |
| 11/20/2012 | Longwood | W, 105-57 | Details |
| 11/23/2012 | Wisconsin (Las Vegas Invitational) | W, 84-74 | Details |
| 11/24/2012 | Arizona State (Las Vegas Invitational) | W, 87-73 | Details |
| 11/28/2012 | Boise State | L, 83-70 | Details |
| 12/01/2012 | Saint Joseph's | W, 80-51 | Details |
| 12/06/2012 | at Nebraska | W, 64-42 | Details |
| 12/09/2012 | Akron | W, 77-61 | Details |
| 12/15/2012 | at California | W, 74-64 | Details |
| 12/19/2012 | Tulsa | W, 71-54 | Details |
| 12/29/2012 | Evansville | W, 87-70 | Details |
| 01/02/2013 | at Illinois State | W, 79-72 | Details |
| 01/05/2013 | Indiana State | W, 79-66 | Details |
| 01/08/2013 | Drake | W, 91-61 | Details |
| 01/11/2013 | at Missouri State | W, 74-52 | Details |
| 01/15/2013 | Northern Iowa | W, 79-68 | Details |
| 01/19/2013 | at Wichita State | L, 67-64 | Details |
| 01/23/2013 | at Drake | L, 74-69 | Details |
| 01/27/2013 | at Southern Illinois | W, 81-51 | Details |
| 01/30/2013 | Missouri State | W, 91-77 | Details |
| 02/02/2013 | Bradley | W, 75-58 | Details |
| 02/06/2013 | at Indiana State | L, 76-57 | Details |
| 02/09/2013 | Illinois State | L, 75-72 | Details |
| 02/13/2013 | at Northern Iowa | L, 61-54 | Details |
| 02/16/2013 | at Evansville | W, 71-58 | Details |
| 02/19/2013 | Southern Illinois | W, 59-45 | Details |
| 02/23/2013 | at Saint Mary's | L, 74-66 | Details |
| 02/27/2013 | at Bradley | W, 80-62 | Details |
| 03/02/2013 | Wichita State | W, 91-79 | Details |
| 03/08/2013 | Drake (MVC Quarterfinal) | W, 65-53 | Details |
| 03/09/2013 | Indiana State (MVC Semifinal) | W, 64-43 | Details |
| 03/10/2013 | Wichita State (MVC Final) | W, 68-65 | Details |
| 03/22/2013 | Cincinnati (NCAA Tournament) | W, 67-63 | Details |
| 03/24/2013 | Duke (NCAA Tournament) | L, 66-50 | Details |