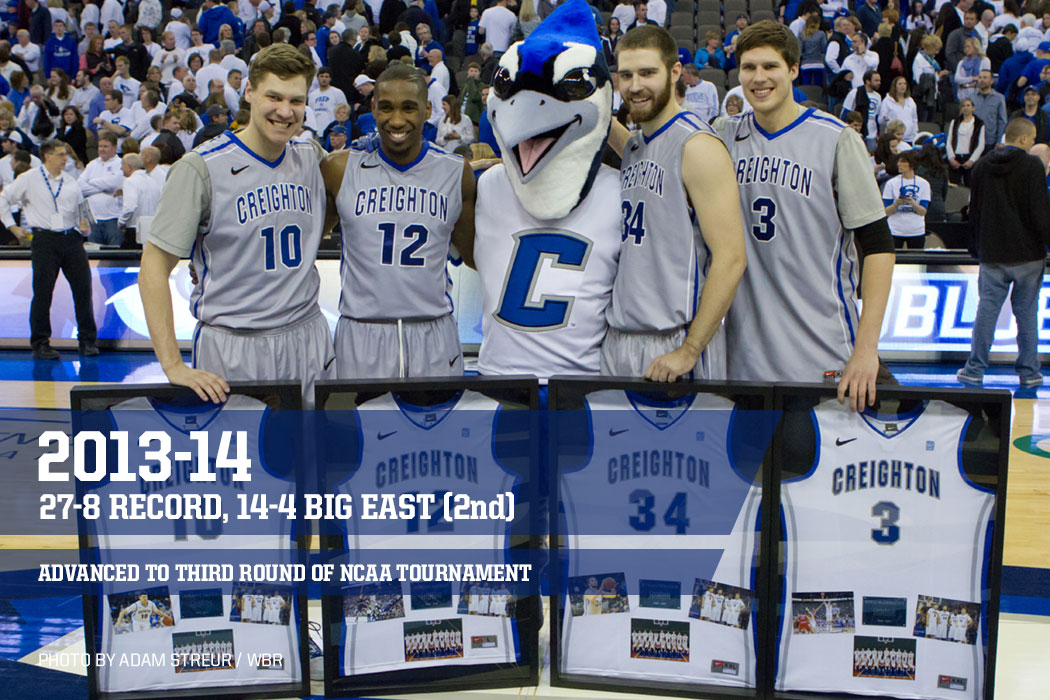 WBR Season Archives (2013-14)
Offseason News | Season Previews  |  2014 Big East Tournament  |  2014 NCAA Tournament
Creighton's first season in the Big East saw the team finish as runner-up in the regular season, and advance to the championship game of the Big East Tournament. The third-seeded Jays defeated Louisiana in the second round of the NCAA Tournament, winning a game in the tourney for their third straight season, before falling to sixth-seeded Baylor.
Doug McDermott broke his own CU record for points in a season and finished his career as the fifth-leading scorer in NCAA history with 3,150 points. McDermott swept 14 National Player of the Year awards while leading the nation in scoring and appearing on the cover of Sports Illustrated. Creighton made a Big East and school record with 21 three-pointers in a 96-68 romp at No. 4 Villanova, including nine treys from Ethan Wragge and three pointers on its first nine possessions.
All four seniors — McDermott, Wragge, Jahenns Manigat and Grant Gibbs — went on to play professionally, with McDermott being drafted 11th overall by Denver and traded that same night to Chicago. Creighton's 107 wins were its most ever for a four-year span and its 84 victories its most for a three-year span. The Bluejays finished the year ranked fifth nationally with an average home attendance of 17,896 and led the nation in three-pointers made, three-point percentage and assist/turnover ratio.
| Date | Opponent | Result | |
| --- | --- | --- | --- |
| 11/01/2013 | Northern State (Exhib.) | W, 89-61 | Details |
| 11/08/2013 | Alcorn State | W, 107-61 | Details |
| 11/11/2013 | UMKC | W, 96-70 | Details |
| 11/16/2013 | at Saint Joseph's | W, 83-79 | Details |
| 11/23/2013 | Tulsa | W, 82-72 | Details |
| 11/28/2013 | Arizona State (Wooden Legacy) | W, 88-60 | Details |
| 11/29/2013 | San Diego State (Wooden Legacy) | L, 86-80 | Details |
| 12/01/2013 | George Washington (Wooden Legacy) | L, 60-53 | Details |
| 12/03/2013 | at Long Beach State | W, 78-61 | Details |
| 12/08/2013 | Nebraska | W, 82-67 | Details |
| 12/17/2013 | Arkansas Pine-Bluff | W, 88-51 | Details |
| 12/22/2013 | California | W, 68-54 | Details |
| 12/29/2013 | Chicago State | W, 90-58 | Details |
| 12/31/2013 | Marquette | W, 67-49 | Details |
| 01/04/2014 | at Seton Hall | W, 79-66 | Details |
| 01/07/2014 | at DePaul | W, 81-62 | Details |
| 01/12/2014 | Xavier | W, 95-89 | Details |
| 01/14/2014 | Butler | W, 88-60 | Details |
| 01/18/2014 | at Providence | L, 81-68 | Details |
| 01/20/2014 | at #4 Villanova | W, 96-68 | Details |
| 01/25/2014 | Georgetown | W, 76-63 | Details |
| 01/28/2014 | St. John's | W, 63-60 | Details |
| 02/07/2014 | DePaul | W, 78-66 | Details |
| 02/09/2014 | at St. John's | L, 70-65 | Details |
| 02/13/2014 | at Butler | W, 68-63 | Details |
| 02/16/2014 | #6 Villanova | W, 101-80 | Details |
| 02/19/2014 | at Marquette | W, 85-70 | Details |
| 02/23/2014 | Seton Hall | W, 72-71 | Details |
| 03/01/2014 | at Xavier | L, 75-69 | Details |
| 03/04/2014 | at Georgetown | L, 75-63 | Details |
| 03/08/2014 | Providence | W, 88-73 | Details |
| 03/13/2014 | DePaul (Big East Quarterfinal) | W, 84-62 | Details |
| 03/14/2014 | Xavier (Big East Semifinal) | W, 86-78 | Details |
| 03/15/2014 | Providence (Big East Final) | L, 65-58 | Details |
| 03/21/2014 | Louisiana (NCAA Tournament) | W, 76-66 | Details |
| 03/23/2014 | Baylor (NCAA Tournament) | L, 85-55 | Details |